NEWS
Doherty and Fullagar get gold in Malmö
By Paul Groves
|
04 Aug, 2019
Just a week after an impressive run took him to a top ten position, Ireland's Con Doherty put in a stellar performance in Sweden at the test event for next year's European Sprint championships to claim the win ahead of Vasco Vilaça POR and home favourite, Gabriel Sandör.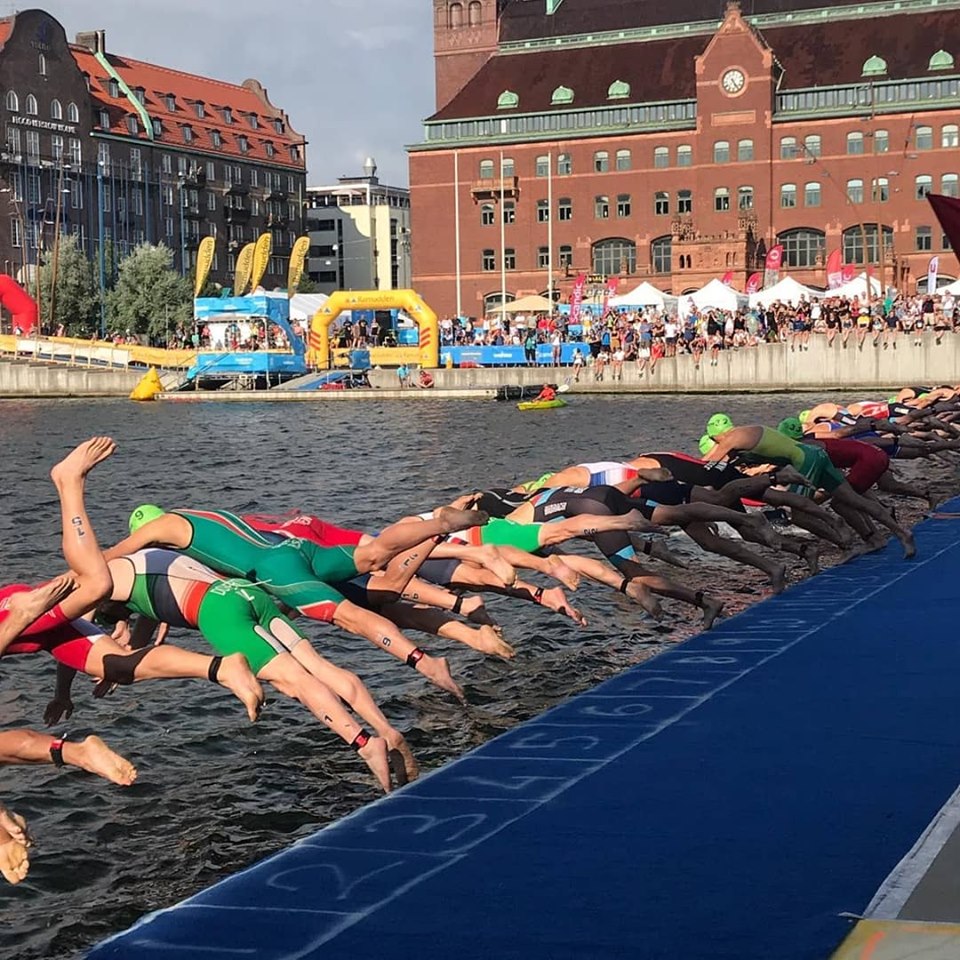 A fast swim saw a small breakaway before the main group hit T1. Doherty was way back at this point and with the 4-lap bike course, needed to pull a powerful split for the 20k. He did just that and by the end of the second, he had caught the main peloton. Caught and then pushed, making his way to the front. It was here that the pressure was applied to the chasing athletes, with all three podium athletes creating a daylight gap.
With this small advantage, it was now a question of keeping control over the remaining distance and aiming straight for T2, with no margin for error and a ten-second penalty.
A lightning-fast transition saw them scream out onto the 5k run and with the silver medals he has won here both in 2017 and 2018 very firmly fixed in his mind, the young Irishman kept his nerve until a kick in the final 200m that gave him the win. His joy was one you could feel as he reached for the finish tape.
Vilaça eased off the pace to share the moment with his dad in the final metres.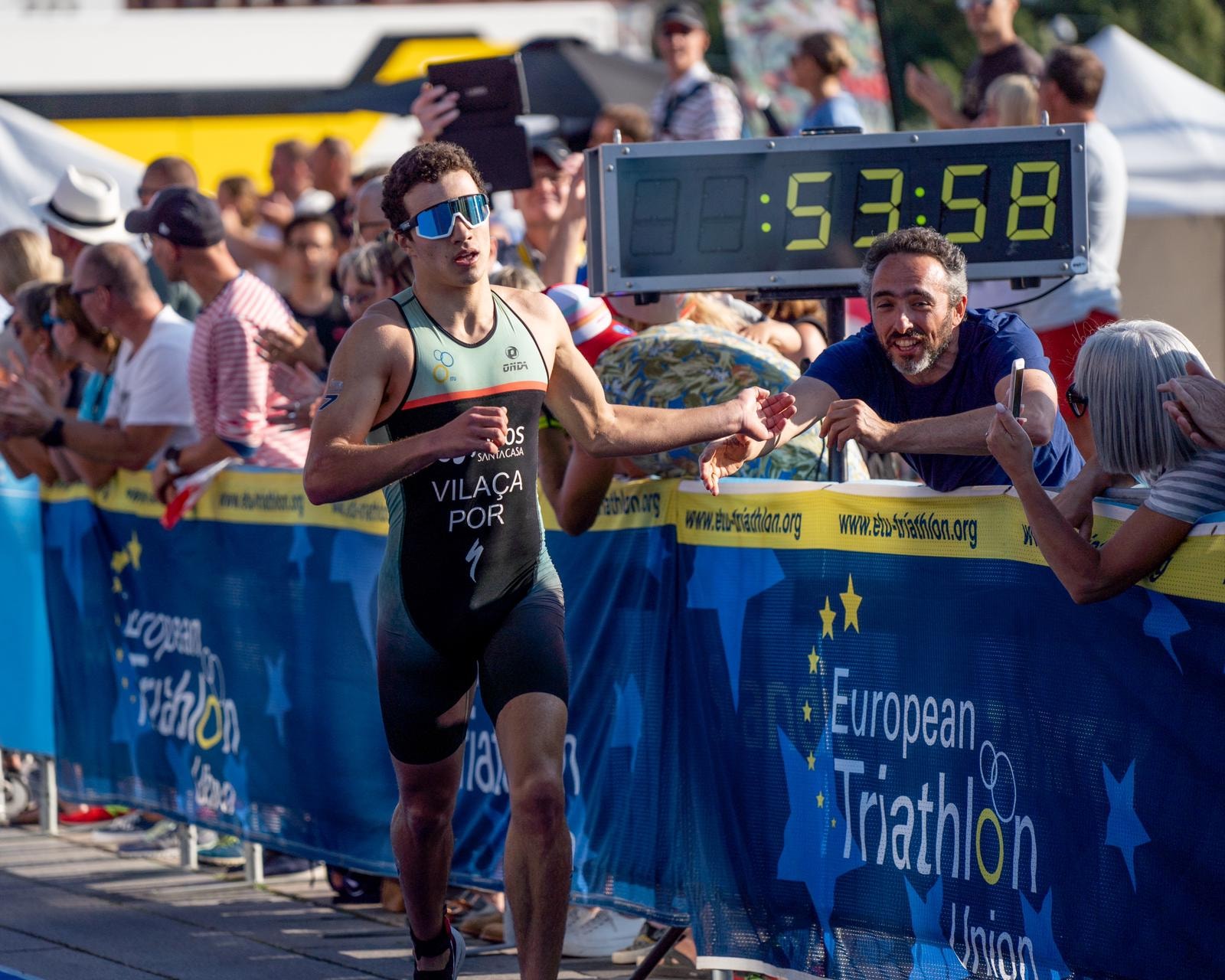 Always supporting, his father got a perfect position in the finish chute and our photographer, Adam Kjellström, was there to capture the moment. He very kindly shared this and several other images with ETU – thanks Adam, you really captured that moment.
ith the crowds shouting their support to him, it was local hero Sandör who, drained, crossed to take bronze.
After the race, the delighted Irishman summed it all up in typical style, hitting all the buttons, "WOOOOOOOOOOOO!!!! ? European Cup Gold. @mayo.ie @bmwireland @triathlonireland @ Malmö, Sweden"
Clcik here for the official event photos.
Representing ETU at the race was Vice-President Chris Kitchen, who wears another hat that says, CEO for Triathlon Ireland. For him, an amazing opportunity to hang a gold medal around the neck of Doherty but also a truly positive moment for Swedish Triathlon, as the bronze medal went to a Swedish athlete. No doubt this will really help the publicity drive for the ETU Championships in 2020.
Our Vice-President reflected after the race, "I was lucky enough to be on duty in Malmö as the ETU Board Representative and whilst we are supposed to be neutral it was with immense pride that I was able to put the gold medal over Con Doherty's head. Con is one of our hopefuls for Tokyo 2020 and has been doing a great job building his points although he kept me on tenter hooks for the whole this race race, but Con has the winning mentality and dug deep in the last few hundred meters to break away from the other two athlete in the hunt for the gold. Con has raced in Malmö three times now and in his post race interview said that, having come second in his previous two times there, he was determined to come first. It was a fantastic and truly competitive race with a huge pack finishing the swim and bike together but it was capped for me with the National Anthem and the raising of tricolour of Ireland confirming his first place. Con is a very deserving winner whose sacrifice, drive, commitment and determination in training and racing paid dividends on the day and it was great to see a big smile on his face."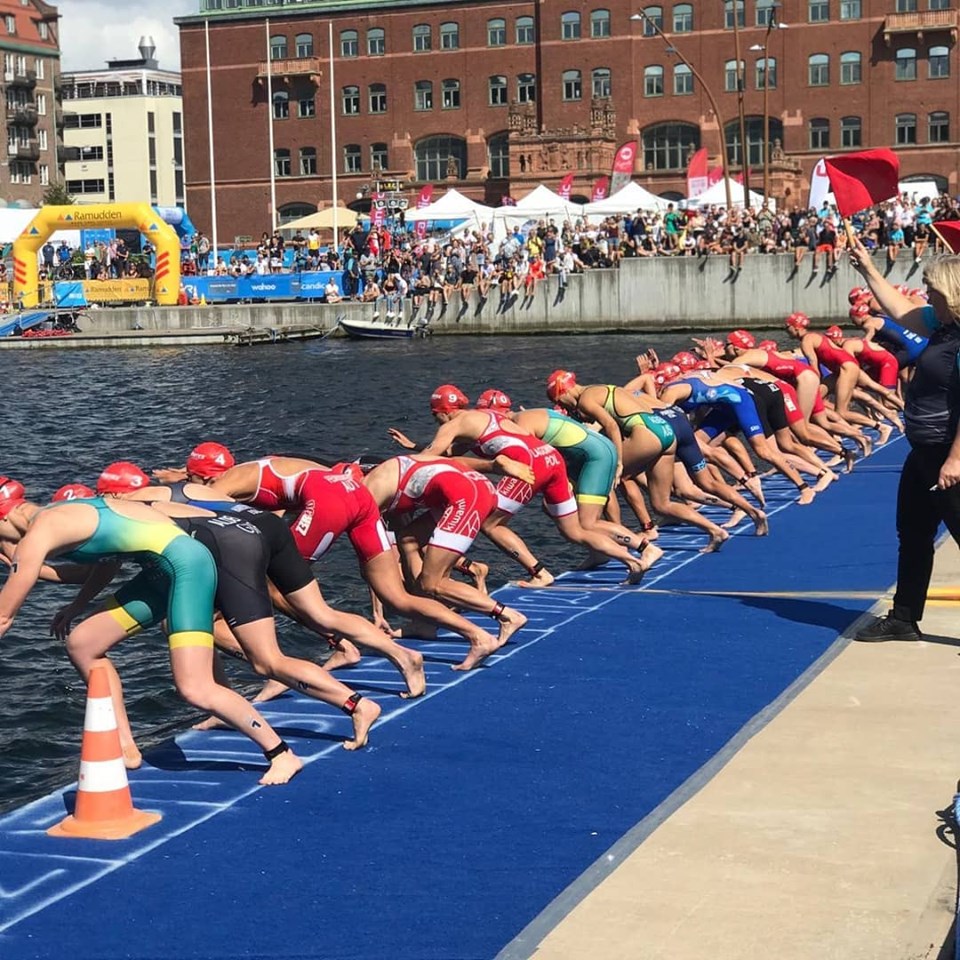 For the women, it was two races; two wins for France's Jessica Fullagar. Coming out of the swim with work to do, she, Edda Hannesdottir ISL and Kate Waugh GBR worked well together in the pack to keep the pace high.
Entering T2, about a dozen athletes were vying for position. Fullagar, with her lower number, simply racked at position #34 and sprinted. She was speeding through transition as the others were still racking their bikes. She took up the battle with Waugh and Hannesdottir. This was going to be a real battle, with each of them having the same sort of pace. The Icelandic athlete looked the weaker of the three as Waugh led.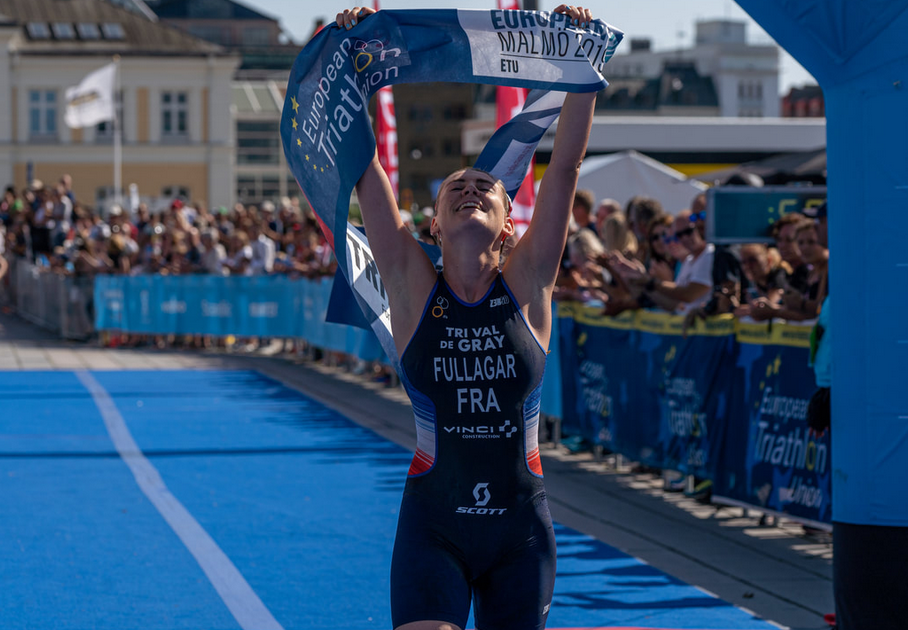 For Fullagar, her win a couple of weekends ago in the French nation al Aquathlon Championships must have given her confidence and it went down to the final metres as Fullagar kicked and edged ahead to take gold ahead of Waugh. Sadly for the former ETU Junior Champion, she lost her phone at some point after the race was over - so if anyone, anywhere can help reunite her with her mobile phone, it would be a really nice gesture. For the Icelandic athlete, "First international podium for me and Iceland. What a special day to have my family to cheer ? This would not be possible without the support of my team, you are the best."
Click here for the official event photos.
With the race at one point looking as if it would be raced over the run/bike/run format, it turned out instead to be a race run under perfect skies and one that showcased our sport superbly. Make sure you put this one in your diary for 2020.
Related Event: 2019 Malmö ETU Sprint Triathlon European Cup
Latest
Videos
---
Latest
Event Galleries