NEWS
Dnipro: bigger and better, with athletes from USA and Brazil on the start lists.
By Paul Groves
|
29 May, 2018
It was back in 2014 that Sergey Lysov had the courage, drive and determination to launch the first international triathlon in Ukraine. Little did he know that his meticulous plans would be disrupted by political upheavals so close by.
What did we know about the location?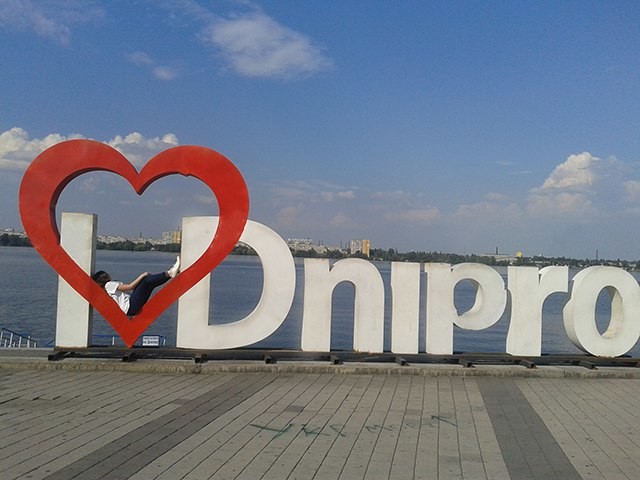 Well, it was known as the Rocket City to some Western observers and was a city closed to all westerners until 1990. Until then all that was known was that Dnipropetrovs'k was a major manufacturing centre for agricultural tractors and special kitchen equipment. That was the official line but in reality this city was the centre of Soviet excellence for the design and manufacturing of missiles for military use and systems used for astronomic research and the space programme known as Interkosmos.
Back in 2014 ETU asked the question, "So why should you race in Dnipropetrovs'k?" The answer was, "Well, several reasons: you will be the first international athletes to race on Ukrainian soil for our sport; you will go somewhere that most of your friends have never been; you will be looked after very well by the LOC and have a great race in a city that was closed to all Westerners until only 1990."
Some athletes were unable to race there but we still saw a women's race that thrilled the spectators and it was Slovenia's Mateja Šimic who pushed so hard to snatch the title from race favourite, Yuliya Yelistratova.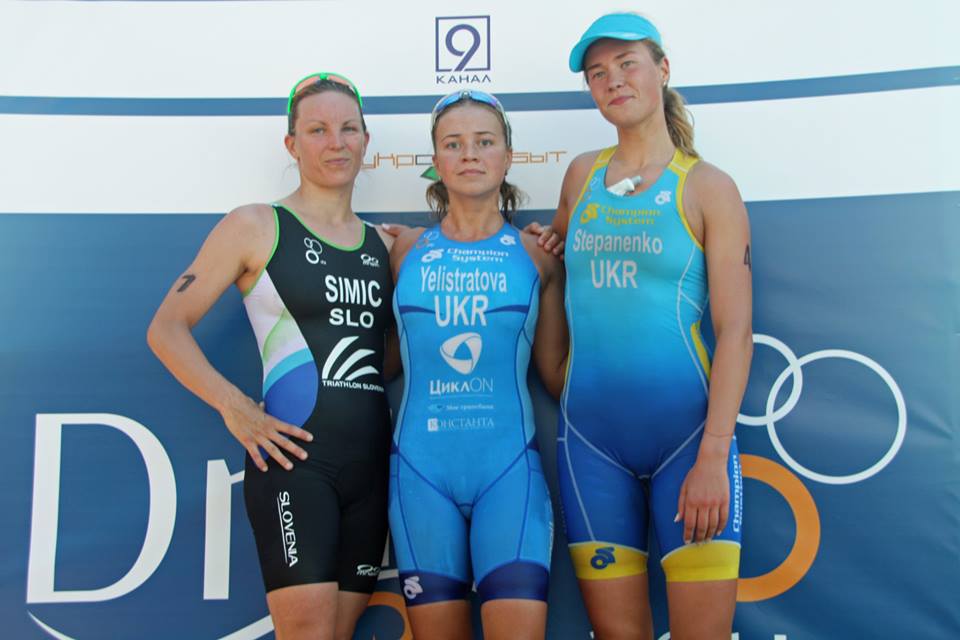 It was the powerful cycling and supreme running from Yelistratova that gave her the win. With Oleksandra Kokhan née Stepanenko who rounded off the podium and gave Ukraine dominance in the race.
The men's race saw greater international representation and a tight race with the expected battle between Yegor Martynenko and Danylo Sapunov. As expected, it was Sapunov, who has now moved on to longer distance events, who led them out of the water and up the steps to T1. It was very hot that day and after the bike, the athletes had a dead-flat 5k run to finish. With misting sprays along the course the LOC did its best to help cool the athletes and it was here that the speed of Portugal's Alexandre Nobre and Czech Republic's Tomáš Svoboda threatened to spoil the Ukrainian athletes' party but Martynenko had decided enough was enough and he powered away on the run, leaving Sergiy Kokhan to fight it out with Sapunov.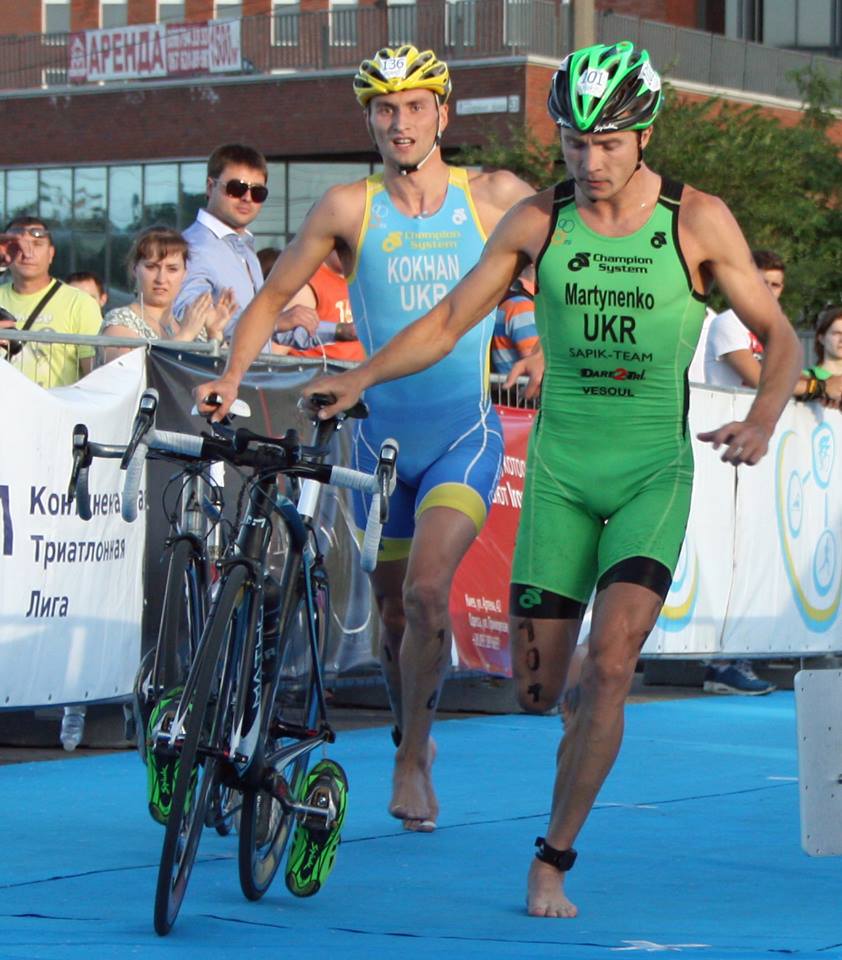 A Ukrainian clean-sweep.

This year the LOC has stepped up to the mark and will offer not only the ETU Triathlon European Cup but also a Junior European Cup. With prize-money amounting to €10,000 for the elite as well as the all-important points, the Juniors will be racing hard to collect points for their national federations. The ETU Rankings Series is now in full swing and points collected this weekend will most certainly create an impact upon the overall tables.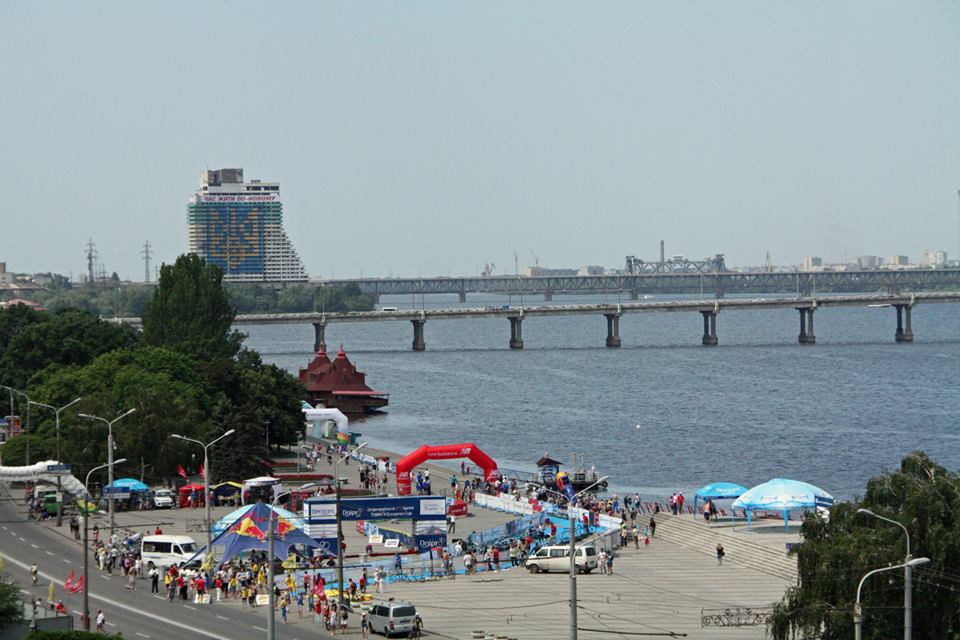 The swim course is a simple 750m swim – in a river that is 2km wide and with interesting currents.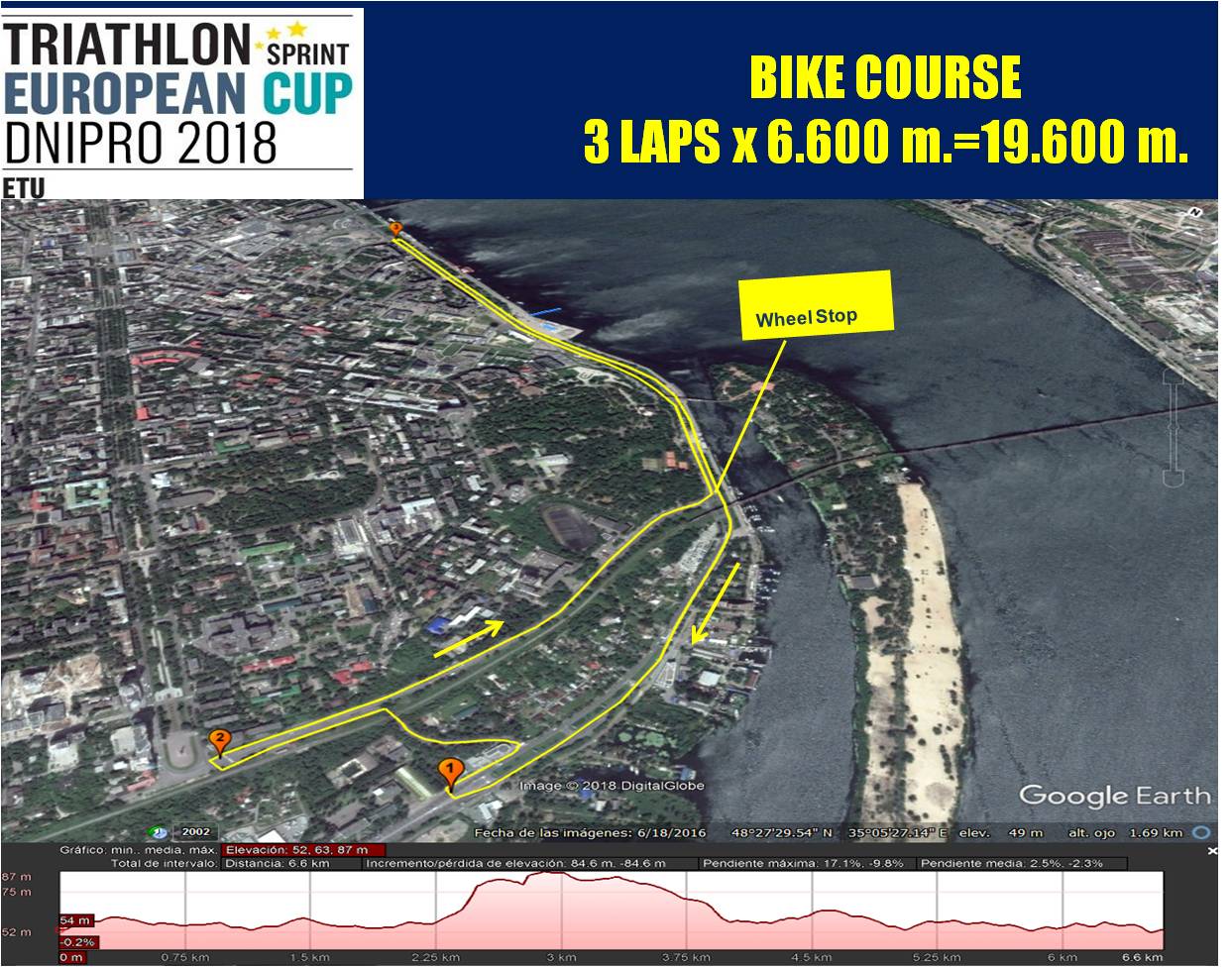 The bike course is definitely a challenging one with snappy climbs and fast, sweeping sections where it will be possible for a breakaway.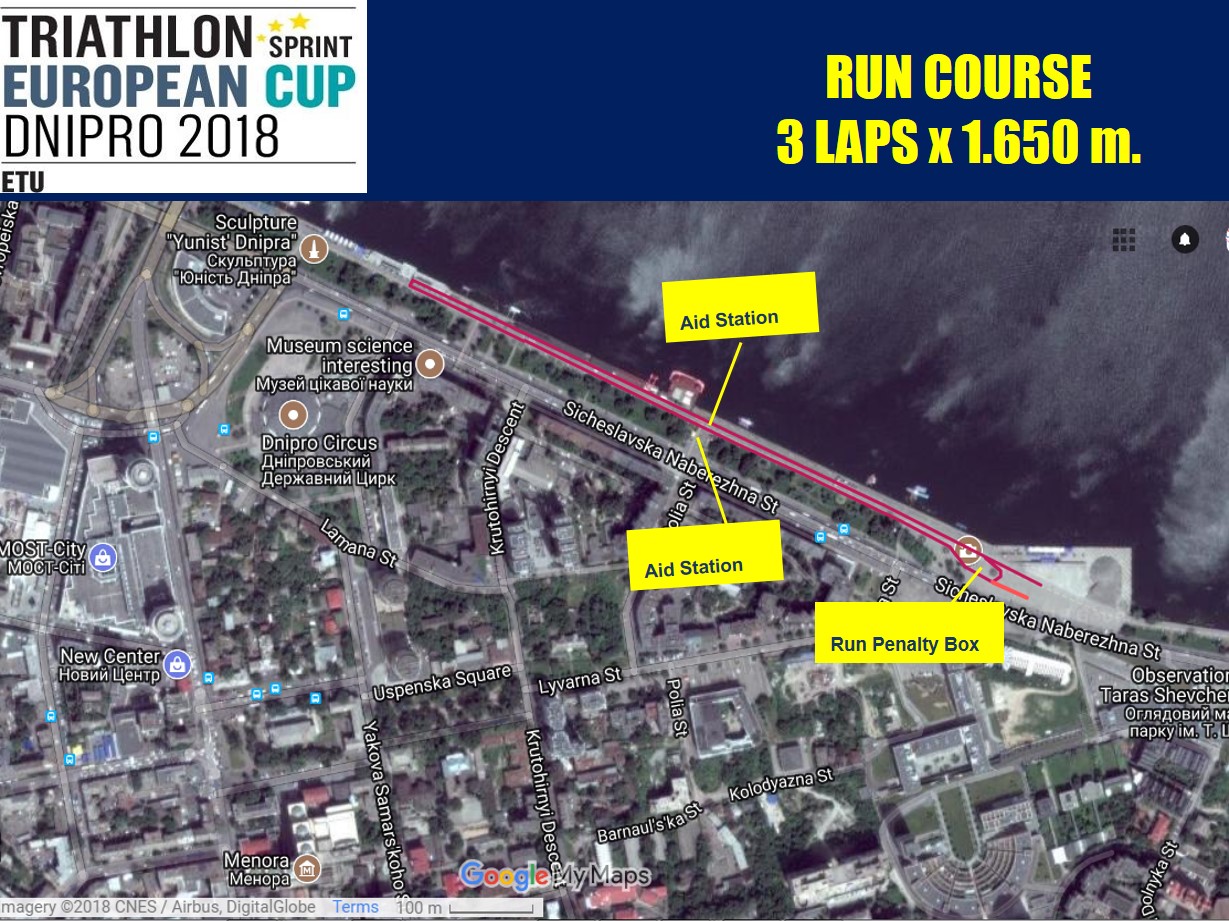 The run course is along the banks of the mighty Dnipro; flat but hot.
Amongst the Elite Women this year we see 12 nations represented. Of course, Ukraine will be there and of course Yelistratova will be there. After last weekend in the awful conditions of Olsztyn, where she managed to avoid two crashes in front of her but ended up on the ground after the third crash took her down, she will want not only a better race but the best race. She will face some competition from within her our ranks and in particular from Sofiya Pryyma. Pryyma's swim will put her close to Yelistratova and her biking and running could well mean that the battle to watch will be between these two home-country athletes.
Joining in the mix will be Romania's Antoanela Manac. Manac is part of the ASICS World Triathlon Team. "Signed in January and part of the ITU Strategic Plan 2018-2021, the partnership with the global sports brand provides precious support to the ITU Development programme as it seeks to further extend the opportunities it offers to developing triathlon nations, their athletes and coaches." Strong in the water and able to ride hard, she knows the course and this could be her chance for a good finish but she will face competition from Germany, Portugal and Israel.
Lina Völker ran well off the bike last weekend and with a better bike in Dnipro, could use her pace to get to the top five. Belarus is sending Hanna Maksimava. Winner of the bronze at the 2017 Almere-Amsterdam ETU Challenge Long Distance Triathlon European Championships, where she put in a 3:05 marathon to finish the race, she too suffered on the bike last weekend. Hungary's Klaudia Sebők will be keeping an eye on Manac. The two have raced against each other on several occasions and will know each other's strengths and weaknesses.
For the Elite Men, the top number goes to Vladimir Turbaevskiy RUS. Born up river in Kyiv he is the ideal ambassador for the Russian team here in Ukraine. Supporting him will be his wife, Yelistratova and hopefully her Mum will be there with their little boy to watch and cheer the Olympian pair on their way. Aside from Russia and Ukraine there is a whole range on nationalities making up the 20-strong international line-up. With visiting athletes from Brazil and USA. Of these, the US athlete, Alec Wilimovsky probably has more experience racing the European Circuit and he will no doubt be giving valuable advice to his teammates. For these guys, a real experience. Hopefully they will have watched the 2005 film, "Everything Is Illuminated" ahead of their trip.
Wearing #2 will be Germany's Jonathan Zipf. His 9th last weekend in Olsztyn placed him behind Turbaevskiy who was later DSQ'd for failing to stop for a time penalty and following that testing bike course, where the athletes had to slow down to almost a dead stop, before powering out of the dead turns, this course in Dnipro will be refreshingly different. A solid run on the back of a good bike could bring a medal to Germany.
Celebrating 13 years of international racing this year, is Italy's Andrea Secchiero. With top ten finishes recently in some smaller races, he will face a real test this weekend but again, with a good bike split, he could edge towards the podium.
Racing for Lithuania is Alberto Eugenio Casillas García. He had a bad day in Olsztyn as the rain and cold ate into his body and abandoned the race in T2. With good weather and central European warmth forecast for the weekend, he will be able to focus on pushing hard and perhaps on a repeat of his gold at the 2018 Playa Hermosa CAMTRI Triathlon American Cup.
Following some disappointing results, Ivan Ivanov UKR will be hoping to find form. He will be joined by teammate Oleksiy Syutkin whose recent 5th in the chilly 2017 Astana ASTC Sprint Triathlon Asian Cup and Central Asian Championships, ahead of Casillas, shows that his old form is returning. The twice-European Aquathlon Champion took time out to be with his young family and, on home soil, will be hoping for a top-five finish.
Following a pretty nasty crash last year in Düsseldorf, the previous winner here, Yegor Martynenko is testing his form. His 15:37 closing run last weekend in Olsztyn pretty much says, "I'm back!"
Watch out for Israel's promising young athlete Yoav Avigdor. He ran a 14:58 in Melilla earlier this season. A good place in the peloton, save his energy for the run and he might surprise.
The full start list can be seen here.

Valuable points to be won.
€10,000 in prize-money and the warm Ukrainian hospitality.
Alongside the European Cups, there is also a great opportunity for triathlon fun in the Open Races, over Sprint and Standard distances for individuals and for teams. Click here for further information.
For the Junior European Cup there is a huge team from Israel making their way to the city. Wearing #1 will be Slovenia's Tjaša Vrtačič. Steadily improving, she claimed valuable points last week in the chill of Olsztyn when she raced against the Elite. Her results have shown a clear improvement and she certainly had the advantage over Russia's Alvetina Stetsenko, who wears #2. Israel will be hoping that Raz Poradosu, who won bronze in Melilla can improve on that performance. Strong in the water; this open water swim, with the currents, will be to her advantage.
With other athletes, new to the circuit, this could be an exciting race to watch as positions change and as caution is thrown to wind.
For the Junior Men, we have a massive start with 65 on the start list. Again, a big team from Israel is to be seen. They are led by Itamar Eshed, who wear #1. He rode well in Melilla and was rewarded with a top-ten finish. Slovenia's Jan Škrjanc wears #2. Fast in the water and solid on the bike. Romania is sending Erick Rogoz Lörincz. All the way from Cluj, he races off-road to mix his training. His improvement in time in Melilla shows that his training is beginning to work.
Valuable points to be won.
€3,000 in prize-money and the warm Ukrainian hospitality.
---
Article gallery
Related Event: 2018 Dnipro ETU Sprint Triathlon European Cup
Latest
Videos
---
Latest
Event Galleries