NEWS
Châteauroux – 2016 sees the first ETU Elite Sprint Triathlon Championships
By Paul Groves
|
15 Feb, 2015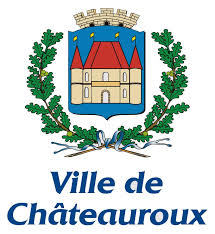 ETU and the French Triathlon Federation are pleased to announce that in 2016 we will see our very first Elite Sprint Championships and that this event will take place in the beautiful city of Châteauroux.
For ETU President, Renato Bertrandi this event represents a very positive step forwards in the development of sprint distance races in Europe. "I am very pleased to see that the French Triathlon Federation has agreed to host the 2016 Elite Sprint Triathlon Championships in Châteauroux. I know that the city is a favourite amongst French triathletes and that, situated in almost the centre of France it will be a location that is very easy to get to. Sprint events are becoming more and more popular and provide the athletes with an exciting format of racing as well as giving the media and sponsors a great show. The test event in July is the weekend after Geneva and I hope that many athletes will take the opportunity to make the short journey to support Châteauroux."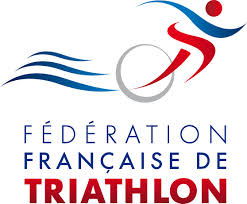 For the French Triathlon Federation, Philippe Lescure says, "I really want to thank Renato BERTRANDI and ETU for appointing Châteauroux to host the very first ETU European Triathlon Sprint Championship in July 2016. We, French Triathlon and Châteauroux are proud to have been chosen among several bids and we will do our best to welcome European countries in France and to offer them a great event. I would also like to thank the town and the Mayor of Châteauroux who is fully supporting our sport and who shares our goal to reach excellence in organising this event. We all look forward to giving a warm welcome all our European friends in France in 2016."
Located only 2 hours by train from the centre of Paris and easily accessible by road this city has been a venue over the years for French Championship events and is well-known and much loved by French athletes. Surrounded by forests and laying on the Indre River this is where you come to if you want to enjoy lakes and fitness trails.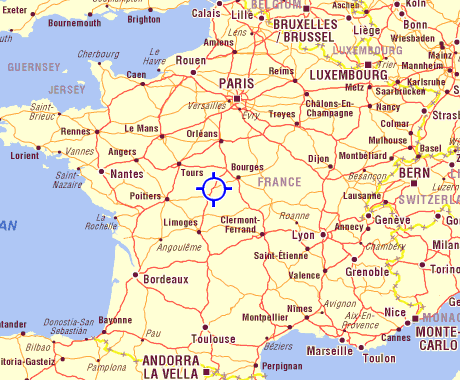 Travel there by car along the A20, relax in the train from Paris or let Nirvana Europe take care of your travel plans, Châteauroux is going to be THE place to be in 2016. Hotels-a-plenty with 2* to 4* hotels offering 2,500 beds. The LOC has even made arrangements with the Regional Football Training Institute and can offer accommodation on a bed & breakfast arrangement for only €18 or full-board at €30. Great deals then available to you for this race.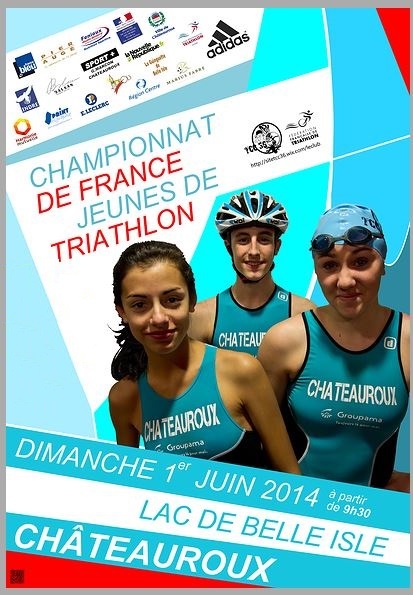 This event has been built upon many years of races being held here and forms part of a three year plan. In 2015 the venue will host a Junior and Elite Sprint European Cup. This will be taking place on 18th July. Alongside this international gathering of athletes will be events to attract people to the sport over shorter distances as well as events for youths. The French Triathlon Federation is keen to use the venue to promote the development of our sport and what better way to do it than to encourage people to take part at a major event.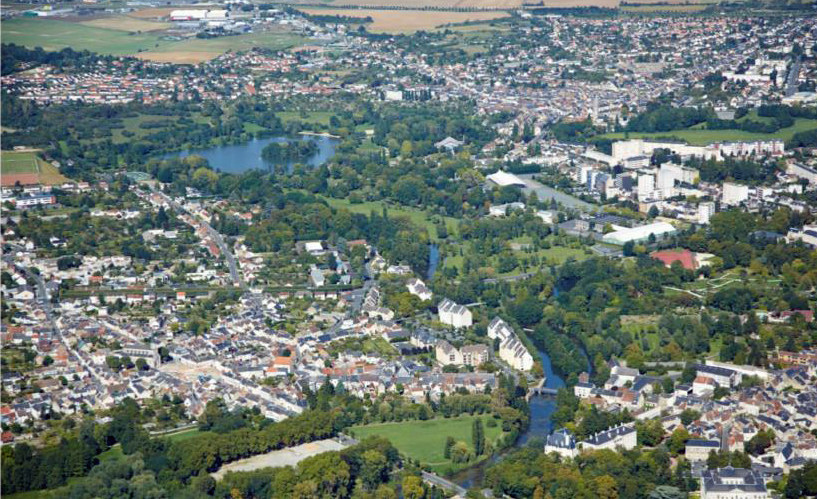 2016, with the "test event" completed, will see the ETU Sprint Triathlon Championships and with this strong legacy the aim is to continue into 2017 with further events.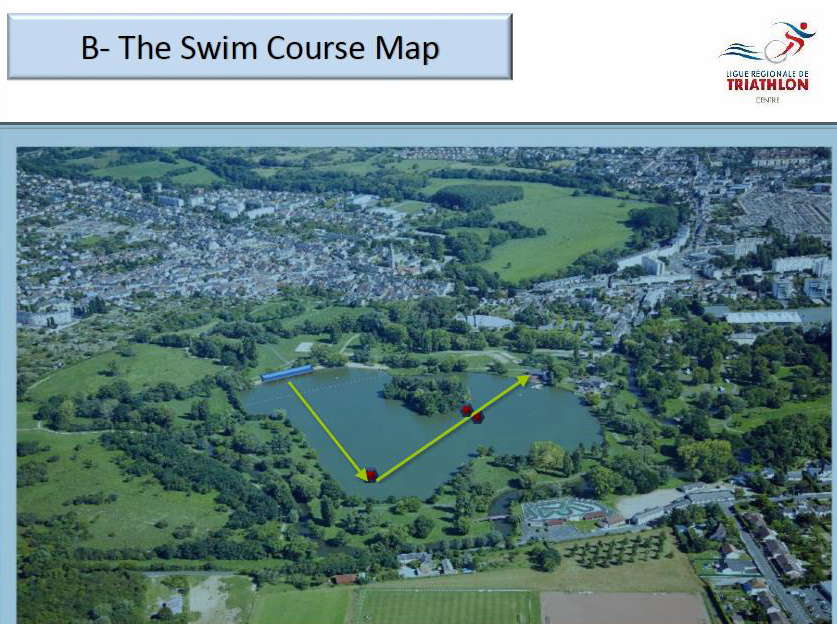 The location for the race is known as "Belle Isle". The beautiful lake, covering some 8 hectares and surrounded by a further 12 hectares of protected green areas, has its own safe beach for the start and exit from the 750m lake swim. Viewing from the shores of the lake is excellent and with spacious parking areas and all the facilities you need, we are sure that athlete, coach and spectator alike will be well-catered for.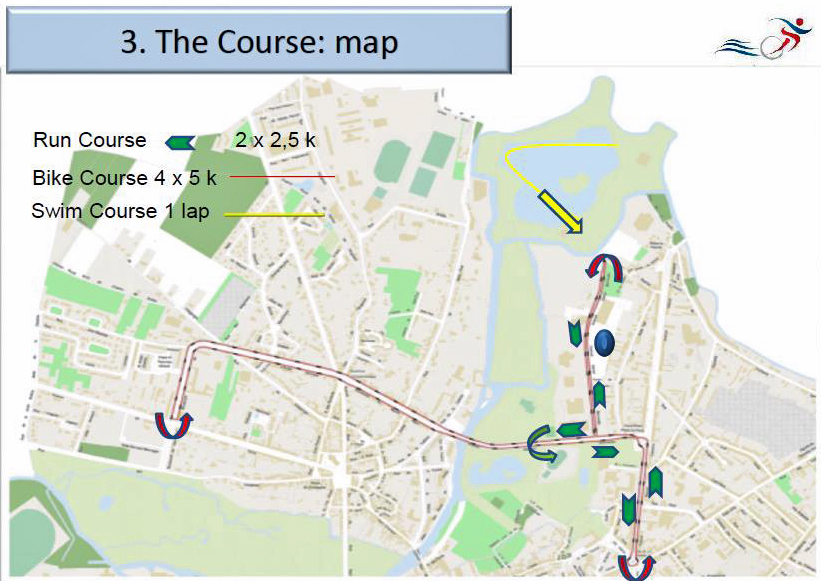 Out onto the bike and the roads leading to and from the town centre will all be secured. The 4-lap 20k bike course is technical and will test the athletes. Again there are great spectator opportunities. Each lap passes through transition and so crowds who stay by the lake will get a chance to see the athletes as they chase over the blue carpet.
The run course uses part of the bike course and will be a fast and furious 5k.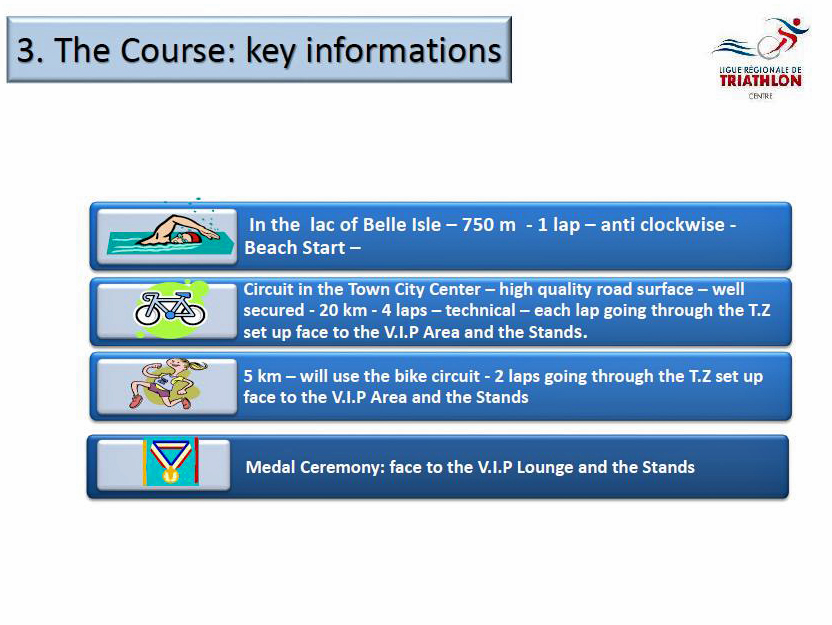 The championships will be covered by live broadcasting and the LOC will be working in partnership with the biggest regional newspaper, La Nouvelle République and local French Radio Station, "France Bleu" to bring up to date news.
All course maps are at present "provisional".
Latest
Videos
---
Latest
Event Galleries