NEWS
Athletes and Coaches hail ETU Development Camp
By David Peddie
|
30 Jul, 2013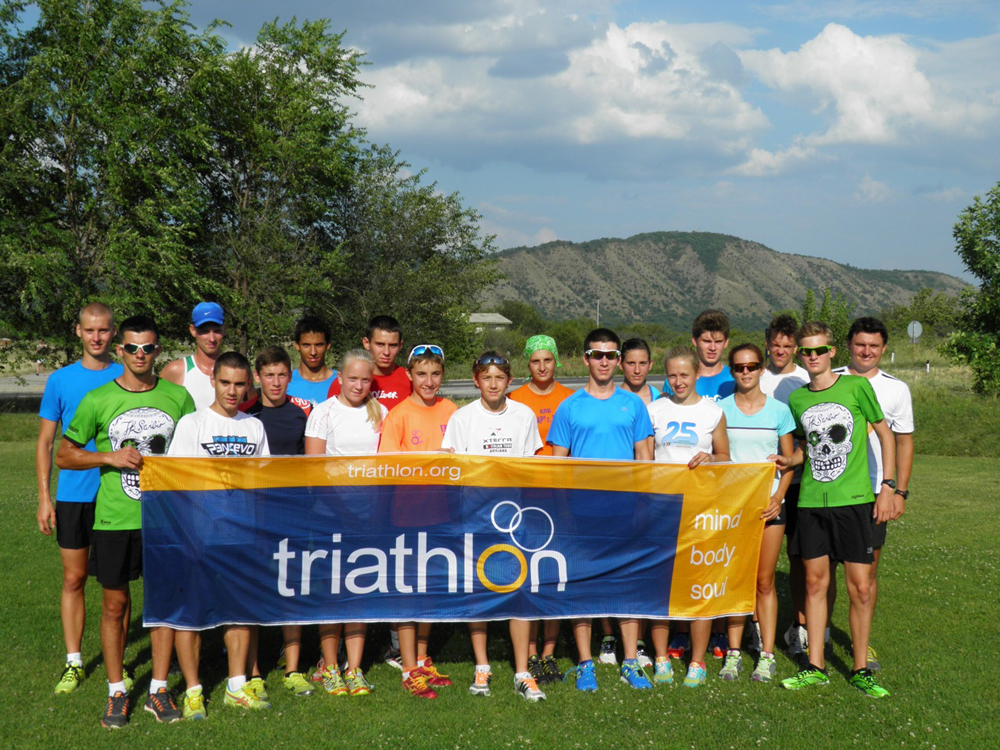 For the last ten days, 16 athletes and coaches from across Europe have been attending the ETU Development Camp in Karatas, Serbia.
The main goal of the camp was to implement and understand field test results as part of a long term athlete development plan for both athletes and coaches.
The camp program for the athletes and coaches included two or three practical training sessions per day and evening lecture sessions covering different topics for their future development such as: nutrition, running biomechanics, bunch riding, ethics and anti-doping, competition rules, swimming technique, long term athlete development planning and psychology.
The camp was hosted by Head Coach and ETU Development Co-ordinator Zeljko Bijuk alongside Klemen Laurenczak (SLO) at the Serbian Youth Centre in Karatas next to the Danube river bank, with great thanks to Simo Cickovic, General secretary of the Serbian Triathlon Union.
The athletes and coaches attending the camp came from a number of developing European Federations including: Belarus, Estonia, Malta, Cyprus, Croatia, Italy, Serbia, Slovenia, Romania and Macedonia.
Bijuk said: "I always feel privileged and honoured to work with such motivated young athletes who are keen and eager to excel in our beautiful sport. It makes me happy when I see that my influence on them makes them better athletes and people.
"I would like to thank ETU and ITU for creating such wonderful opportunities for athletes and coaches so our sport can grow constantly."
The athletes and coaches attending the camp had this to say on their experience:
Assistant Head Coach - Klemen Laurenčak (Slovenia)
"The Junior development camp in Serbia was one of my best coaching experiences. I had the opportunity to work with very talented and motivated athletes and I think most of them will have a breakthrough in triathlon in the next few years.
"I hope we opened their eyes and showed them different approaches to triathlon training and made them think how training sessions should look like."
Coach - Vinko Vrebac (Croatia)
"I'm glad that I got the opportunity to take part in this camp. During the camp I've learned a lot of new things regarding the coaching. I can't wait to get back home and use the knowledge gained in the camp with the kids and athletes that I work with."
Athlete - Urh Klenovsek (Slovenia)
"The name of the camp explains itself really well, the coaches provide us with great information and tips. We really can develop the skills needed not only to be a better athlete but also be a better sportsman."
Athlete - Janeli Jaomaa (Estonia)
"I am very happy that I could participate at this international camp which was my first one with other triathletes. When we arrived everybody was so friendly and kind. The coaches gave me good advice and helped to improve and fix my technique."
Athlete - Sergiy Polikarpenko (Ukraine-Italy)
"My first camp was an incredible experience. I learned not only how to do difficult training but also how to cure my particular techniques and specific exercises."
Athlete - Luka Garevski (Macedonia)
"The past 10 days have been an extraordinary experience. I had this wonderful opportunity to work, train and develop my triathlon skills together with other great athletes and coaches who did an excellent job."
For more information on ETU Development opportunities and future camps, please contact Zeljko Bijuk at zeljko.bijuk@etu.triathlon.org
Latest
Videos
---
Latest
Event Galleries