NEWS
A right Royal Affair in Madrid - new course - stunning finish
By Paul Groves
|
28 Apr, 2016
Madrid – a race known to so many and one of the most popular on the circuit. This year sees something rather special. This year sees a "Royal" touch. This year sees the return to the start line of no less than Ivan Raña but that is not all. Click on the photo to see the promo video.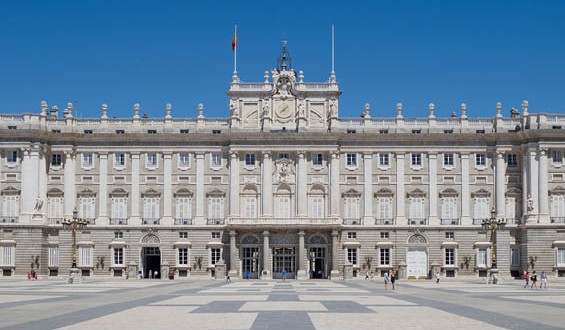 This year the race will finish next to the Royal Palace! What a spectacular improvement on the race. A finish at this stunning historical building.
But … there is more.
After the swim in the Casa de Campo, keeping some of the tradition, the bike and run course will take the athletes through the downtown streets of Madrid, racing past Cuesta de La Vega and along Pintor Rosales and Ferraz, past the Royal Theatre and Royal Palace.

The city has given full support to this new development, which it is felt, will breathe new life into the event and make it more exciting than ever before.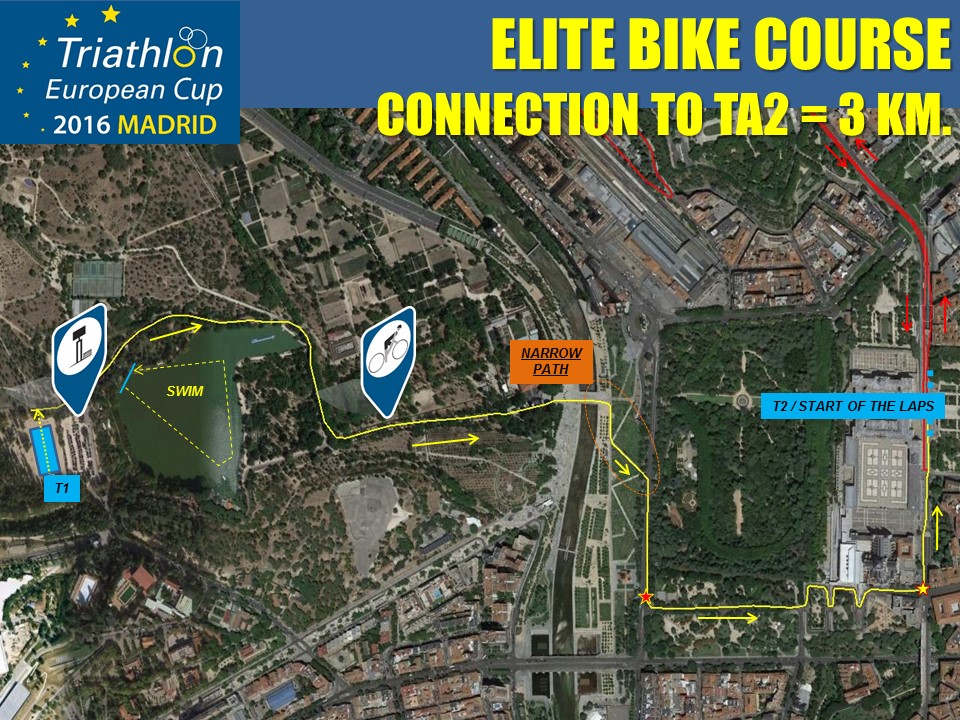 To accommodate the new bike course, athletes will ride 3k from swim exit to arrive at the start of their laps.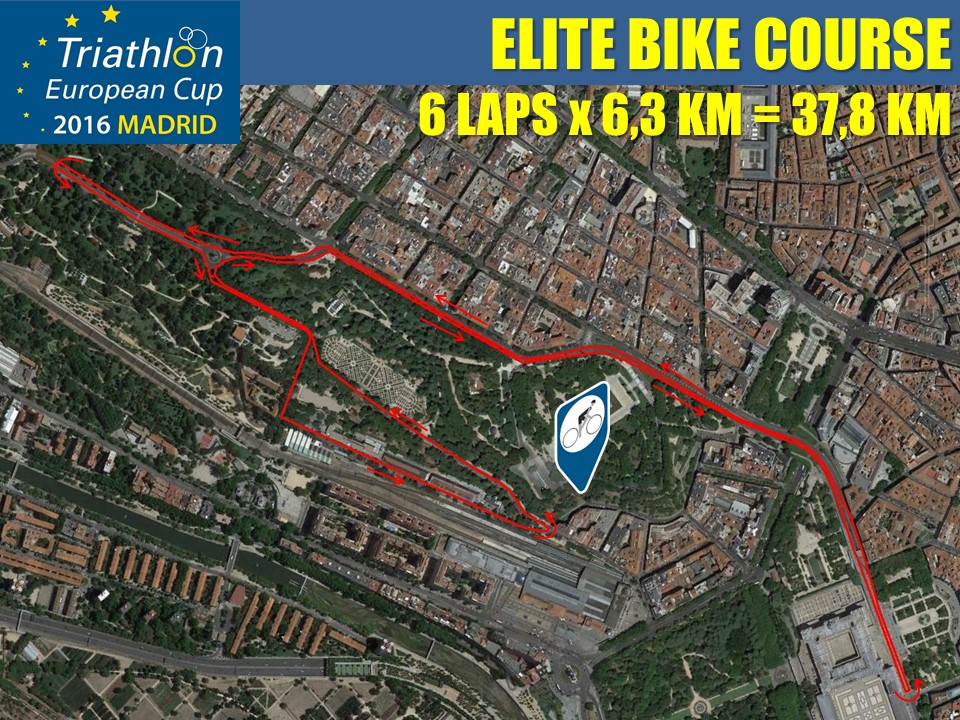 Then, each of the 6 laps will be 6.3km. A longer than usual bike of 40.8 will take them back to a new run course and the finish in front of the Palace.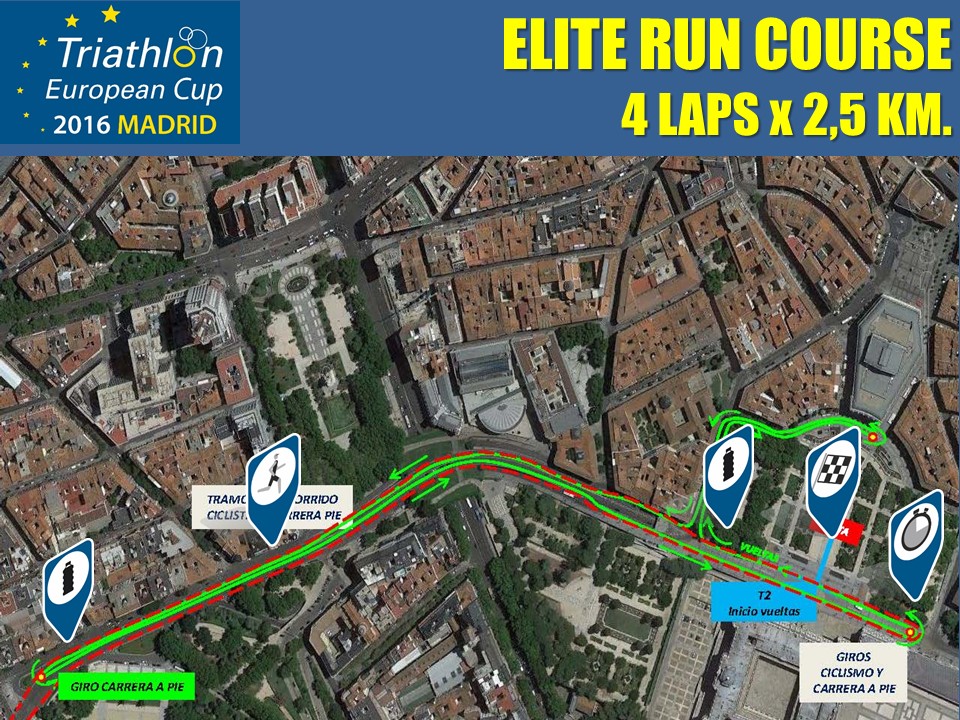 As usual there is a good purse for the athletes, who will race not only for money but also for the all-important points.
Prize-money €12,500
Prize money distribution.
Elite men and women:
1st. €1,565
2nd. €1,250
3rd. €940
4th. €625
5th. €500
6th. €435
7th. €375
8th. €250
9th. €185
10th. €125
Who can we expect to be there and who is likely to make it to the podium?
In the Elite Women's race, we have a total of 35 athletes from 15 nations, including visitors from Colombia and New Zealand.
Jessica Learmonth GBR, who had such an amazing race in 2014 when she led the swim and bike and only faded in the last stages of the run to take bronze behind Yuliya Yelistratova UKR and Anneke Jenkins NZL. Jenkins will race this weekend but the Ukrainian ETU Ranking Series winner from 2015 is absent.
Lucy Hall GBR leads the start list and after her silver in Quarteira will be hoping her swim strength, combined with Learmonth, will take her into a strong position for the bike. If these two can make a repeat of their masterclass in riding that we saw in Portugal earlier this month then the rest of the athlete will face a real test.
Michelle Flipo, now racing for France will be hoping that the jet lag has gone after disappointing results from the southern hemisphere. She wears #2. With a silver medal from Melilla, Barcelona-born Anna Godoy Contreras ESP will have the crowds behind her. On such a course it really is one where a strong display of cycling will have a chance to decide the race. Learmonth and Hall have shown that they are a formidable duo. British hopes must be high for this weekend.
In the Elite Men's race, we have a total of 80 athletes from 21 nations, including visitors from Argentina, Canada, Mexico and the USA. Wearing #1 is the Norwegian cycling supremo, Kristian Blummenfelt. He too will hope that this technical and hilly course will enable him to escape. His silver medal in Alanya last year showed us all that his run pace is not to be ignored. Uxío Abuín Ares suffered with technical problems in Melilla but had a classic season in 2015, which saw him crowned as ETU Rankings Series winner. He too will be hoping that a home crowd can inspire him to a place on the podium. As race winner last year he will be one to watch. Alongside him will be fellow Spaniard, David Castro Fajardo. Bronze in Quarteira after a silver in Tongyeong shows that he is in form and with a determination as a European U23 champion and World Silver medallist in 2015 to show the Elites that he has arrived.
Cesar Saracho MEX had a great race last year in Madrid, with strong support around the course. He wears #2. French hopes will rest upon Etienne Diemunsch who has been training in the sunshine of Southern France and comes here having won the Long Distance title there against a stellar line-up.
The weather looks good. The course looks great. Wish you were there ? Me too !
---
Article gallery
Related Event: 2016 Madrid ETU Triathlon European Cup
Latest
Videos
---
Latest
Event Galleries