NEWS
2015 Tábor ETU Triathlon Junior European Cup
By Paul Groves
|
01 Aug, 2015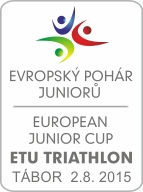 How good it is to see this race back on the ETU calendar. 2010 saw the first event, with wins by Abrahm Louw NAM and Sofie Hooghe BEL. That was way back when Andrey Bryukhankov was a junior. The race returned in 2011, with Alois Knabl AUT taking gold and Sara Vilic AUT striding out to make it an Austrian gold-fest. 2012 saw, still as a junior, Kristian Blummenfelt NOR win the title, with Gordon Benson and Marc Austin GBR close on his heels. The women's race was won by Sarah Wilm GER with again, two Brits on her heels; Georgia Taylor-Brown and Sophie Coldwell. These names are now well-established elite athletes. So from those results alone you can see that this small race, tucked away in the Czech Republic has some considerable pedigree.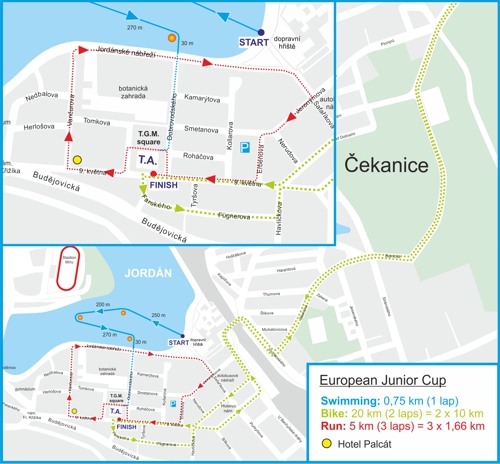 Racing takes place this weekend. All the preparation will be today (Saturday) with the race starting tomorrow at 12:00 for the Junior Men and 13:15 for the Junior Women.
Top of the Men's ranking is Slovenia's Matevž Planko. 16th in Vienna was improved upon to 14th in Istanbul and then again to 6th in Zagreb. Will his improvement over these races take him to the podium? He will have to fight against Austria's Philip Horwarth who enjoyed a silver in Burgas not so long ago. Behind him comes Matúš Mates Verbovský with his bronze in Burgas he knows what he has to do to beat Howarth. Will Tábor be the place to do it ?
45 men; 12 nations, with local hopes resting upon Jakub Řehy Řehula. With a name like that the other competitors had better watch out ! A visitor from far away seeking to collect some points is Eduardo Londoño Naranjo COL. He will not be an unknown on the start line as he has previously raced in Geneva and will now be hoping to improve upon his 14th place there in 2014. Watch out also for Temirlan Temirov KAZ, with his silver in New Taipei and a fifth place in Burabay, he could be a threat to the Europeans and he knows them from his race in Melilla when he just missed the top ten. Ayan Beisenbayev KAZ is on slightly better form at present with his bronze and gold in those two races and his 4th in Melilla. It is not going to be easy for the Europeans at this race.
Heading the Women's rankings is Eva Skaza also from SLO. With a bronze in Vienna this year she will be optimistic for a good performance and perhaps an improvement here in Tabor. It will be tough for her because wearing at number two is Jana Macháčová whose 5th in Vienna turned into a winning gold in Châteauroux just recently. She will be coming to this event ready and primed. Third in line will be Yuval Gome ISR. Her gold in Kupiškis was not followed up by a podium in Geneva and she will be keen to perform well tomorrow.
25 women; 9 nations and local hopes resting upon Macháčová.
Related Event: 2015 Tabor ETU Triathlon Junior European Cup
Latest
Videos
---
Latest
Event Galleries