NEWS
1985 - Immenstadt, where it all began ...
By Paul Groves
|
23 Jul, 2020
It was on 27th July, back in 1985, that the world saw some tense moments for athletes, organisers and spectators alike as the very first European Triathlon Championships took place in Immenstadt, Allgäu. On the very edge of southern Germany in stunning scenery and with tough mountain climbs, it was not going to be the easiest of races but, as we have heard time and time again, triathlon is an endurance sport and back then, it was more than a surprise for the TV Presenter, who appeared stunned by the concept. Click the photo to watch the race.

The venue was to hold two further international championships, in 2004 and 2010 when the ETU and ITU championships over the long distance took place but it was the iconic first event that set the ball rolling and took swim, bike, run to the world. Sadly, there are not so many images from this event. If you have any at home and would like to share them with ETU, please send them in to HQ.
With a solid tradition already of triathlon events, German Altenried pushed for the sport to get a higher profile. The owner of a sports shop in town, he had seen Hawaii on TV and was hooked. In 1983 he staged the German Triathlon Championships, with a race format of 1900m swim, 113k bike and 29k run. Expecting a crazy bunch of perhaps 20 or 30 athletes, he had instead a race with over 200 participants.
He began organising trips to Hawaii for budding triathletes and, noting that the "arschkalt" water temperatures in the Großer Alpsee were most certainly not like Hawaii and that with every race in his home town, sales of a paraffin-based cream went through the roof, Altenreid saw an opportunity and in 1984 created the first "triathlon wetsuit". From there the sport began to open up for more and more. No more "arschkalt" swims with a brand-new wetsuit!
With the decision by the newly-formed ETU to give the event Championships status in 1985 and to race over the 1300m, 58k bike and 12k run, the course of the sport was set and well, triathlon in Europe simply got bigger and bigger so that now, Europe is the leading confederation in the world for not just races but also for athletes of all ages, coaches and officials. At the age of 75, Altenried handed over the running of the event that has continued to challenge athletes over the years.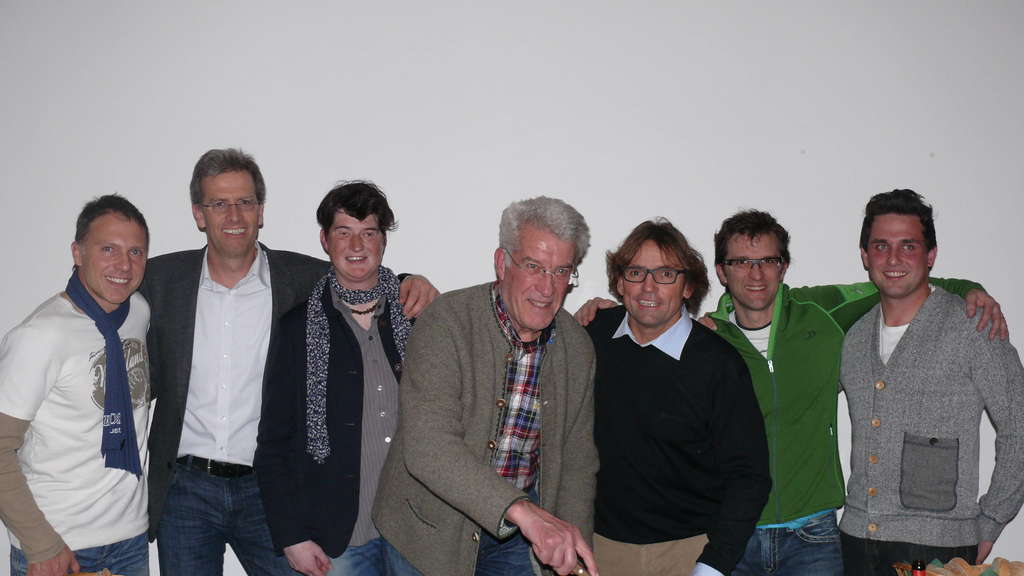 PIC © Josef Gutsmiedl
This is the man behind the "verrückte Idee" and we are forever indebted to him. Click the photo above to read (in German) the newspaper article.
The race was a huge success but the winner of the women's race was no European. Erin Baker's announcement that she would race pretty much settled the race before it was started. She was the "any distance" winner from New Zealand and from a family of athletes. The great Dan Empfield sums her up pretty well in his 1999 interview, "Every once in a while an athlete comes along who simply dominates an entire sport (…) Erin Baker is every bit the equal to Mark Allen. She "only" won the Ironman twice, but the event never meant that much to her. What Baker is most known for is her sheer and complete dominance in any event she wanted to win and was prepared to win—any race at any distance." Read the full article here.
It was Belgium's Lieve Cappaert-Paulus who led out in the swim but with only a handful of seconds separating her from the Kiwi. Out onto the bike and Baker's power was unmatched. Taking over ten minutes away from the Belgian athlete, Baker stormed into the lead and would remain there until she crossed the line. Her 2:51:18 put her into the top 40 overall in this 700+ start list. We only have records going to about 120 athletes in total but this was a wake-up call for the Europeans.
Cappaert-Paulus would take the ETU Middle Distance title in Denmark's Åbenrå and would in 1986 be crowned European Champion over the "standard distance" with her victory in Milton Keynes but in Immenstadt, the first European athlete to finish, nearly 15 minutes behind Baker, was Alexandra Kremer to the delight of the local crowds. The German athlete, who later delivered the hottest book available in Germany on this new sport of triathlon: Triathlon perfekt : Technik, Training, Wettkampf, co-authored with Prof. Dr. Martin Engelhardt, current President of the German Triathlon Union, left the world far too soon, when she passed away at only 40 years-old in 1999.
Second place and silver medal went to Sweden's cross-country skier, Anna-Lena Frizton, who later went on to race at two Winter Olympics and bronze went to GB's Sarah Coope who matched that medal at Milton Keynes before taking the European title in 1987 at the Marseille European Championships. Coope's contribution to the sport in the UK has been immense. Winning 6 European titles across all distances, she was also the very first British woman to appear on the Hawaii podium, when she won bronze behind Paula Newby-Fraser and Erin Baker in 1991. Catch up with her in Simon Ward's podcast.
One standout performance was that from Meeri Bodelid. The Swedish athlete, standing only 1.51m was national champion in three sports. She raced cross-country at the 1972 Winter Olympics, she was national cycling champion in 1971 and 1972 and took up marathon running in 1980 and became national champion in 1982. Her marathon PB, set when she was 40, was 2:39:39. It was inevitable that triathlon would attract her and coming home in 7th place in Immenstadt, with the fastest run of the day against all those younger athletes must go down as one of the most impressive results in our history.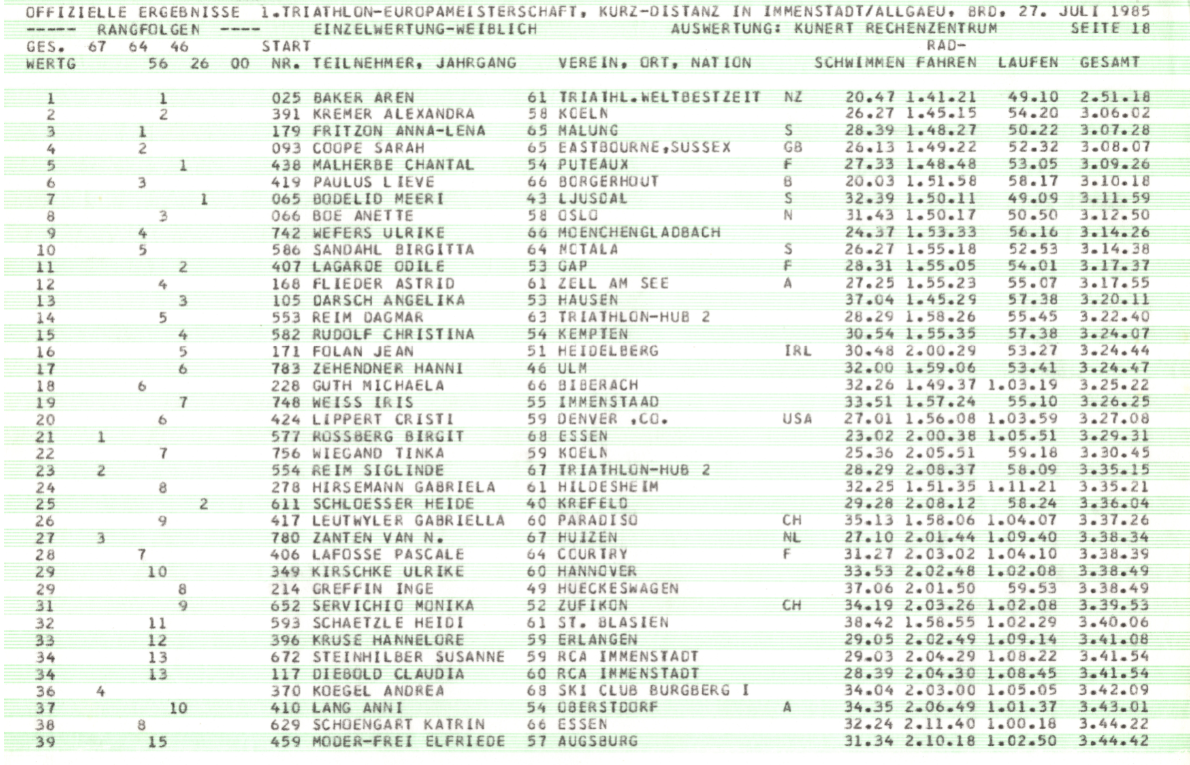 The Men's race was an amazing battle with, as expected, Frenchman, Yves Cordier comfortably leading out on the swim. He was just in view as Germany's Dirk Aschmoneit exited the water but was well-gone by the time that Dutchman, Rob Barel found land. As you can see from the film, it was a cat and mouse race with Cordier struggling on the bike against the powerful Barel. As Cordier dropped back, the race looked for a while as if it would deliver two Dutchmen to the podium. Axel Koenders had edged up and for a while was in silver medal position but then the German attacks began. Jörg Hoffmann and Klaus Klären both showed greater power on the bike and Koenders was caught.
Barel still led into T2 and was looking good. A quick chat with the TV bike as the race was ending and he knew he had the title. The first ever European Triathlon Champion had taken the title ahead of two German athletes and had beaten the great Yves Cordier.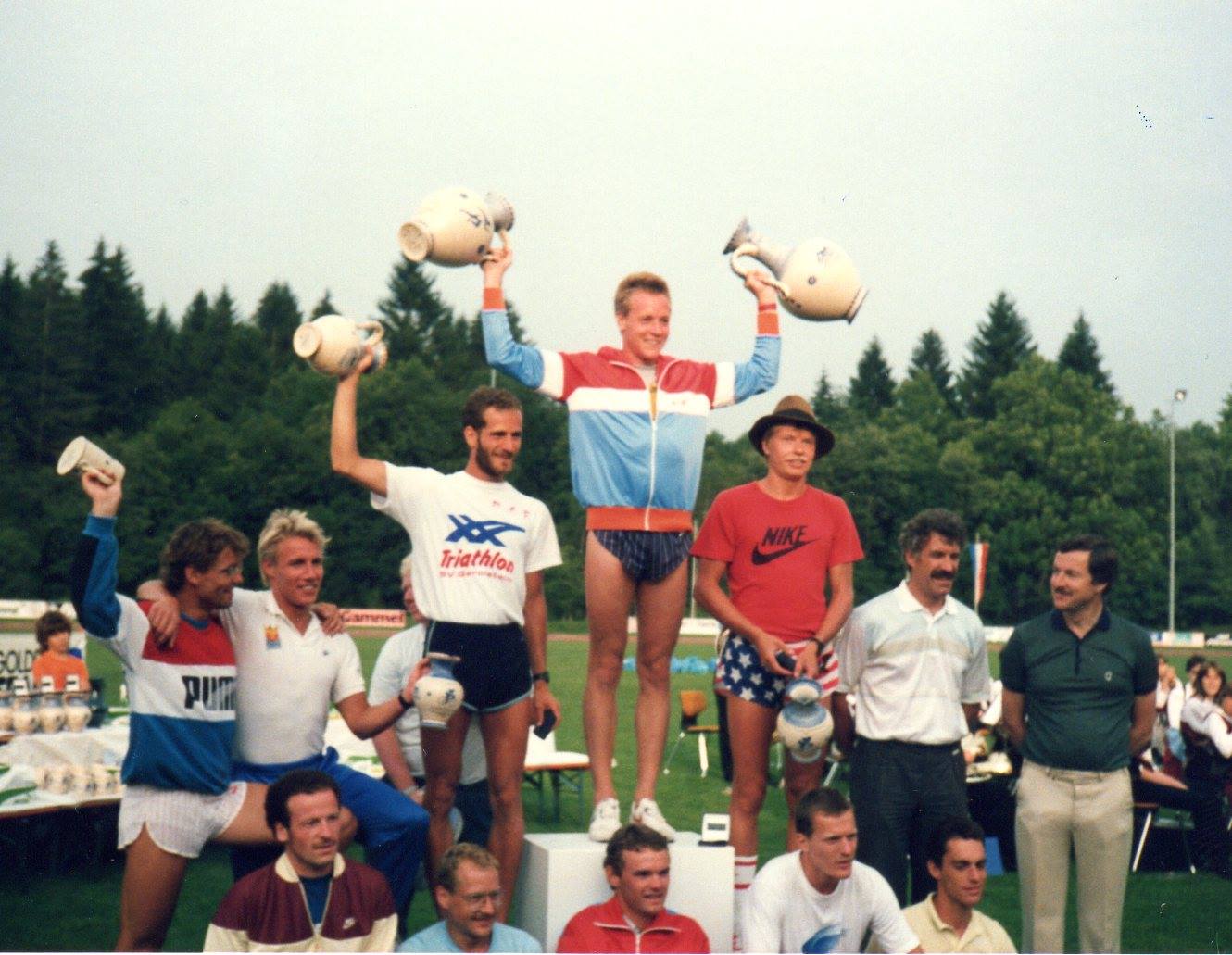 Silver went to Klären and bronze to Hoffmann.
History had been made and Barel was to find himself at the cutting edge of our triathlon history for many years to come. Over his elite career, he won the European "Olympic" Distance title 4 times (Immenstadt, Milton Keynes – 1986, Marseille – 1987, Venice – 1988) and the team title in Ulster in 1985. He took the Middle-Distance European title in 1986 – Brasschaat, Stein in 1988, Trier in 1990 and Novo Mesto in 1994. A world champion in Nice in 1994 and, as an Age-Group athlete, he has taken the gold medal in Cross-Tri in Ibiza – 2007 ETU, Lorient 2007 ITU, Ameland 2008 ITU, Sardinia ETU T-Natura in 2014 and Snowy Mountains in 2016 for the Worlds.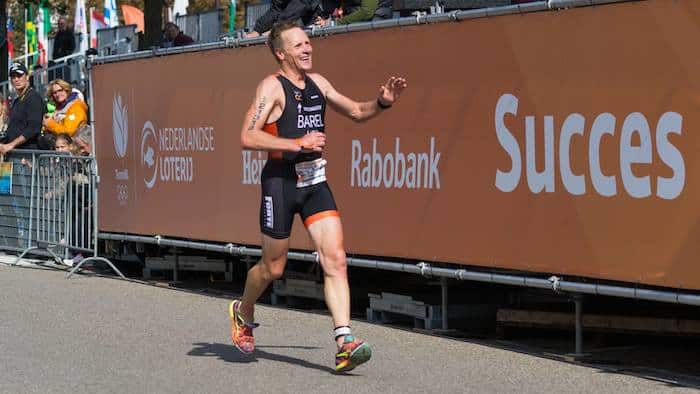 His last win, on home soil, was in Rotterdam at the Worlds. He won that by a massive 7 minutes.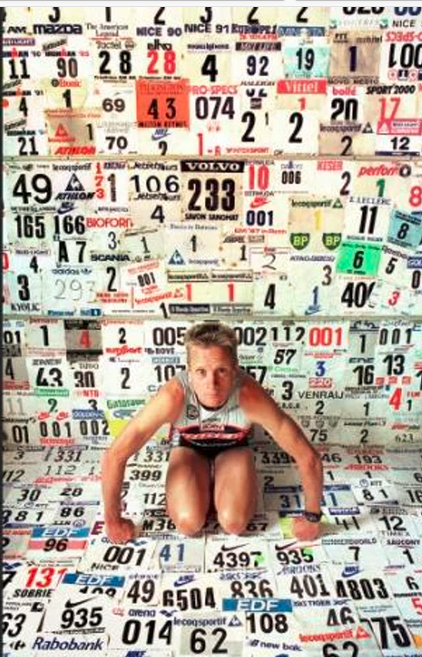 Perhaps now is a good time to speak to Rob and see just what memories he has of that remarkable day and that iconic race.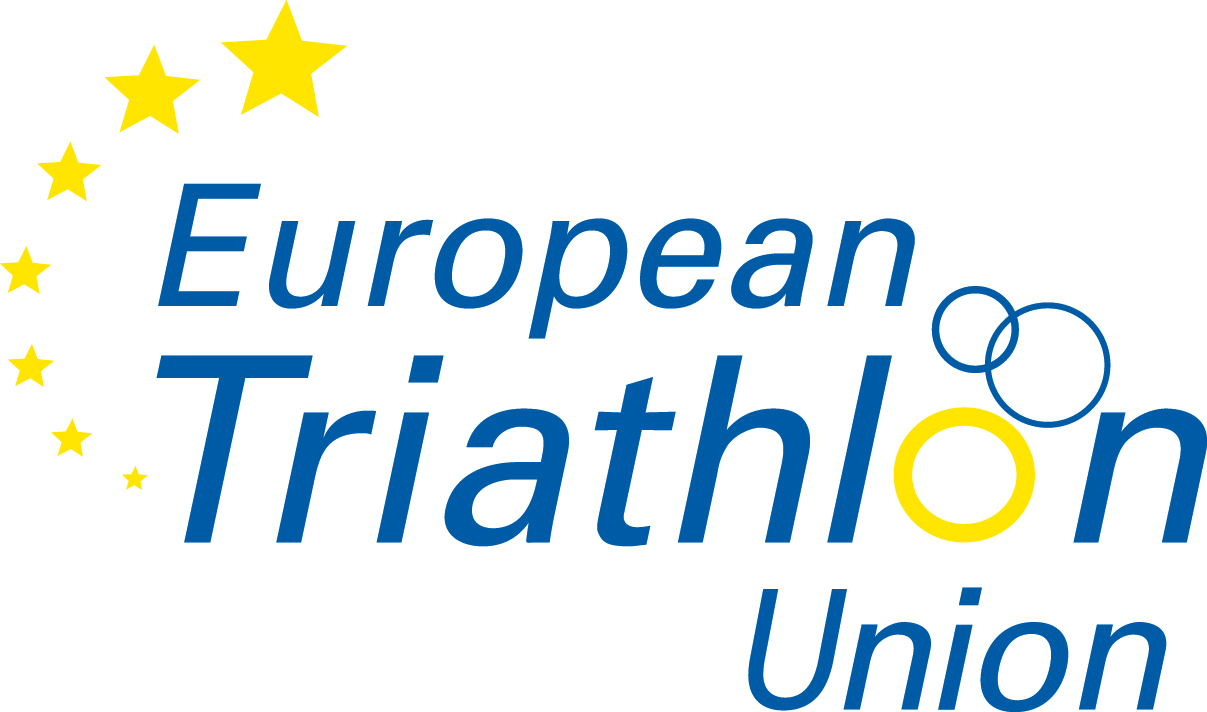 Rob, you arrived at Immenstadt with more experience than most. What races had you already competed in before July 1985?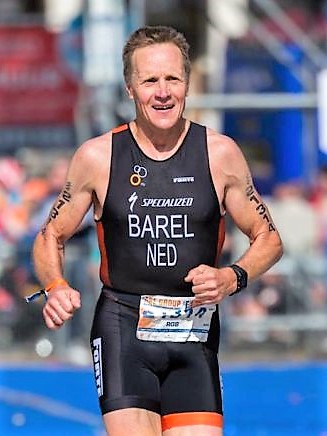 My first triathlon was on September 3 1982, in 1983 I did 3 triathlons and in 1984 I got my first sponsor contract and reluctantly did my first Long-distance race in Almere. I did not dream about a future in the sport, but my sponsor gave me a ticket for Ironman Kona that year and there I discovered the impact of this new sport and my own potential by finishing fourth. So, by beginning of 1985 I fully focused on racing triathlon. I knew I was one of the favourites, but surprise talents were to be expected in such a young sport.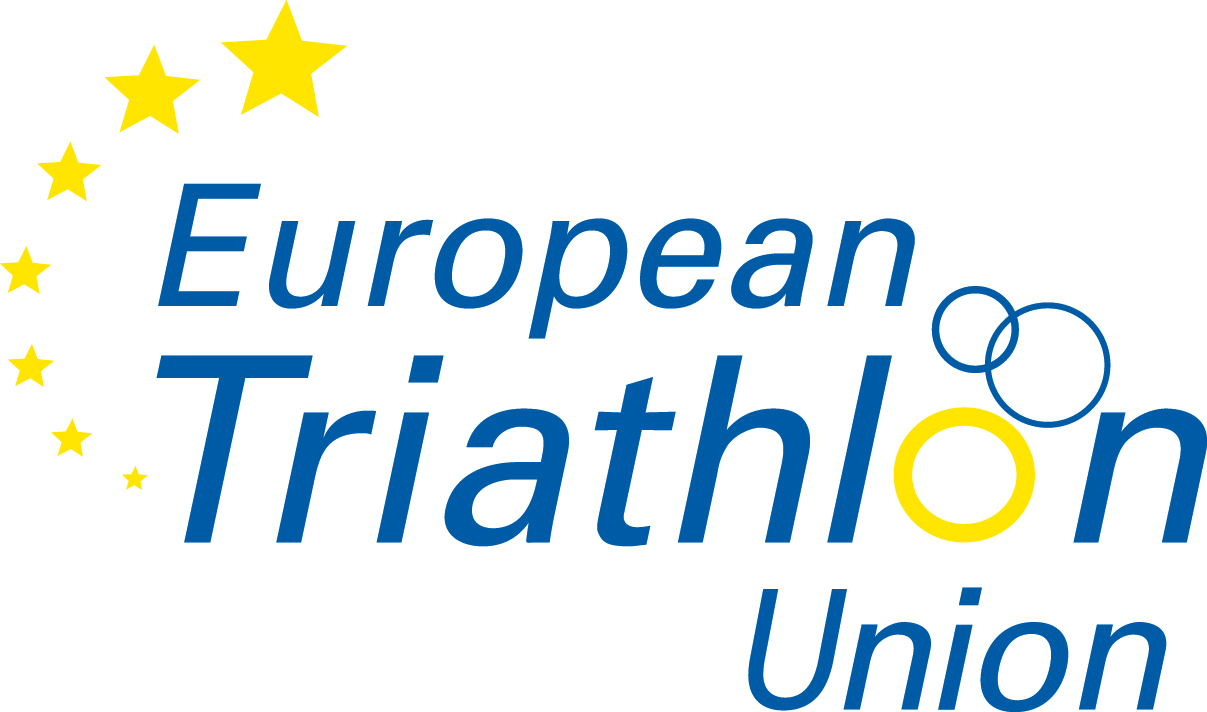 Was there much opportunity in the Netherlands for organised training, or was it pretty much a "do it yourself" sport back then?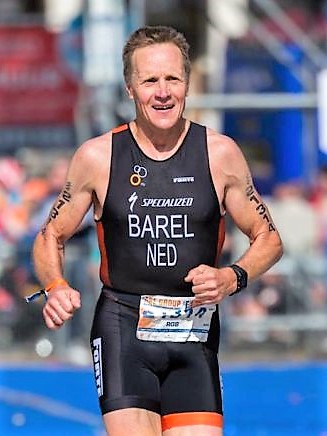 In 1984 I was lucky to be in a team with Gregor Stam and former pro cyclist Peter Zijerveld. Early 1985 I spent 4 weeks in San Diego to train with Mark Allen, Scott Molina and Scott Tinley. They all helped me a lot with their experience. I think that pioneer period helped create that special camaraderie that is still so typical for our sport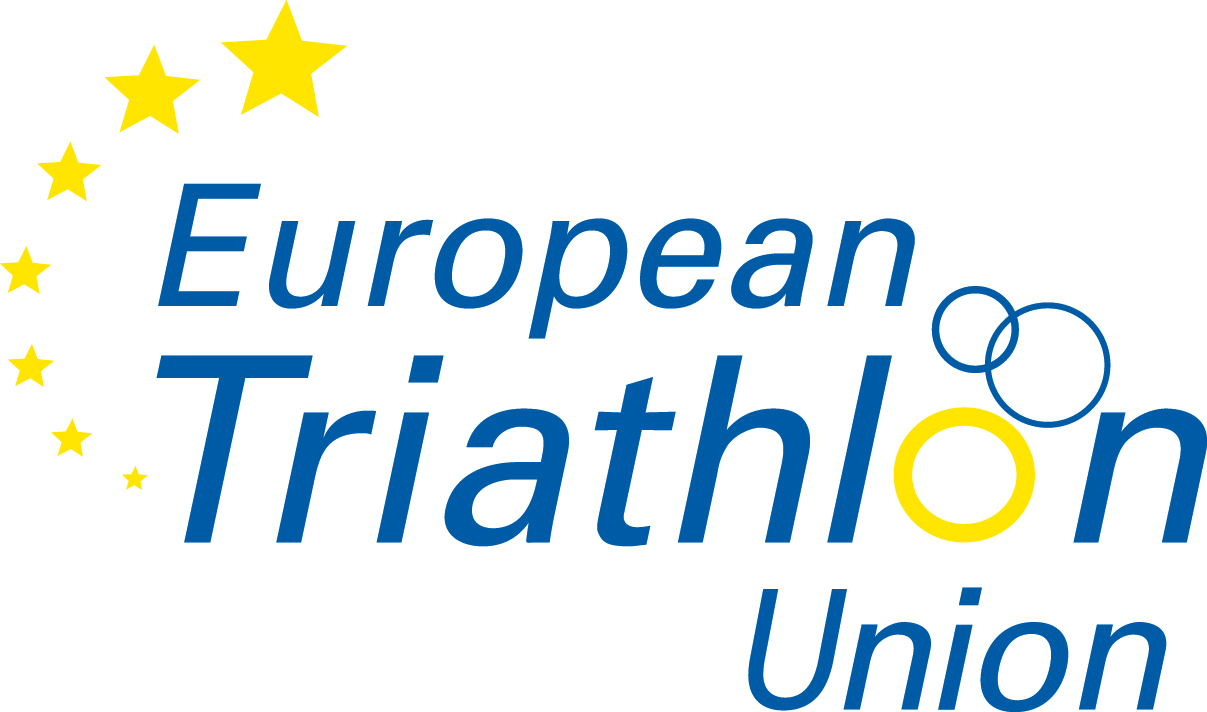 So, arriving at the race, you drove there, I imagine, did you have a big support team? How did you prepare for the race ?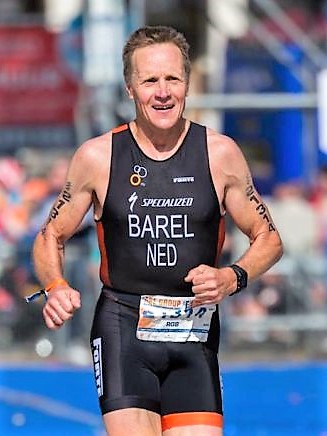 We did have a big team of athletes and even a team coach. That was very helpful during the race. But also, my wife Cora was always there to support me.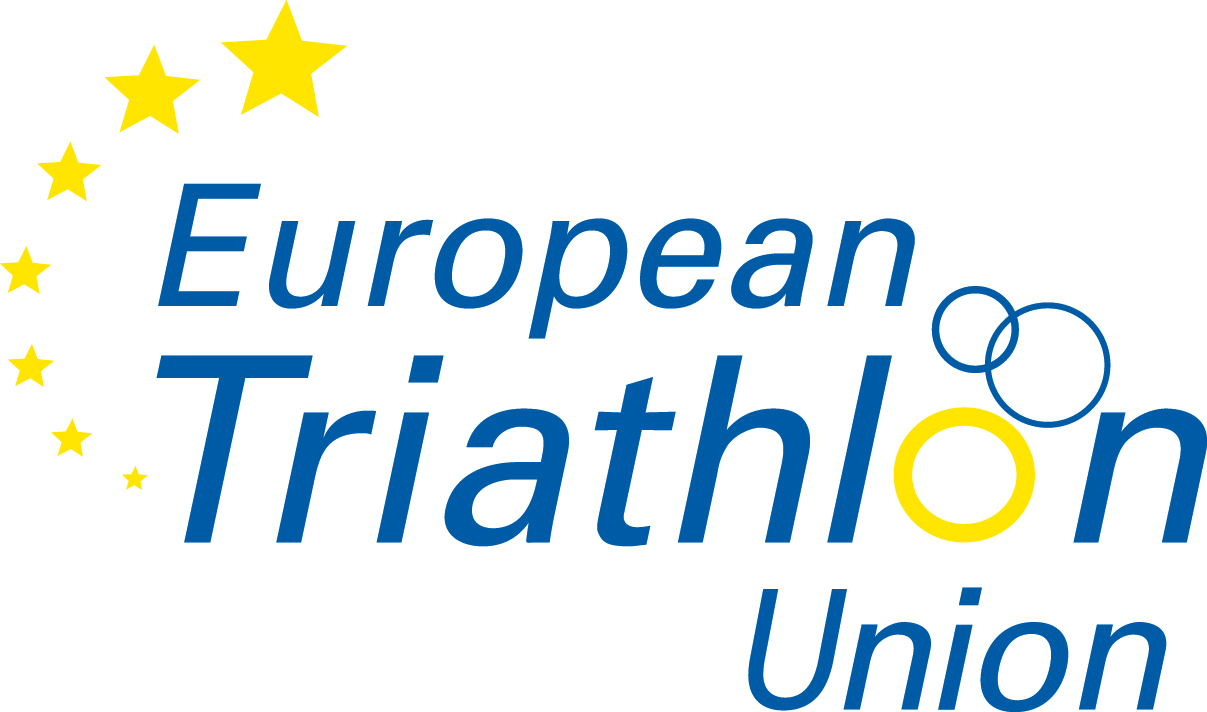 Yves Cordier established the lead that you had expected. At what point on the bike course did you feel the battle had been won against him and were there any other athletes that were a threat?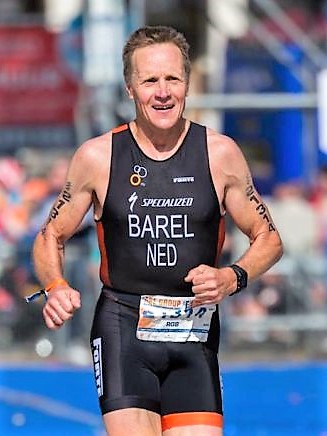 I was surprised to catch Yves quite early after his big lead in the swim. But being in the lead is in a way very uncomfortable, not knowing who is who and what is happening behind you. I did not excel in one discipline that day. That shows how unpredictable the race was. Starting the run, I thought my lead was enough, but soon I started to have stitches and had to slow down a little. I almost twisted my neck from looking behind me to see where Klaus Klären was.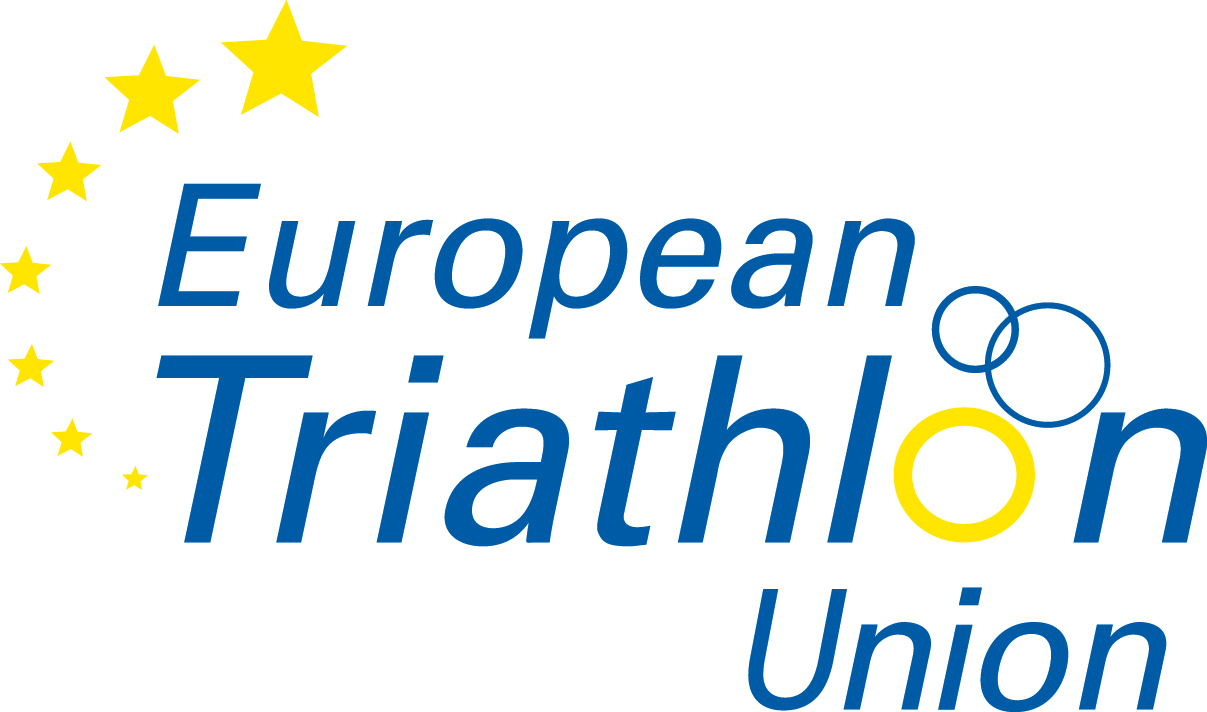 Crossing the finish line, a winner yes but now a European Champion! This was a momentous victory. When did the realisation that you had made history sink in?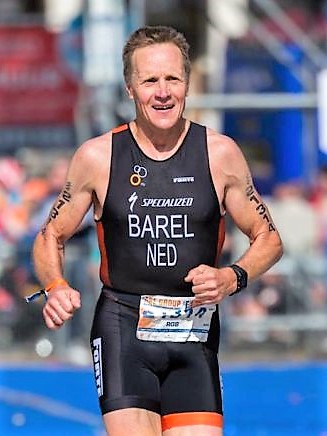 Finishing in the packed Immenstadt athletic stadium gave me goose bumps and me realize this was something nobody could take away from me. But it also made me want more of this.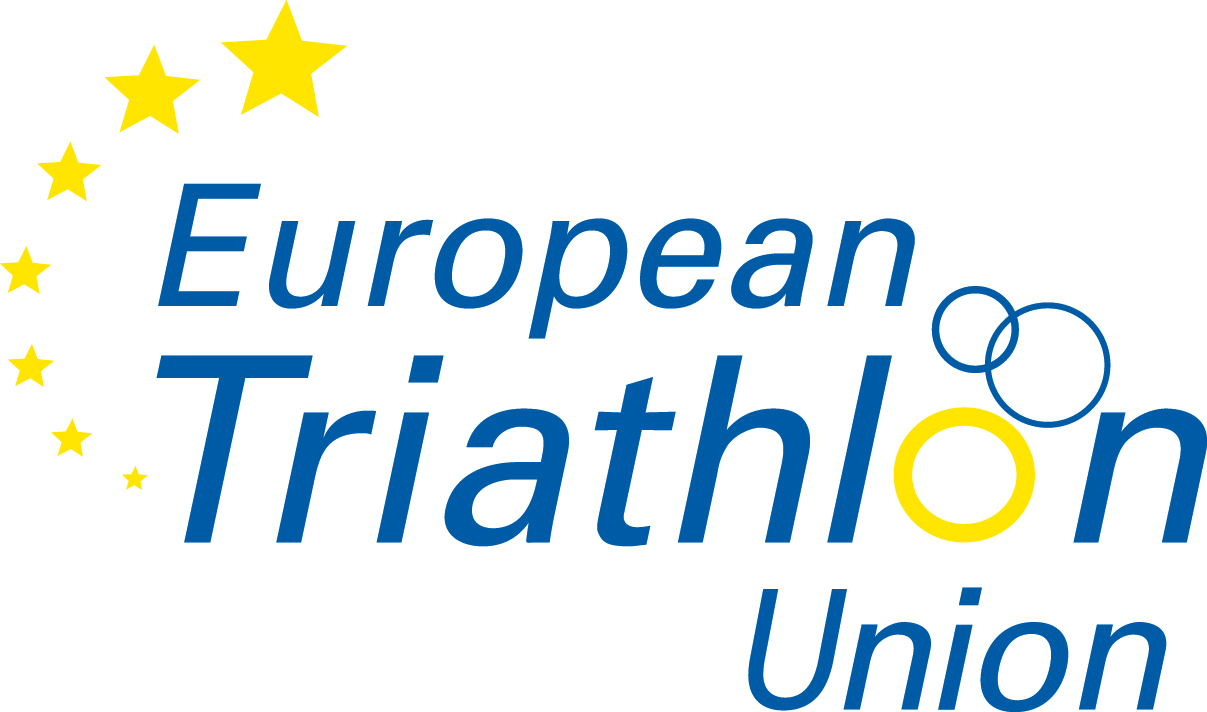 Your return to the Netherlands, what was the media reaction to your victory?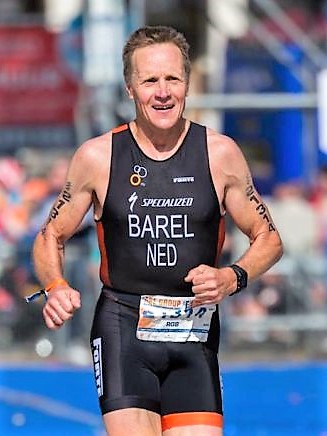 This was a little disappointing. Nowadays short and standard distance races are the main disciplines of triathlon. In the early years the media the Netherlands were mainly focused on long distance triathlons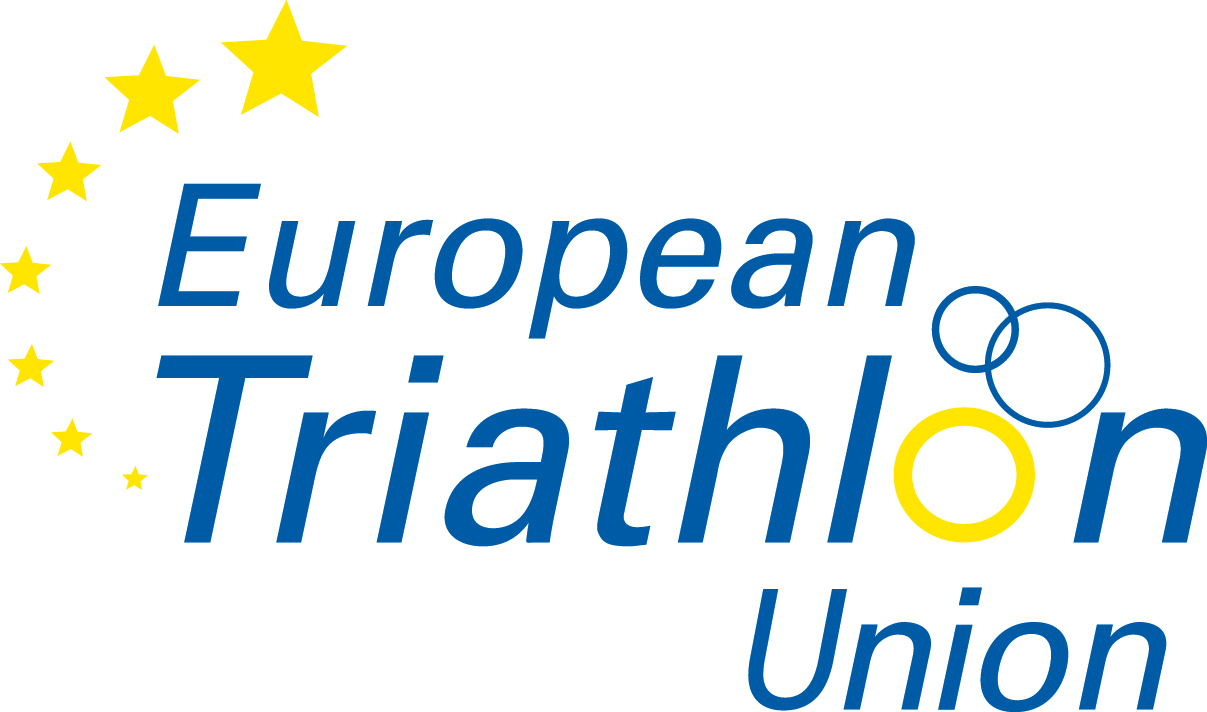 At what point did the media in the Netherlands begin to focus its attention on you?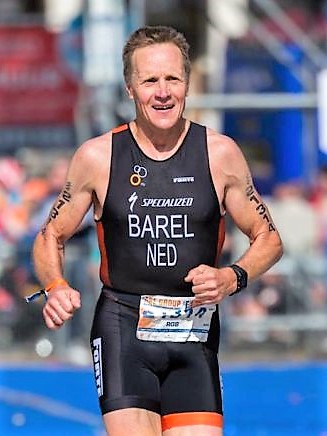 Never enough. Triathlon was only big during the eighties with live coverage of the Almere Long Distance triathlon. Nowadays we are still struggling for recognition and media attention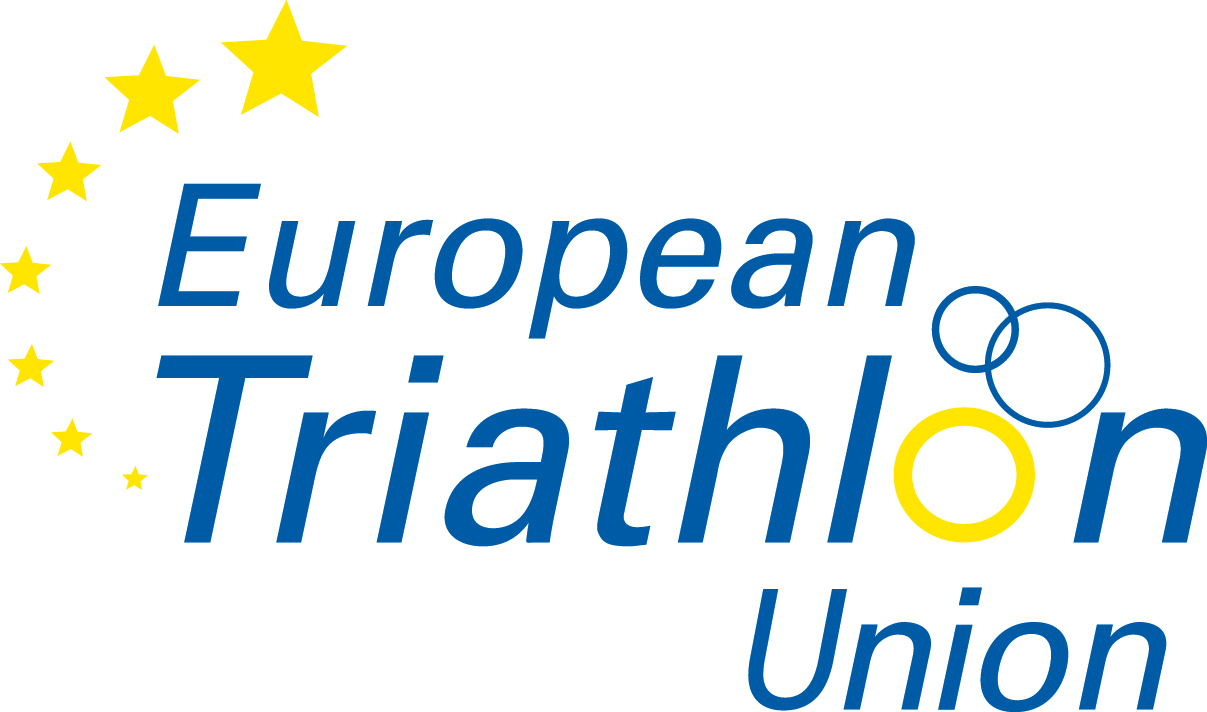 Heading to Milton Keynes in 1986. Defending European Champion. A bit of pressure on you to deliver?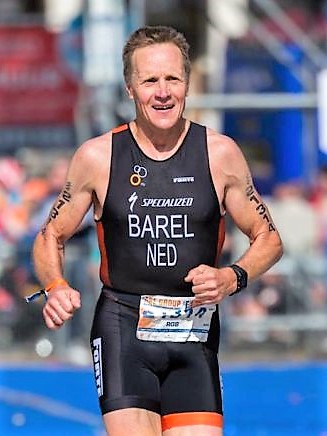 Next year was in Milton Keynes, yes. Actually, I was so relaxed that I missed the swim start. Still came out OK, then thought I had lost it on the bike when Jörgen Zäck and Jörgi Hoffmann flew past me. Angry and disappointed with my performance I decided to at least hammer the run. Coming out of the forest in the last mile, I suddenly saw the two Germans just ahead of me and was able to catch them just before the finish line.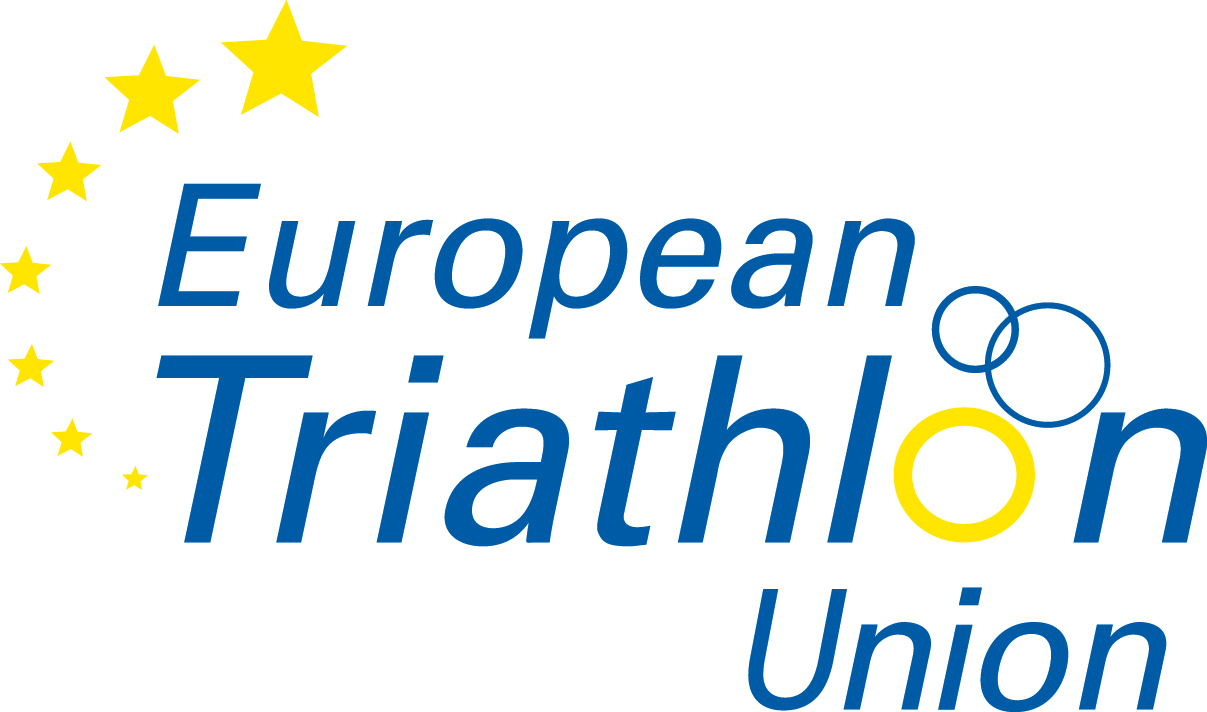 You raced "Olympic", Middle and Long-Distance as well as duathlon and cross-triathlon. Which format did you prefer to race and which one, if different, did you enjoy most?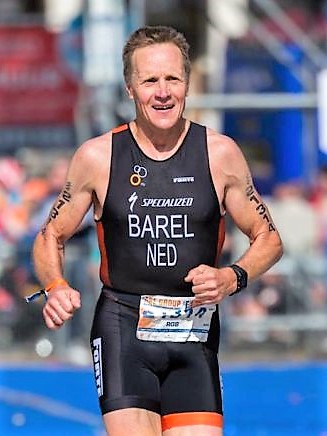 I like the Olympic distance most because it is good mix of endurance, speed and tactics. Even better when it is cross country.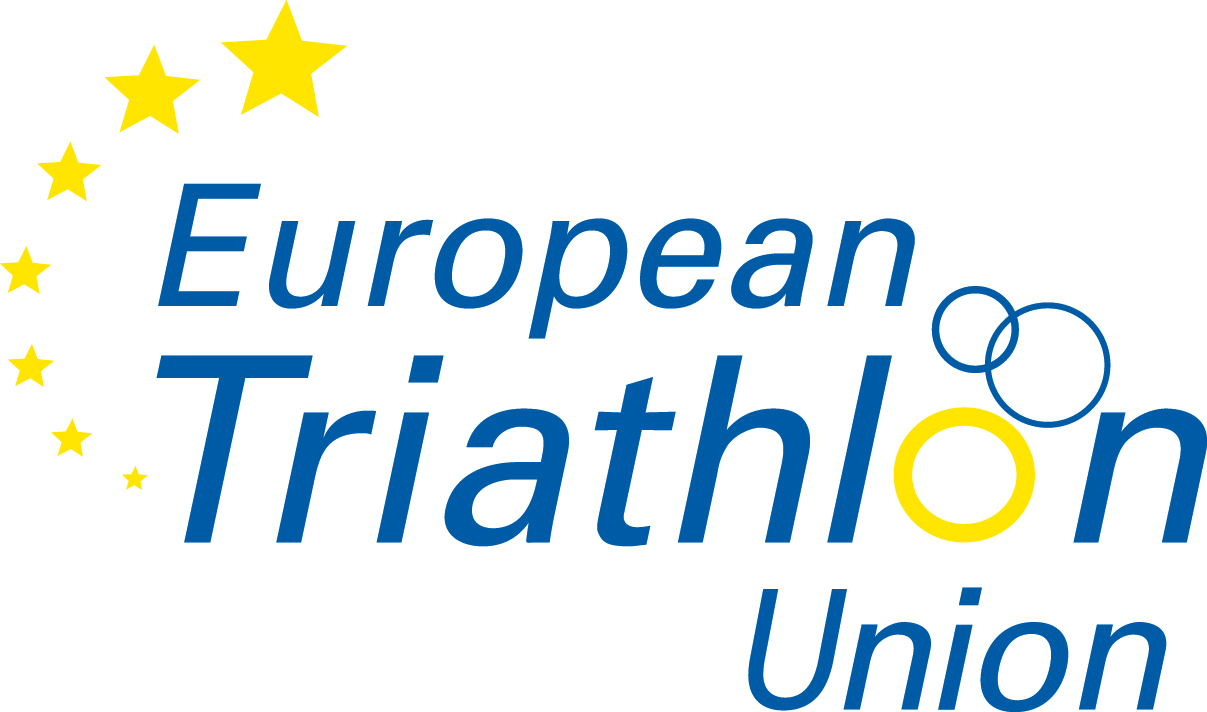 Rob, you have gracefully retired now form Elite racing. Your last victory at an ETU / ITU race was in Rotterdam, where you won the world title in your 60-64 age-group by a massive 7 minutes. This time would have won the 55-59 category and given you a silver in the 50-54's. When you look back now, how does racing at the fast end of the Age Groups compare to racing Elite back in the 80's?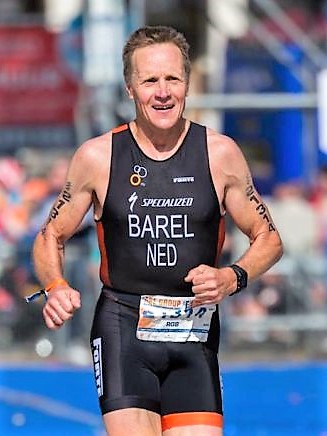 In terms of pleasure and excitement nothing has changed for me. But performance wise a lot has changed. Back then I was young and ambitious. Now I can live with growing older and slower. I really admire older age-group athletes who still enjoy racing and traveling.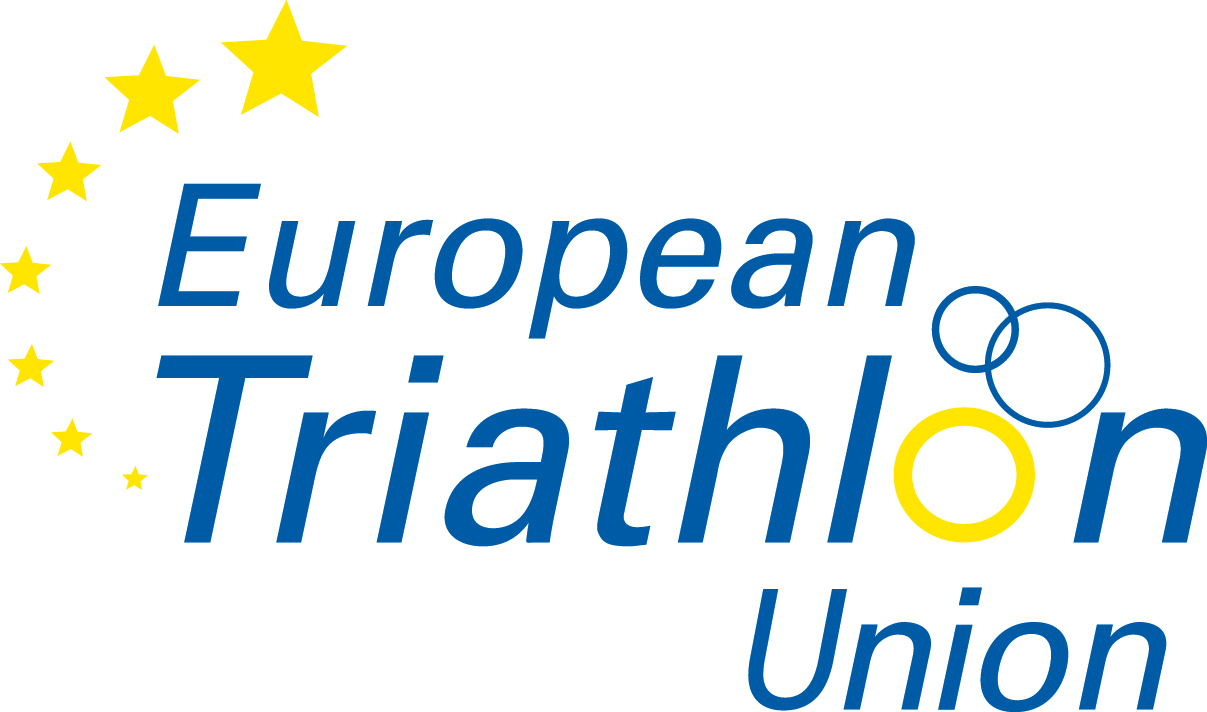 You were there at the very start. You have raced all distances. You are an Olympian from the 2000 Games in Sydney and last year as race Director, you had a double-Olympic champion come to the race in Weert and win the European title. Our sport has grown immensely, and the Netherlands has done much to ensure the growth of triathlon for all. Has the realisation ever hit you…Just how important you as an individual were for the sport?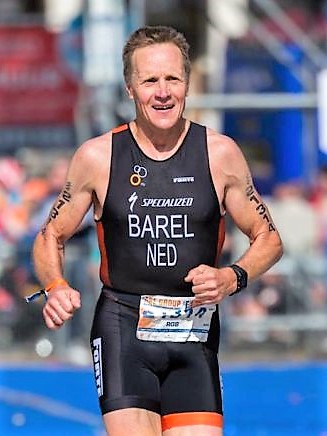 It is very flattering, but we need to realize the sport is kept alive by thousands of volunteers, I enjoyed and appreciate the chances and opportunities I got during my career. After my professional career I discovered that coaching younger athletes and organizing events is also very rewarding.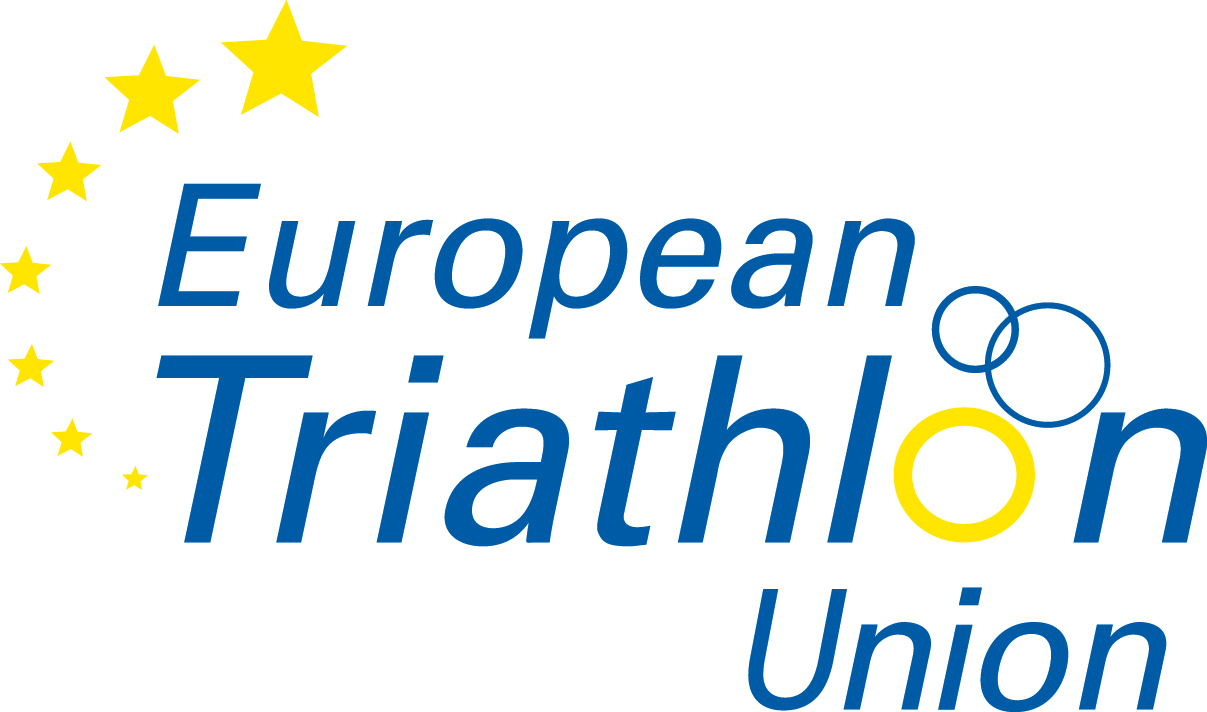 2020 has not been the year we expected. Can you see our sport continuing as before, or do you think that changes need to be made?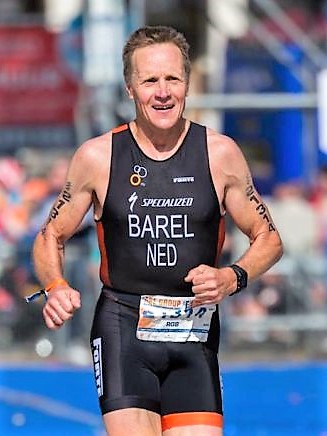 Like most of us, I really don't know. I do hope the races and atmosphere will return the way they were before and that make our sport so special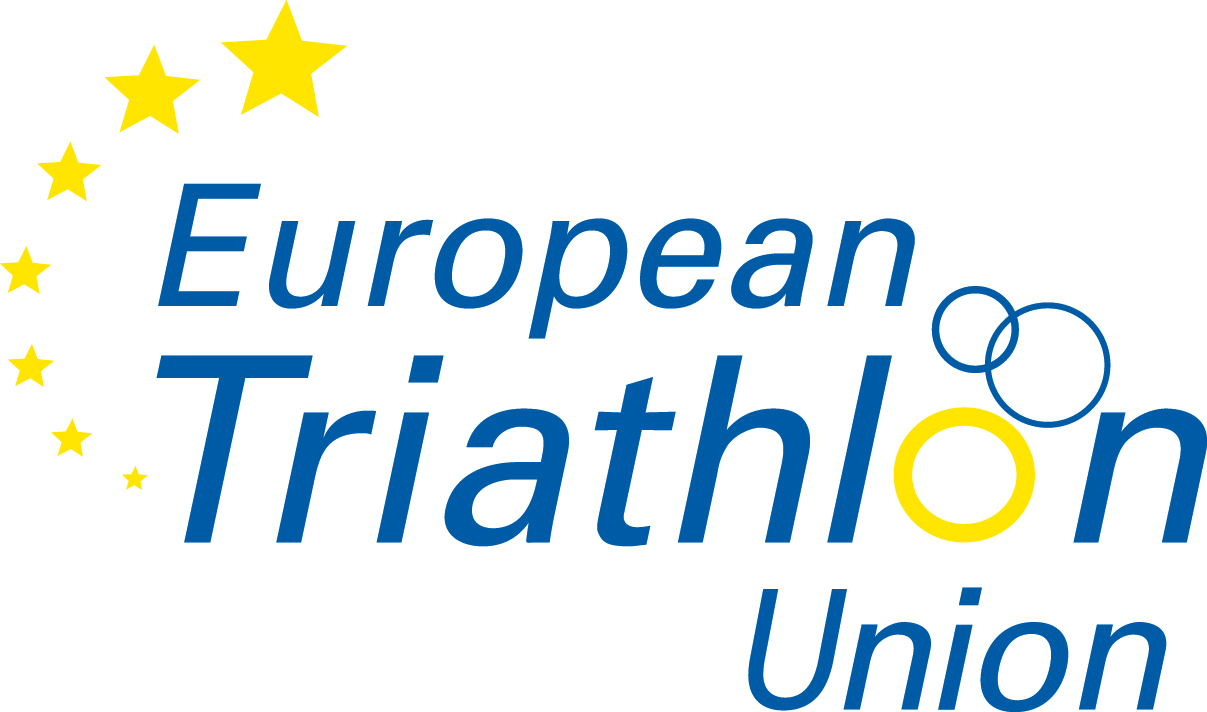 Rob, it has been a delight talking to you and, as I was writing this piece, I got completely lost in the archive materials that are to be found about our sport on the Internet. What piece of memorabilia do you have from the past that is your favourite and can you share it with us?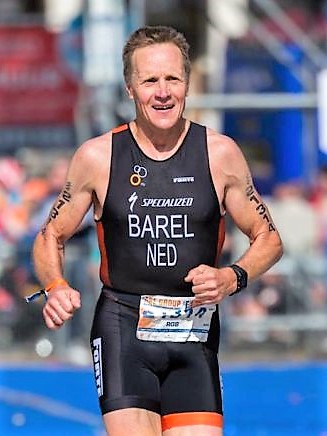 The first four triathlons I ever did were on a borrowed racing bike. I few years back I discovered that person still had that old 10-speed bike in the shed and asked if I could buy it. Now it is hanging proudly in our living room. (see picture)
Rob Barel, from his first ever triathlon (and the first ever in the Netherlands) on 3rd September, 1982, the Bosbaan Triathlon, set the bar high and continued to push it higher as the years rolled by. He has shared some photos with us - they are pure gold.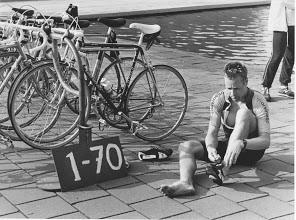 Within the ITU Results pages, you can find a host of historical finish times and athlete profiles but if you want just one source that shows you the names of all our European championship medal-winners, over each and every discipline that we have had championship races for, then check out this work of art. There are some gaps but these can easily be filled. Just read the names and see how they progressed.
Well, from its humble beginnings, triathlon in Europe has grown and grown. With its greater popularity came TV coverage, major sponsors and the regular visits from athletes from all over the world who were assured of top-quality (in those days) races, prize-money paid out to them at the race and the chance to compete against the world's best.
And now, it is time for a goodbye ...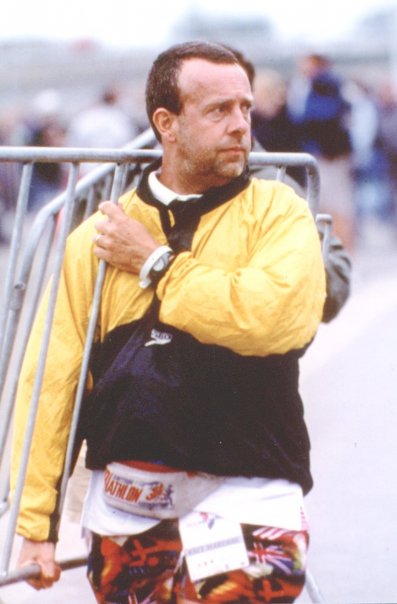 Stein - 2000, ETU Championships - it rained ...
I only came into the sport in the very early 1990's and had my first penalty in my very first race, at the White Oak Triathlon in Swanley, Kent. A two-minute penalty for unfastening my bike helmet before racking my bike. Not that the two-minutes made any great difference to my overall finish position. Next thing was to read the rules.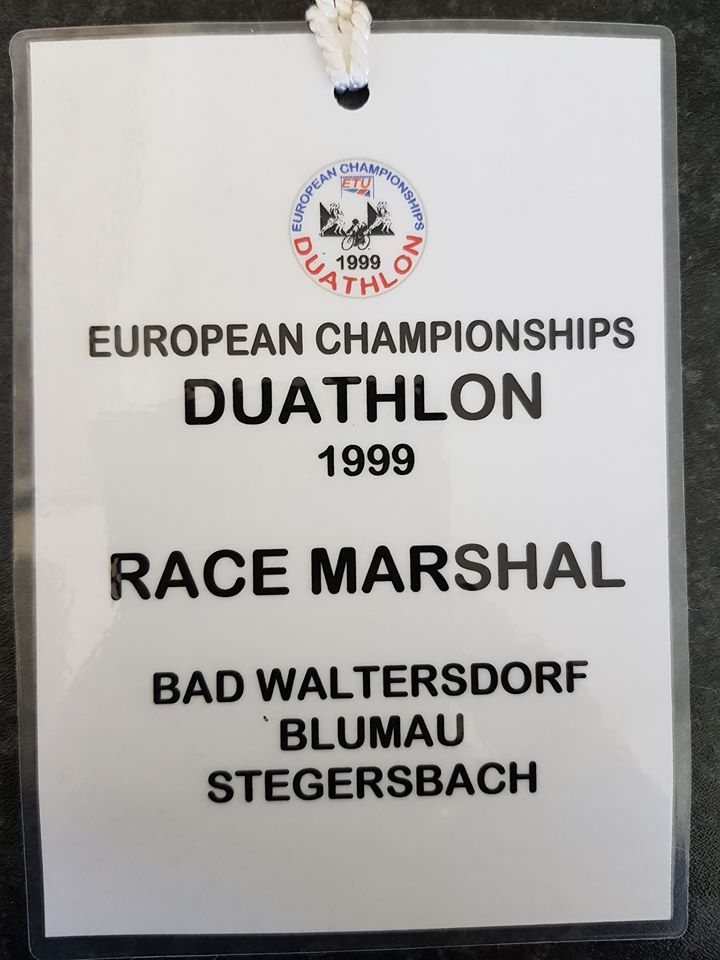 Run the clock forwards and I got involved in refereeing at British events, became a director of British Triathlon, chaired the Technical Committee there and by the end of the 1990's was sent to Blumau for the 1999 "Race Marshal's" Course. That was the beginning of a truly amazing journey. A journey that, more by luck than judgement, took me to Beijing (I was working there at the time) and London for the Olympic Games, to Manchester, Melbourne and Glasgow for the Commonwealth Games and to Baku for the European Games.
As Technical Delegate at 14 European Championships, covering a whole variety of formats, 7 World Championships and 18 European Cups I got to work with dedicated officials and event organisers. As referee at 11 ETU Championships & Cups and at 8 ITU WTS races, ITU Championships and Cups, I had to make some tough decisions and some easy decisions but invariably the athletes were great to work with. As a commentator, I got to work at World and European Championships, World and European Cups and provided voice-overs for TV that showed me in detail how incredibly hard the "behind the scenes" guys work to bring you thrilling camera shots and live TV. As a "facilitator" or trainer, I updated the resources for the training of ITU Level I Officials and delivered courses all around Europe. Working with so many different people and then seeing them progress through the ranks was a real delight for me. 36 countries visited in connection with the sport. A real journey amongst real and vibrant people.
When invited to apply for the role of "ETU Media Manager" in 2014 I did so with no journalistic experience but with a huge passion for the sport. Perhaps my varied background (officiating, commentating and delivering training) helped by giving me access to a vast pool of resources. Together with my wife, Ceci and her cameras, we have been incredibly lucky to be able to see so many events and to see them "close up". Between us, we have been able to share with you all that intense feelings of "WOW!" that makes our sport here in Europe so good.
With the solid support of ETU President Renato Bertrandi, our last 6 years have been intense but rewarding. We made the announcement in 2019 that we would be stepping down from this job but for a number of reasons that did not quite work out. However, the time is right now and, after over 800 website articles, thousands of Facebook, Instagram and Twitter posts and most certainly with a tear in our eyes, we say a sad goodbye and very big "thank you" to everyone.
We also say a very big welcome to Amé Venter, who will be taking over and who will no doubt bring new ideas, youthful enthusiasm and new direction to ETU Media.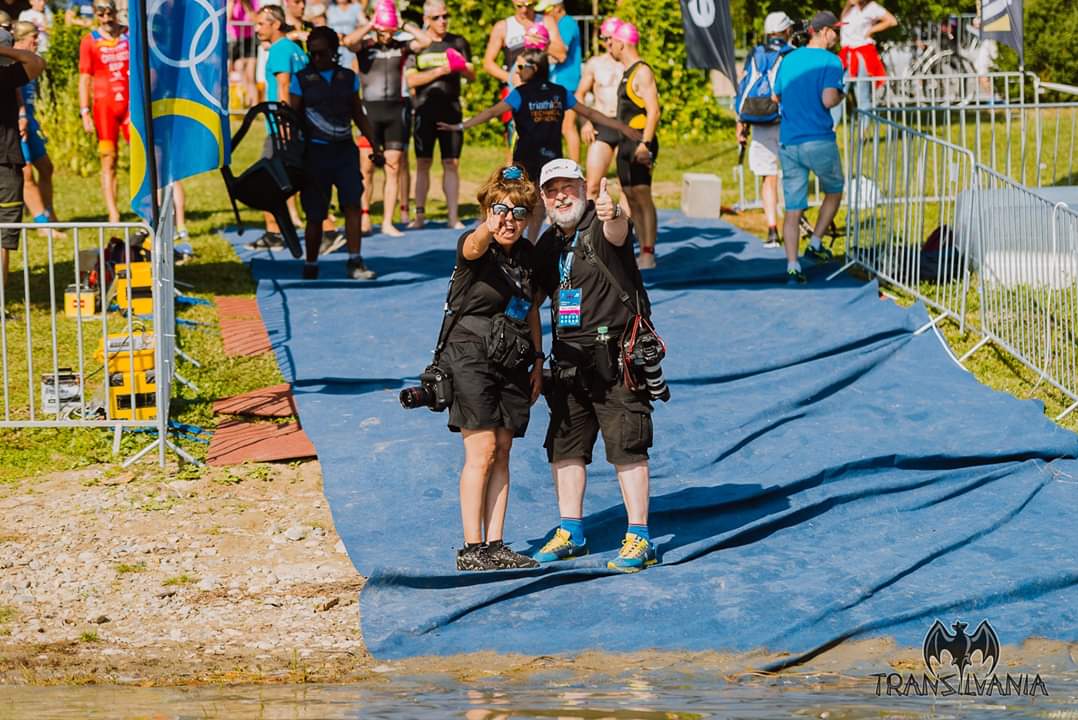 ---
Article gallery
Related Event: 1985 Immenstadt ETU Triathlon European Championships
Latest
Videos
---
Latest
Event Galleries