NEWS
European hat-trick for Alistair Brownlee in Kitzbuhel
By David Peddie
|
21 Jun, 2014
Your video is loading. If the video fails to load please upgrade your Flash player
Alistair Brownlee secures hattrick of titles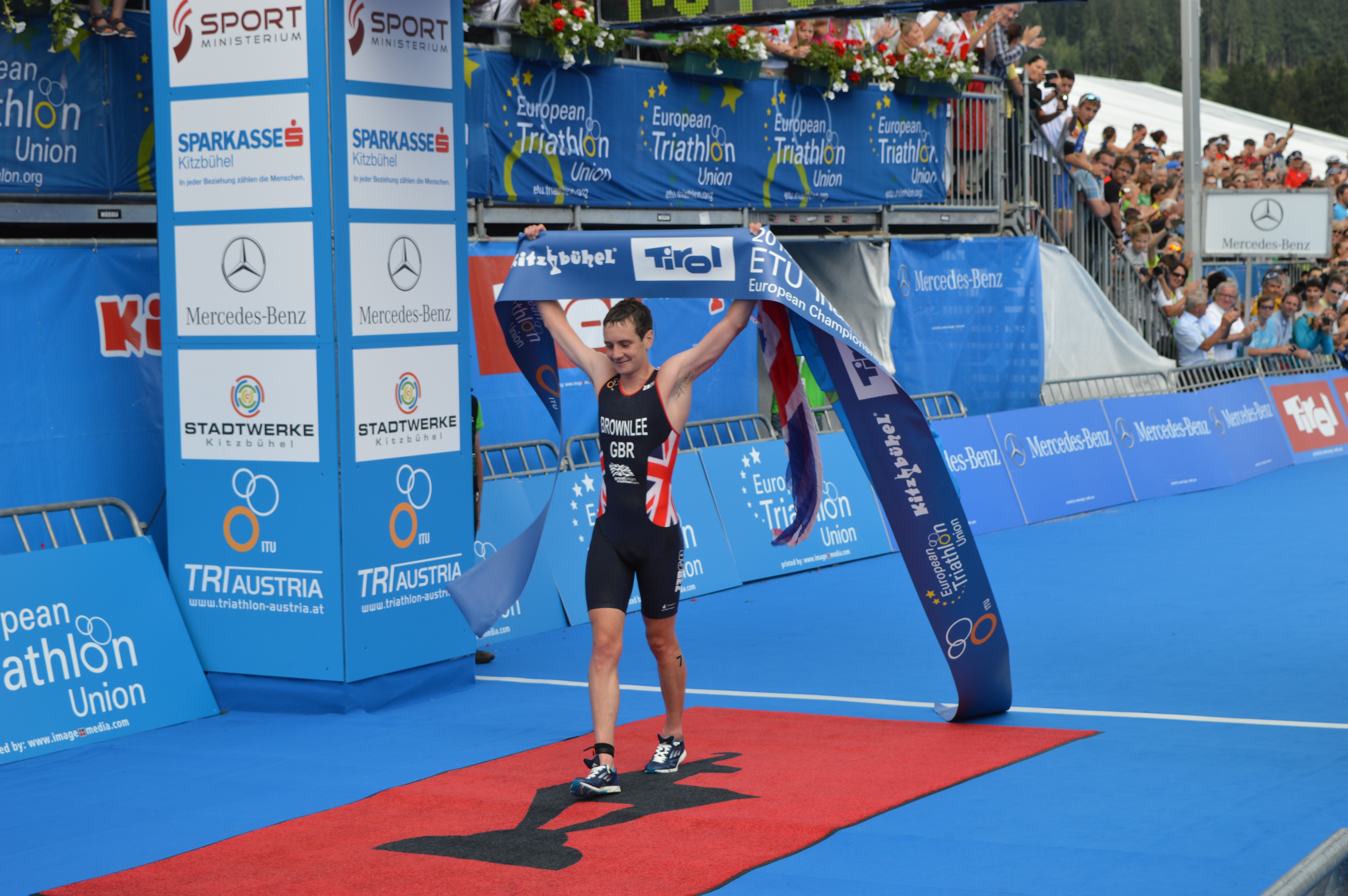 By Hans Cleemput
Olympic champion Alistair Brownlee took his 5th victory in Kitzbuhel, claiming his 3rd European gold medal. A big lead pack of 53 athletes entered T2 and after a fast transition, Brownlee immediately opened up a gap to 8 athletes. Dmitry Polyanski and Vicente Hernandez were the fastest runners of this chase pack and sprinted to silver and bronze.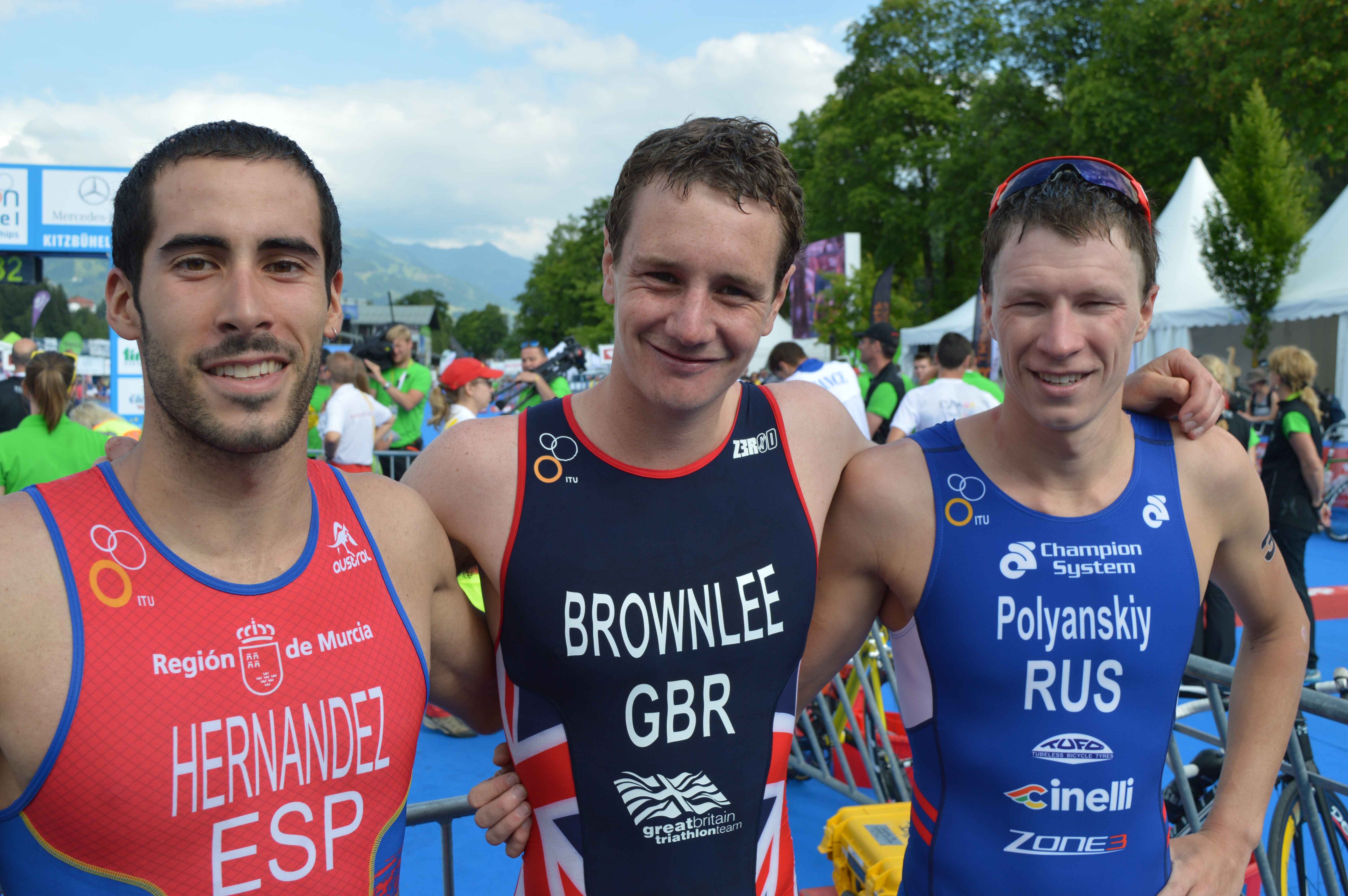 The weather conditions were nothing like the women's race on Friday. The sun was out all day, warming up the Schwarzsee lake in Kitzbuhel making these European championships a non-wetsuit swim. Maybe this explains the nervousness of a lot of athletes with big fights going on in the first 200 meters of the swim. Joao Silva from Portugal was hit twice and had to abandon the race.
The Polyanskiy brothers were the first ones to exit the water after 1500 meter of swimming, but they were closely followed by a big pack of 25 athletes, with favorites Brownlee, Pereira, Fabian, Alarza and Hernandez close behind.
At the halfway point of the bike course two big groups came together, forming one big lead pack of 54 athletes. Despite a few breakaway attempts the lead group stayed together and entered T2 for a fast and nervous transition.
From there it was a one man show from Alistair Brownlee, showing he's back at almost full strength. Matthew Sharp led the chase for Great Britain, with Russians Polyanskiy and Bryukhankov, Spain's Fernando Alarza and Vicente Hernandez, Portugal's Joao Pereira and David Mcnamee for Team GB.
One after one they dropped off because of the fast running pace of Hernandez, Polyanskyi and Alarza. In the finish chute it was Polyanskyi who took a well deserved silver medal. U23 silver medallist Hernandez took his very first elite medal ever and was happy with bronze.
Alistair Brownlee was extremely happy with his 3rd European title. "Like I said, I love racing in Kitzbuhel. I participated here 6 times and this was my 5th win, and I'm always welcomed here by such a great and warm crowd. This was not my best day here. I prefer last year's hilly course. After some big fights in the swim I was happy to be on the bike. I have tried 3 or 4 times to break away but no luck.
"In the run I felt strong and held on quite well. I'm getting better with each race, but I'm still not at 100% of my full potential. I have been very fortunate to do well in triathlon and for those who were thinking that Alistair Brownlee was finished and his best days were over, I'm glad I can say that I have still got plenty left. I have had some rough couple of months, but I have had so many good days, that I can't complain about the bad days."
Dmitry Polyanskiy used his experience to sprint for the silver medal. "Vicente started sprinting first, but I tried to keep up and in the last 100 meters I just closed my eyes, gave it all and put in a big sprint finish. So yes, I am pretty excited to win the silver medal. It was not easy today. My brother and me were first out of the water, but everybody was close behind. The bike section is too technical and hilly for me so I could not maintain a fast pace and saw the other group coming back. So I counted on my run and waited for the last lap. Hernandez worked hard together with me to run faster than the other guys and to reach the podium."
Winning the bronze medal at the elite European Championships was a new experience for Vicente Hernandez. "I have to admit that Polyanskiy worked harder than me today so he's the deserved silver medallist. I couldn't be happier with my first elite podium. I am happy with my performance today. I started sprinting first and maybe it's my lack of experience. I still have room for improvement, so I will definitely be back, battling for more medals."
Related Event: 2014 Kitzbühel ETU Triathlon European Championships
Latest
Videos
---
Latest
Event Galleries