NEWS
The winners in Viborg
By Paul Groves
|
30 Nov, 2019
As we near the end of the year, it's time to look back at the big events of 2019 as we plan ahead for 2020. The days are shorter, the chances of getting out for a swim, bike, or run are still there but so is the time to relax and enjoy all the good things that happened this year.
We read about the successes of Age-Group athletes from Slovakia and Austria in the February review of the Cheile Grădiştei ETU Winter Triathlon European Championships. Click here for the article with loads of photos.
Of course, the tragic loss of Péter Klosz has rocked the foundations of the sport in Europe but his team is determined to deliver the races that are scheduled for next year and the first on e up will of course be the Winter Triathlon Championships that return to the superb venue in Cheile Grădiştei.
Once the snows have begun to melt, the focus will turn to Duathlon and there is a true feast of races available in the early part of 2020. For those going for the longer distances, Viborg in 2019 was a great course to show their power, handling skills and endurance over the 10k, 60k, 10k course.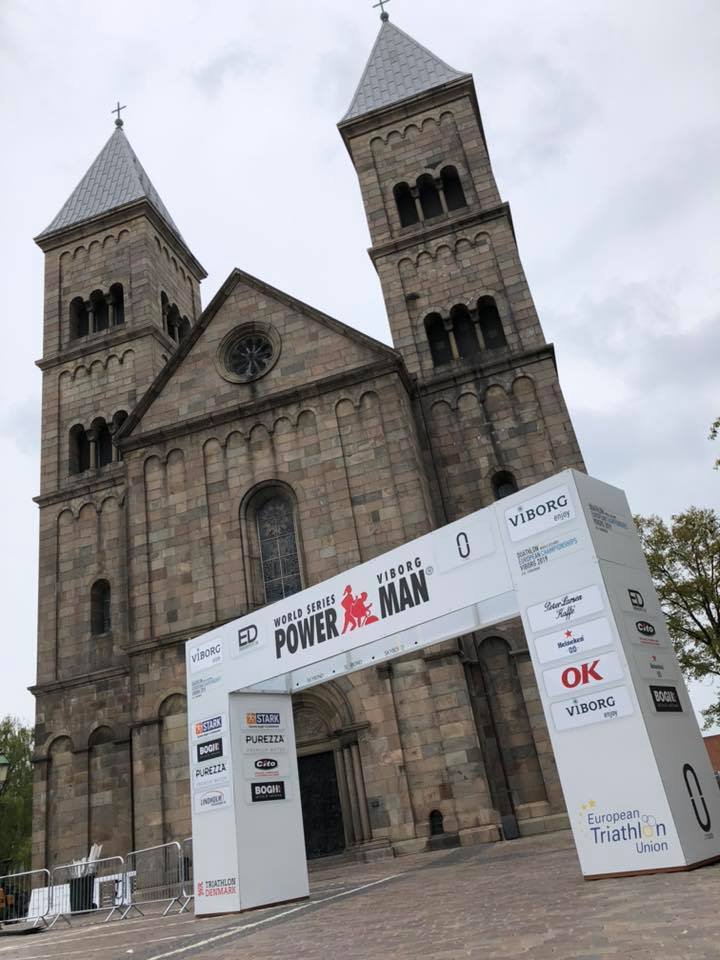 A stunning location, with mean hills and bone-shaking cobblestones, the weather was incredibly kind to the athletes, who delivered a wonderful show for the community. So impressive was the race that ITU have snapped it up for the World Middle Distance Duathlon Championships in 2020. This is a new distance for ITU and we are proud that the ETU-Powerman partnership has been successful in building this solid foundation. Click here for the promo video.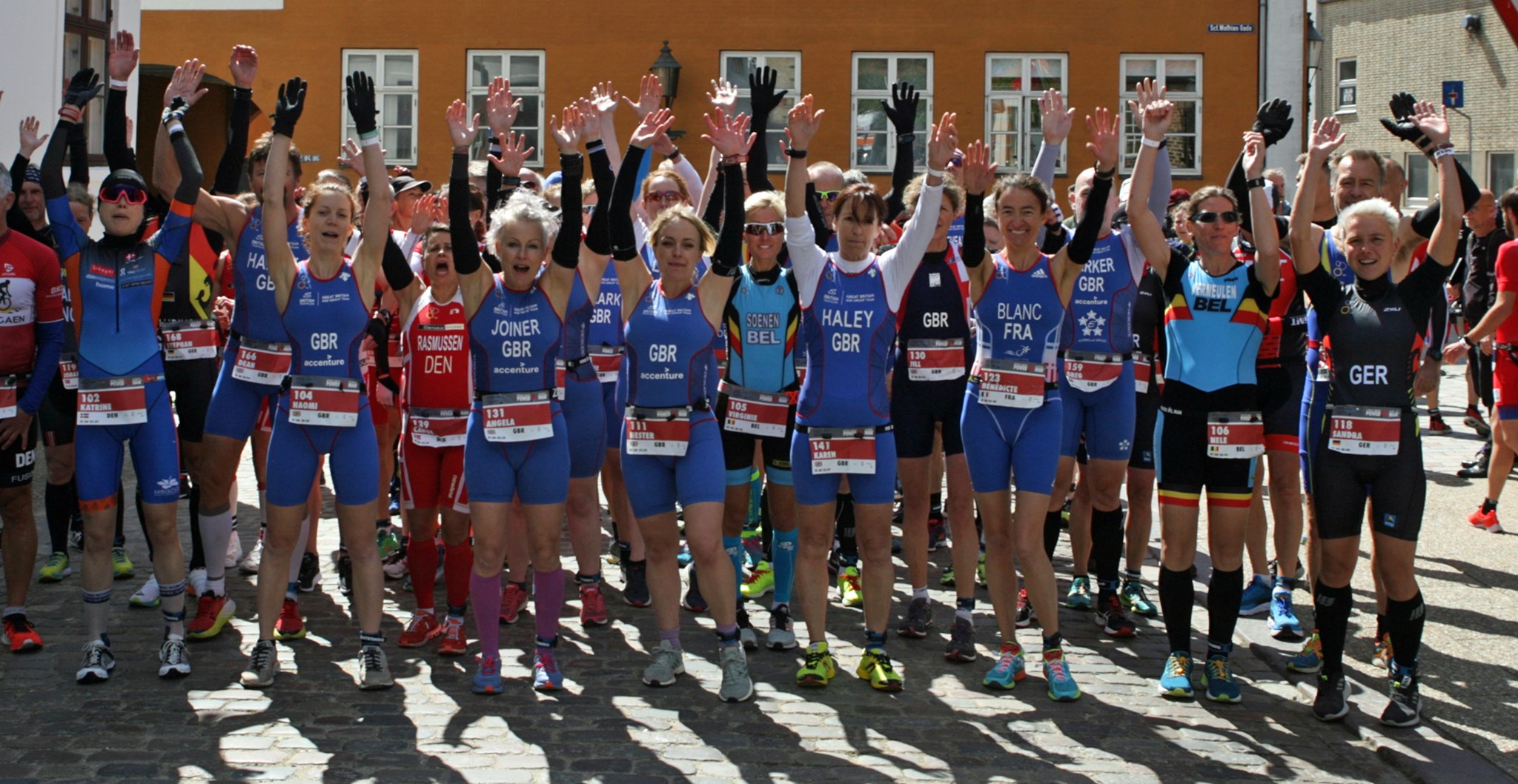 So, who were the winners this year?
Well, the host nation has a long history of success at the longer distances in duathlon and with athletes born in 2000, right up to the oldest category, where 1944 was the vintage year, medals were won across the board by Danish athletes.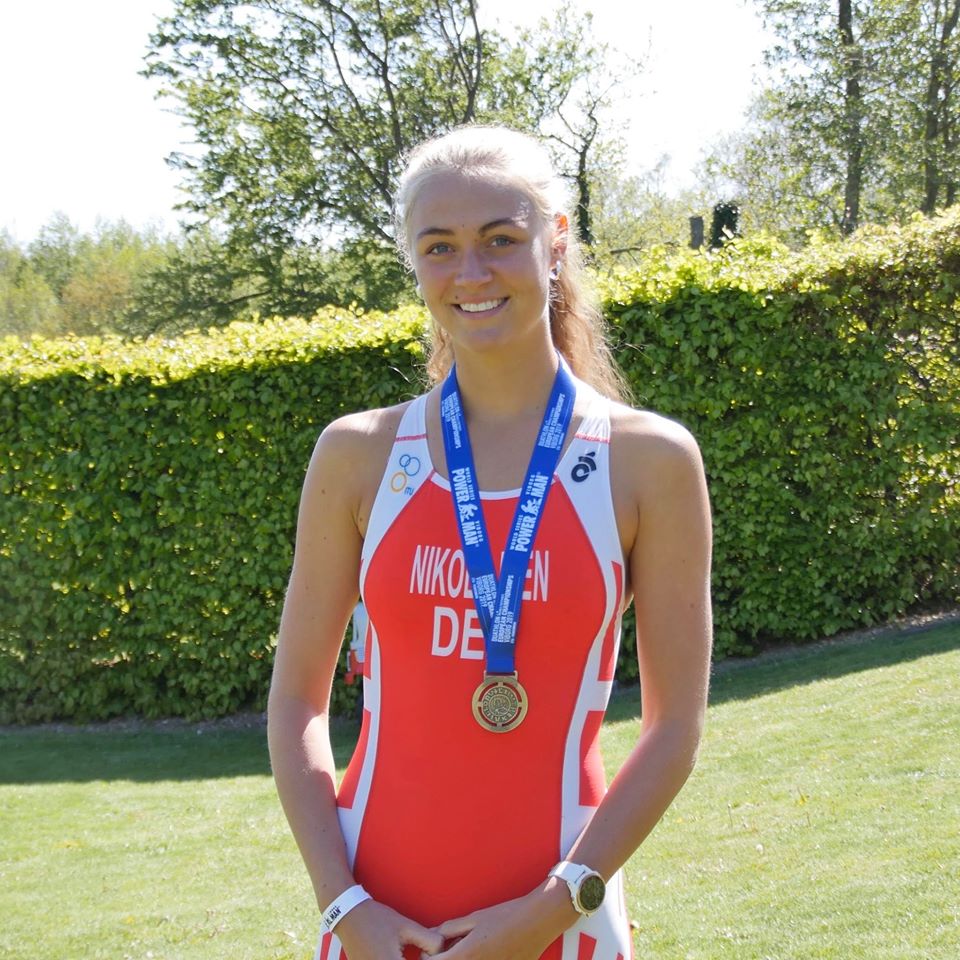 Our youngest European Champion was Nanette Nikolajsen making her debut on the international scene. This title was added to her collection of impressive victories; Danish champion - 1/2 Ironman, Nordic champion - Sprint triathlon. With a PB of 20:33 for 1500m in the pool, set back at the end of 2014, her racing future seems assured.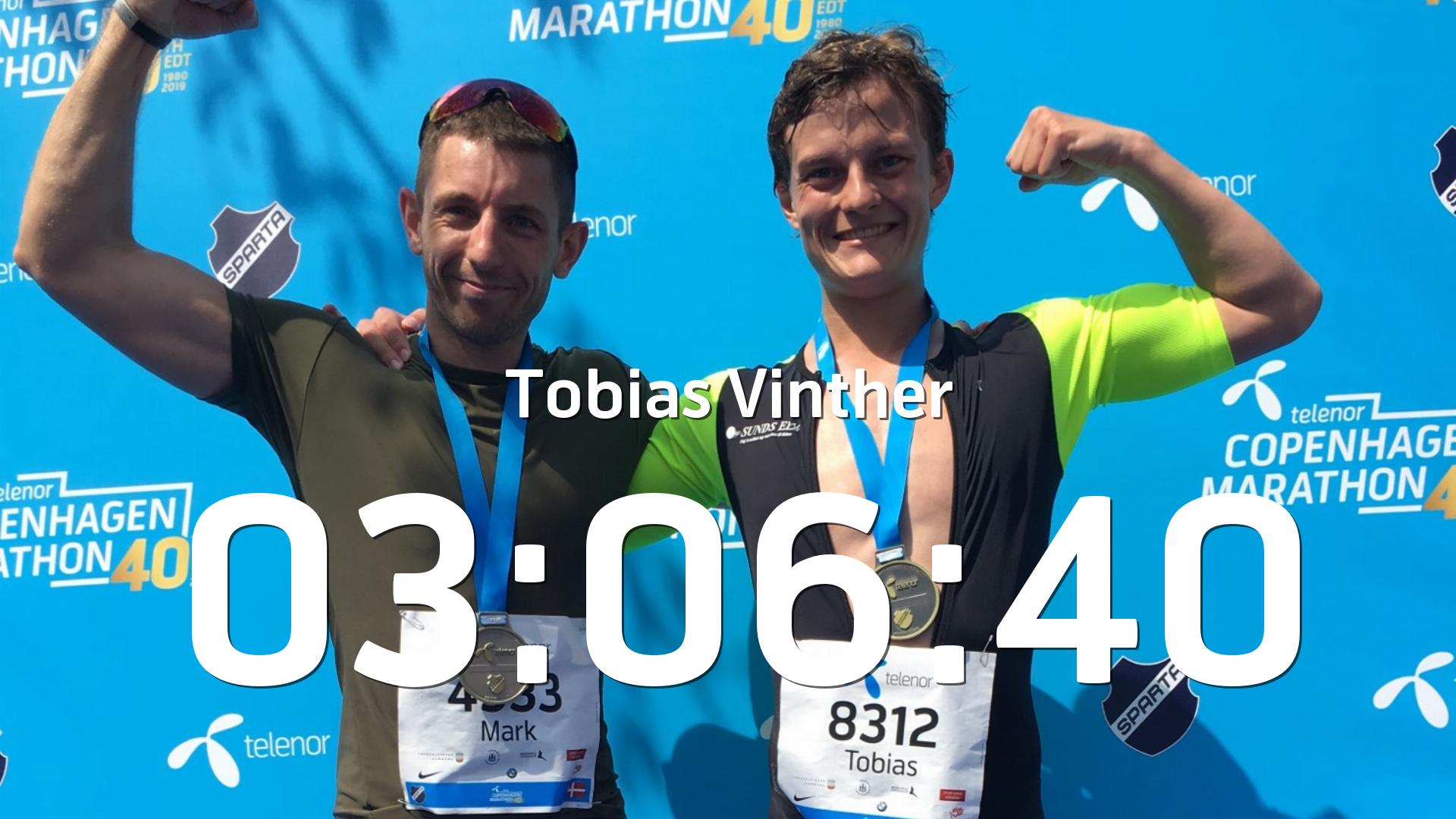 For the men, it was Tobias Vinther who collected the win for the host nation, making it a double victory for Denmark. This too, was his international debut and a positive sign for the Danish Federation that there is strong talent in the younger Age-Group ranks. A 3:06 marathon later in the year was a further confirmation of his endurance.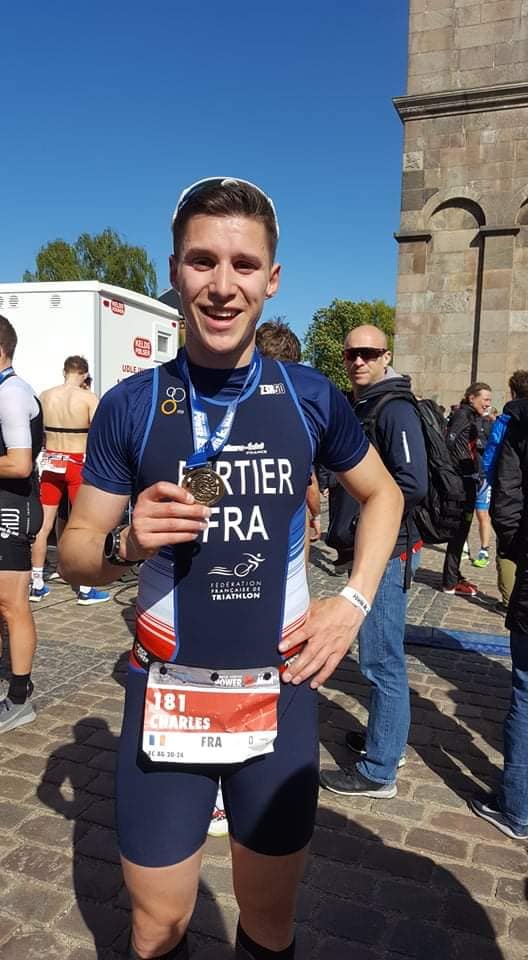 In the 20-24 category, no women were on the start lists but the battle for medals was shared between three male athletes. It was a victory and the European title to Frenchman, Charles Bertier. The solider planned his attack with military precision. His first run and T1 put him into the lead, allowing neither Lasse Bæk Andersen DEN, nor Sam Page GBR a chance to attack. He was delighted with his result, "And the new European champion in the age group 20-24 , representing the France is… CHAAAAARLES BERTIIIIIIIIER ?" Quelle course, et que d'émotions ce week end !!!! Une 1ere CAP qui me permet de prendre la tête, et un gros vélo comme jamais j'en ai fais, et pour finir, une 2eme CAP correct. Une course pleine du début à la fin. Comme quoi, quand les jambes et la tête sont présentes, on peut faire de grandes choses. / What a race and what emotions this weekend. Taking the lead in the first leg, I had a great bike leg; better than I'd ever ridden before and to round it off a great closing run. A full on race from start to finish. It just goes to show; when the legs and the head are in tune, you can achieve great things!"
For Lasse Bæk Andersen, his silver medal behind the Frenchman was an improvement on his Vejle bronze last year and comfortably enough to keep Sam Page's powerful riding in check. Page's performance was an impressive one and, when you consider that only a few weeks before this race, he had trekked 225km across the Arctic Circle in a 225km trek over the course of 8 days to raise money for a very worthy charity in the UK. You can read all about it here.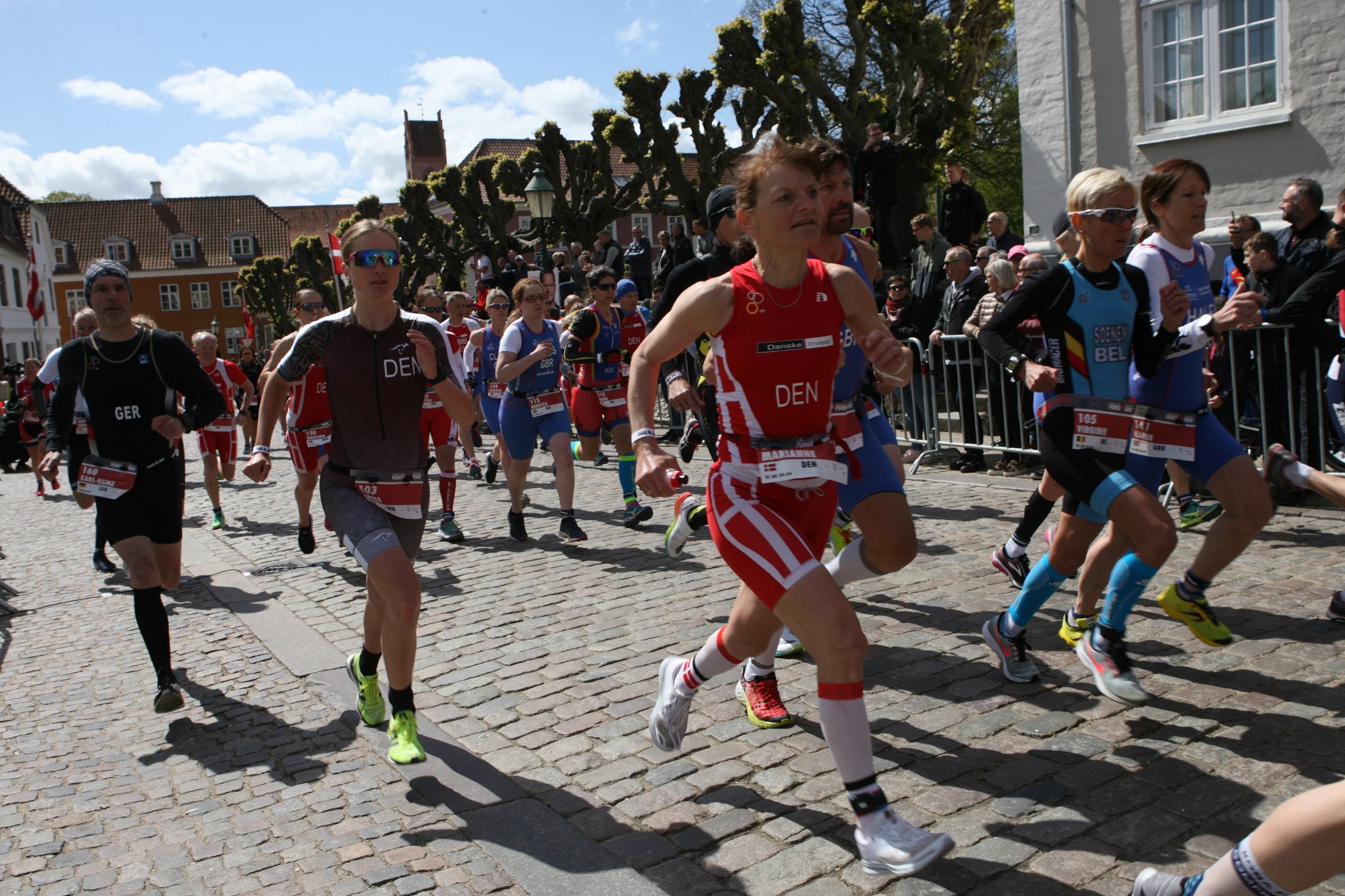 25-29 gave Denmark more medals, as gold and silver went to the hosts in the women's race. The title went to Katrine Brock, a dedicated long-distance athlete, with a 2:52 time for the marathon, who led from the start. Gold and the title to her and a silver to Laura Kjær.
The men's race was a thrilling one, with Belgium's Jonas Vandevyvere hoping to make up for the disappointment of missing the podium last year in Vejle. He came in to T1 in 3rd place but then set about the attack on the bike. He battled with Denmark's Jesper Vejlby to catch the race leader, Marian Borsinski DEN and it was only on the final run leg that the order of medals was decided. Borsinski had completed the 60k bike without being able to take any carbs on board, having lost his bottle in the early stages, over the cobblestones. A superb closing run from Vandevyvere took him away from Vejlby and then with Borsinski in his sights it was a nail-biting run for gold. The long-distance duathlon expert from Belgium had the pace to edge past and take the title but it was Borsinski and Vejlby who came home for the host nation with silver and bronze. At point, it looked doubtful that he would be on the start list, "Wow wow wow. Een rollercoaster van emoties op 6 dagen. Van boos en ontgoocheling op het BK vorige zondag tot een verlengd verblijf van 2 dagen op het kleinste kamertje op maandag en dinsdag. Met toch een klein hartje naar Denemarken getrokken, maar 'De Form' gaat niet zomaar weg. Duelleren voor podiumplaats werd een eerste plaats in mijn Age Group 24-29. Net als in 2016 Europees Kampioen. Na het harde werk terug voor mezelf bewezen dat die titel geen toevalstreffer was. Trots op mijn 4e plaats in de Overall Age Grouprace en een puike 18e plaats met de pro's erbij. Super veel dank voor de vele steun van familie, vrienden en supporters. / Wow, wow, wow. A roller-coaster of emotions over 6 days. Anger and disappointment after the Belgian Championships last Sunday and then a prolonged stay in the smallest room of the house over Monday and Tuesday. Low spirits to Denmark but you don't lose it that easily. Battling for the podium gave me a win in my Age-Group, 24-29. European Champion again, just like in 2016. With the hard work behind me, I proved to myself that that title in 2016 was not a fluke. Proud of my 4th place in the Overall Age Group race and an excellent 18th place with the pros there. Thank you so much for the many support from family, friends and supporters." He rounded off the year with the World title in Zofingen, proving once more that the ETU-Powerman Middle Distance Duathlon Championships are a fine stepping stone to the greatest duathlon challenge.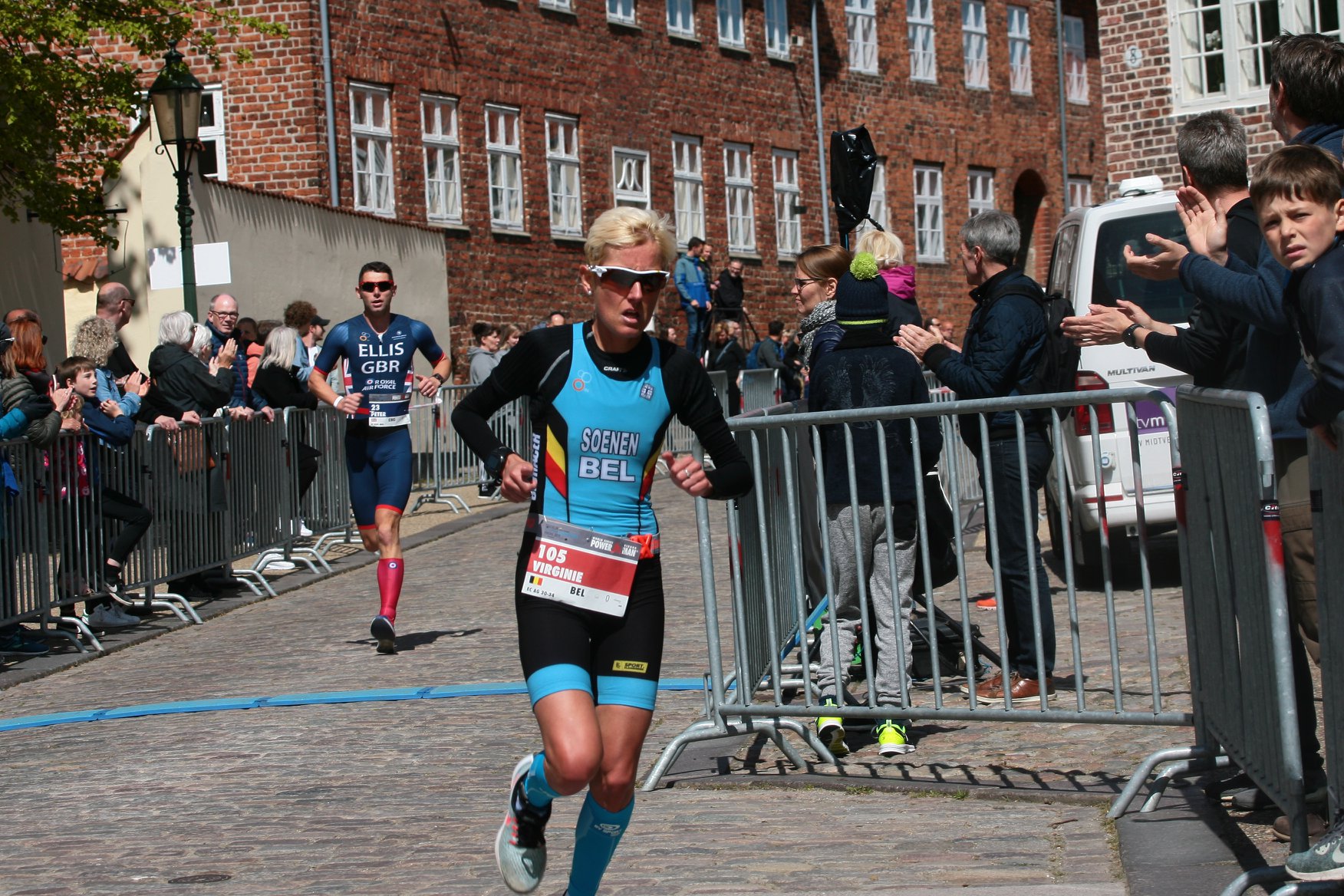 The 30-34 Age group also saw a domination from Team Belgium. This time it was Virginie Soenen and Nele Vermeulen who would take the podium, with Soenen claiming the title and Vermeulen, after a tough bike, rounding off with bronze. Between them came GB's Naomi Eaton who could not match the biking power of Soenen. Soenen's power over the longer distances is now established. A victory in Zofingen in 2015, a 2016 silver in Copenhagen at the ETU-Powerman Europeans and a gold in 2017 in Sankt Wendel over the very testing and hilly ETU-Powerman course gave her the confidence to try out as a pro at Zofingen, where a top ten finish in 2017 and 2018 was hers. Her 2019 season finished with a 6th in Zofingen. For Eaton, her duathlon career has been seen over the Sprint Distance and so a move to Middle Distance, with a silver, shows just how versatile she is. Vermeulen's 2017 Târgu Mureș Cross Duathlon title and now a bronze over the middle distance sets her up well for a return to Viborg next year and a crack at the Worlds as well, of course, for a re-match in Alsdorf at the ETU-Powerman Europeans in the Spring.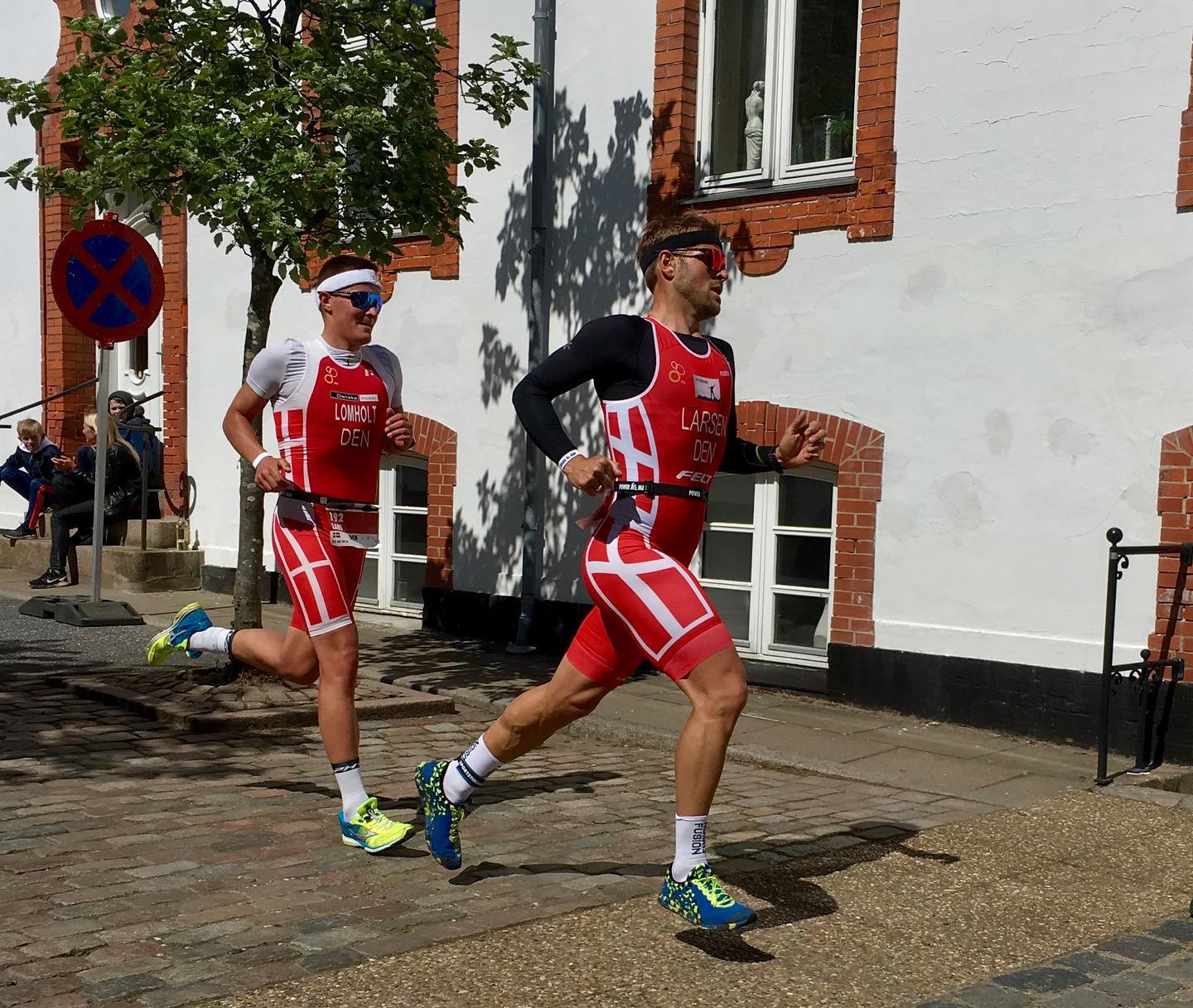 For the men, it was GB's Liam Walker who set a stunning pace in the first 10k, coming into T1 as the clock showed 32:23. His 2017 bronze in Zofingen suggested he could go the pace but it all started to go wrong on the final run and he watched his lead and potential title fade as last year's runner-up Lars Lomholt used the home advantage to the best and ran easily to take the win. Lomholt has made middle and long-distance events his focus and has collected a huge number of medals in recent years. Behind him and beginning to struggle on the final run was Sweden's Nils Penton. His superb bike split had taken the toll on his legs but he held on to silver ahead of Denmark's Christoffer Kirk Strandgaard. After the race, Lomholt said, "Solid day in the beautiful city of Viborg. What a scenery for a race. My plan; go out and race hard but be in control and don't take any risk. Great 1st run (approx 33min/9,4K), steady bike (1.35H/60K) and than a controlled 2nd run (approx 35/9,6K). Ending up 2ND OVERALL (behind Mikkel Rosendal Larsen Motor and just in front of Karsten Dahl) and heading home with a GOLD medal in the ETU European Championship (AG 30-34) and a SILVER medal in the Danish Championship (AG 18-39).
Good test before Ironman 70.3 Sankt Pölten in two weeks. Awesome day with fellow athletes and the absolute best support ever by most of the Lomholt's, THANKS! Thanks for all the cheering, thanks to sponsors and partners - you guys are all the best, thanks!"
There were more medals for the host nation in the next category; 35-39 but the title was to come to Team GB with the blistering pace set on the run by the defending champion, Hester Barsham-Rolfe. Just as in Vejle in 2018, she dominated the first 10k and despite losing time on the bike, had saved enough to kick her heels on the run to cruise home with a 6-minute lead over Danes, Louise Hoeberg and Chiin Hooi Ford. The "Proseccorunner" had this to say after the race, "Wow! European Champion again! Hard fought race… came off the run in 1st by 4min, off the bike in 2nd by 5mins and ultimately won by 6 mins by keeping on plugging ."
Defending champion, Mikkel Rosendal Larsen had team-mate Søren Hyldal Sørensen alongside in the first run but then broke away on the bike to establish a solid lead. A closing run that the fastest in the category secured him gold and the fastest Age-Group male finish time. Hyldal came home for silver and marking his first international podium with a fine bike and second run, it was GB's Phil Brush who edged out the challenge from Denmark's Esben Lykkegaard, who just missed out on the medals.
Germany, Norway and Denmark shared the medals in the Women's 40-44 Category. It was Sandra Morawitz GERwho trailed Johanna Haland NOR into T1 but a strong attack on the bike took her ahead and the final run saw her dig deep into her reserves to maintaining the lead she had built. Having won this title in Horst in 2018 and having been close to the podium in the ETU-Powerman Copenhagen and Sankt Wendel races, she knew just how deep she would have to dig and was able to hold off the attack from the Norwegian. Runner-up in 2018, it was Maria Buchvoll DEN who had to settle for bronze. Buchvoll's season was rounded off with a well-earned silver in Zofingen. For Morawitz, "Diese Europameisterschaft ist mein größter Erfolg, aber die Weltmeisterschaften in Zofingen werden meine größte Herausforderung." / "This European Championship is my biggest success, but the World Championships in Zofingen will be my biggest challenge." Read her story here. Sadly for the German athlete, she had to pull out of the Zofingen race but, determined to still push herself, she collected a new German title, as winner of the Masters' Category in "Bow-Running". Check out Bow-Running here.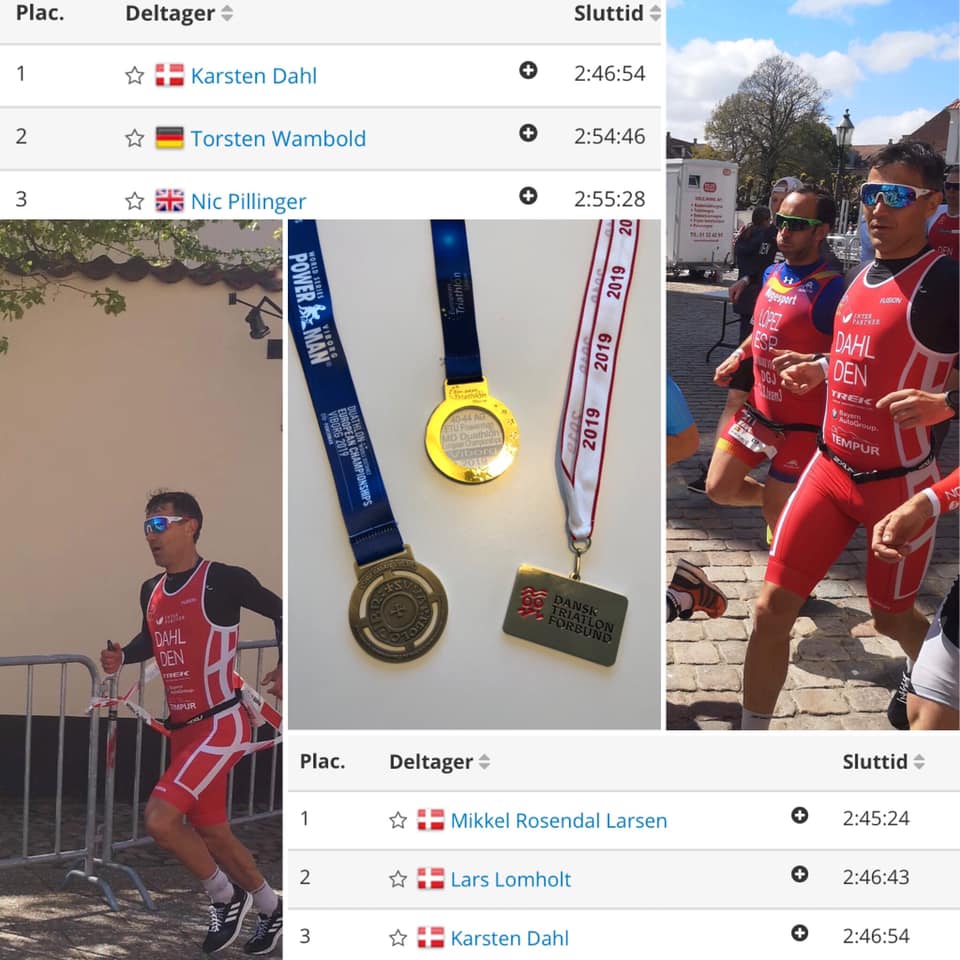 For the men, it was once again a Danish victory, with the 2018 runner-up, Karsten Dahl showing the rest a clean pair of heels. After his Vejle silver, he went to Zofingen and came home a World champion. In Viborg, he attacked from the off, posting the fastest splits for each segment. Germany's Torsten Wambold had a real battle with GB's Nicolas Pillinger, who pulled away on the bike and was out onto the final 10k ahead of Wambold. Determined and focussed, Wambold kept the Brit in his sights and just had enough power to overtake in the final run to take the silver. Pillinger's bronze is a marked improvement on his 2017 8th in Sankt Wendel. Dahl's post-race thoughts were simple, "En super dag i Viborg til EM og DM i Mellemdistance Duathlon. Den korte version… det gik godt, jeg havde dagens bedste og største heppekor? Og formen blev bekræftet. EM og DM guld i min AG og en samlet 3. plads blev det til? A great day in Viborg for the European Championships and Danish Championships in the Middle Distance Duathlon. The short version ... it went well, I had the best and biggest cheer of the day? And my good condition was confirmed. European and national gold in my AG and a total 3rd place, overall!."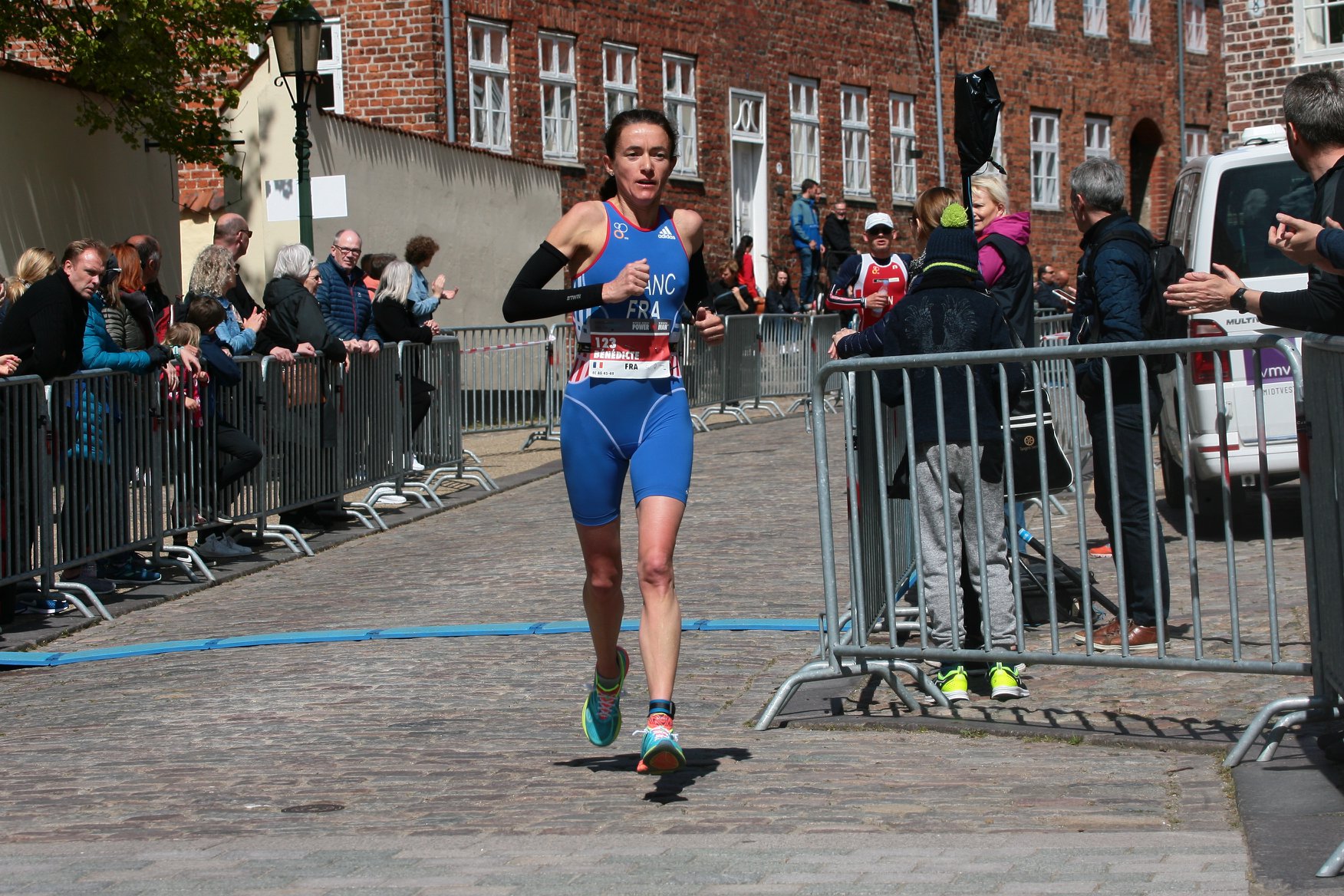 Defending Champion, Bénédicte Blanc from France ran strong for the first 10k and then, relying upon her power on two legs, was able to maintain her lead despite the powerful ride from GB's Joanna Clark, who won bronze in Vejle. Clark looked strong on the bike but with the closing 10k being pretty much a gift for Blanc, there was now ay the Brit could keep with her. Gold to France, silver to GB and a spirited run from last yeasr's 40-44 champion, Kristina Beckendorf DEN was not quite enough to claim silver. So, bronze to the hosts. Clark was full of praise after the race, "European Middle Distance Duathlon Champs in Denmark did not disappoint. Powerman race hosts made the most of the hills & cobbles when designing the course & the Viborg weather brought the great challenge of strong wind! It's all to play for in long races; keeping your head & trusting to the end. To take silver in my new age group 45-49 was better than I'd ever anticipated."

The men's race was a thrilling battle, with defending champion, the strong biker, from Hillerød, Pelle Grønberg DEN up against last year's runner-up and reigning World Champion, Edi Frauchiger SUI. The pair were close on the first run but Grønberg kept the Swiss athlete in check on the bike to head off on the final 10k with the confidence of a defending champion and with the home crowds cheering him on. Germany's Enno Heidergott rode well and clawed back the minute he lost on the first run. His 37:52 for the final 10k took him past Frauchiger and into silver.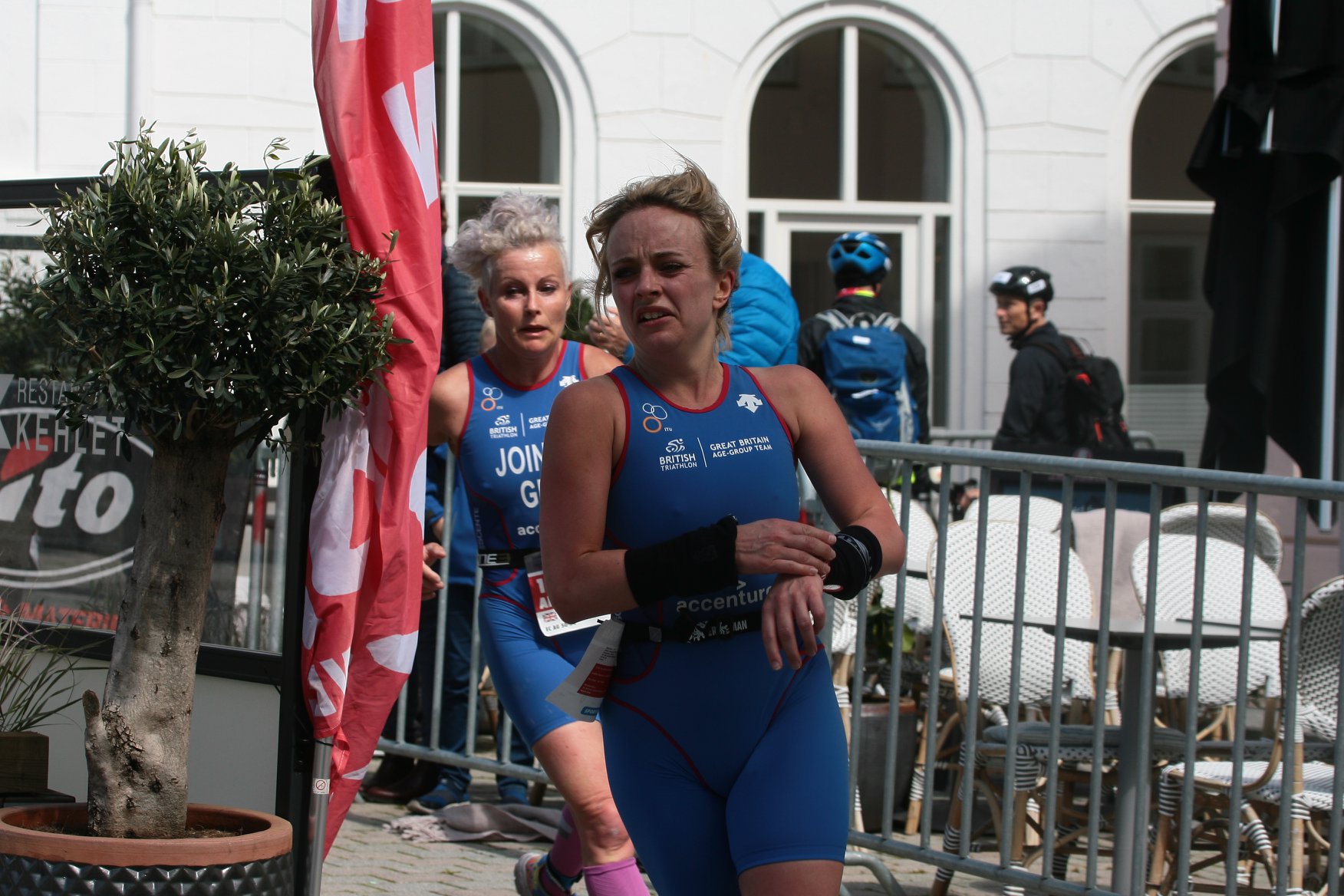 With the 50-54 Age-Group, it was Angela Joiner-Handy who set the early pace with an impressive 38:19 10k. A former Commonwealth Games 10k runner, she was in her element but carrying an injury. Behind her was the 2018 runner-up from Zofingen, Yvette van Wegen NED, who used the bike course to her advantage and stormed into the lead. Denmark's Marianne Schøler Nielsen battled against Joiner-Handy and had the edge on the final run, claiming silver and taking the nation al title. The bronze for Joiner-Handy was her 4th but a trip to Transylvania and the Târgu Mureș down-town Sprint Duathlon gave her a well-earned silver and marked her recovery from injury that struck just before Viborg. "So bagged a bronze today after straining my sacroiliac joint on Wednesday and it was not good today! First run back hurt but managed a decent run - ok first bike lap, second lap back was sore and it was killing on the last run. However, moral of a story here is, never ever give up unless you have a limb hanging off because I shuffled around the last run and got bronze by 26 seconds. I was only 4 minutes off gold, which over 10km run, 60km bike, 10km run, without back issues could have been do-able. This year is turning out to be quite testing on my patience but I'm still smiling!!!" Check out her Boot Camp. The gold medal winner and newly crowned European Champion went on to race in Zofingen – see, there is that logical progression again, where she was first female Age-Group athlete and 7th woman overall.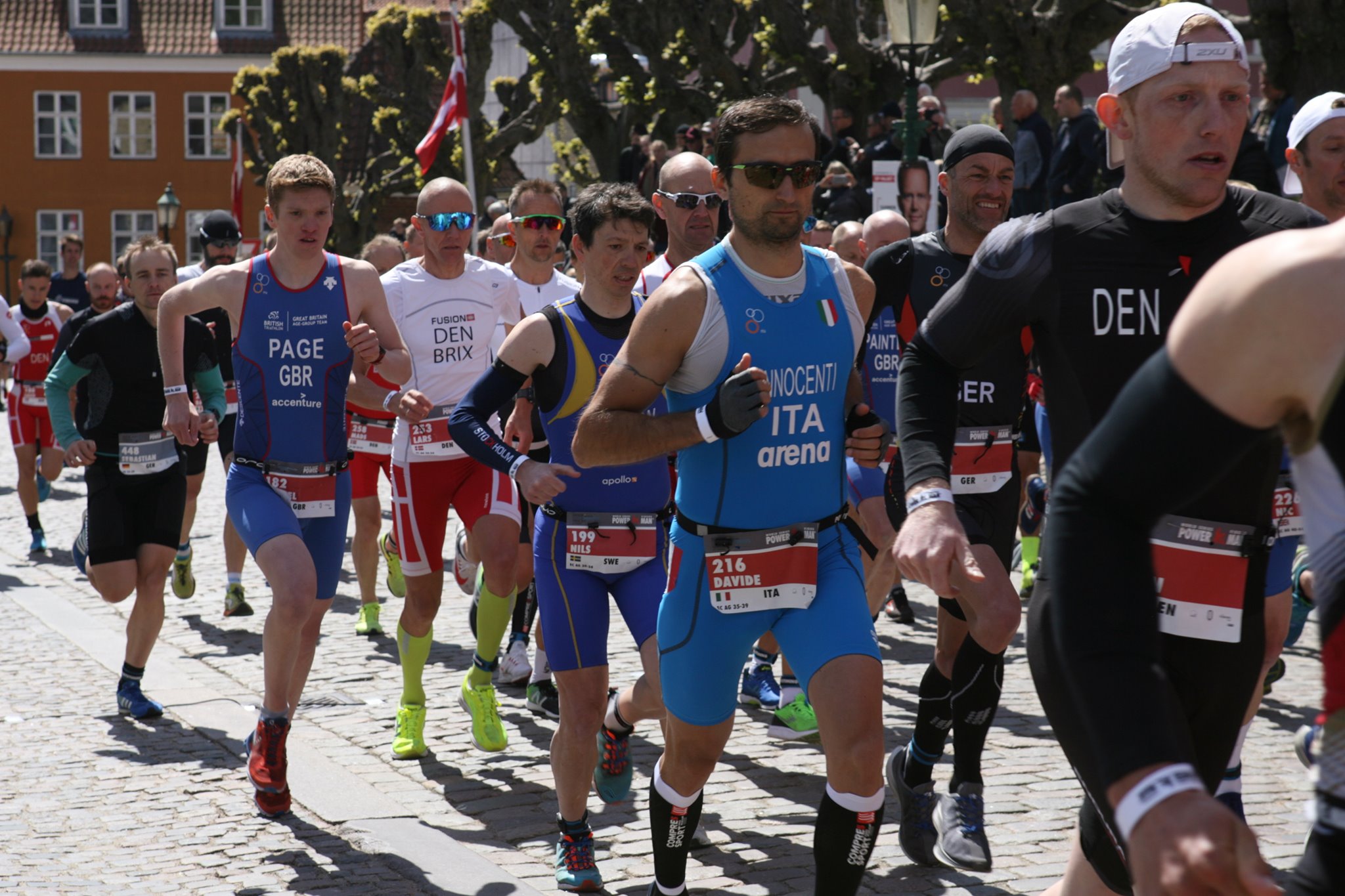 It was a clean sweep for Denmark in the men's race, with defending champion, Jens Oluf Eriksen, a double world and double European title-holder, leading 4 countrymen to the top of this category. The four red-uniformed athletes entered T1 just under 36 minutes. Eriksen lost valuable time in transition but soon caught up and passed last year's runner-up, Lars Brix and Jan Nielsen. Eriksen dug deep and soon caught Jens Henrik Larsen. He lost time again in T2 but was able to hold onto his lead to claim the title with a minute to spare over the fast running Brix who was too strong for Larsen. The power of these four Danish athletes was such that they were over 20 minutes ahead of any challenge. For Eriksen, "Europamester og dansk mester på duathlon mellemdistancen (10løb, 60 cykling og 10 løb) i dag i Viborg. Det holdt hårdt på en bakket, teknisk og vindblæst rute. Også stort tillykke til en super løbende Lars Brix med sølvet og til Jens Henrik med bronzen. / European and Danish Duathlon champion over the Middle Distance (10 run, 60 cycling and 10 run) today in Viborg. It was raced over a technical and wind-blown route. Also congratulations to a super running, Lars Brix, who got silver and to Jens Henrik with the bronze."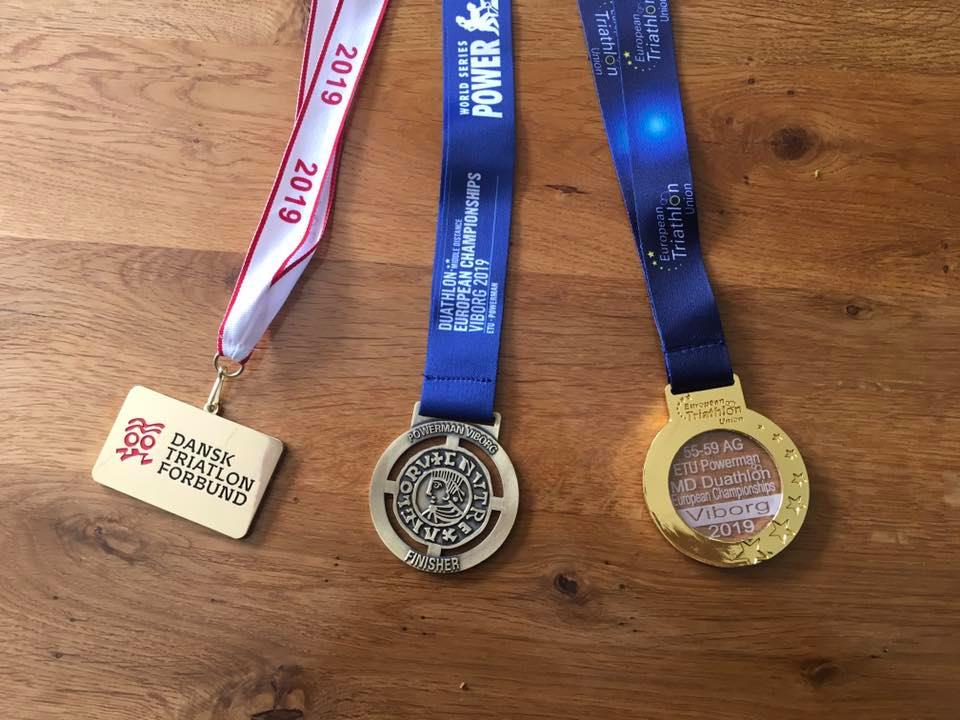 One of the "stand-out" performances of the day was from Denmark's Carol Rasmussen. Her racing history within the ITU and ETU calendar is impressive; with 12 podiums from 13 races and 8 victories to her name. Her win last year in Vejle came after a day of officiating, when she was wearing her Technical Official hat. Viborg saw a masterclass from the diminutive Dane. Unbeatable, she won the race by almost 40 minutes. Silver went to Suzanne Apfel GER.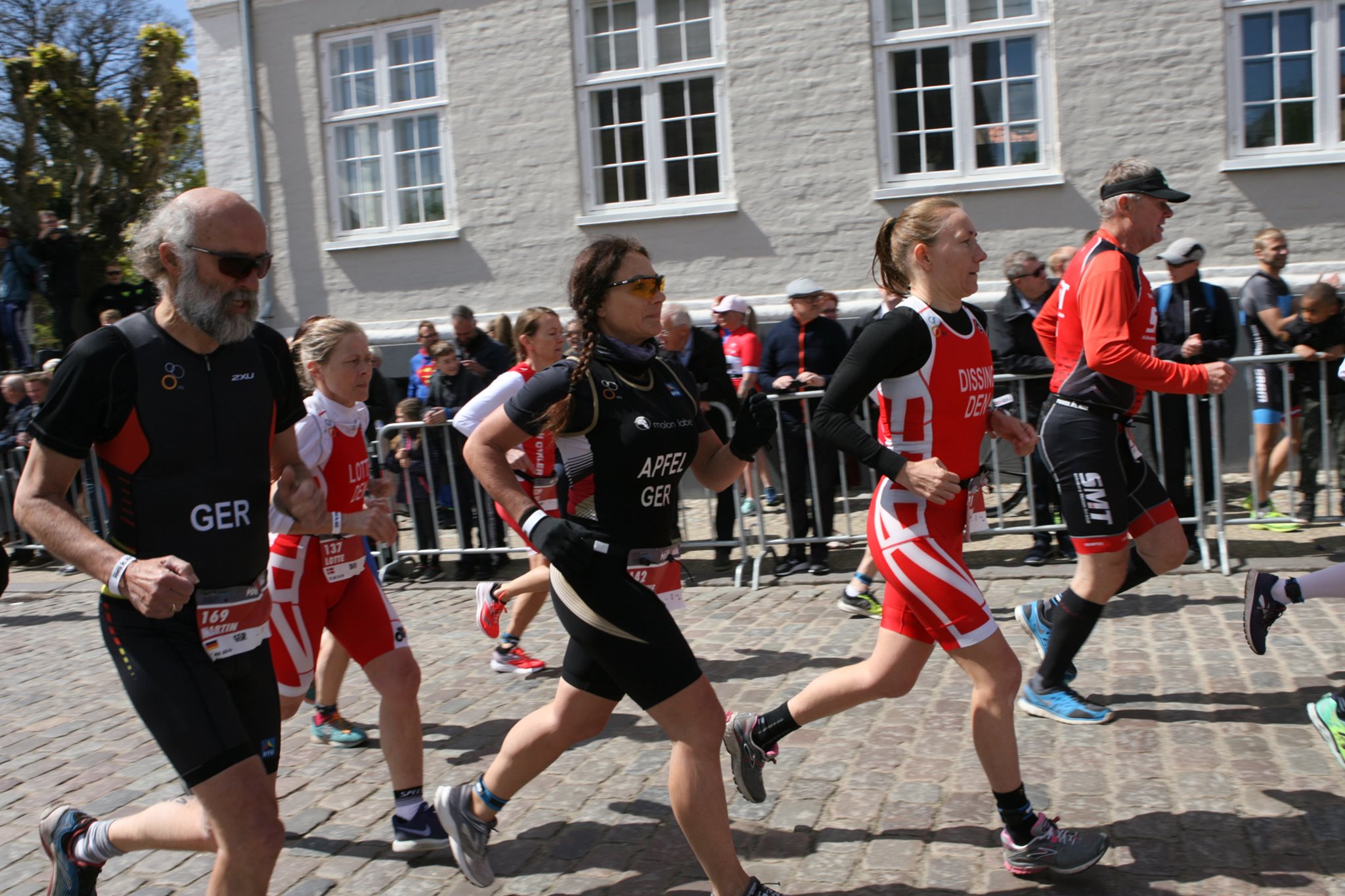 An electronic failure on Apfel's gears meant that she was stuck in the small chain-ring for the entire race and lost valuable time out on the bike. Her off-road racing power later gave her a bronze and a silver in Transylvania in the Cross-Triathlon and Cross-Duathlon respectively. Runner-up last year in both Vejle and Zofingen, it was GB's Karen Haley, who came home for the bronze.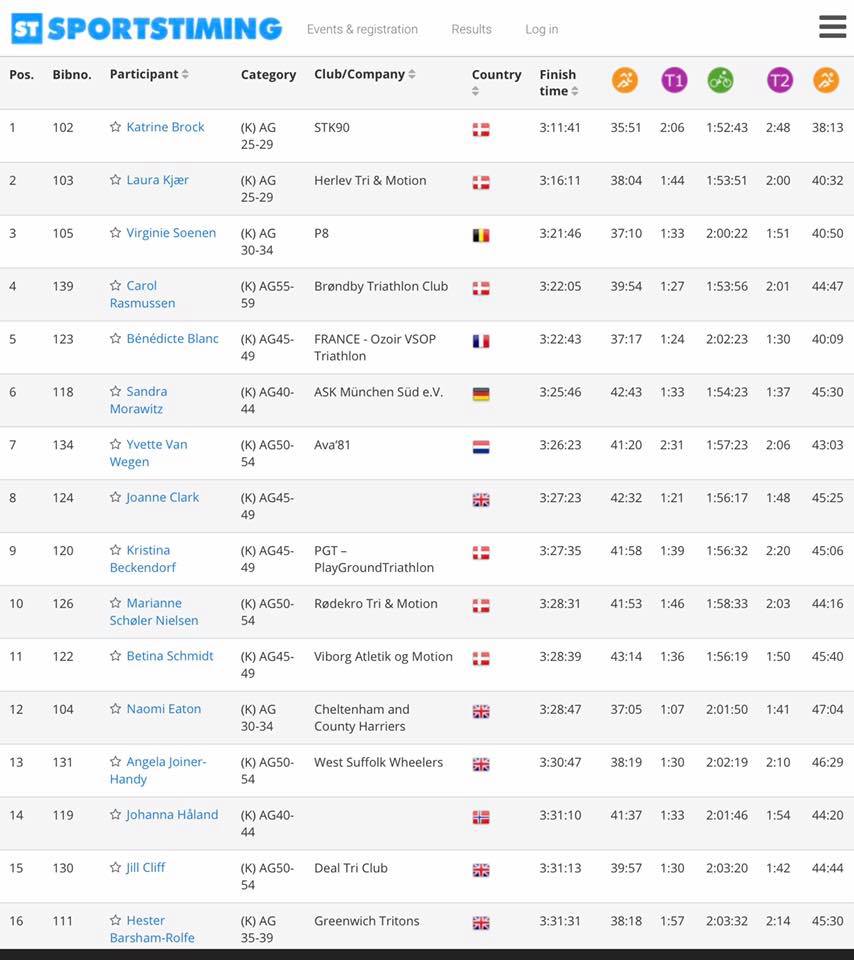 Rasmussen's philosophy is simple, "Gør det der gør dig glad. Giv det bedste du har, hold fokus. En glad europæisk mester for andet år i træk i denne disciplin. Kun sølle 19sek fra en samlet 3.:plads hos de kvindelige agegroupere. Bedste kvinde over 45. Hold da helt op hvor er jeg glad i låget. Jeg fik virkelig ramt verdensmester formen lige som sidste år i Vejle. / Do what makes you happy. Give the best you have, stay focused. A Happy European champion for the second year in a row in this discipline. Only 19 sec from a total 3rd place in the Women's Age-Group. Best woman over 45. Wow totally. How Happy I am. I really hit world-champion form, just like last year in Vejle."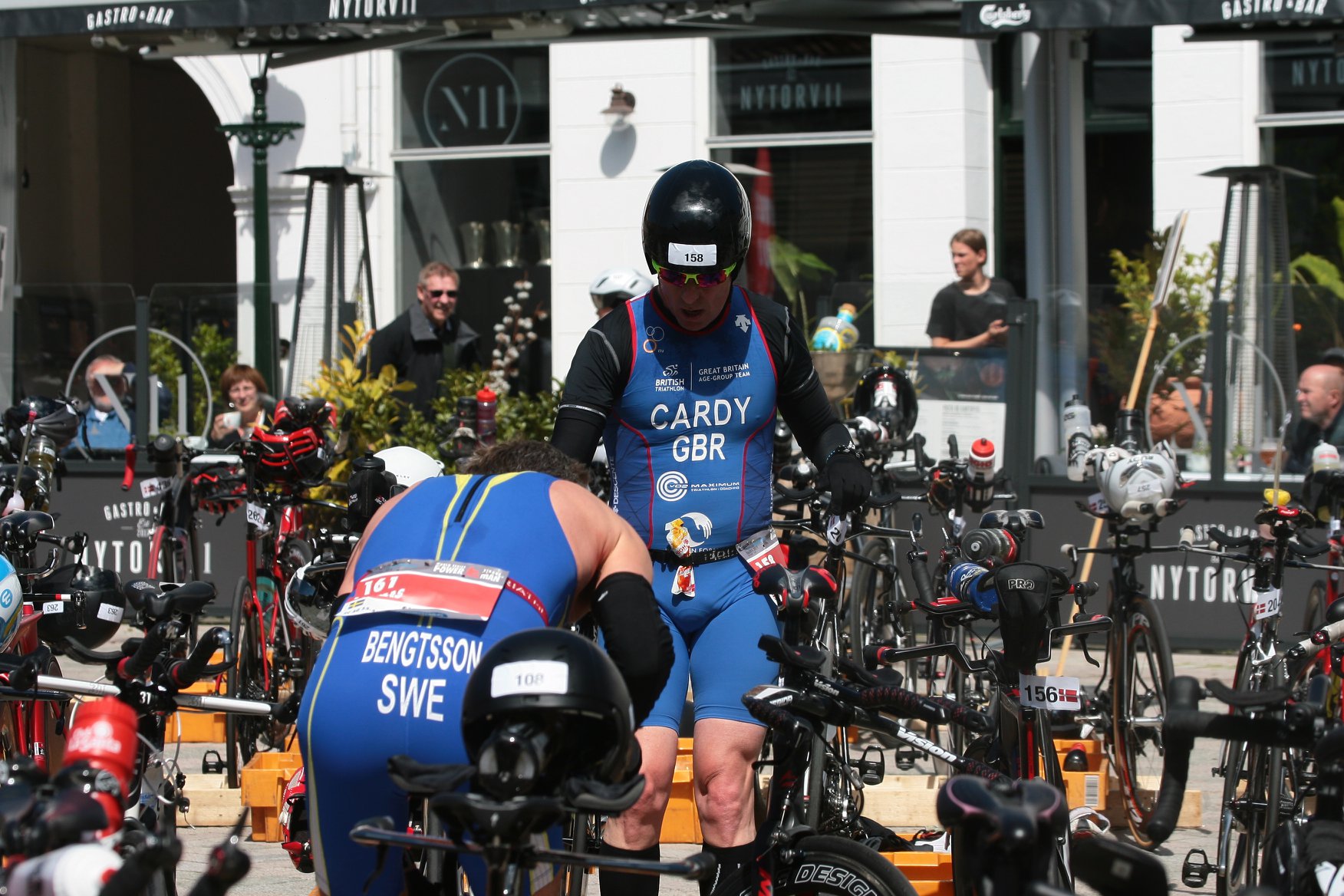 For the Men, it was Tomas Bengtsson SWE and defending champion, Ian Cardy GBR who led the pack into T1. Cardy wasted no time in transition and was soon out on the bike but was no match for Rene Steenberg Olsen who has been working hard on his biking since winning bronze last year in Vejle. The Dane was so strong on the bike and easily caught the leaders. Spinning past them, he was into T2 and out onto the run and in a gold medal-position. Cardy was suffering on the bike and watched his lead vaporise as Bengtsson and the Dane left him. Then Cardy's team-mate, Cycle-coach, Greg Parker with the fastest bike split of the day, went past and it was clear that no medals would come to the Vejle winner. On the run, Denmark's Boris Bjulver was strong too but unable to match the race leader or Bengtsson. His pace took him to bronze ahead of Parker.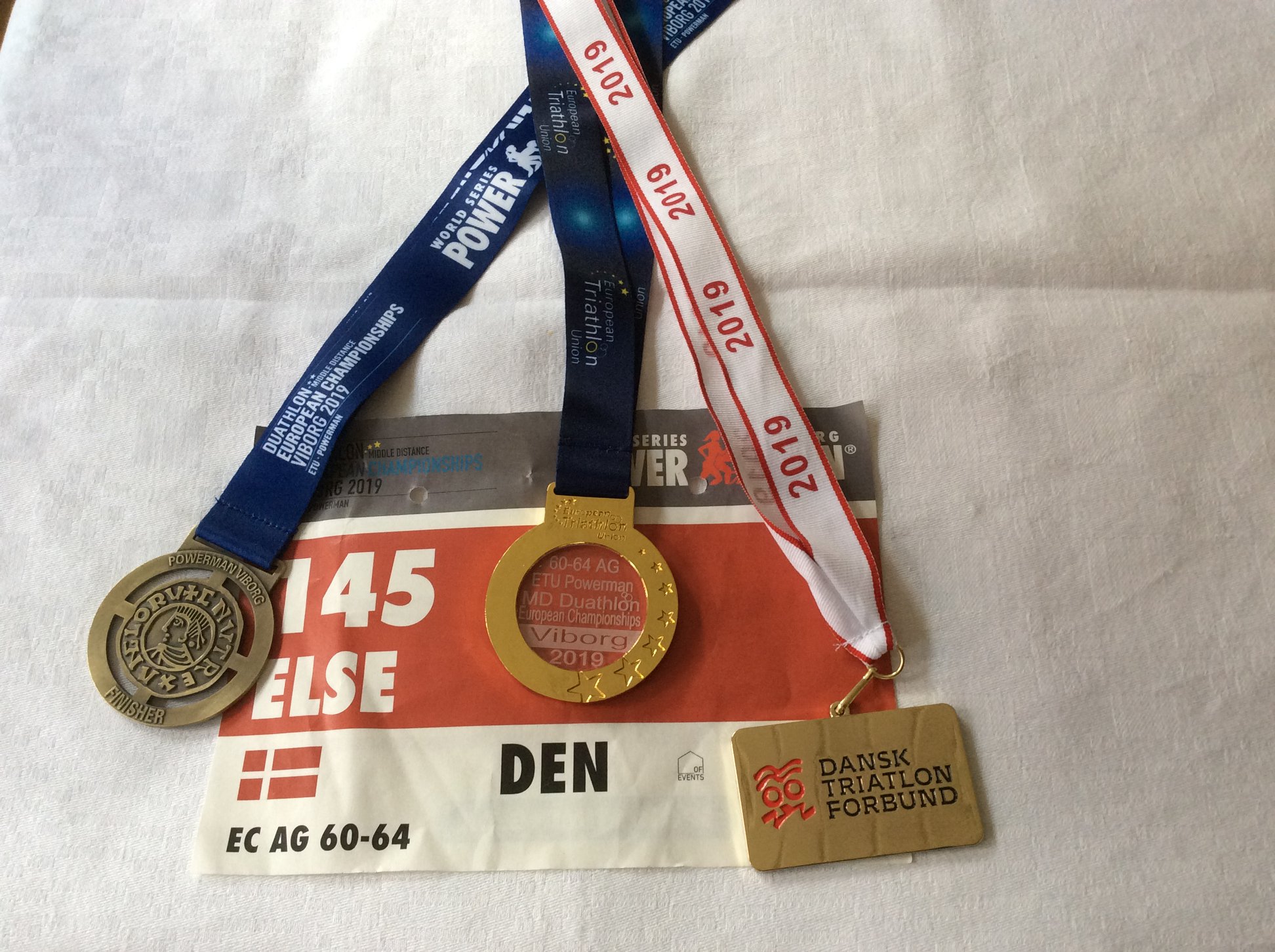 In the women's 60-64 category, defending champion, Kirsten Mørch faced team-mate and 2016 winner from the ETU-Powerman Copenhagen race, Else Grønkjær-Bloch. Mørch was out-run and out-biked, settling for silver ahead of Anette Blicher, who ensured a host-nation clean sweep once more. Grønkjær-Bloch went on to win the World title in Zofingen in terrible weather.
Dean Hardie GBR has been racing now since 2003 on the international circuit. Since retirement, he has been able to dedicate more time to the sport and aside from his racing, has also been seen providing valuable support to Team GB as a Team Manager. Coming to the Danish City of Kings, he was in good form and positive about the race. The first 10k saw him racing neck and neck with Ib Erik Jensen, who had the support of the home crowds. The pair were comfortable ahead of the rest of the pack, apart from one German athlete whose biking day ended too soon and who DNF'd. Out on the bike course and Hardie pushed spectacularly hard to record the fastest split of the day, bringing him into T2 with a massive lead. A quick spin through transition and a sub 40 closing 10k saw the Welshman romp home and take the title. This was easily the highlight of is racing year. He went on to win a bronze in the Cross-Triathlon Championships in Transylvania but a bad crash on the Cross-Duathlon and a very bad fracture; clearly the low-point of his year. ETU wishes him a speedy return to form and looks forwards to seeing him race in 2020. Bronze went to another Danish athlete, Frank Schøler, who just missed the podium in Vejle.
Great Britain's Linda Whitehead claimed the title in the 65-69 category with her first race in GB colours.
For the men, her husband was racing as well. Keith Whitehead was up against the might of Mogens Busk Sørensen DEN. A four-times World Duathlon Champion over the standard distance, six silvers at that level and the 2016 Champion after his win in Copenhagen. Erik Mølgaard pushed his more experienced team-mate on the first run and was out of transition in the lead but the bike course was made for Busk Sørensen, who took command on the two-lap course and easily took the win. Gold and silver to Denmark and a bronze to add to the Whitehead household for Team GB.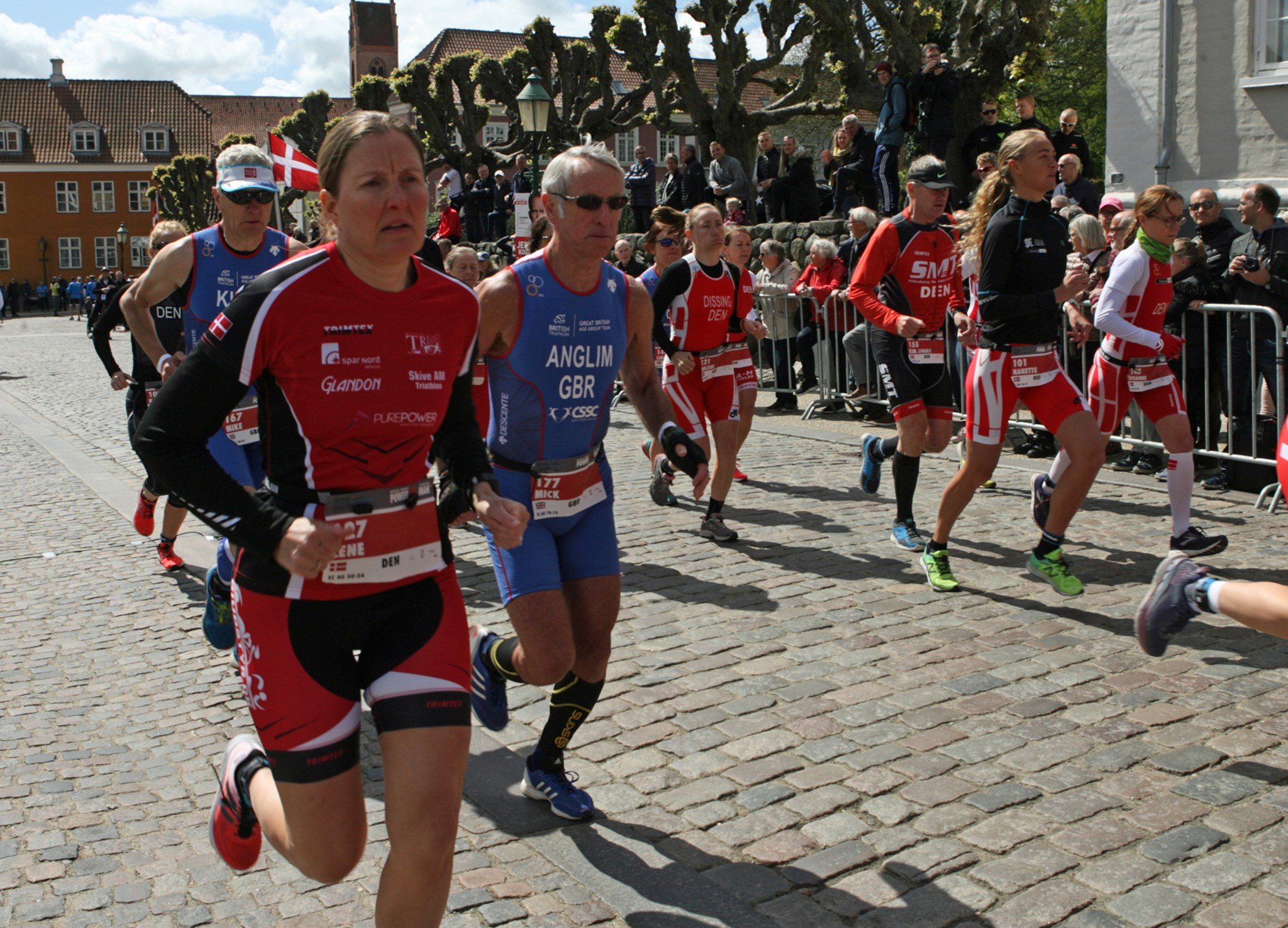 In the 70-74 Age-group, the title went to Mick Anglim GBR, who seems to have been around for ages. His numerous victories, at World and European level, are an impressive collection. His silver in Vejle was won against a younger Danish athlete who was not racing this year.
Victory this year went to Anglim as he notched up his 9th title. A gold (10th victory) and a silver in Transylvania completed his year of duathlon racing.
Our oldest athlete, from Denmark, was Philip Niël. His victory in the 75-79 category concluded the spectacular day of racing and added a final gold to the Danish tally.
| | | | | |
| --- | --- | --- | --- | --- |
| | | Gold | Silver | Bronze |
| Denmark | | 13 | 10 | 9 |
| Great Britain | | 4 | 2 | 6 |
| Belgium | | 2 | | 1 |
| France | | 2 | | |
| Germany | | 1 | 3 | |
| Netherlands | | 1 | | |
| Sweden | | | 2 | |
| Norway | | | 1 | |
| Switzerland | | | | 1 |
Related Event: 2019 Viborg ETU Powerman Middle Distance Duathlon European Championships
Latest
Videos
---
Latest
Event Galleries