NEWS
Starts as a dream, becomes a goal and ends as reality
By Paul Groves
|
20 Jul, 2019
Starts as a dream, becomes a goal and ends as reality.
"Am Anfang ist es ein Traum, irgendwann wird es ein Ziel und wenn dann nach jahrelanger harter Arbeit am Tag X alles zusammenpasst, wird es Realität!" Christian Dürr, German Age-Group athlete.
Very soon, athletes from Austria, Belgium, Czech Republic, Estonia, France, Germany, Great Britain, Greece, Hungary, Italy, Kazakhstan, Kyrgyzstan, Malta and of course, the host nation, Russia will be getting their bags packed for the journey to Kazan.
Click the picture for the video to see what awaits them. Make sure to turn up the volume. If you like the music, let ETU Media know and we will try to use it at the event.
With the chance to win medals over the sprint distance, it is high time we had a look at the performances in Weert and see if any of those medal-winners will be heading to the biggest country in the world for a lifetime experience.
Weert, raced over the Standard Distance gave athletes an impressive beach start. It looked amazing as each category lined up on the carpet, were held for a couple of seconds with the famous "heart-beat" booming out from the speakers before that silence … the silence that means you are truly committed now and cannot escape the race.
Click here for a video from the start.
With each wave setting off, we delivered the high-powered music to make the atmosphere even better, mixing the well-known "FIRE" that we hear at the elite events with the theme from Hawaii Five-0. Well, with that beach of white sand and with the blue lake and the backdrop of trees, it did seem appropriate.
The swim to bike journey was through a massive transition area and then, onto the bike, a connecting section of road before heading out on the pan-flat and occasionally windy road towards Belgium, before heading back towards the old centre of Weert. Once back in town, the run was really well-supported with the crowds lining the streets and urging athletes on to the finish area.
Of course the Brits were there. Over 300 of GB's athletes headed out to Weert but they we denied top place on the medals table by a dominant Germany. However, the sweet success of Oliver Crossley continued as he not only won his age-group again but also posted the fastest men's time of the day. Crossley has moved up from the 20-24 category, which he won last year in Tartu, so the future certainly looks good for him. The fastest female of the day was Lena Gottwald GER, in the 20-24 category. A truly impressive performance that was 5 minutes faster than any other female athlete on the day and a race that was won on the bike and run.
So, time now for a closer look at the medal-winners.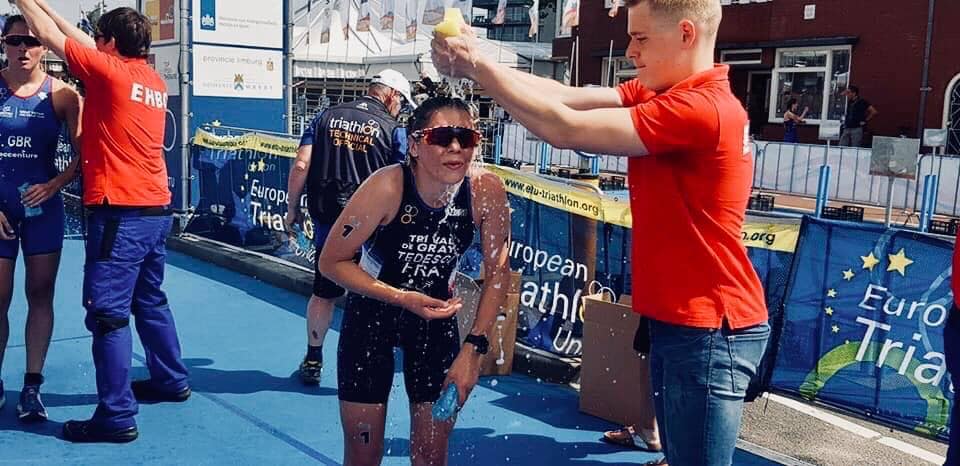 In the youngest category, 18-19 yrs-old, it was a gold to Clémence Tedesco FRA. It was her international debut and a return to sport after injury. For her club, Tri Val de Gray, known for its "Pink Panthers" and after the racing in Weert, was able to boast about not only the victory of Tedesco, but also of Beatrice Mallozzi, who won the junior women's race and Beth Potter, who won the Elite Women's race. Silver went to Germany's Madita Hendriks, who also makes her debut in international triathlon. From a background of horse-riding, running and swimming, she has built up impressive power for the bike. An accomplished cross-country skier, perhaps we will see her mix summer and winter triathlon now that she has enjoyed podium success. Bronze went to Lithuanian athlete, Unė Narkūnaitė, who has progressed through the triathlon ranks, from a young and hopeful athlete at the 2017 Panevėžys Youth Festival to a silver medal in Tartu and her second podium in consecutive ETU Championships.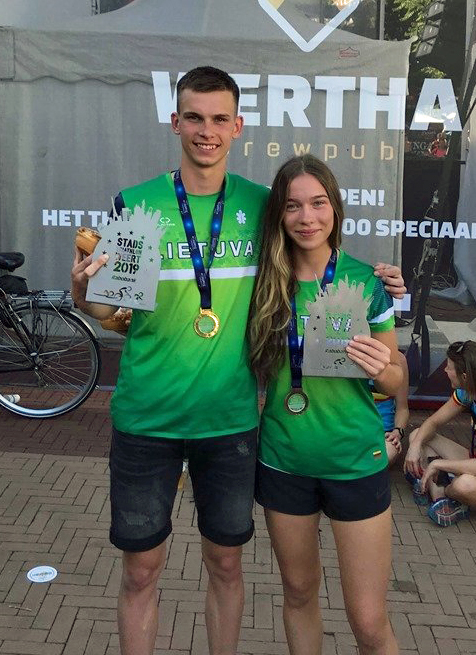 It was a fellow Lithuanian, Lukas Prokopavičius, who stood on the top step of the podium for the men. He too, had raced at the 2017 Panevėžys Youth Festival but since then had not really had the results as a Junior that he had wanted. As an Age-Group athlete, however, he shone. Losing out on the swim, he powered away on the bike and run to take victory by over 6 minutes. Silver went to Lucas Klante who had also raced as a Junior. His swim gave him an early lead but out on the bike he was no match for his namesake. Bronze went to Great Britain's Ben Scott.
Lena Gottwald's gold in the 20-24 category was not just a medal but as we saw above, an outright victory. Her finish time was a full 12 minutes ahead of her nearest rival. Silver went to Rosie Weston GBR, who now has a fine collection of medals, which began in Lisbon back in 2016, when she won gold. Add a Bratislava Aquathlon silver, a Düsseldorf silver, a Rotterdam bronze and a Tartu silver and this collection is impressive and all thanks to Banbury Swimming Club, where she caught the triathlon bug. The podium was rounded off by another British athlete, Hannah Mattinson on her first outing in GB colours and who posted an impressive bike split.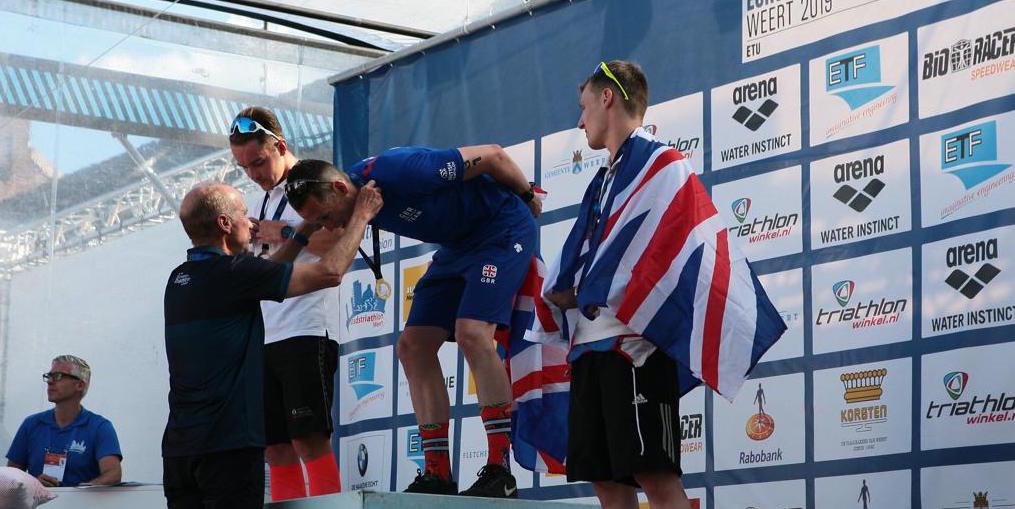 The Men's race saw Sundried's William Grace GBR successfully upgrade his Tartu silver to a Weert gold with an impressive sub 36-minute run. This time is even more impressive when you consider that in the autumn last year, he tripped and broke his ankle whilst training. His race went pretty much to plan, with an early attack on the leaders in the swim, to exit in 4th. He lost a couple of places on the bike but that gave him extra motivation for the run. "Time to go hunting!" He did just that and had to hang around at the finish to see who would take silver. That medal went to Hungarian, Tamás Wagner on his first trip out in national colours. Bronze went to Dan Elliot who has since continued with his medal-winning success by bagging a couple of silvers in Târgu Mureș. His enthusiasm after the race was infectious, "Did that really just happen? Had the absolute race of my life. Swam better than ever to come out 6th, proved that my biking is on another level biking up to 2nd and came into T2 in 3rd place. It was then a case of running in 30degree heat and trying to hold onto a podium spot and I did just that (just), holding onto 3rd by 17seconds with some quality runners coming past me."
Moving to the 25-29 Age-Group and the defending champion, Lucy Davies GBR had a tough day as newcomer Charlotte Bell GBR opened the account with an impressive swim. Bell's 21 minutes in the water was followed by an equally speedy T1 and then out on the bike she consolidated that lead to give her enough in the bank for the win. Davies dug deep but was unable to respond to Mimi Carlton's GBR incredible power on the bike. Carlton's 57:37 was the fastest in the category by far and on the day, Davies had to settle for bronze. The British women filled the podium in what was to be the only all-British set of medals in any category.
Oliver Crossley had a bit of work to do after the swim and it was out on the bike that he caught the early leader, András Czigány HUN. The former elite athlete had set the early pace with a swim that gave him a 40+ second lead over the 20-24 Category Champion from last year. Out on the bike and Crossley put the hammer down and in no time, he had the Hungarian in his sights and then eased past to come into T2 with a comfortable lead. The final 10k was the gift that kept giving as the brit piled on the pressure to cross the finish line as the fastest male athlete and to claim back to back titles. Czigány had lost too much on the bike to challenge the Brit and so, matching his teammate Wagner in the younger category, it was another silver to Hungary. In bronze medal position came police officer Christopher Wehrle GER in his international debut. Racing for TV Riegel, he somehow manages to squeeze in 15 – 25 hours' training a week. The balance between chasing after criminals and chasing after medals has been good enough to get him to Hawaii in 2018 and now this Standard Distance ETU Bronze.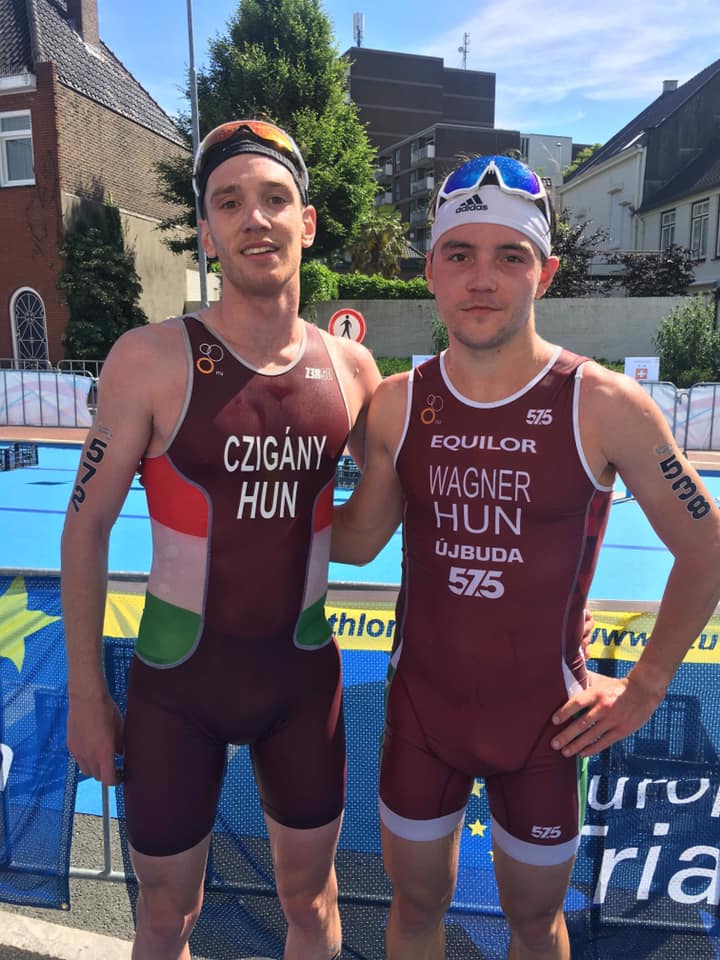 Czigány is set to race Kazan at the end of the month. Another medal? Will it be gold?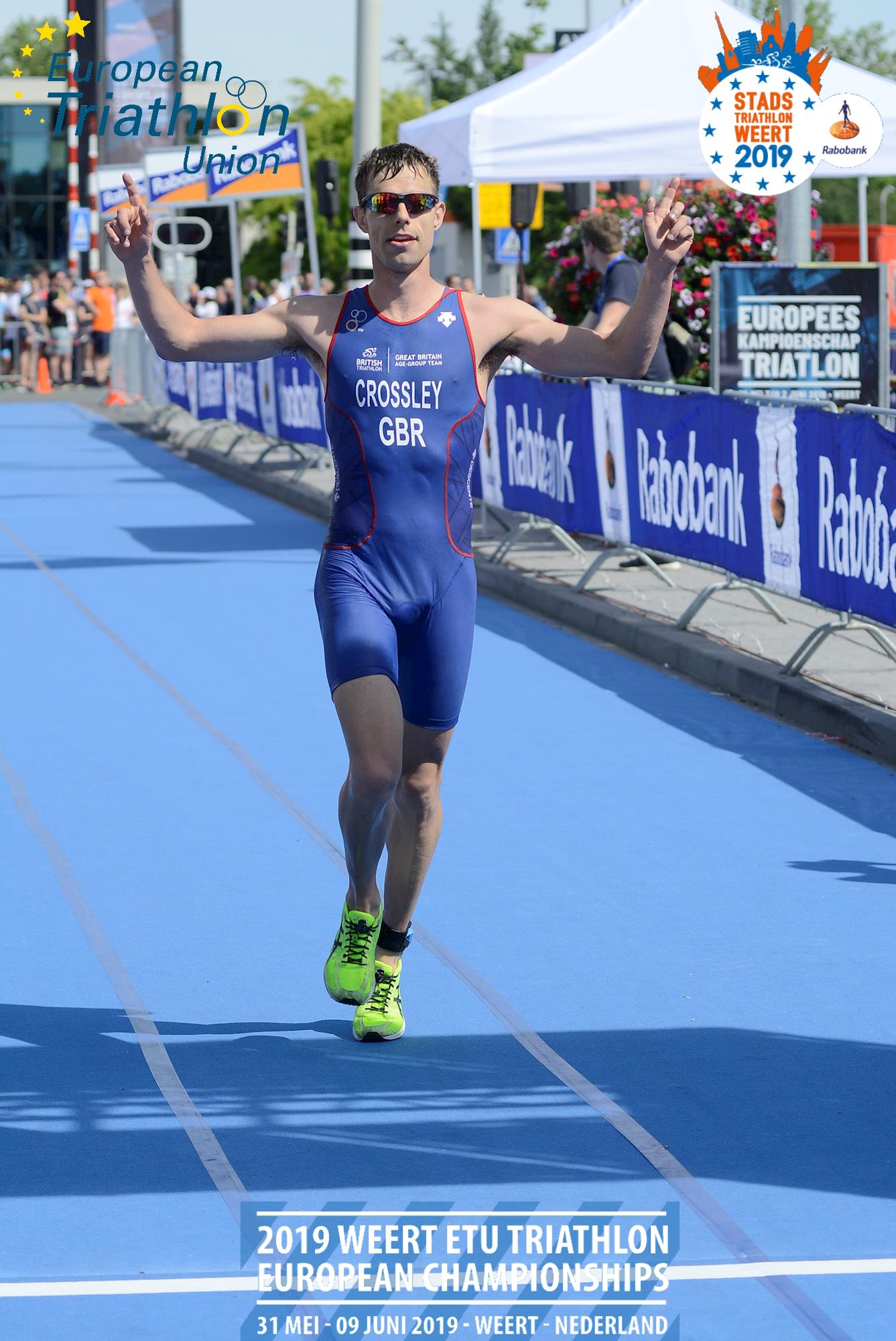 For Crossley though, the final word, "Only gone and done it! Retained my European title in Weert this morning. Scorching heat at 30 degrees but the training really set me up well and I was able to push hard to the finish line. Massive shout out to Mark Davis for the fab training schedule, I am now stronger than ever. Loved racing in the #zone3vanquish pulling out a solid swim which set me up well for the rest of the race. Massive thanks to my family for the support on the course and Kathryn Smith and her family from live link in Cyprus! Bring on Lausanne in September, but now an ice cream is in order." The Oxford graduate also added a very special result to his collection when just last weekend he returned to his college and his proposal to Kathryn Smith was accepted. Hearty Congratulations to you both from ETU.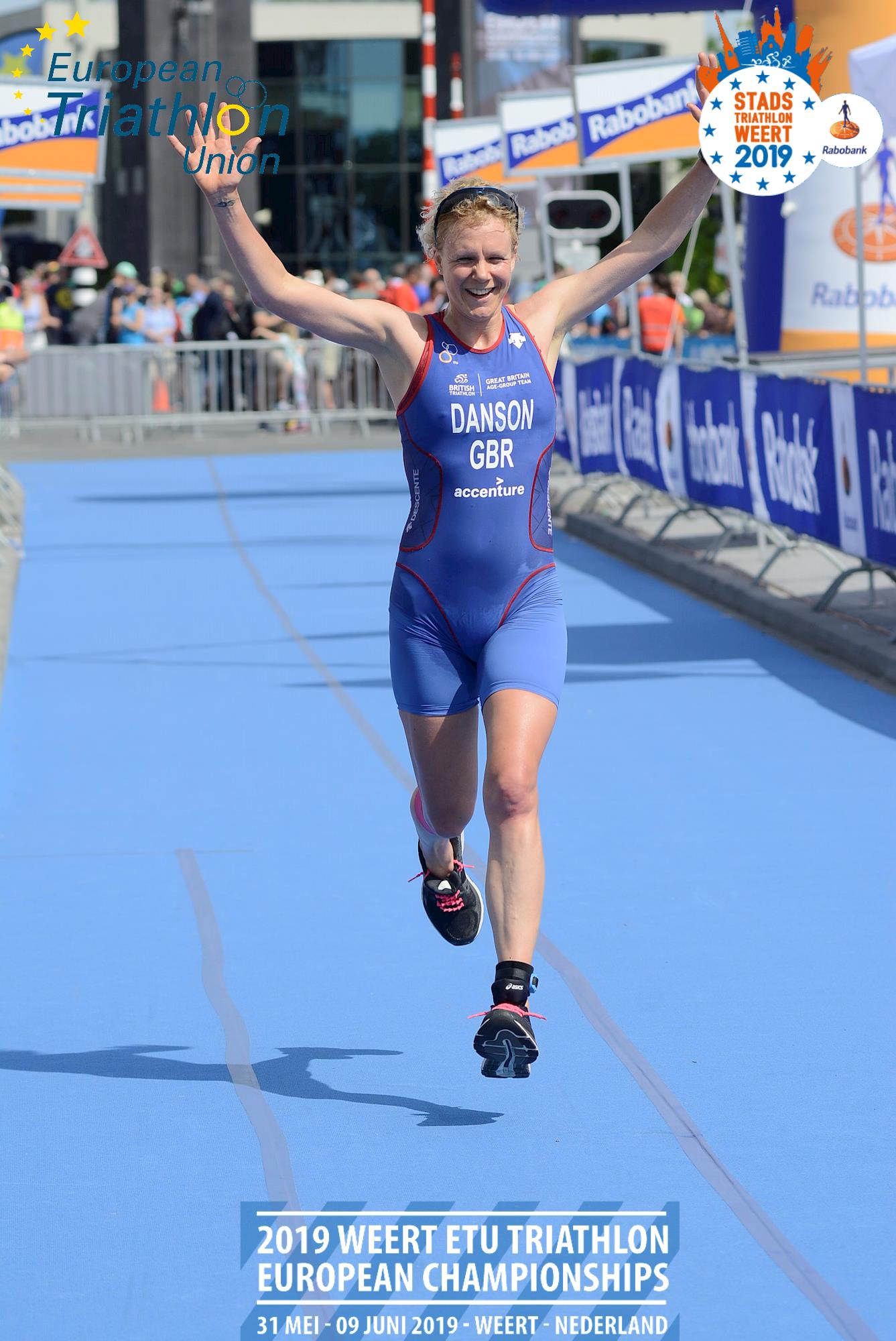 Once again it was a gold medal and a European title to Team GB when the gifted tutor of Maths, Biology, Physics and Chemistry, Claire Danson, winner in Tartu last year in the 25-29 category but now a year older and at the start of her career in this age-group, stormed to the win. Her bike and run combination as too much for Sarah Straub SUI, who battled with the Brit for most of the race until the final part of the run, when Danson's pace was just too much. Bronze went to Rebecca Goodwin, again. She won the same colour medal in Tartu but only very recently put in a powerful performance to win her title in the ETU Middle Distance Triathlon Championships in darkest Transylvania.
For the men, Edward Castro had every expectation of another title. After all, he won in 2014 in Edmonton, in 2015 in Geneva, 2016 in Lisbon and then in 2018, in Glasgow and at the Gold Coast, with a gold in the Aquathlon to round the year off. An impressive 3 world titles and 3 Europeans, he was the man to beat. With a 19:41 swim, no hanging around in T1, a 54:10 bike to make both his swim and bike splits the fastest, it was out on the run that a Flying Dutchman appeared. No, it was not the sun, which by now was pushing the temperatures up to the 30's but instead it was Devi Wolthuizen NED, who stormed past, taking over 90 seconds out of the Brit on the run. Castro settled for silver ahead of defending European Champion, Daniel Jenkin GBR, who hold European titles from Kitzbühel in 2017, Tartu last year, Ibiza in the Duathlon (Sprint) and a World title from Fyn in the Duathlon (Standard). As runner-up in Rotterdam, he used his run power to carve a path up to the podium.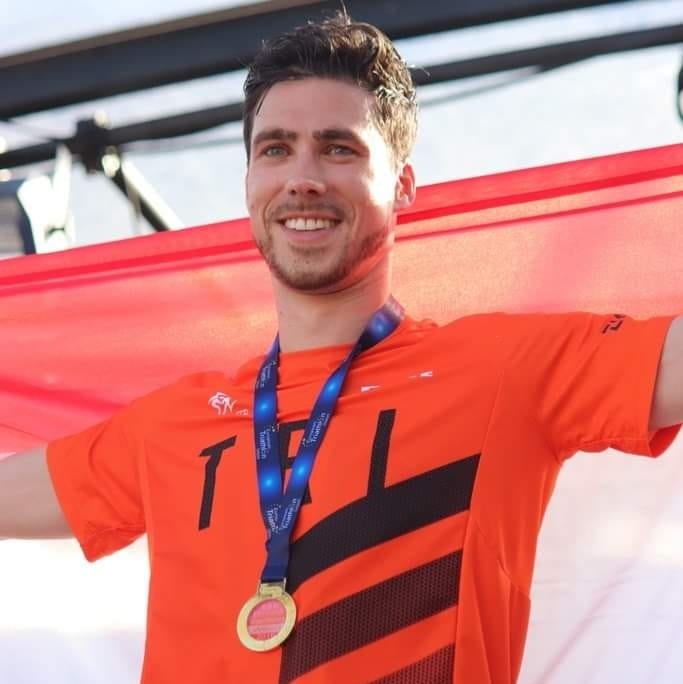 Wolthuizen was over the moon with his victory, "Europees kampioen AG M30 OD!! Gisteren bij de EK AG 1e geworden in de categorie M30 op de olympische afstand! Van te voren wist ik dat er twee grote (Britse) concurrenten zouden zijn, samen goed voor meerdere Europese- en wereldtitels op de OD en sprinttriathlon en duathlon. Diegene die waarschijnlijk sneller zou zwemmen, had een fluorescerend gele Trekfiets, die makkelijk in de gaten te houden zou zijn. De andere zou na het zwemmen als sterke fietser en loper opschuiven naar voren. Zoals voorspeld, zwom de eerste Brit na 400m bij me weg en pakte een voorsprong van uiteindelijk 40 seconden. Na 1,5 ronde hard te hebben gepusht op de fiets kwam ik nauwelijks dichter op mijn concurrent. De laatste ronde heb ik iets de druk van de benen genomen. Uiteindelijk bleken de verschillen in fietstijd, tussen mij en de andere twee, slechts 10" te zijn. Het verschil zou met het lopen gemaakt moeten worden. Het lopen ging ontzettend zwaar onder invloed van het harde fietsen en de hitte. Gelukkig hadden meer hier last van en haalde ik veel anderen in, ook Britten. Echter wist ik niet meer hoe de Brit voor mij heette. Hierdoor was ik hem ongemerkt voorbij gelopen en kwam ik over de finish in de veronderstelling dat ik 2e was geworden. Des te groter was de blijdschap dat ik gewonnen had.
European Champion, AG M30 – Standard Distance. Yesterday, I came 1st in the European Championships, M30 Category, Standard Distance. From the outset I knew that there were two Brits who were going to be tough to beat. Both of them had a collection of World and European titles over sprint, standard and duathlon. The guy who was most likely to be the faster swimmer had a bright yellow Trek bike and that was easy to keep in my sights. The other guy was a faster biker and runner and would be edging up to the front. As expected, the first Brit passed me after about 400m in the swim and got a lead of about 40 seconds. After a lap and a half on the bike, pushing hard, I got closer to my opponent. Over the last lap, I eased up a bit. Looking back, it seems that the difference in bike times between me and the other two was only about 10 seconds. I must have made up the advantage on the run. It was really hard going after the tough biking in the heat. Luckily I wasn't the only one suffering and I was able to overtake people, including British athletes. I really didn't know the name of the other Brit I needed to catch and because of that I seem to have run past him without noticing and crossed the finish line thinking that I had come in second. So, the delight at finding out I'd won was even greater."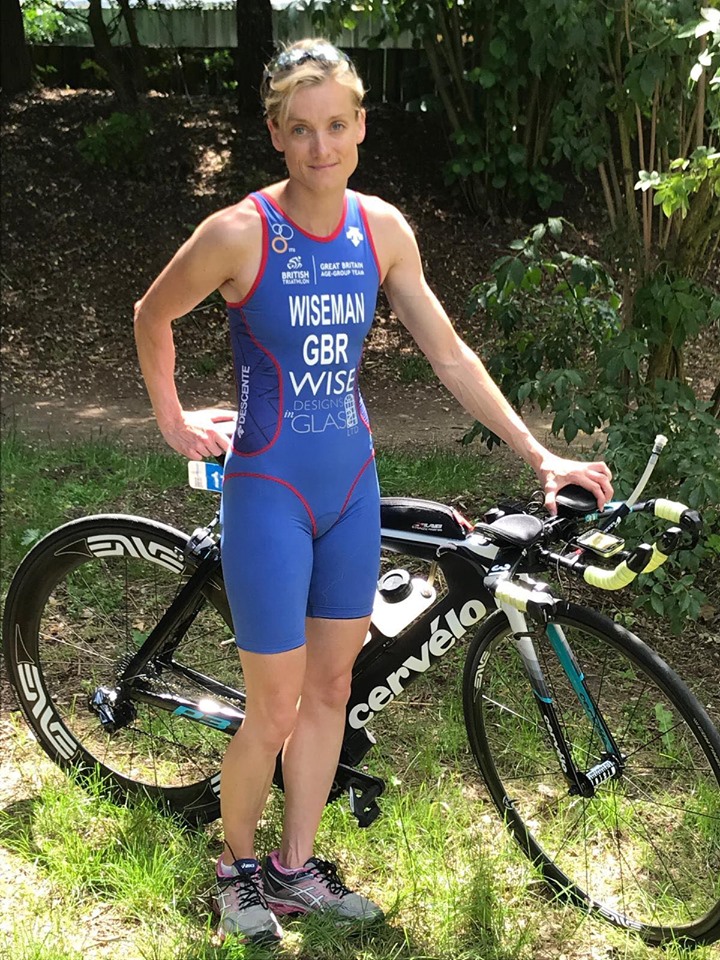 In the 35-39 Age Group, it was Britain's Racheal Wiseman who looked set to upgrade her Tartu silver to a gold. After the Estonian event, she had travelled to Ibiza, where she won gold and the European title in the Standard Duathlon Championships before her victory in Pontevedra in the Worlds. For her, the win in Pontevedra was a clear statement as she successfully defended her world title. So, running off the bike would be her power. However, Rike Westermann GER, proved to be the unknown element and her domination out on the bike course, with a 59:26 split was simply too much for Wiseman, whose 37:53 closing run was easily the best. Westermann had built up an early lead in the swim that was not to be beaten. Wiseman, supported by Team Dillon Coaching did her best but had to settle for silver. Bronze went to Rebecca Vermeer GBR in her first outing in GB kit.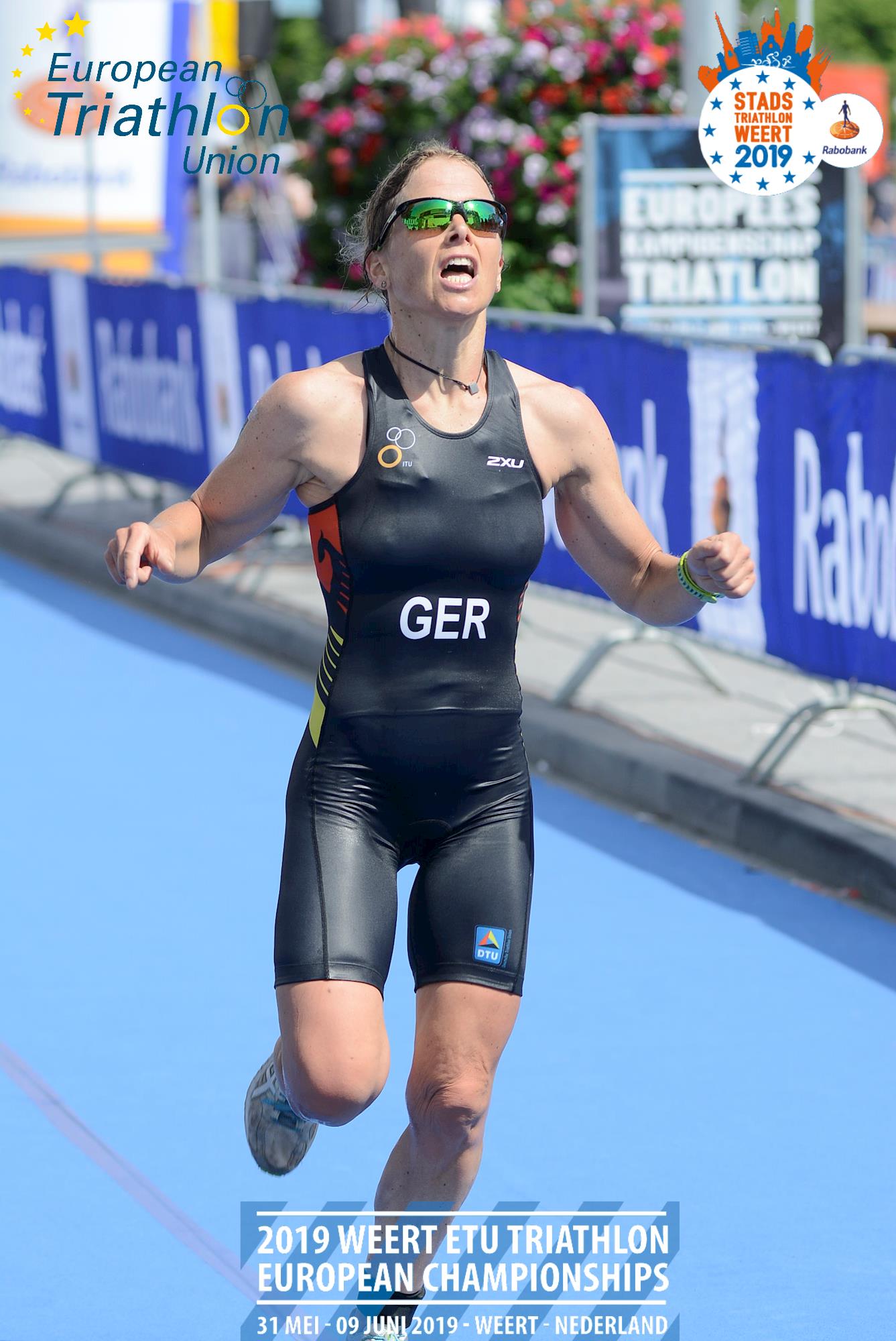 So, where did Westermann come from? Well a 9:53 Austria Ironman in 2016 gave her 8th place out of the women and a sub 3-hour marathon in Dublin in 2018 is in the record books, so there is some impressive pedigree there. Support for Westermann comes from the German Federal Police. Polizei NRW Mönchengladbach is naturally very proud of her achievements and it is certainly a very positive statement from them that they are prepared to support and encourage their officers. The rewards have been in place for some time now. In 2017, Westermann was part of the victorious team that won the German Police Championships. Along with two other athletes, their combined times secured them a prized trophy, "Polizeimannschaft des Jahres 2017". Success then, gold and a European title now. Click here for the video.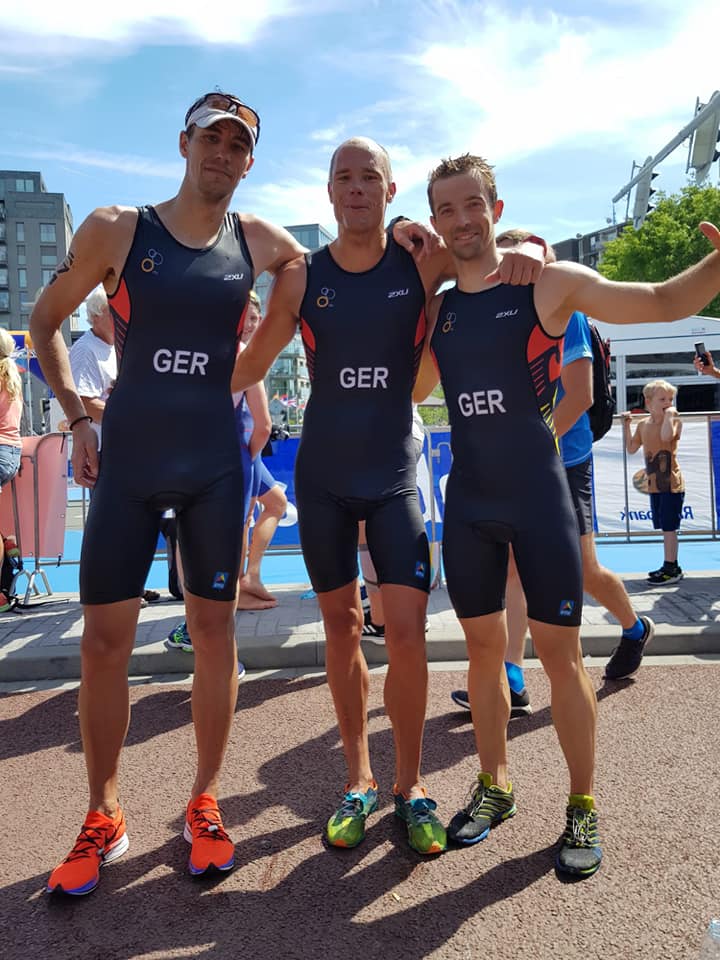 There were more medals in the men's race as Hendrik Becker led Germany to a clean sweep. Silver in Düsseldorf over the sprint distance was followed by bronze in both Rotterdam and Tartu over the standard. After missing out on the medals in both Glasgow and at the Pontevedra duathlon by just one place, he came to Weert and was given start number 666. Now we often joke about this number but here in Weert, Becker swam powerfully, exiting in 3rd place and with precision, sped through T1 to attack the bike like a beast. There was quite a battle out on the bike course and on the run and it was not until the closing stages of the run that Becker realised the title was to be his. With teammates, Dag Störmer and Christian Dürr, the podium was an all-German one.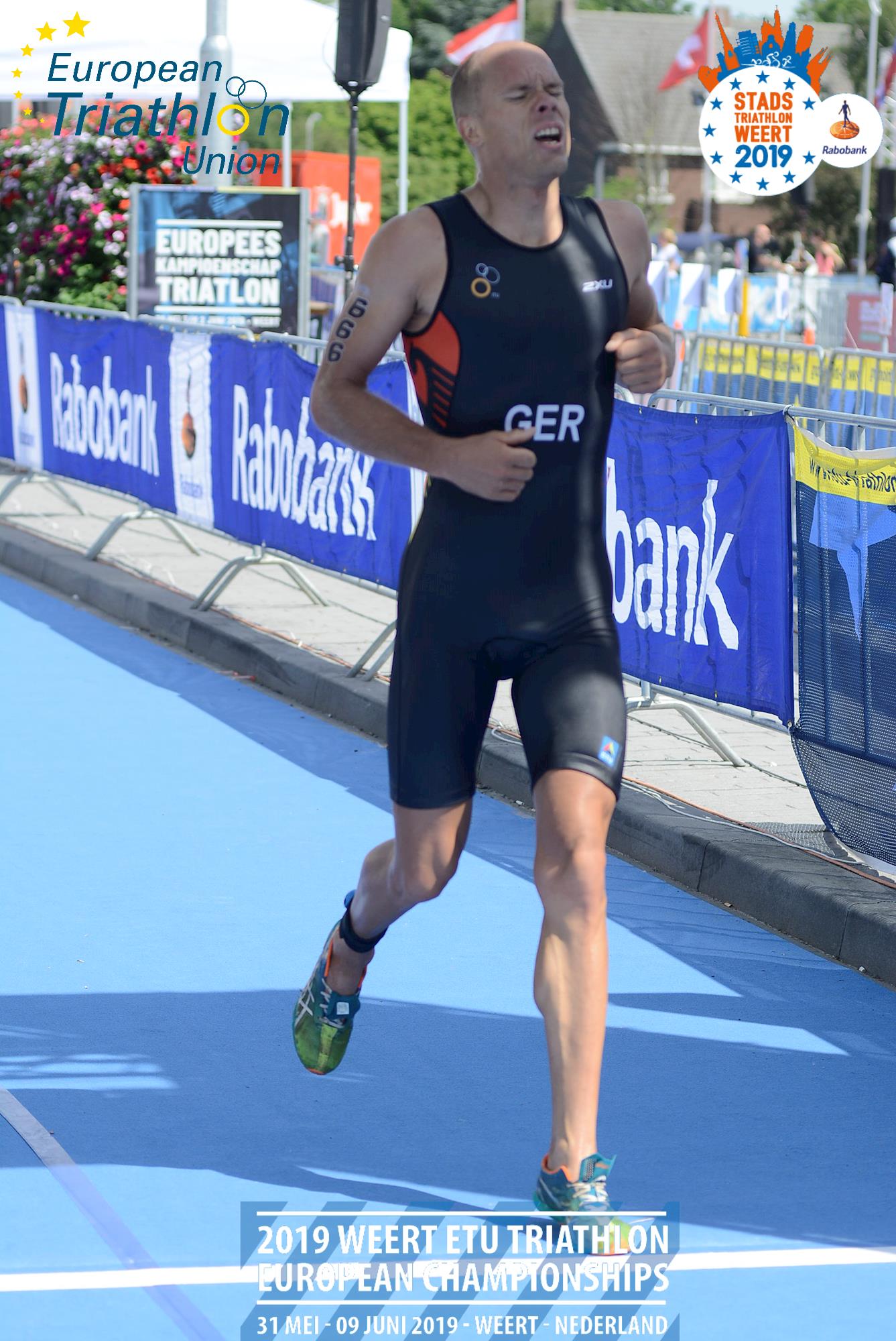 A jubilant Becker, his tank empited after the race, explained the finer points of post-race nutrition, "Harter Tag heute im Office. Das Bild des Zieleinlaufs ist geprägt von purer Qual und Schmerz, aber wir heisst es so schön: 'Je mehr es auf der Strecke wehtut, umso geiler das Gefühl im Ziel wenn es vorbei ist.' Als Belohnung gab es heute den Europameister-Titel in der AK 35 über die olympische Distanz. Der Wettkampf fand im idyllischen holländischen Städtchen Weert statt. Das Rennen verlief sehr wechselhaft und war geprägt von ständigen mentalen und körperlichen Aufs und Abs. Das es zur Goldmedaille der Europameisterschaften reichen wird, wusste ich erst 20 Meter vorm Ziel, aber da war ich schon im absoluten Dilirium. Meine Teamkollegen Dag Störmer und Christian Dürr heizten mir gewaltig ein, so gelang es uns dreien das rein deutsche Podium zu sichern: Gold, Silber und Bronze für Team Germany, dass hatte schon was. Nach einem ordentlichen Nacho-Fritten-Burger, 6 Alkoholfreien Radlern, 2 Eiweissriegeln, einem kleinen Törtchen sowie eine paar Kugeln Eis kehren die Lebensgeister langsam zurück. Danke an die vielen deutschen Zuschauer an der Strecke fürs Anfeuern, besonderer Dank gilt meinen Sponsoren, ich bin sehr happy euch an meiner Seite zu wissen. Ganz besonderer Dank gilt meiner lieben Freudin Anna Sausan für die tollen Tage in Holland, dein super Support war ganz große Klasse.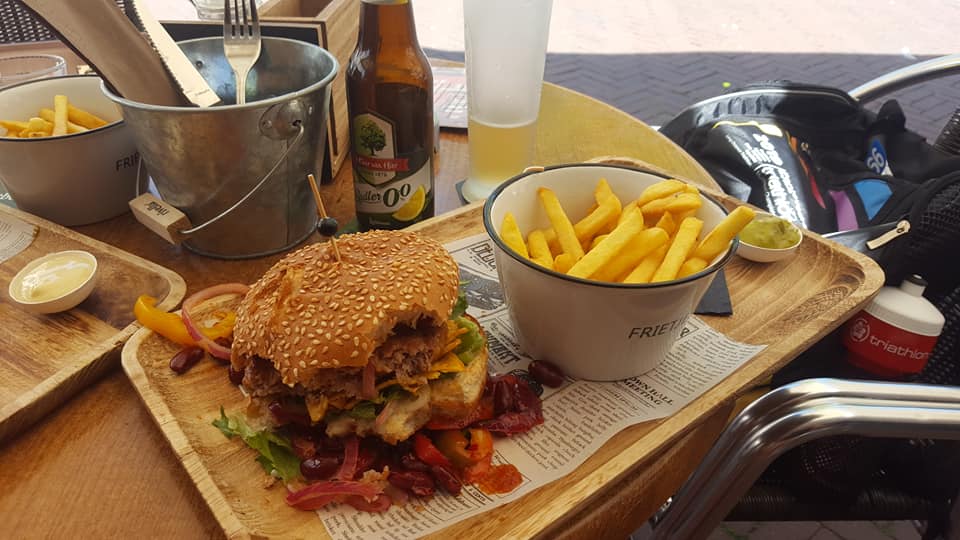 It was a hard day at the office. The photo of me in the finish is distinguished by pure pain and suffering but as we say, 'the more it hurts out on the course, the better it feels when you finish and it's all over'. The reward today was the title, European Champion, AG 35, Standard Distance. The race took place in the idyllic Dutch town of Weert. The course was a varying one, marked by tough mental and physical ups and downs. I didn't know that I was on for a gold medal until the final 20m but then I was so happy. My teammates, Dag Störmer and Christian Dürr really spurred me on and so we got the three of us on the German 'clean sweep'; Gold, silver and Bronze for Team Germany, that was something. After a nice Nacho and Chips burger, 6 alcohol-free beers, 2 Powerbars, a small cake and a couple of scoops of ice-cream, I began to feel human again. Thanks to the many German spectators for the cheers and support along the course and a special thanks to my sponsors, I am delighted to have you guys behind me. A very special thanks goes to my wonderful girlfriend, Anna Sausan for the great days in Holland, your amazing support was out of this world."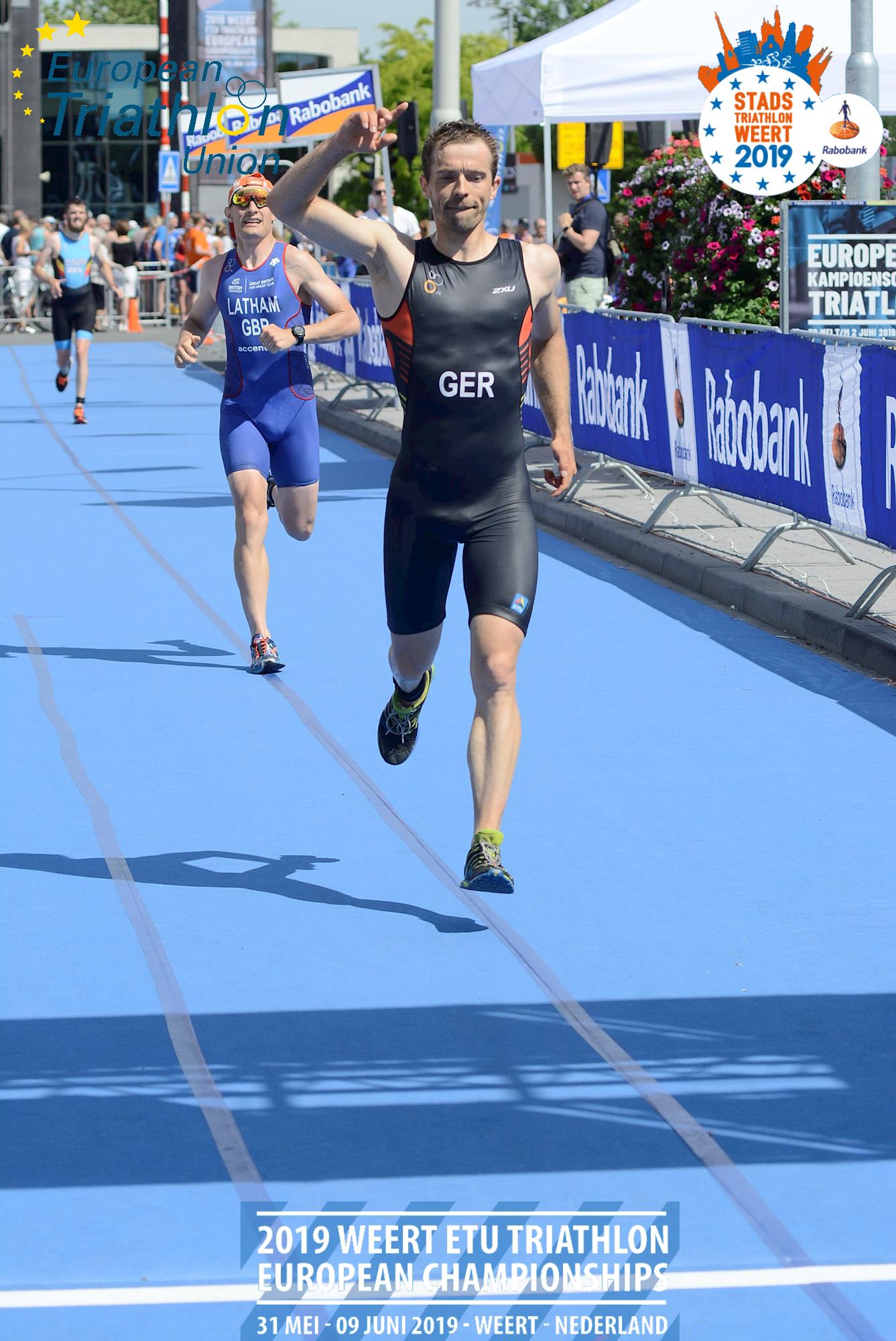 For his teammates, this race delivered to them their best international results so far. Dürr summed it up really well, "Am Anfang ist es ein Traum, irgendwann wird es ein Ziel und wenn dann nach jahrelanger harter Arbeit am Tag X alles zusammenpasst, wird es Realität! Ich bin sehr dankbar und glücklich über meine erste internationale Medaille bei der Triathlon Europameisterschaft in Weert! / It starts as a dream, someway along the road it becomes a goal and then, after years of hard work, when everything comes together on The Day, it becomes a reality. I am very grateful and delighted with my first international medal at the Weert European Triathlon Championships."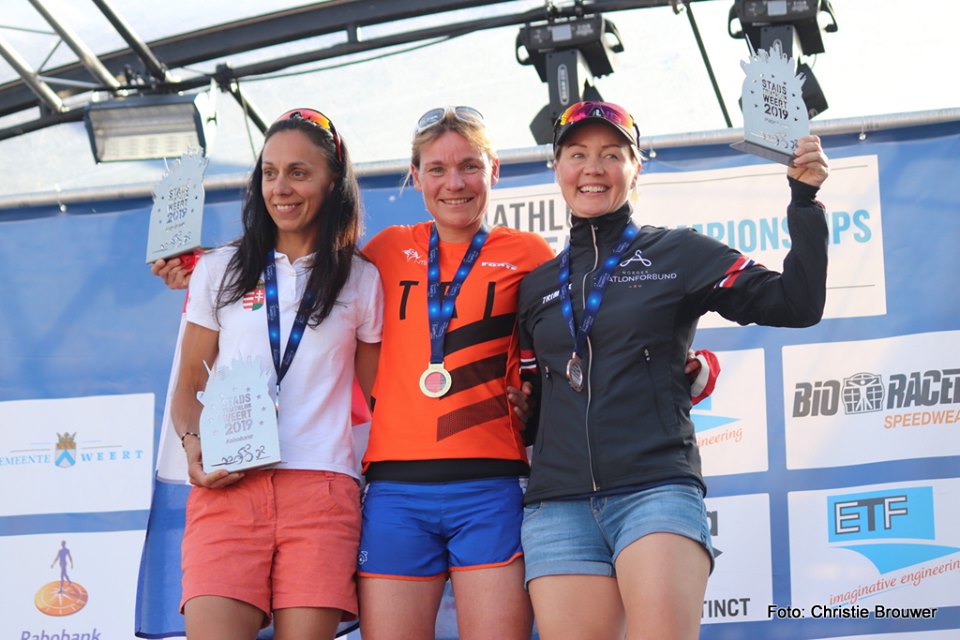 Moving on to the 40-44 year-olds and it was at last a gold to the hosts, with Sione Jongstra taking to top honours. A former elite long-distance specialist, she now races Age-Group and won her category in Rotterdam. The defending champion from Great Britain, Candice Heys was in contention on the swim but as soon as Jongstra attacked on the bike, it was game over for the Brit, who still managed a top ten finish in this tough age-group. A powerful ride that was a stand-out performance ensured the Dutchwoman had a comfortable lead coming into T2. The only challenge came from Hungarian athlete Amelita Svéd but she had lost too much on the bike course to really threaten. Jongstra was a comfortable winner, with Svéd claiming silver and Norway's Gunhild Berntsen in bronze position.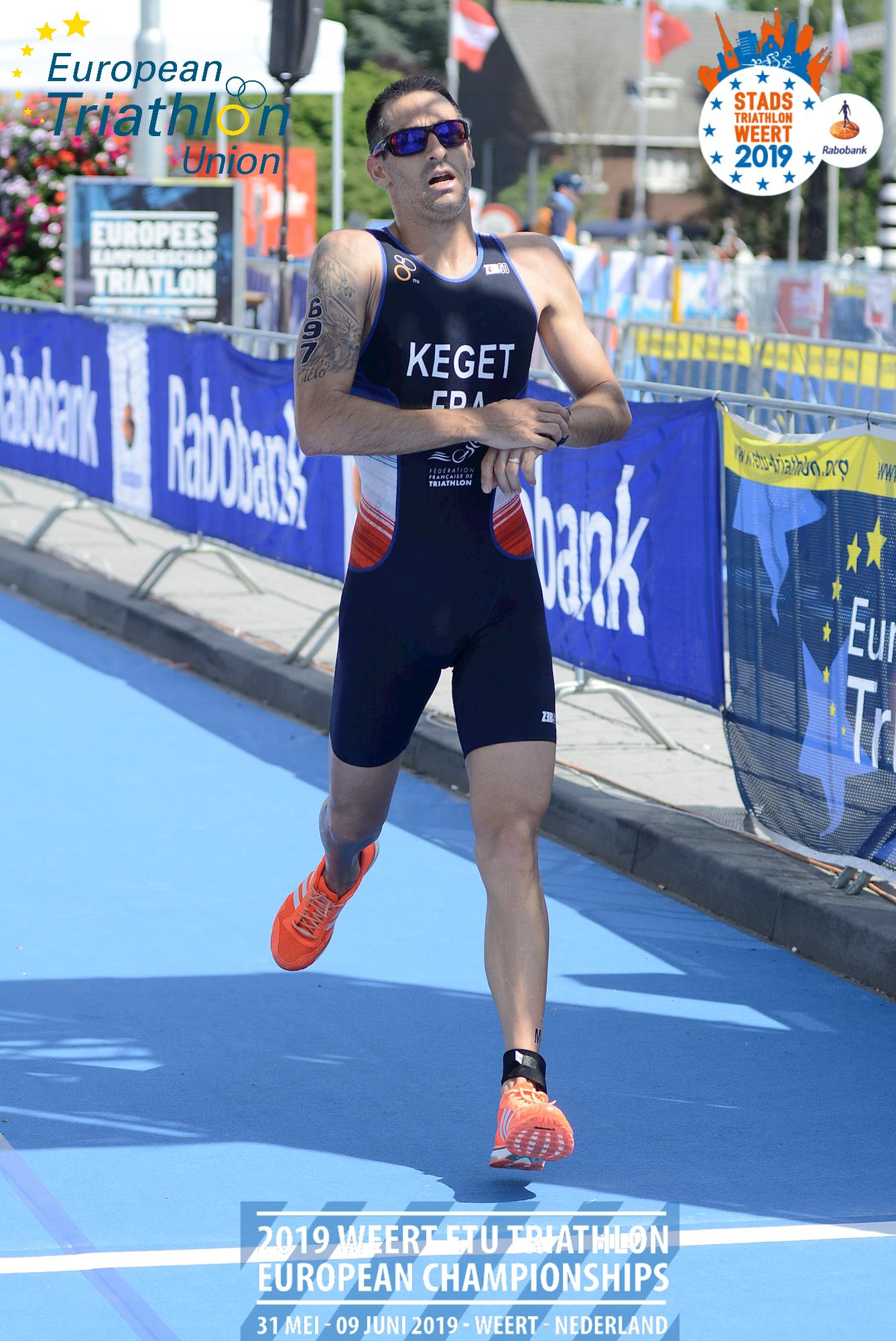 The Men's race saw once more the legendary Hungarian athlete, Csaba Kuttor. He raced at both Sydney and Beijing in the Olympics and since retiring as an Elite athlete, has claimed two ETU titles as an Age Group athlete. With wins in Geneva and Lisbon, he dropped to bronze in Kitzbühel in 2017. Leading the men out of the water he was soon overtaken on the bike by a French uniform worn by Cédric Keget making his debut in the international triathlon scene. Keget kept the power strong and was able to run free to the finish, with Kuttor as runner-up. Bronze went to Belgium's Kris Vermeiren.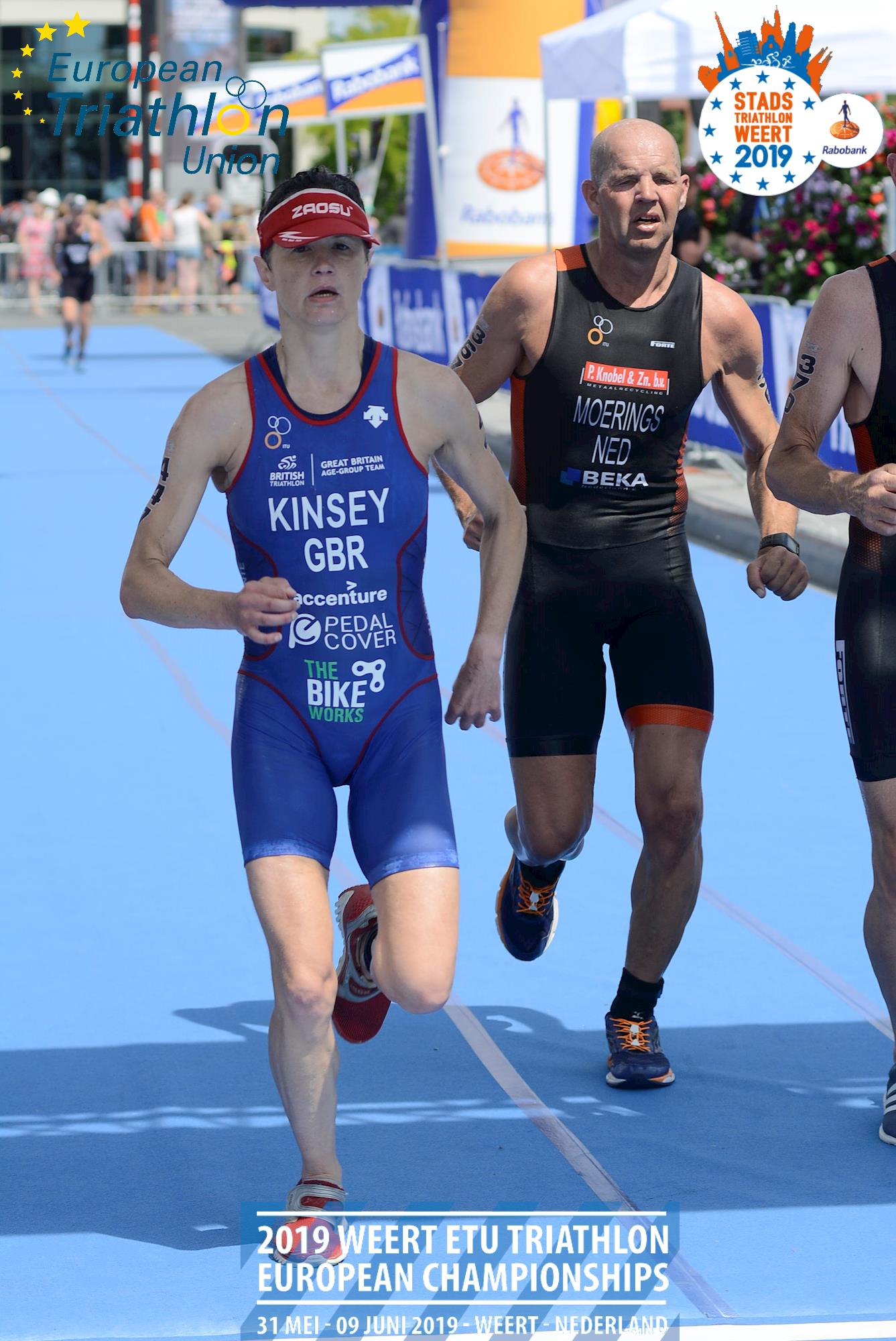 The 45-49 women saw GB's Gwen Kinsey have a great race. Ahead of her main rivals out of the swim, she rode well on the flat course and then blasted it around the 10k run course to easily claim the win. A winning margin of nearly 5 minutes. Making her debut in 2015, she took the title in Geneva and successfully defended it in Lisbon in 2016. In Aviles, she claimed the World Duathlon title, adding a European duathlon crown in Soria in 2017. A bronze in 2017 at Düsseldorf was a stepping stone to another world title, this time in Rotterdam. Silvers followed in Fyn and Glasgow and then a duathlon win in Ibiza ahead of a Pontevedra silver for the sprint duathlon. No real surprise then that nobody could match her pace. Silver went to Astrid Zunner GER, on her international debut. It could have been a closer finish if Zunner had avoided the drafting penalty. Bronze also went to Germany and to Kai Sachtleber who will be heading off to Kazan at the end of the week where she may well be in with a chance for a medal. Her starting stats are quite impressive; 28 starts, 14 podiums and 2 wins. After Weert, she collected two more medals in Târgu Mureș (silver and bronze for Aquathlon and Middle Distance). Alles gute, Kai!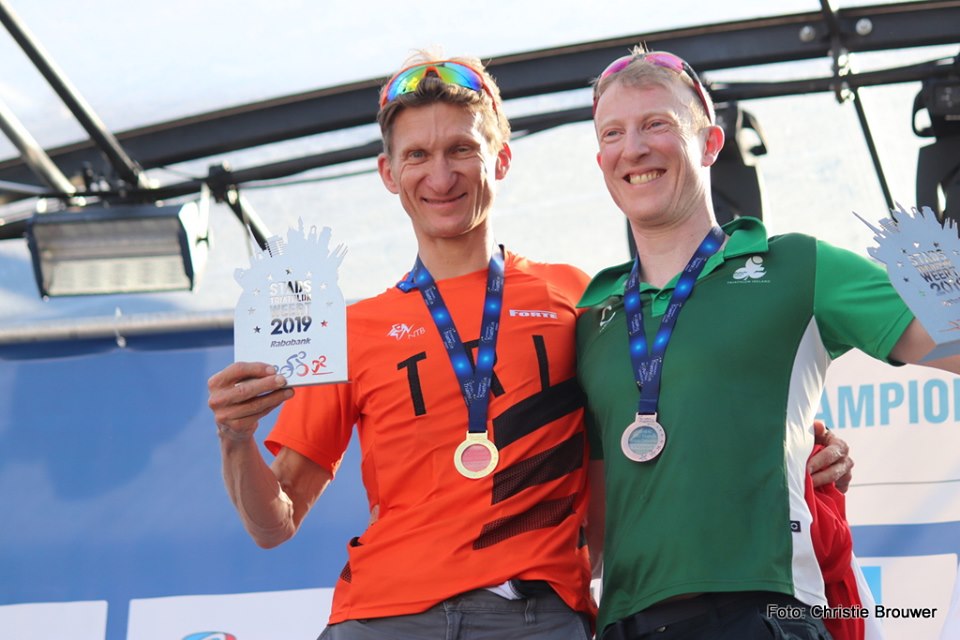 Defending Champion, Martin Jessup GBR, has had a change of training venue since his Tartu victory. No longer in the warm Mediterranean, he is to be found bobbing around in the grey and frequently miserable English Channel. The swim in Weert was a tough one and Jessup was off the pace. Once on his bike it all went wrong as he hit soft sand on the edge of the road and ended up disconnecting from the pedals in a flash of GB uniform. Medal chances over, he nevertheless continued. Ahead of him, Rob Kwaaitaal NED was battling with GB's Paul James but once on the run, the Dutchman showed a clean pair of heels and was gone. James hung on for silver but nearly lost that to Finbar McGrady IRL, whose run pace took him so close to James.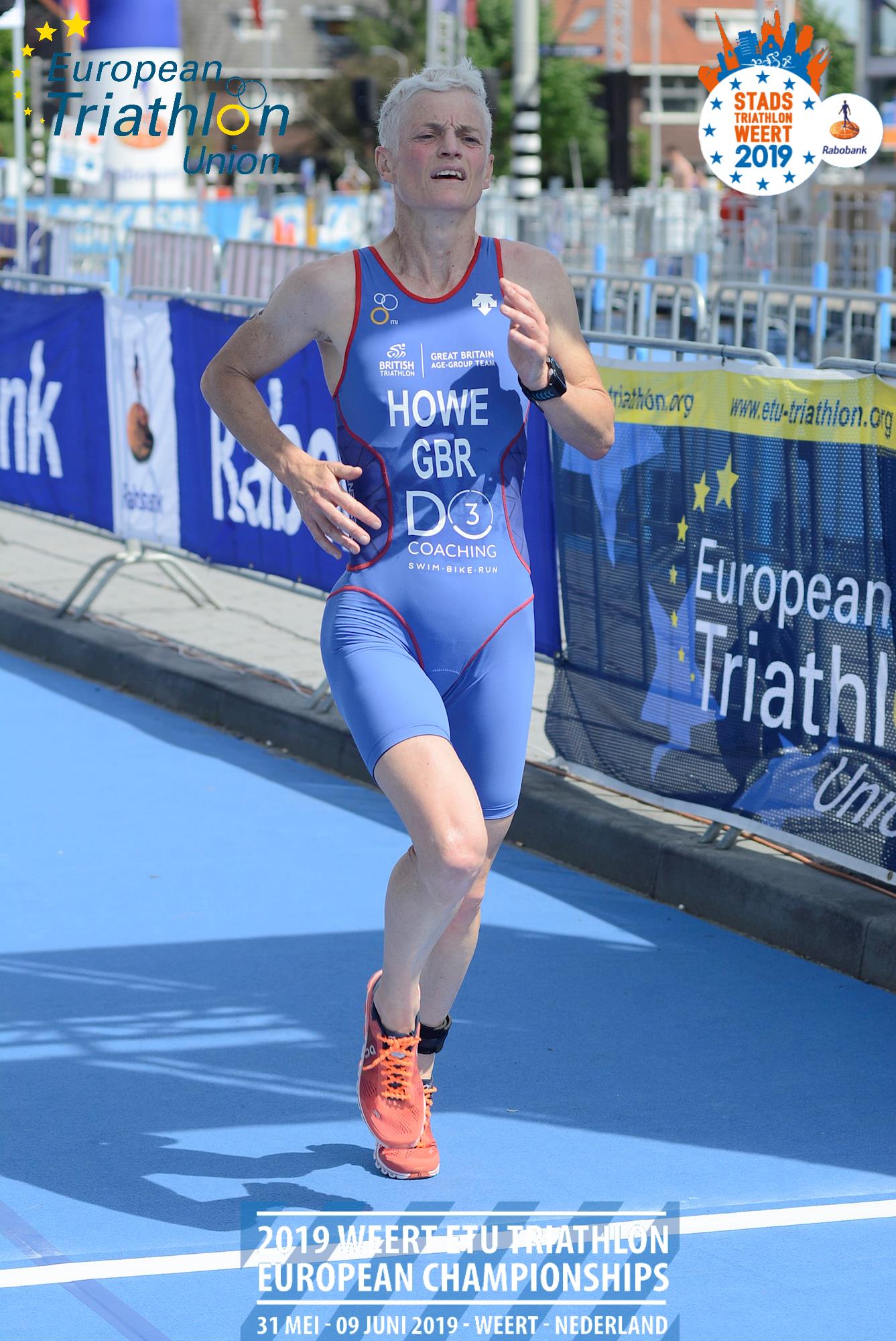 It was Bettina Lange GER, who led them out of the water in the 50-54 category. ETU and World Triathlon Champion in 2011, with victories in Pontevedra and Beijing, she went on to win world Aquathlon titles in Beijing (2011) and Fyn (2018) as well as a home win in Düsseldorf. A lead of over two and a half minutes saw her well-placed on the bike but once out in the run, the heat kicked in and first she saw teammate, Nicole Best edge past and then the high tempo run of Anita Howe GBR. Runner up in Tartu, Howe made sure that 2019 would be her year and the title was comfortably hers. Behind her, Best and Lange were battling it out and it was the early faster pace of Lange in the water that saved her a silver medal.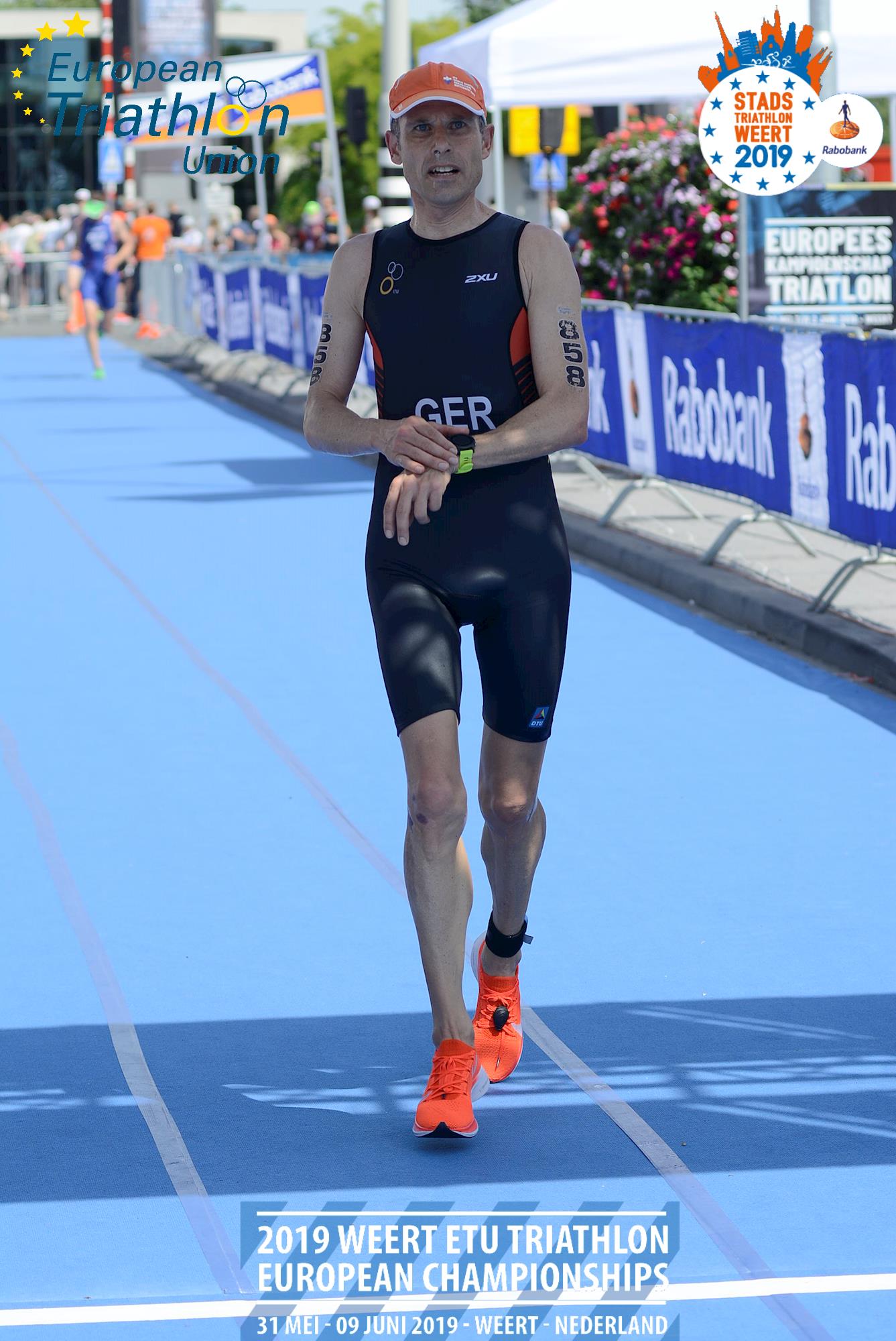 Udo Van Stevendaal GER came to the race as reigning multiple-World Champion after his victories in Rotterdam and back in 2013, London and most recently in Pontevedra over the standard distance duathlon. Having made his mark in both variants, he was certainly the one to beat and in Weert it was his aim to claim the ETU title, having missed out twice in both Kitzbühel and then in Düsseldorf. With his motto, "Wer kämpft, kann verlieren. Wer nicht kämpft, hat schon verloren. He who fights can lose. He who does no, has already lost." (Bertolt Brecht) the former footballer fought from the very start, coming out of the swim with a 3-minute deficit. The bike took him straight back in to contention and entering T2, it was game on between him and teammate, Oliver Degenhardt and a Dutch athlete. A quicker transition gave Van Stevendaal the advantage and out on the run, he simply could not be matched. Degenhardt did well to claim silver, adding this medal to his Fyn Long Distance bronze. The final place on the podium went to Machiel Ittmann NED, who makes a welcome return to the start lists after a break of a few years. Ittmann went back to Weert the following week for the national races and at the medle ceremony we got the news that he would be competing in each and every Dutch National Championship in 2019.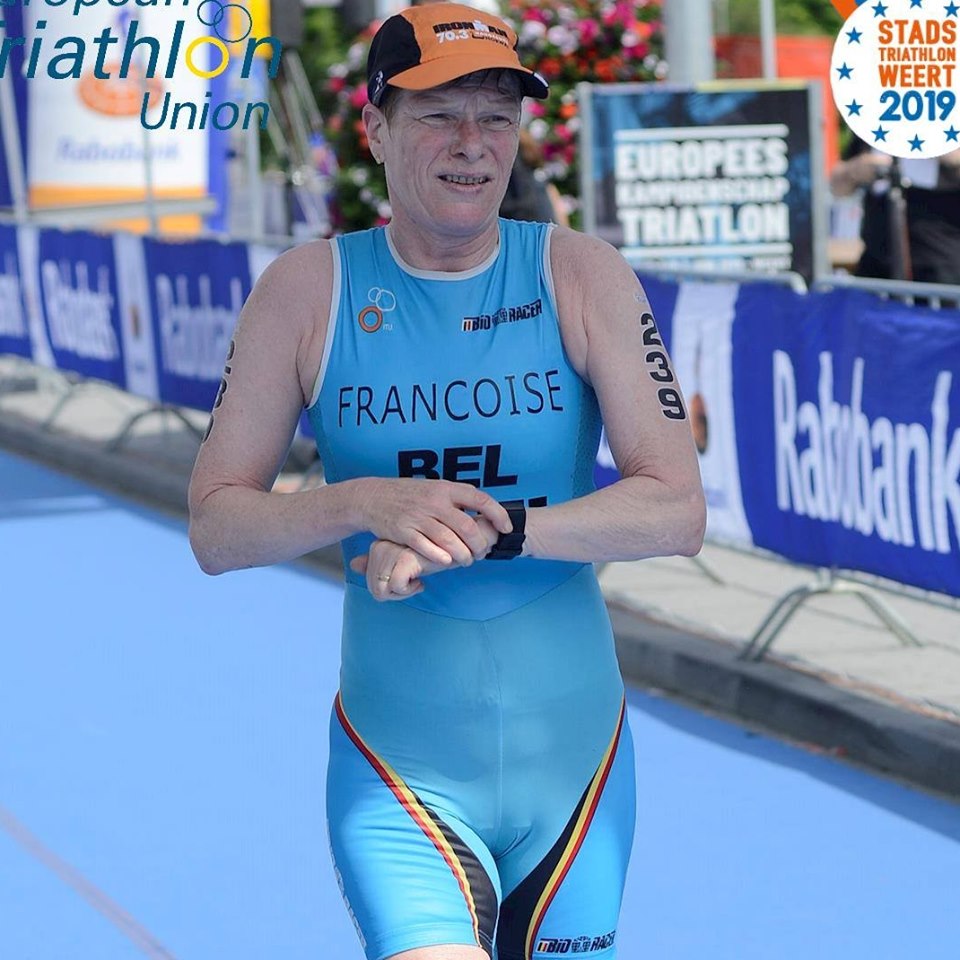 Despite collecting a time penalty out on the bike course, it was Belgium's Françoise Théate in the 55-59 Age-Group who took the top step on the podium. One of several who were penalised, she was comfortably ahead in the swim and powering ahead on the bike when she was sent to the Penalty Box out on the course. A long two-minutes passed and off she set again with some serious work to do. The run course delivered her the chance to open up the lead again and she was comfortably home to take her fourth title. Previously more focussed on long distance, she now mixes disciplines and was runner-up in Pontevedra over the Long Distance after her silver in Rotterdam over standard. Silver went to Katjana Quest-Altrogge GER. A former elite athlete back in the early 90's, she has been collecting Age Group medals since 2006 in Lausanne, where the colour was bronze. A European gold in Copenhagen in 2007 was followed by a defended title in Lisbon the following year. After her 2009 silver in Holten she took a rest from the ITU/ETU circuit, improving her results through Kalkar, Lisbon Rotterdam and another bronze in Glasgow. Click here for her finish line comments. Bronze went to a delighted Alexandra Knowles GBR, who after Chicago, Cozumel, Glasgow and Ibiza, finally gets her podium moment.
For the men, it was not to be for Andy Bourne GBR, the defending champion. He led the swim easily and it looked like the race was going to plan but the 2017 Champion, Stuart Robinson was on his shoulder now for the final stage and with Robinson's superior sprint pedigree, gold in Glasgow, it was not going to be a battle that Bourne could win. In fact, neither would end up on the podium as Edwin Ophof NED, was simply immense on the bike and, having built up a solid lead, was able to ease off for the finish to claim the title. Behind him, Belgium's Hugo van Hamme was chasing him down but simply ran out of run course. Richard Bewell pulled out the fastest run of the day for bronze and his best international result so far. Ophof can now boast 5 European titles over duathlon, middle distance triathlon and now Standard distance as well as his Rotterdam title. He was philosophical after the race, "Maar mag nu toch wel eens wat beter leren zwemmen, mijn grootste uitdaging voor aankomende maanden. / Well, I really do have to learn how to swim better, my biggest challenge for the coming months." Van Hamme used Weert as a warm-up for a much longer event in Vitoria-Gasteiz. His finish time there, 9:29:57 has given him a ticket to Kona.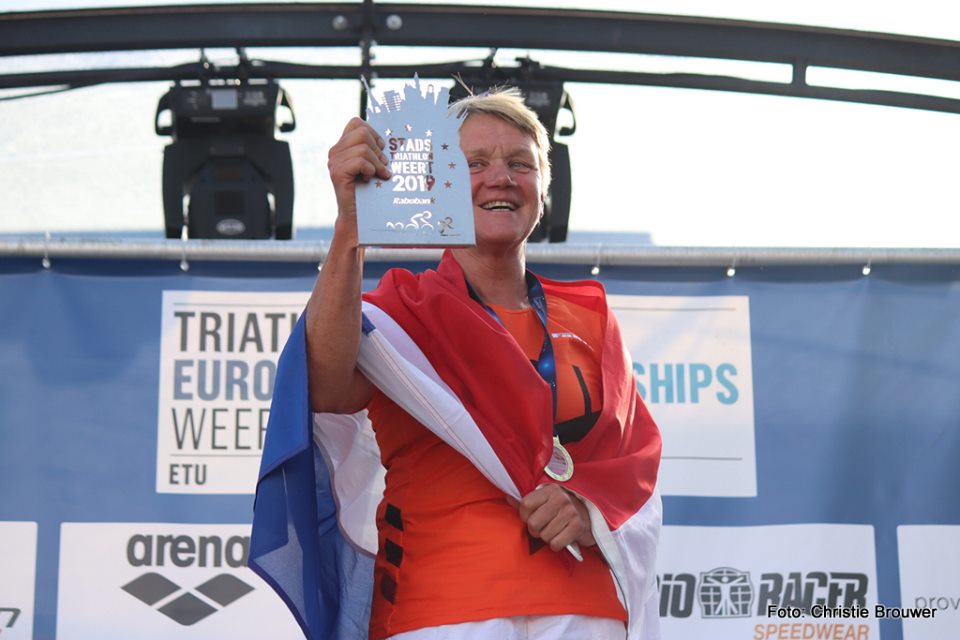 Marijke Zeekant was on the start line for the 60-64 category. With her Rotterdam win followed by the ETU Ibiza Middle Distance victory, she had clocked up ten wins from 23 starts. Impressive as ever and with huge crowd support around the course, she was pretty unstoppable. Penny Rother GBR as defending champion and multiple medal winner, led the swim but lost valuable time in T1. Zeekant pounced and soon established a lead on her new bike that could not be challenged. Cruising home for the win, Zeekant was greeted with huge cheers from the crowds. Behind her, Rother watched as Linda Russell-Bond GBR ran past to take silver ahead of her with a superior run. This is Russell-Bond's best result so far and for an athlete who only appeared on the results sheets in Tartu, with a bronze, it is good news for Team GB as this age-group looks strong for the Brits.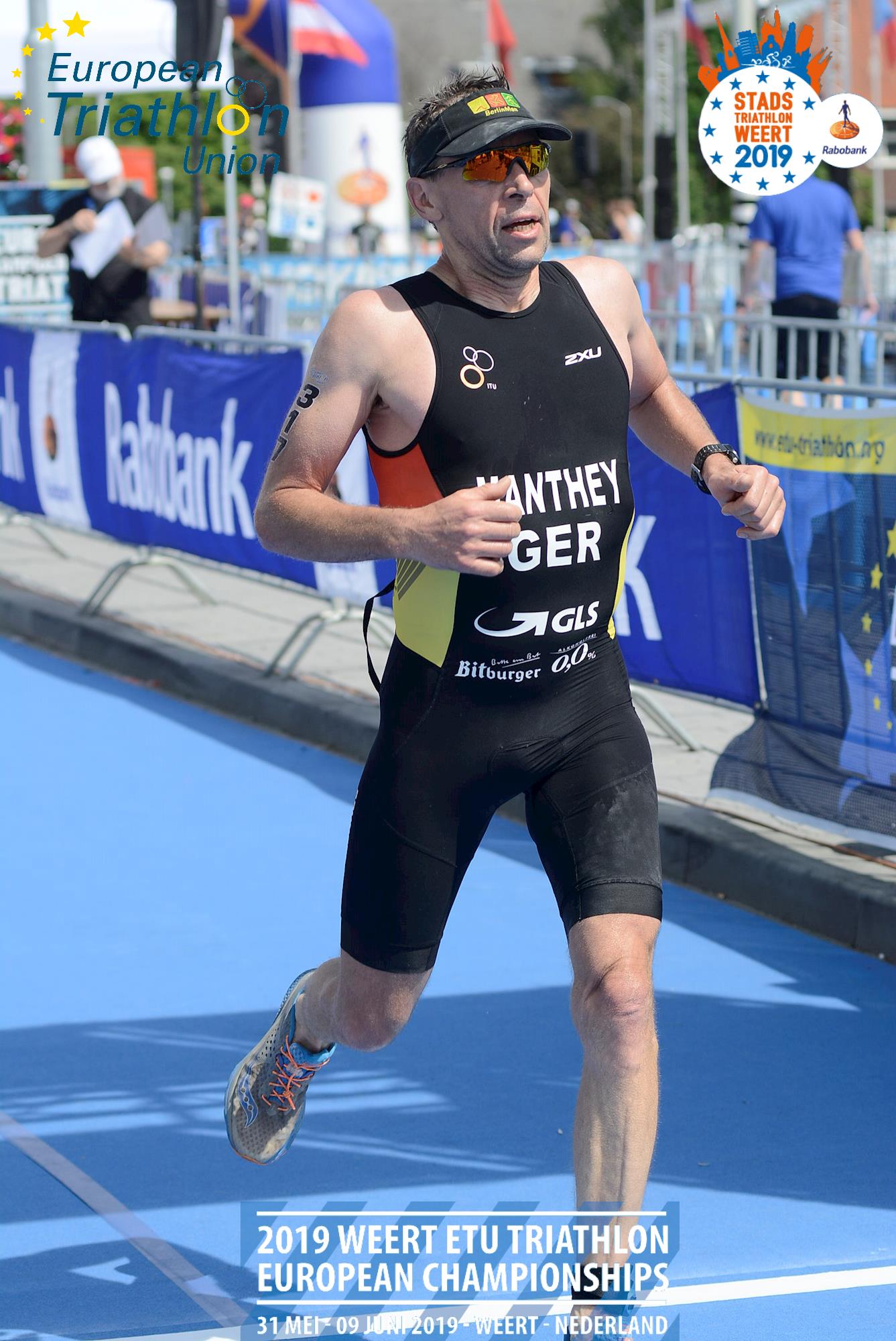 There would be no Tom Jones played at the closing ceremony, as defending champion, Chris Goulden was not racing. Instead, it was German-dominated podium. The blue card was shown to Frank Bachinger GER, out on the bike course. 2-minutes in the sin-bin for him. The mistake probably cost him the European title, as at that point, he was leading the race. Watching all the athletes race past that Penalty Tent must have hurt but rules are rules. Bachinger's error worked well to Frank Manthey's GER advantage and he was able to take the win. In his first outing in Dutch colours, it was former Police Inspector, Theo Kion who claimed the final place on the podium. For Manthey, this title can be added to his World Cross Triathlon title and to his bronze medals from Geneva and Kalkar. Having seen him race over the snow too, it would be nice to see him return to the Winter Triathlon early next year.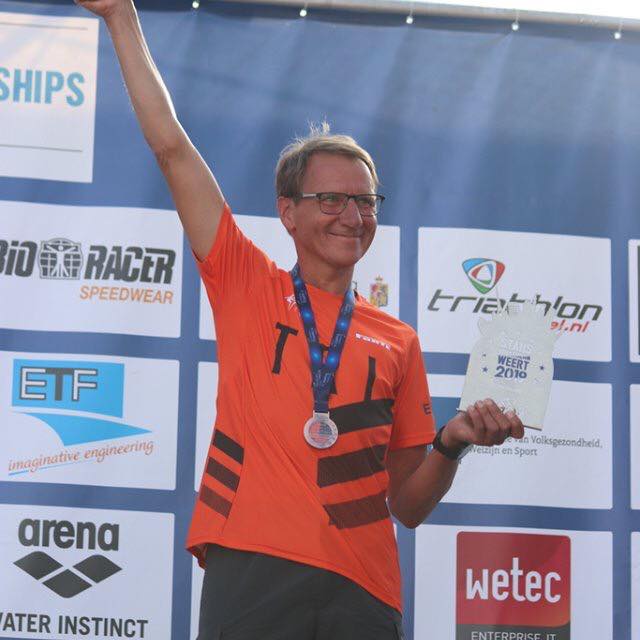 Let's hear from the man who won bronze, "Het weekend van het Europees Kampioenschap OD Triathlon. Een supermooi evenement en zeeeeeer tevreden met het resultaat. Ik sta "gewoon" op het podium! De zwemstart ging ok. Maar direct liep mijn zwembrilletje vol. Grrr. Ik heb me geen tijd gegund om het te herstellen. Als 4e kwam ik uit het water. Toen wisselen en op de fiets. Dat ging lekker! Met de snelste fietstijd binnen mijn agegroup, kon ik binnen het uur wisselen naar mijn loopschoenen. Het lopen was warm maar niet extreem. Van tevoren was bekend dat het loopparcours 800 meter langer was dus daar ook mentaal op ingesteld. De opdracht die ik mezelf had gegeven was dat ik niet ingehaald mocht worden door een agegrouper van mijn groep en dat is gelukt! Als 3e kwam ik over de finish!! / The weekend of the European Championships, Standard Distance. A really super event and very, very happy with the result. I only went and got a podium place! The swim start went OK but my goggles immediately filled with water. Grrr. I lost time trying to sort that out. (…) I was fourth out of the water. Then into Transition and out onto the bike. That went well. I had my running shoes on in less than an hour with the fastest bike split in the Age Group. The run was hot but not extreme. I knew in advance that the run course was 800m longer than 10k and held that thought. I had set myself a challenge that I would not be overtaken by anyone in my Age-Group and that worked out well. 3rd over the finish line!! "
In the 65-69 Age-Group, defending Champion, Lesley Kernaghan GBR was back to defend her title. She faced the on-form 3-time ETU Champion from Germany, Margit Bartsch. With 2 wins in Kitzbühel and in Lisbon and podium appearances around the world, the German really would be the one to beat. From the off, it was Bartsch. A powerful swim took her easily into T1 and then, hammer down, she dominated the bike and run to take her fourth European title. Sally Kidson GBR had a stronger swim and bike than Kernaghan who fought back on the run for a thrilling photo finish that gave Kidson the silver. Kernagahn went on to win the gold at the ETU Transylvania Middle Distance Championships.
More medals for Germany came in the men's race, with Lothar Stall taking the title from Great Britain's defending champion, Stephen Williams. Stall's early swim was strong and once on the bike, he was away. No threats at all on the 10k and he crossed the line comfortably ahead of Christopher Owens GB's 2017 World Duathlon Champion, whose 45:15 run was the best of the day and enabled him to overtake one and split apart the German leaders . Bronze went to Germany and around the neck of the delightfully-named, Roland Käshammer.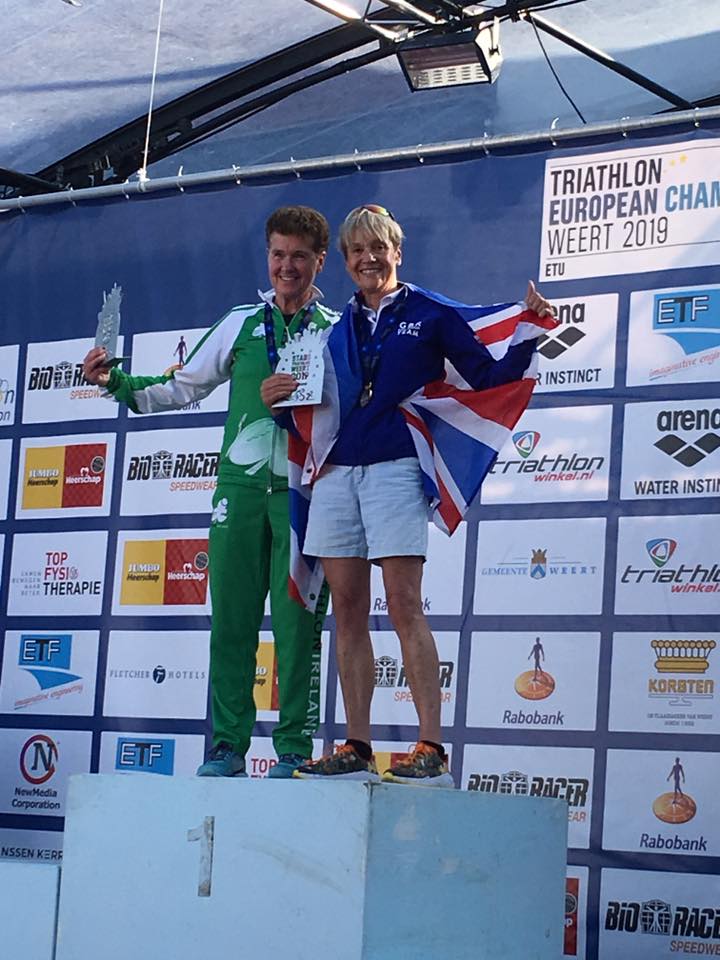 Moving up now to the Women's 70-74 and Inge Stettner GER came to Weert to defend her title. 2018 was a great year for her, taking both Standard and Sprint titles. This was followed by a sprint silver at the Worlds in Gold Coast and so she looked to be certain of at least a place on the podium. However, with Sue Bathgate back on the scene and with her support group cheering her on, it was not to be. In the swim, Bathgate was joined at the front end by Ireland's Róisín Lynch. The pair were comfortably ahead of the German but out on the bike, Lynch's pace dropped and allowed Stettner to catch up but then to lose that time in transition. Lynch set off to try and catch Bathgate, who had collected a time penalty out on the course but who was now way ahead. Lynch came to within 23 seconds of the leader but it was not to be, Gold to GB, silver to Ireland and bronze to Germany.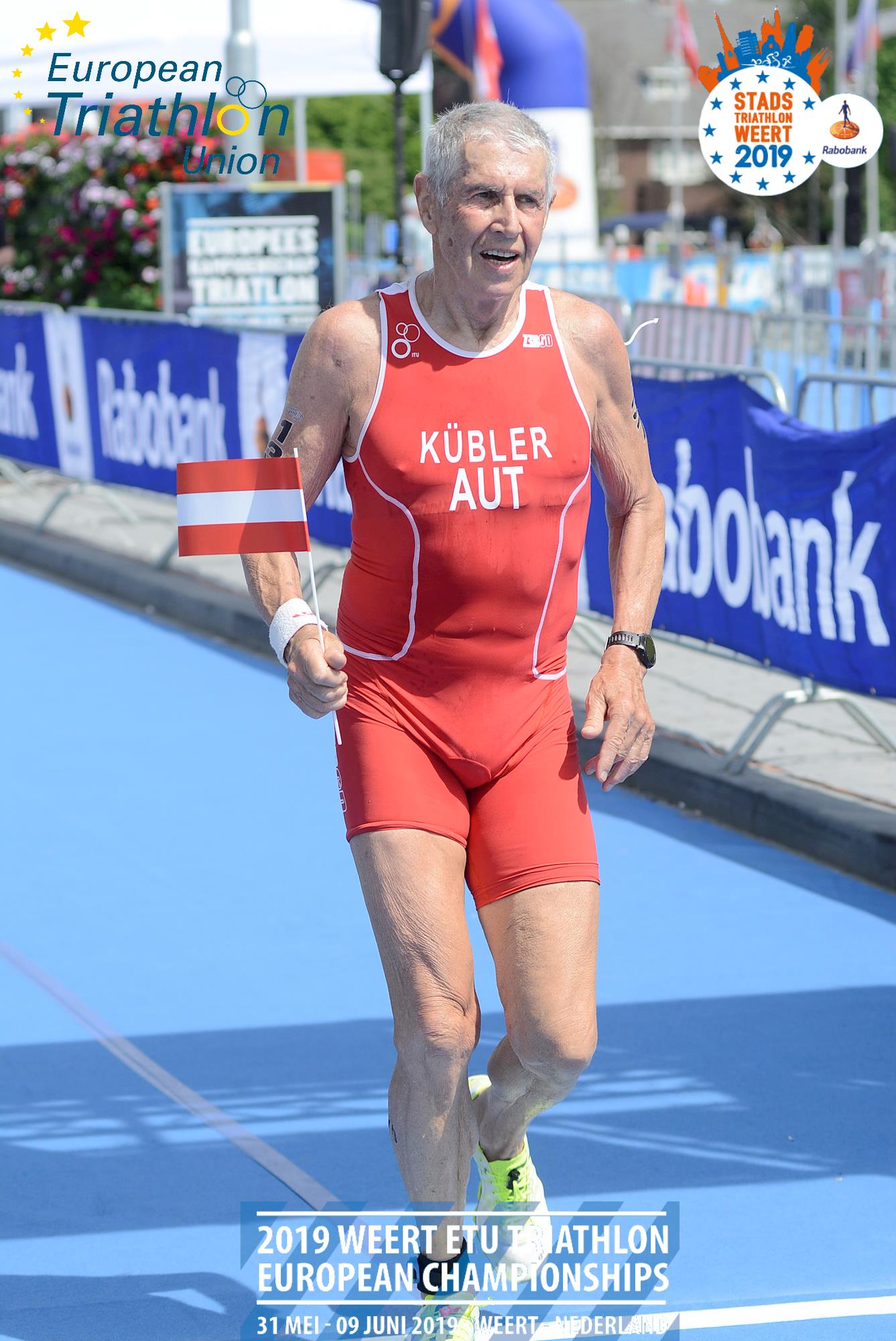 For the men, Austria's Klaus Kübler was the man to beat. ETU Champion in 2010, 2011, 2012, 2013, 2014, 2016, 2017 and 2018, the defending ETU champion and reigning world champion, there was a lot at stake. Exiting the water in 2nd place did not worry him too much as the leading swimmer would not have the bike or run pace to match the flying Austrian. Out on the bike Wolfgang Stein GER edged ahead of Kübler and by the time they hit T2, Stein was in command. Behind them the reigning World Duathlon Champion, Theodor Block was putting his bike to run skills into effect and stormed to the lead with a 48:38 final run. His stats look impressive; 2 starts, 2 podiums, 2 wins.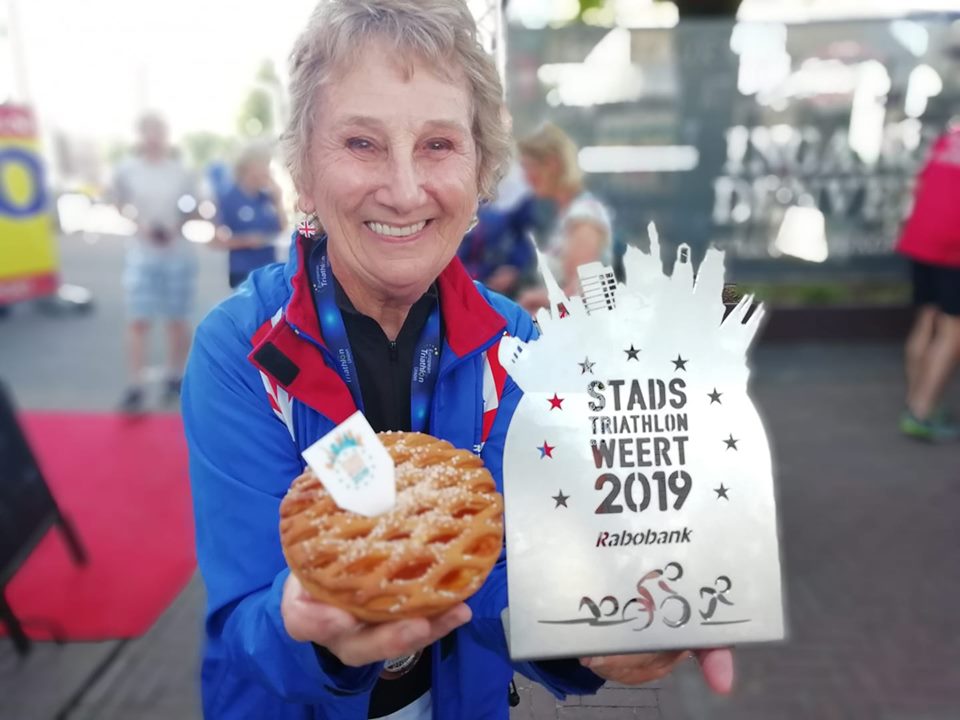 75-79 was the last Age-Group that we saw the women race in. GB's Peggy Crome was back to see how things were following her Tartu win that she topped off in 2018 with two Sprint Golds; one in Glasgow and one in Gold Coast. A silver over the Standard Distance and then an Aquathlon Gold in Ibiza was the 2018 tally. Pontevedra gave her another Aquathlon gold.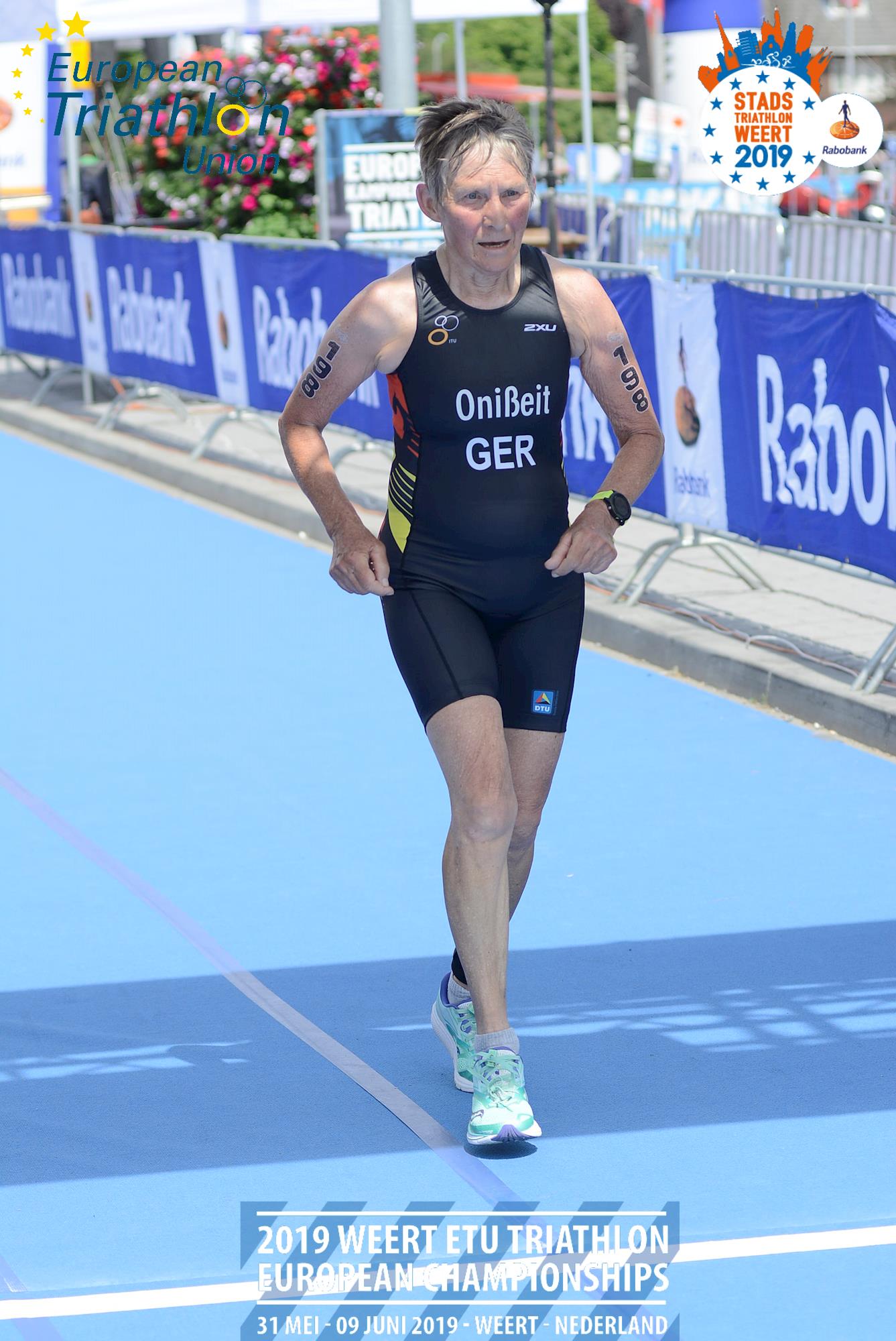 This race would be different though. It was different because Germany's Elisabeth Onißeit was on the start list too. Having burst onto the scene at the tender age of 72, she claimed the European title in Kalkar at the Duathlon and later that year the European title at the ETU Challenge Middle Distance Championships in Walchsee. A Rotterdam bronze over the standard distance was followed by a Sprint silver in Fyn for duathlon and the World Aquabike title. She was easily the strongest across all three disciplines but did lose out to Crome's superfast T1. Silver went to Hilary Stevenson GBR, Crome's rival, who is half way to the astonishing record of 14 wins.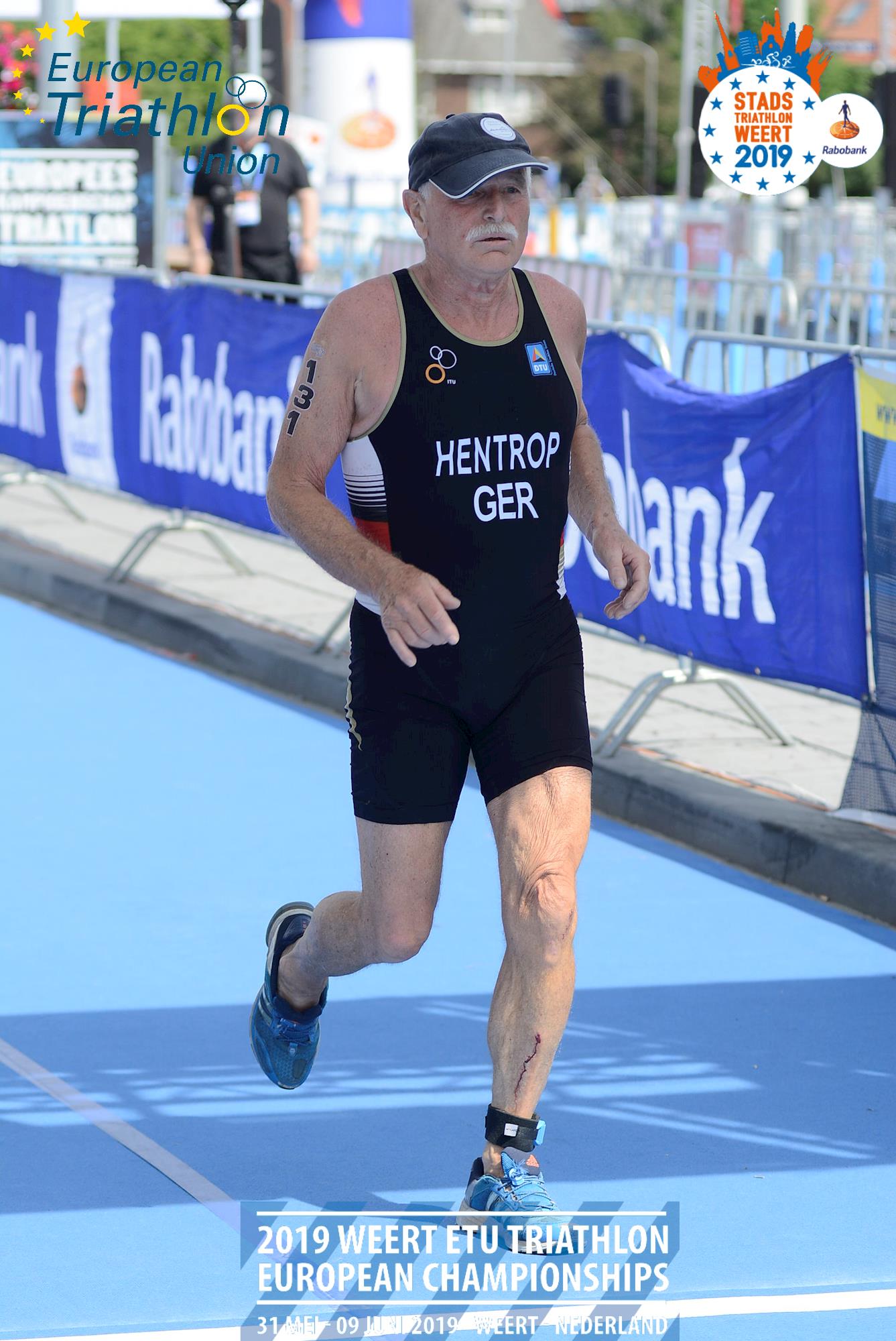 For the men, GB's Nigel Dimmock was the only Tartu medallist present. His silver a year ago was not to be repeated and early on the lead was taken by Germany's Heiko Hentrop. The lead he had in the swim was consolidated on the bike and then he cruised home to take the title, with GB's Vern Thomas using his biking and run power to overtake Dimmock, who settled for the bronze. Watch the video of an interview with Hentrop and Margit Bartsch
Weert attracted a big selection of athletes and they proved themselves in quite challenging conditions. The beach start was amazing and the atmosphere before each start, built up with the music and then the heartbeats for each wave, followed by that explosive music really made each start a "wow moment".
The bike course was a tough one and will remind athletes that "flat" does not mean "easy". The heat of the sun during the run was suffered by all but with ample supplies of water and the ready availability of hoses from the public, it was exciting to watch the laps tick by and see the changes of position as the faster runners picked off the more able swimmers and bikers.
The closing medal ceremony was a party, with music for each winner and setting aside the lack of T-shirt and late finishers' medal, the race was a good one that delivered to the podium the strongest, fastest and best athletes of the day.

It was not a day that Team GB would sweep up on the medals because on this occasion, Team Germany – the "Deutsche Mannschaft", came up trumps and put on a show of strength that we look forwards to seeing again next year in Tartu. The winners on the Medal table, pushing Great Britain into seconds place even brought their own Media Team with them, spent hours walking, cycling and being driven between venues and then hours of editing to make some short promotional videos that highlighted the successes of their Age-Group team.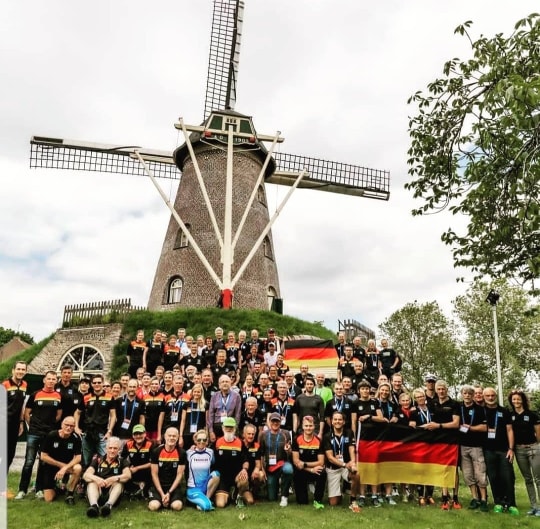 The Brits might have led with their "Team GB" kits, flags and sheer numbers but Germany, hats off to you for taking Age Group racing to a new level by sending your own media team to follow the athletes and to produce quality videos that promote your team.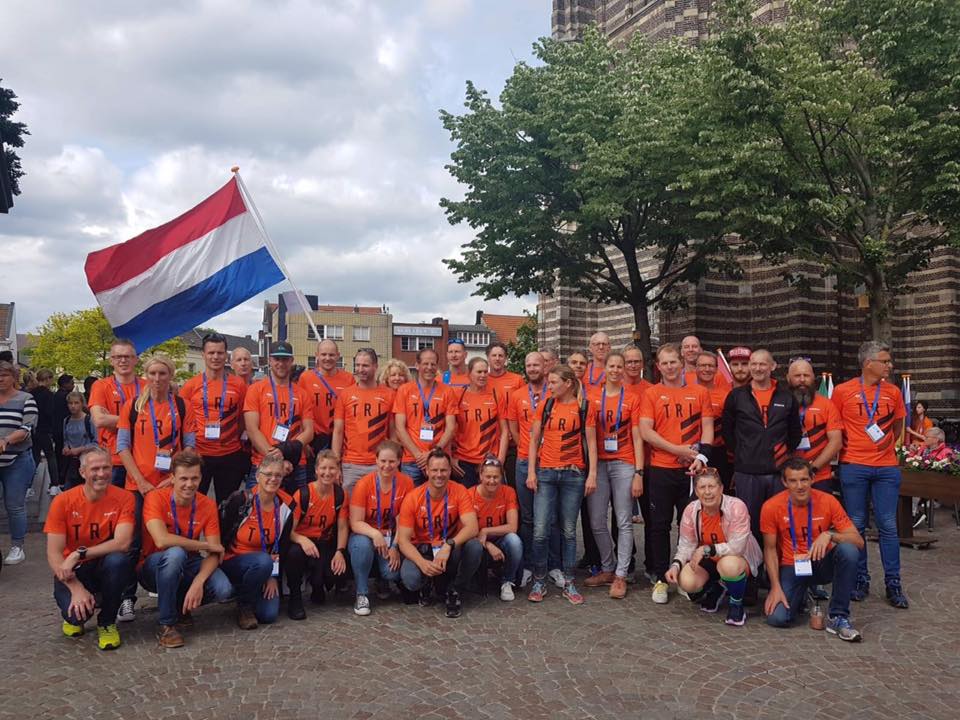 The hosts, with a small team, did well to come third in the table.
| | | | | |
| --- | --- | --- | --- | --- |
| Nationality | | Gold | Silver | Bronze |
| GER | | 11 | 9 | 6 |
| GBR | | 9 | 11 | 13 |
| NED | | 5 | 0 | 3 |
| FRA | | 4 | 2 | 0 |
| BEL | | 1 | 1 | 3 |
| LTU | | 1 | 0 | 1 |
| ITA | | 1 | 0 | 0 |
| HUN | | 0 | 4 | 1 |
| SUI | | 0 | 3 | 0 |
| IRL | | 0 | 1 | 1 |
| POR | | 0 | 1 | 1 |
| AUT | | 0 | 0 | 2 |
| NOR | | 0 | 0 | 1 |
The next big race, as we saw above, is going to be in Russia. A real adventure and for many, a trip truly outside their comfort zone. It will be mightily impressive there and out hosts are already looking forwards to the nation-wide TV coverage that is being laid on to showcase the Championships.
ETUMedia will be there to keep you as updated as possible and we will bring you a roundup of the Age-Group races later in the summer.
If you have not already visited the websites where you can check your race time and download your videos, then click here and here. Two days of racing. Two days of photos.

Related Event: 2019 Weert ETU Triathlon European Championships
Latest
Videos
---
Latest
Event Galleries