NEWS
Sankt Wendel gives German gold rush
By Paul Groves
|
25 May, 2017
This report is a couple of days later than originally planned due to the tragic news of Julia Viellehner's passing. We hope that you understand this.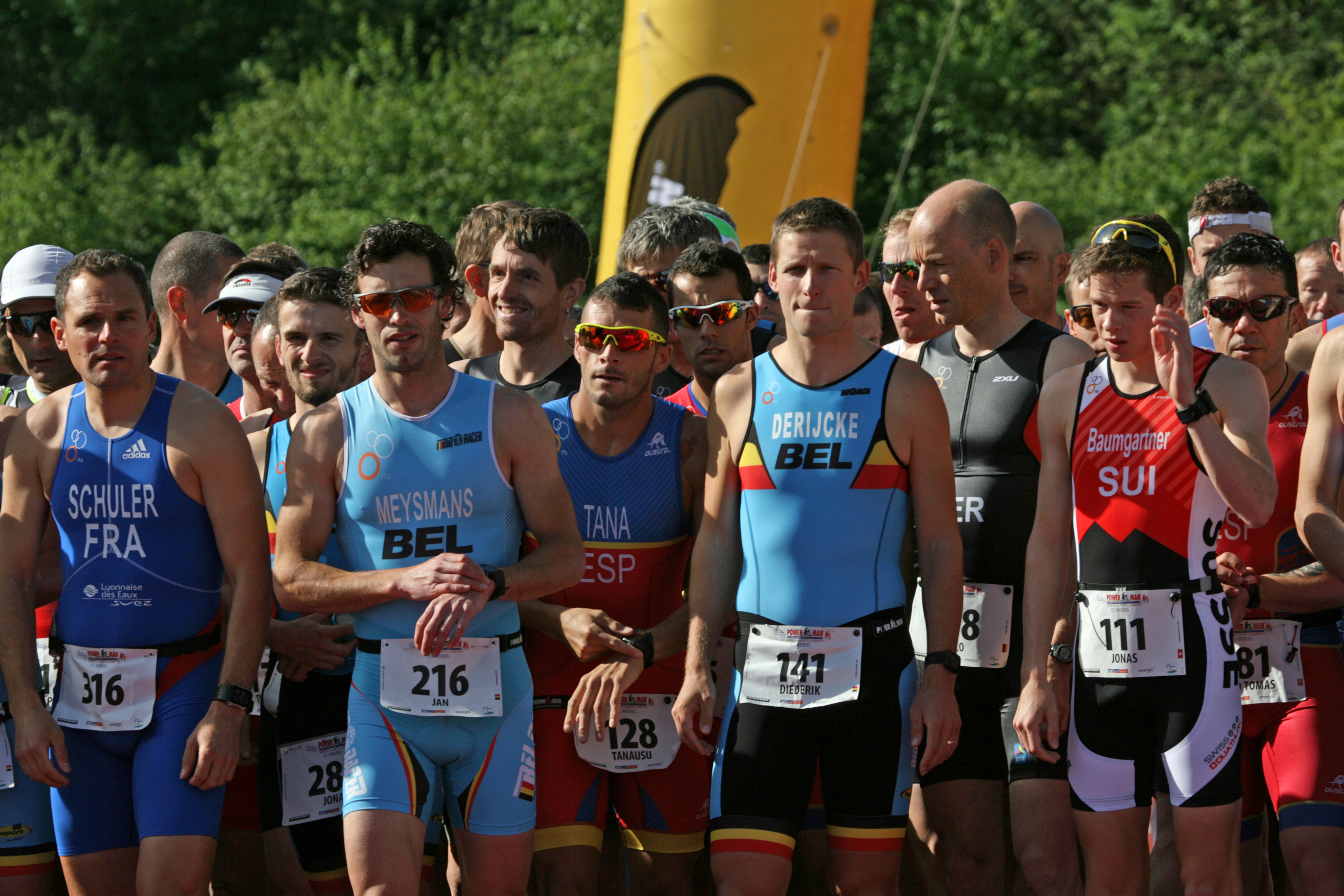 Race Day is one thing. The day after is something entirely different. For the hundreds of Age Group athletes who made their way to Sankt Wendel to race the 2017 Sankt Wendel ETU Powerman middle distance duathlon European Championships, Sunday in Saarland was tough. We had crashes. We had muscle-crimping cramps. We had tears of joy and tears of despair. We also saw the very best of Age Group racing, and support for all athletes along the course.
It was at 09:05 that the Age Group women lined up with the 55+Age Group Men. The very first part of the run was easy; it was along the tartan track that is just one of the many sporting facilities available in the town. We had several opportunities to meet the Mayor of Sankt Wendel, Peter Klär. He has been a wonderful supporter to the event and "not just another politician." The Mayor watched the waves set off and then joined a relay team to ensure that he too was part of this great occasion.
A stunning race was had by Danish athlete Melina Olsen. As favourite to win the Women's 40-45 category, she did not just that but in fact beat every other woman to the finish line. The clock stopped on 3:37:39 for her to comfortably take the title ahead of Anke Hennecke GER, who was also second woman home overall. Olsen's win here is impressive but when you look at her history; she did the double in both 2015 and 2016, with wins in Horst and Zofingen, then Copenhagen and Zofingen, her star quality becomes even more evident. Hennecke raced up a distance this weekend and with the ETU title over the Standard Distance, she can be rightly very happy with a silver over this "Classic Powerman" distance of 10k / 60k / 10k. Bronze went to Denmark's Maria Buchvoll DEN, who massively improves her fifth in Copenhagen. A great day for Denmark.
Third to finish and winner of the 30-34 category was Virginie Soenen BEL. As a previous Zofingen winner, this course certainly suited her. Her silver on the flat course of Copenhagen last year was turned to gold on the hills of Sankt Wendel and the battle with GB's Eilidh Yates proved just too much for the defending title-holder. Yates' silver was won in the 4th fastest time of all the women. Bronze went to the older athlete from Germany, Silke Piri.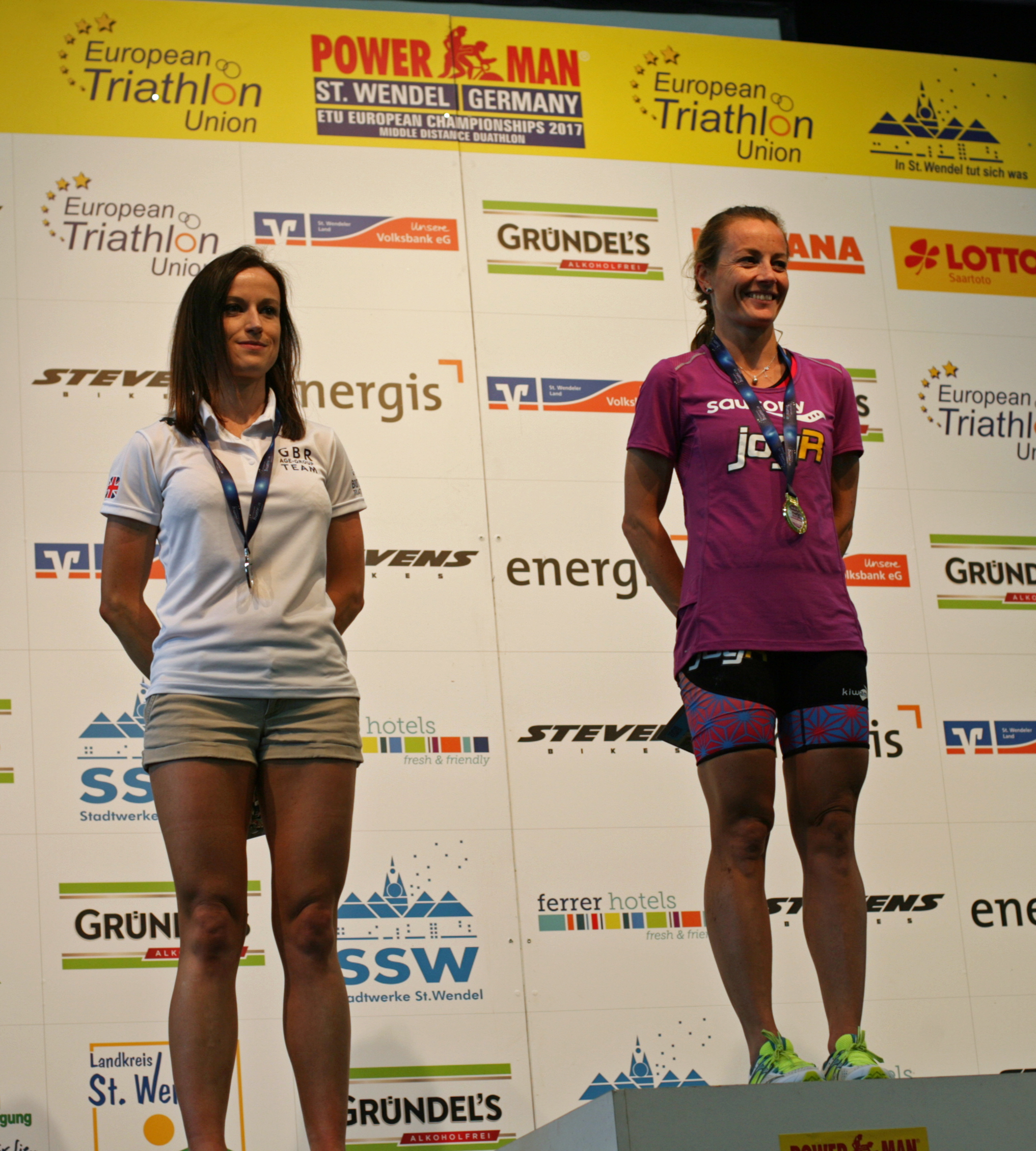 It was France's Helen Froehlich, favourite in the 35-39 category, who came home next. We knew she could run having seen her post a 1:38 half marathon in Rimini. Her winning margin was an impressive 13:24, with Great Britain's Helen Bateson coming home to take silver and the first of the set of medals for Team GB.
Next home was the winner of the 2016, Copenhagen 50-54 category silver medal. Kate Morris had a truly impressive race. Placing 7th overall and winning her age group. Behind her and sporting some highly decorative blood on her knee and elbow, came last year's bronze medallist Vikki Sivertsen. Despite cramping so badly on the bike in the final stages that when she came to dismount, her flight from saddle to dismount line was almost as impressive as Simon Ward's last year in deepest, darkest Transylvania. At the Awards Ceremony, bandages were proudly worn and when the damage was explained, her silver was certainly well-deserved. Bronze went to Germany's Claudia Hille. She too has moved up a distance from her silver medal in Kalkar.
Behind Morris came the first German gold and it was Marion Gollnick in the 45-49 Category, in 3:55:43. Silver went to GB's Kirsti Sharratt . Her fast pace on the run had been seen before when she took silver in Zofingen in 2014. Had her race not been disrupted by her shoes being moved in T1, then the winning margin of over 8 minutes set by Gollnick would certainly have been less. Germany celebrated with a second person on the podium when Katja Kruse came home to take bronze, some way behind Sharratt.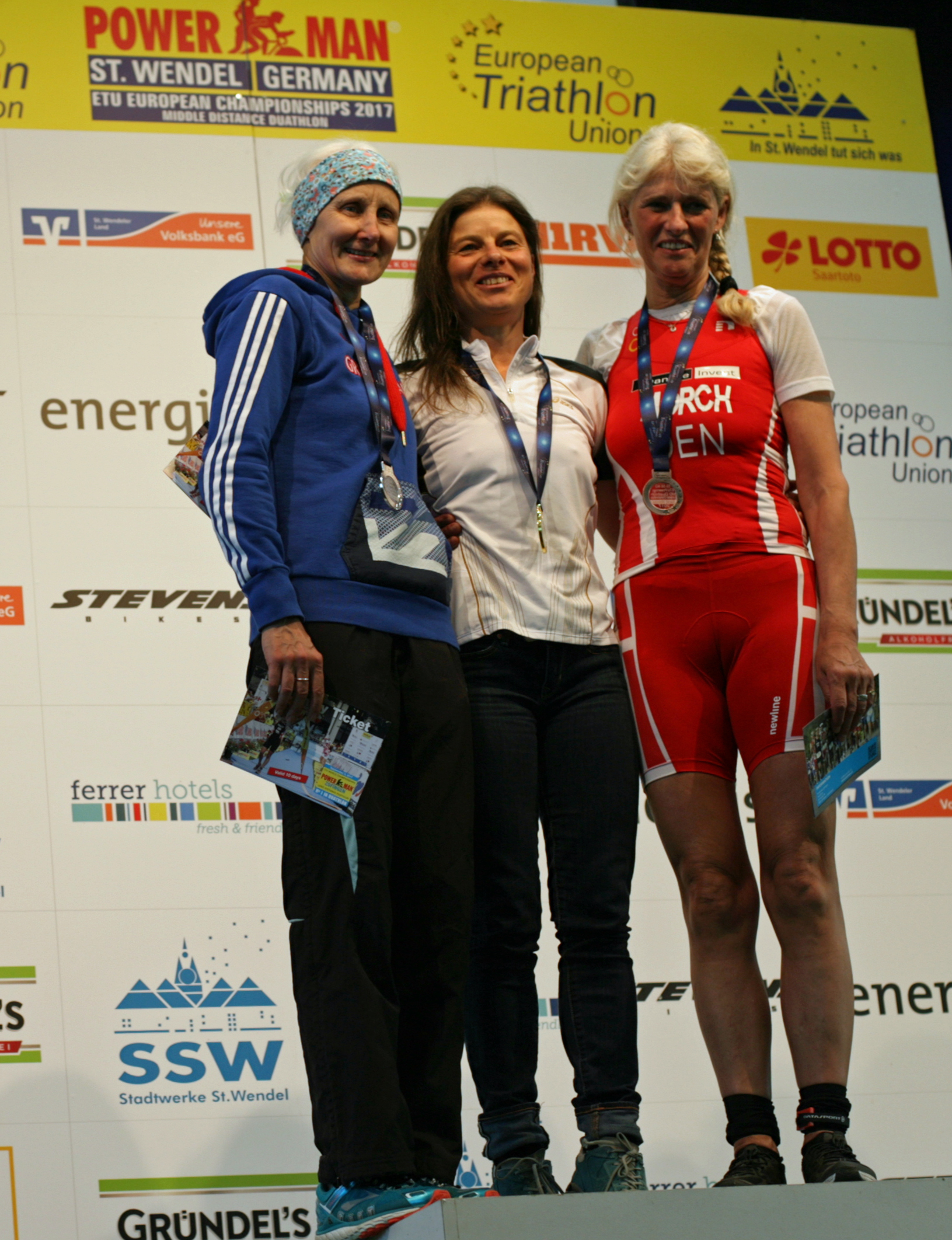 The host nation did not have to wait long for its next gold as Marion Hoffmann stormed to victory with Britain's Boo Smith behind her in silver position. Denmark's Kirsten Mørch came home some 21 minutes behind the leader, clearly finding the tough course more of a challenge than Copenhagen.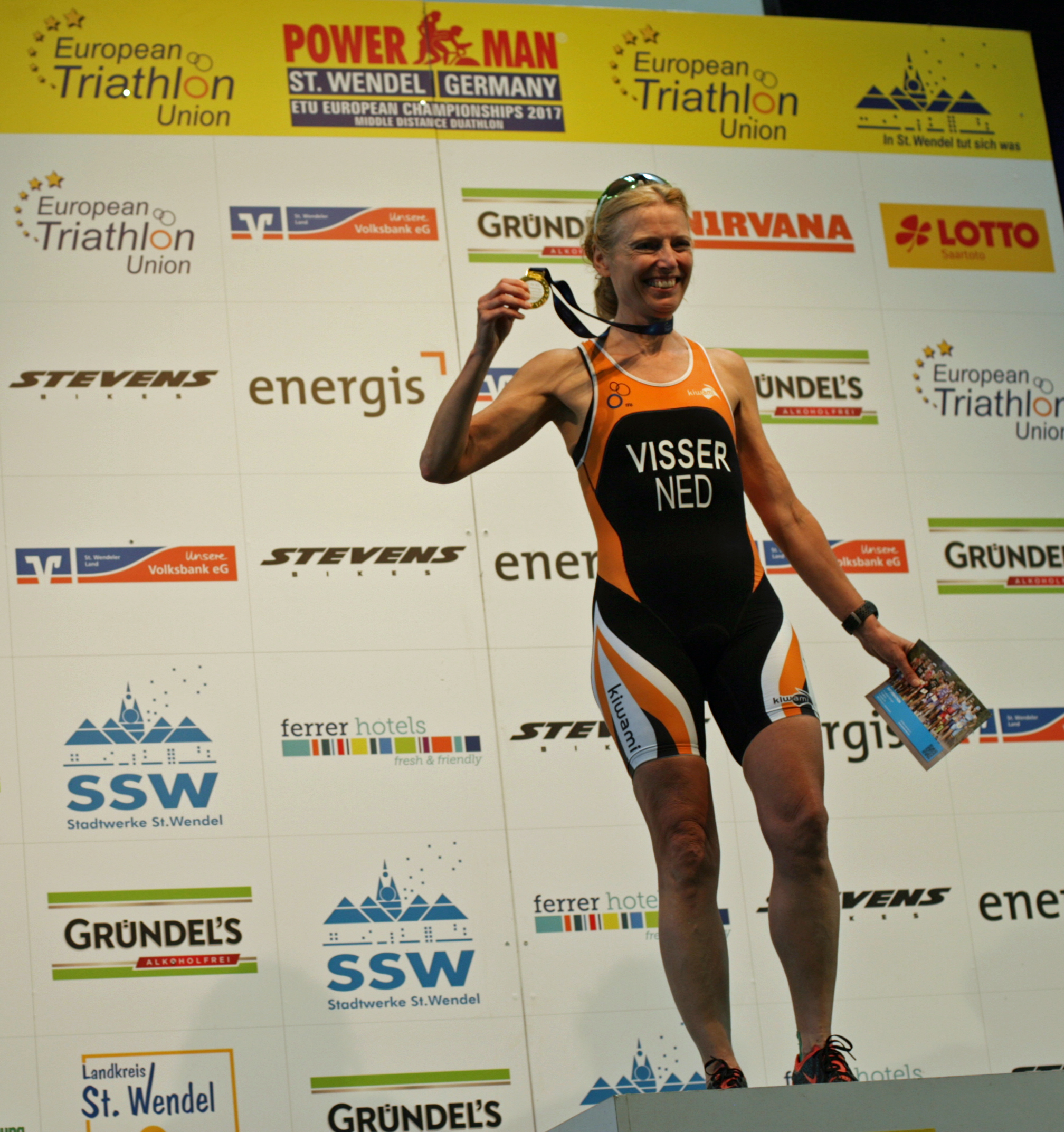 The Netherlands claimed its first gold with the ever-young Elly Visser. A finish time of 4:15:04 placed her high in the overall rankings.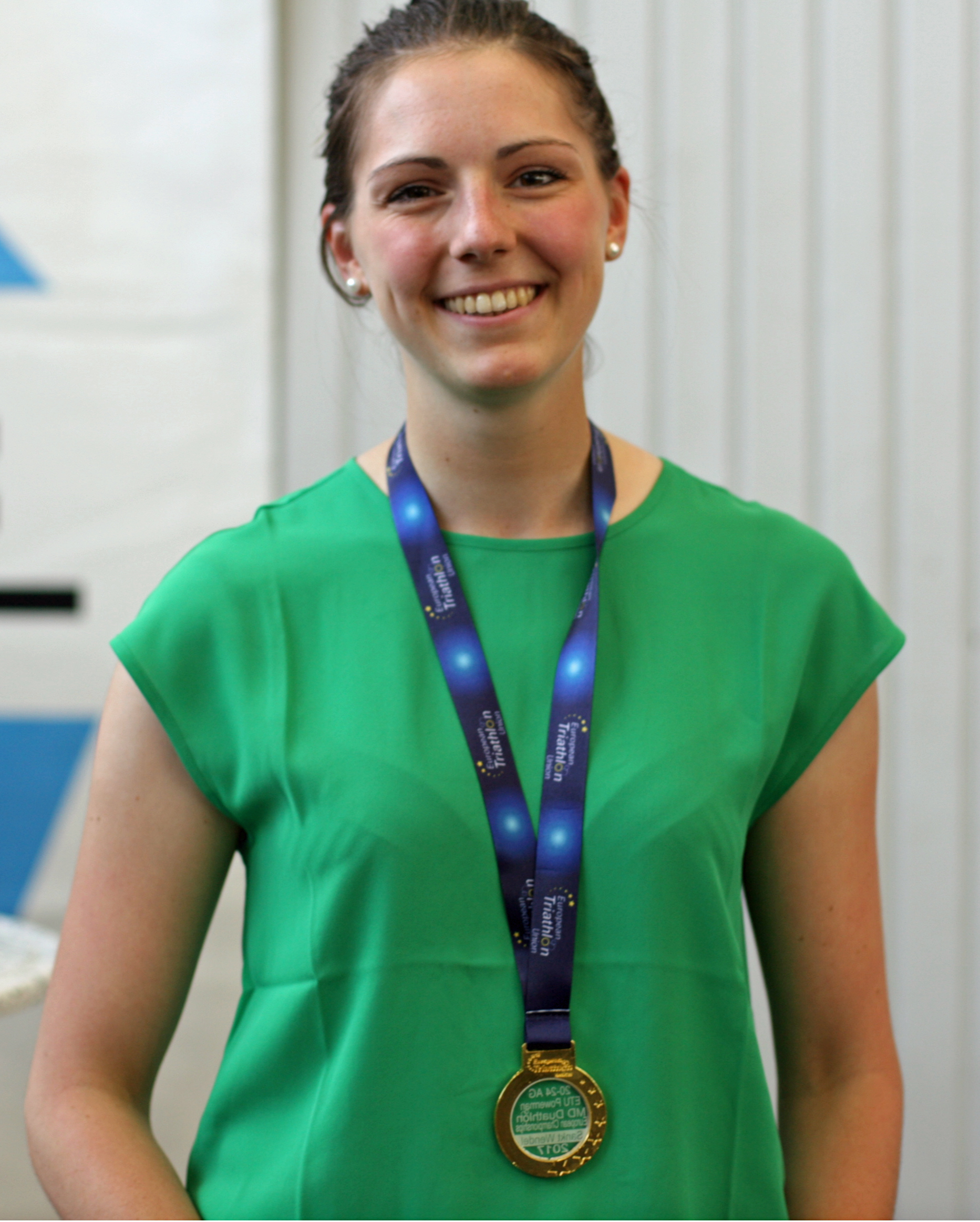 Gold went again to Germany in the 20-24 category with Katharina Heeger finishing in 4:22:00.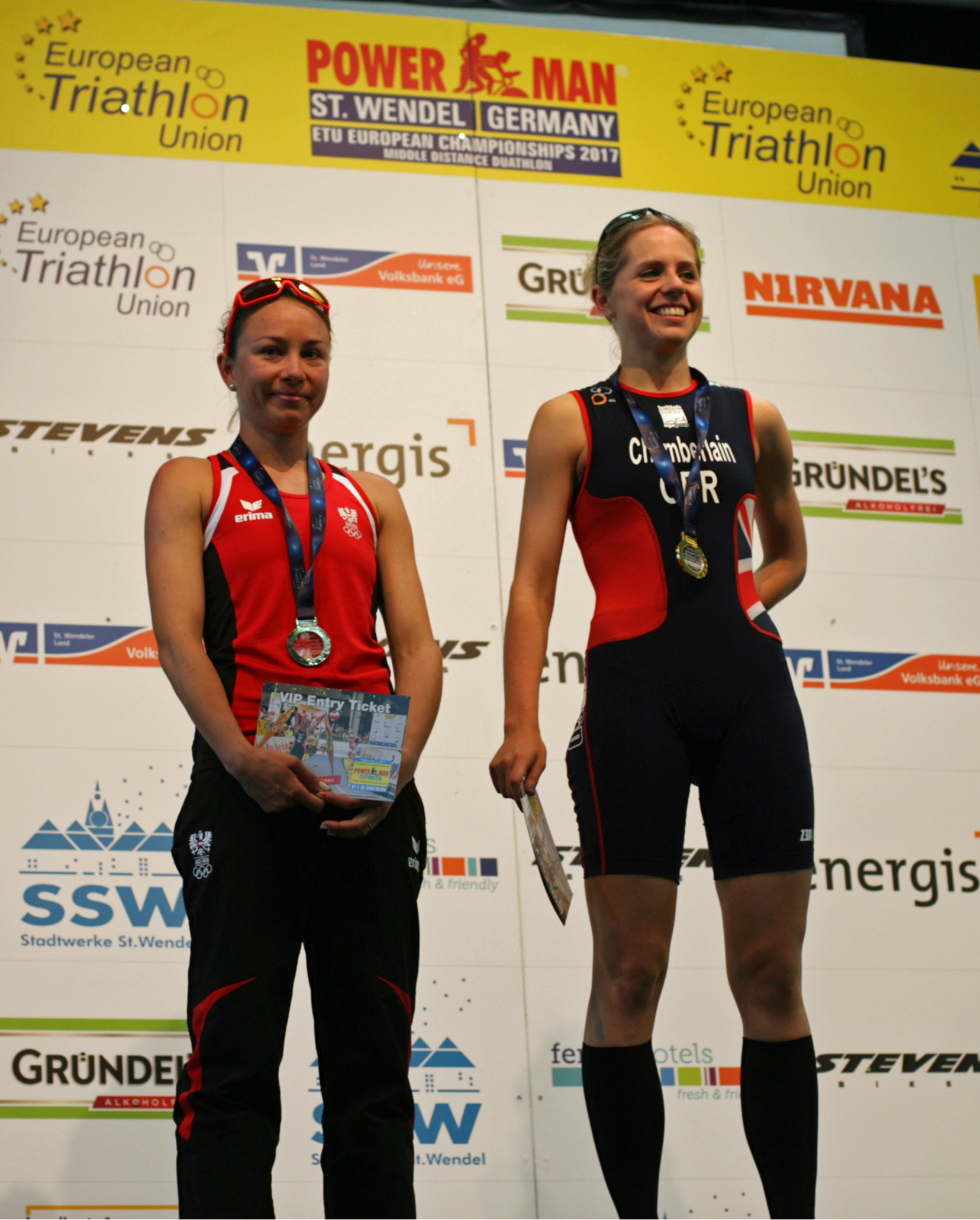 Team GB's second gold medal went to Jessica Chamberlain who, in the 25-29 Age Group, was just too strong for Julia Ecker AUT.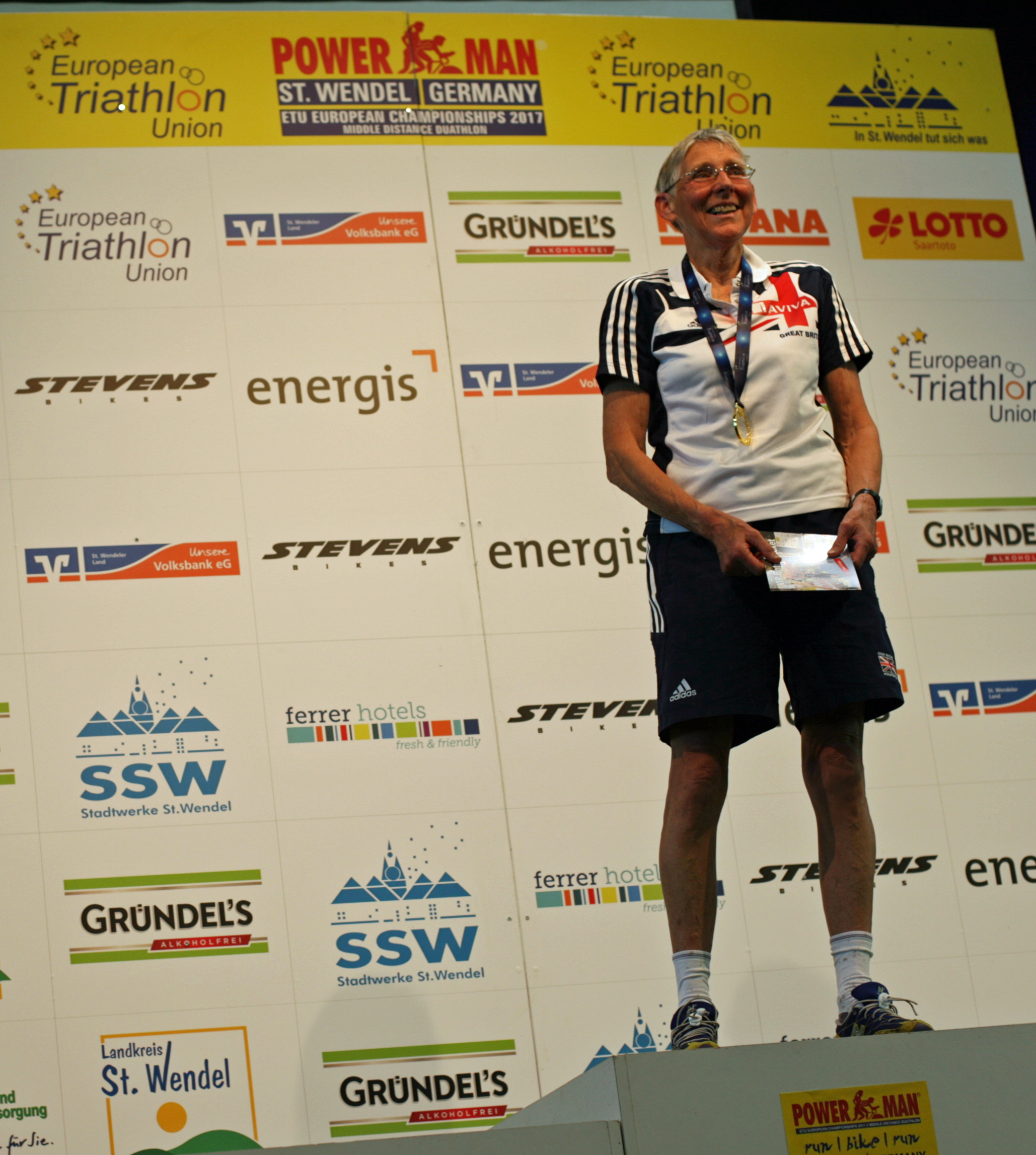 The final gold went to GB as well. The Ultra-runner, turned duathlete, Eleanor Robinson raced the 70-74 category and despite a nasty fall on the run course, when her shoes found some mud, she powered around the course to finish in 4:46:46. This time gave her gold and was faster than the silver medal-winner in the men's race in the same category. She smiled when she heard that. A fascinating lady who has held world titles in Ultra Running, it is a delight to see her winning more gold medals in Duathlon.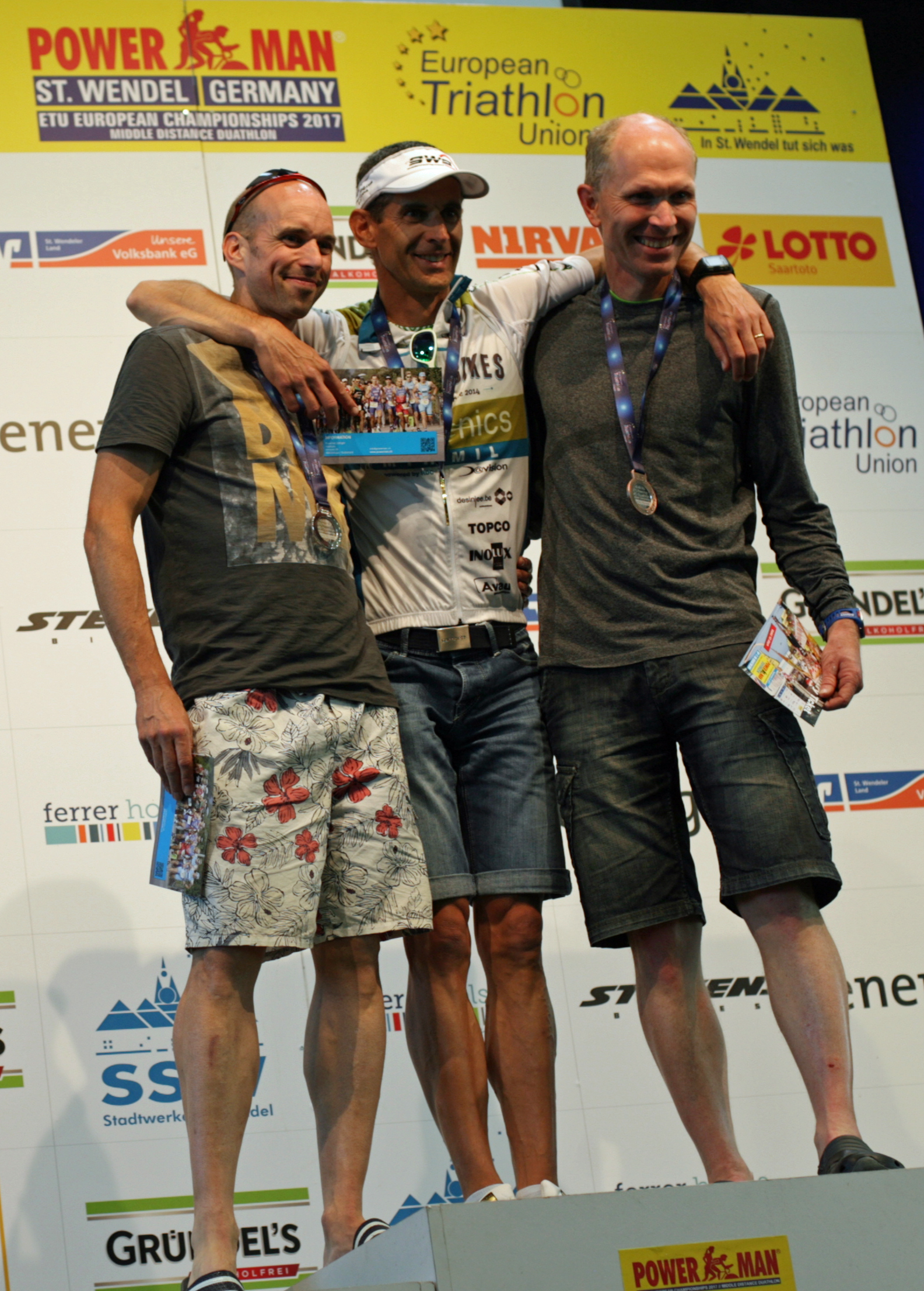 The Men 55+ started with the women but the main men's wave set off some ten minutes after the Elite Men. First back and with a truly impressive finish time of 3:08:30, was Belgian Koen van Rie. Germany's Sebastian Retzlaff came home for silver, with the 3rd fastest time of the race and fellow German, Dirk Strothmann filled the bronze medal position in the 45-49 Age Group.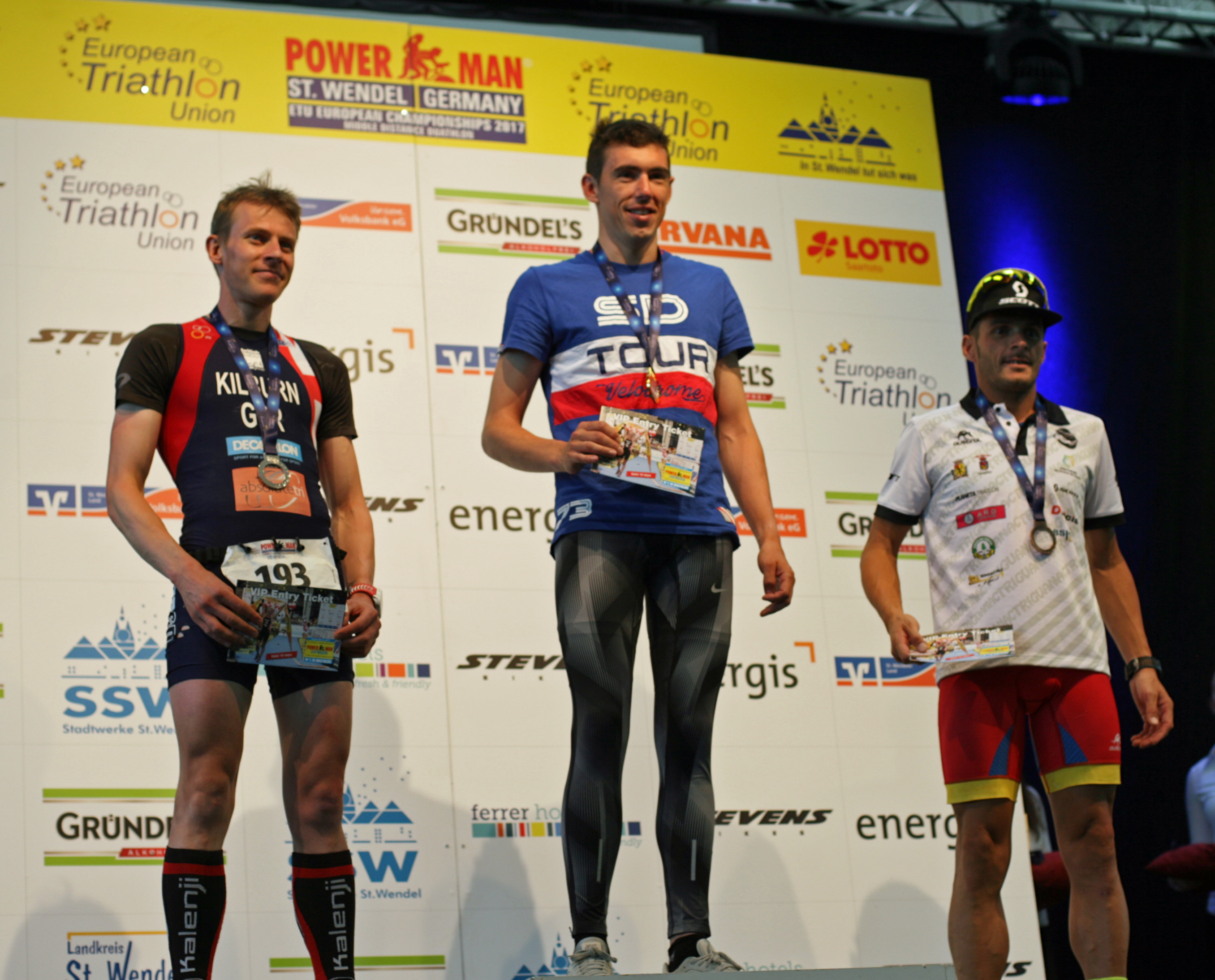 Van Rie's finish time placed him a clear minute ahead of the second Age Group man to finish. That honour went to 30-34 Category, Regnier Lemaréchal FRA . His 3:09:57 placed him a comfortable distance ahead of defending champion from Great Britain, Chris Kilburn. Adding another bronze to his collection after finishing in 3rd place in Copenhagen, was Spain's Tanausú Castellano.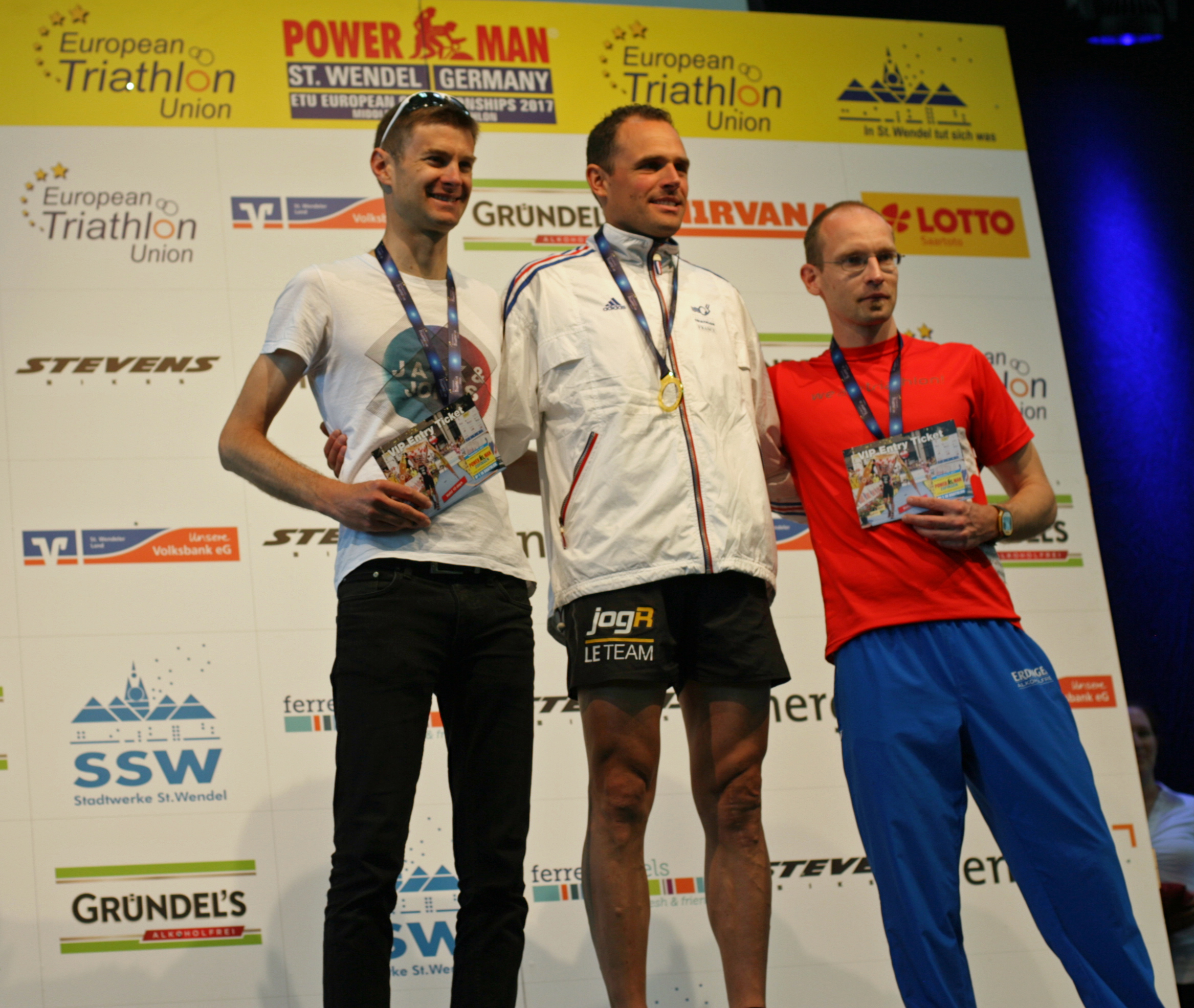 4th athlete home and winner of the 40-44 category, it was another gold for France when Pascal Schuler crossed the finish line in 3:12:50. He led two German athletes, Marco Sahm and Thomas Gogolin.
Another gold went to home favourite and Sankt Wendel Ambassador, Sammy Schu. With Zofingen gold in 2014 and silver in 2016, he now adds the European title to his claim to fame. He led Christian Trunk GER home, who was comfortably ahead of Swiss athlete Jonas Baumgartner.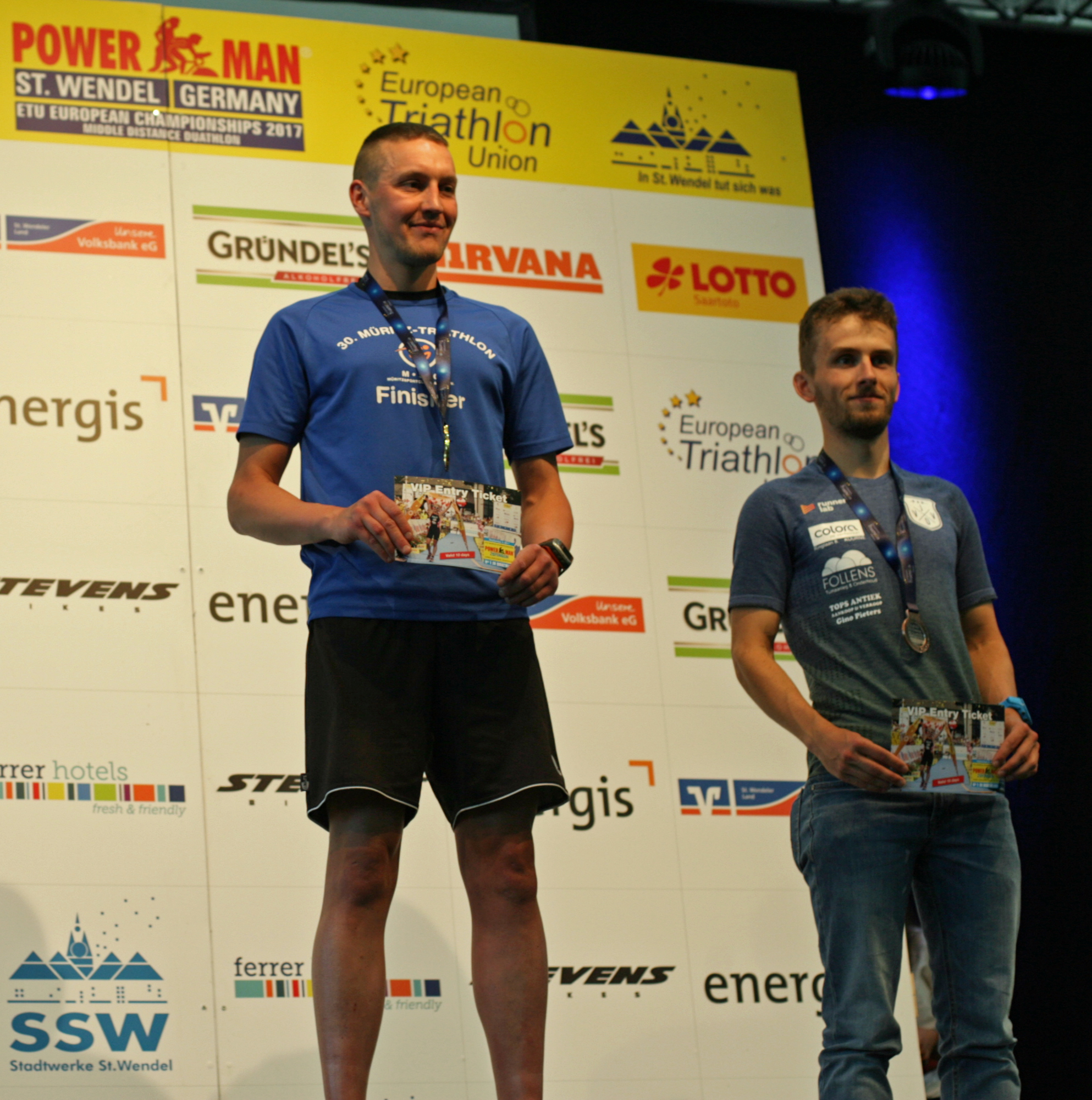 In the 25-29 category and 9th man to finish it was gold once more for Germany. Alexander Au led Tristan Le Lay FRA home. Close behind him was Belgium's Jonas Vandevyvere. He saw his European title disappear with the powerful performance of Schu.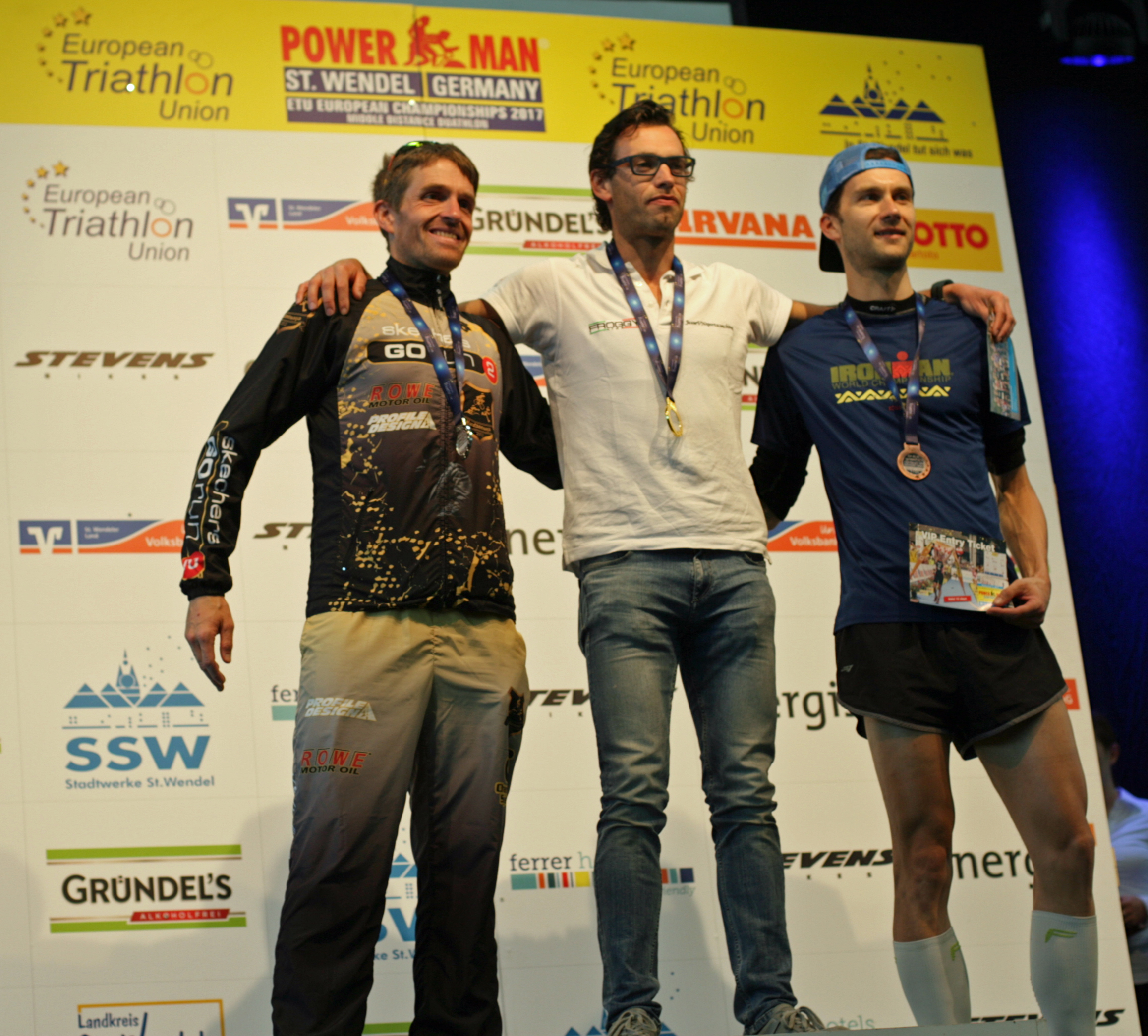 For the 35-39 Age Group and almost 6 minutes faster than Vandevyvere, Belgium was able to celebrate with a gold. Jan Meysmans, a three-times and current World Champion was dominant. Behind him two German athletes were fighting for silver and bronze. There was 36 seconds separating the remaining medals, with silver going to Rainer Augustin and Philipp Sahm claiming bronze.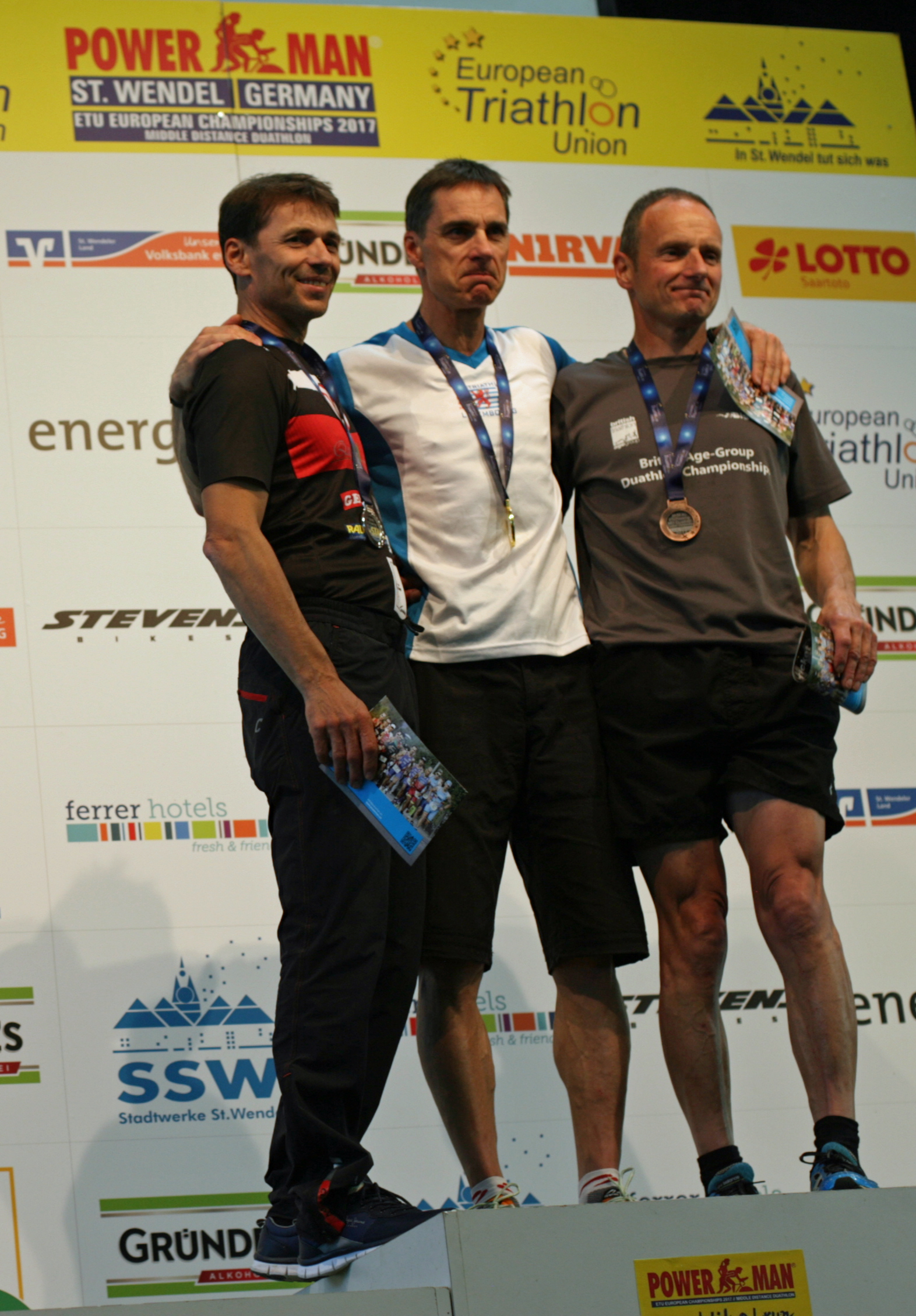 Born in Canada but having lived for almost a decade now in Luxembourg, it was an emotional Christopher Doyle who claimed the crown in the 50-54 category. His background in long-distance racing, with a 7:26 finish in Zofingen that gave him a World silver, prepared him perfectly for the race. Behind him, Edi Kunz GER claimed silver, with GB's Paul Rogers coming home in third to take bronze.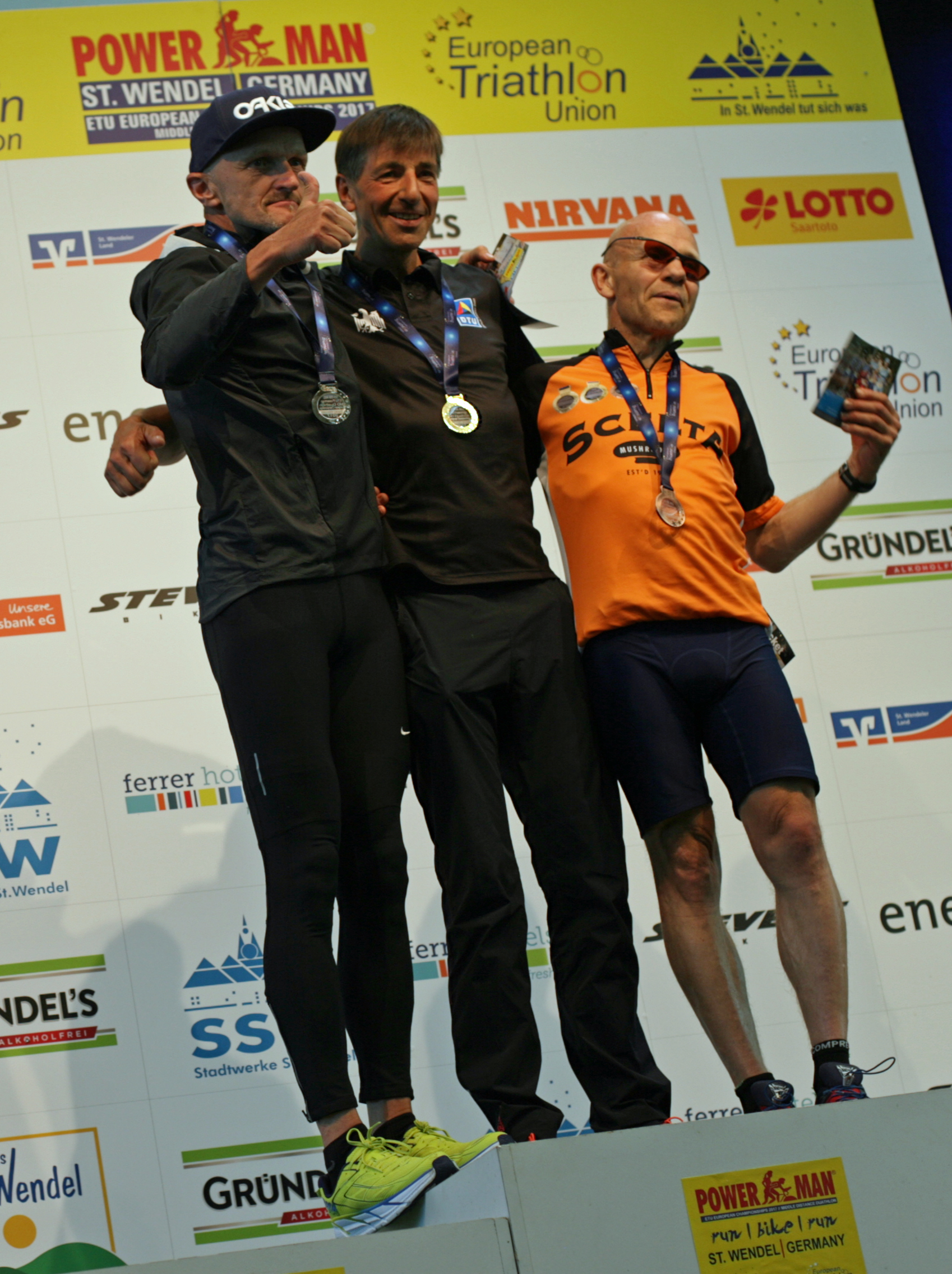 Defying all sorts of laws of nature, the next men's category, 55-59, showed a winning time that was thrillingly close to the finish time in the 50-54 category. Doyle's 3:32:09 was almost matched by Germany's Frank Bachinger, who took the older category gold in 3:32:56. He had to work the whole way as behind him was the Flying Dutchman, Henry Dullink. The European title holder in 2014, 2015 and 2016 and World Title Holder over Standard Distance in 2016, will not be liking 2017 so much; he had to settle for silver in Soria and now it was silver again but on both occasions he was magnanimous in defeat and praised the German winner. How much time he lost when he shipped his chain and how much extra energy did he have to use to catch Bachinger …. Did that lose him the title? The fastest runner of the 55-59 category, who can usually be found on the very front of the start line, was Jack Niessen his proven pace on the run gave him an initial advantage but it was the bike that sorted out the positions and he settled for bronze.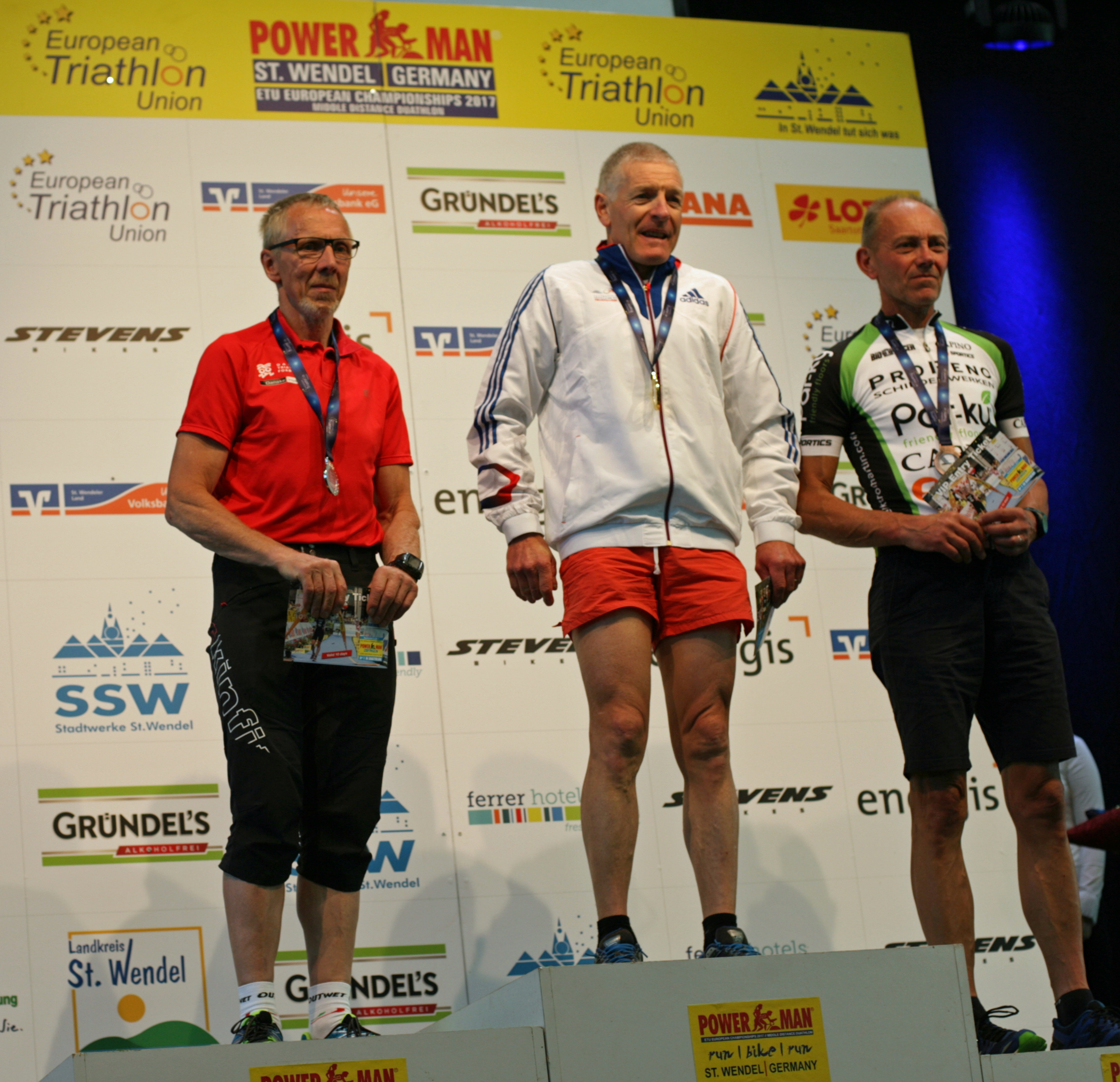 For France there was a second gold, this time in the 60-64 Category, when Jacky Buron crossed the line in 3:41:11. Karsten Olsen DEN came home in 2nd place and it was Belgium's Stefaan Termote who claimed bronze.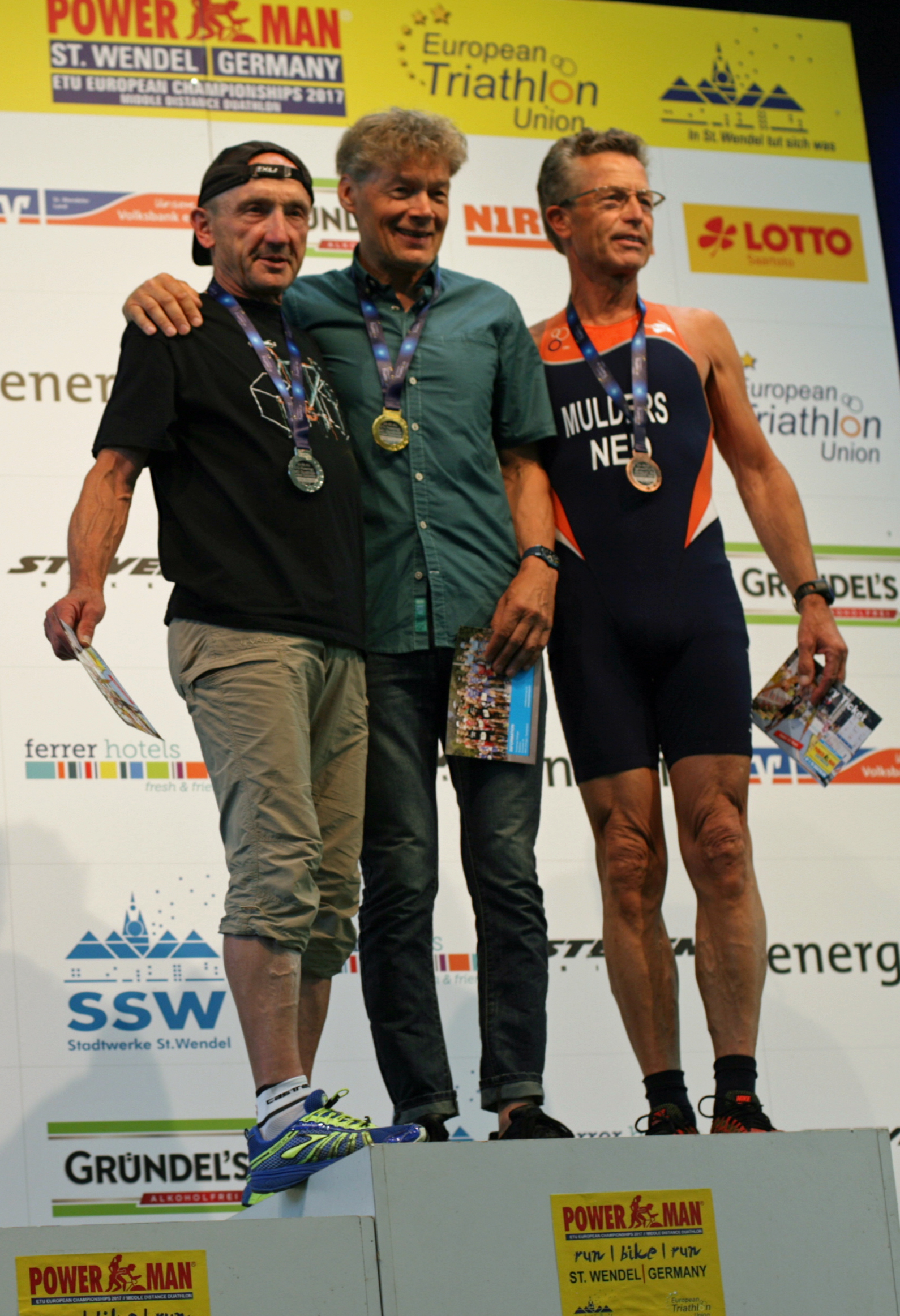 In the 65-69 category, Germany once again took gold and silver, with Reinhard Petzold finishing in 4:01:42 and behind him, Günther Längst just half a minute back in the closest podium finish. The Netherlands claimed another medal with Bart Mulders finishing with bronze.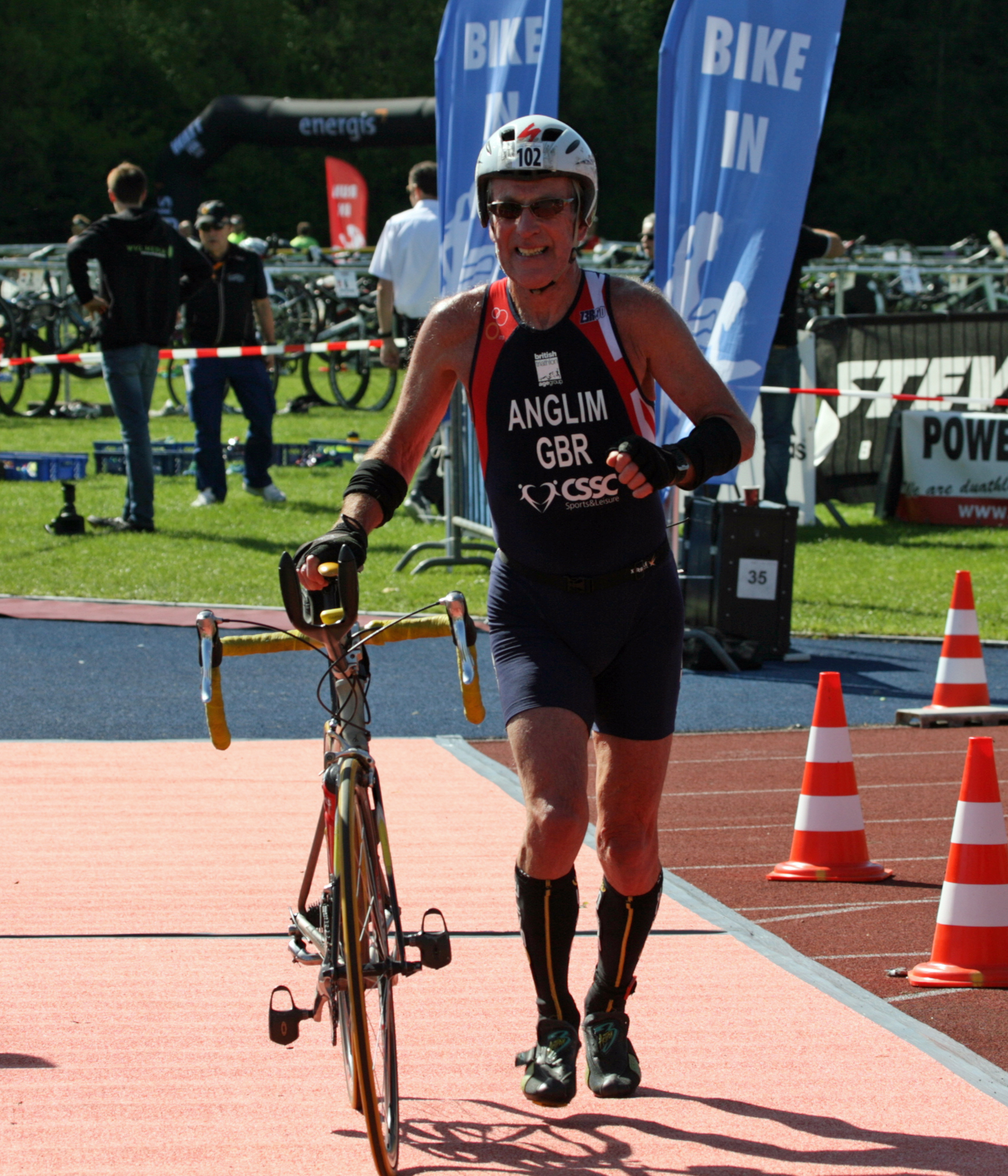 There was a bit of a buzz of excitement with the Men's 70-74 category. Germany's Heinz Bauer had a great opening section in Copenhagen but was unable to maintain the pace and finished with a bronze. That was 2016 and now, a year later, GB's Mick Anglim moved up a category and, faster last year in Copenhagen he was going to set the race alight. To the delight of the many Brits who lined the course, Anglim soon showed everyone who was boss. He dominated the run. He dominated the transitions and the bike and crossed the line in 4:30:17, a full 40:32 ahead of Bauer. Germany could at least go home with two medals in this age group as Gerhard Müller claimed bronze.
The final category, 75-79 saw a fine performance from Jürgen Eisfeld GER. He suffered on the first run and had to chase his opponent, José Molero-Membrilla on the bike to make up lost time. Eisfeld soon caught up and then, with greater power on the bike, made it back to transition with a comfortable lead. His final run was relaxed and he crossed the line in 4:52:28.
The Championships proved to be very popular amongst the athletes who loved the tough course and the complete contrast with last year's Copenhagen course. Titles changed hands, new faces appeared on the podium and already there was talk of September and Zofingen.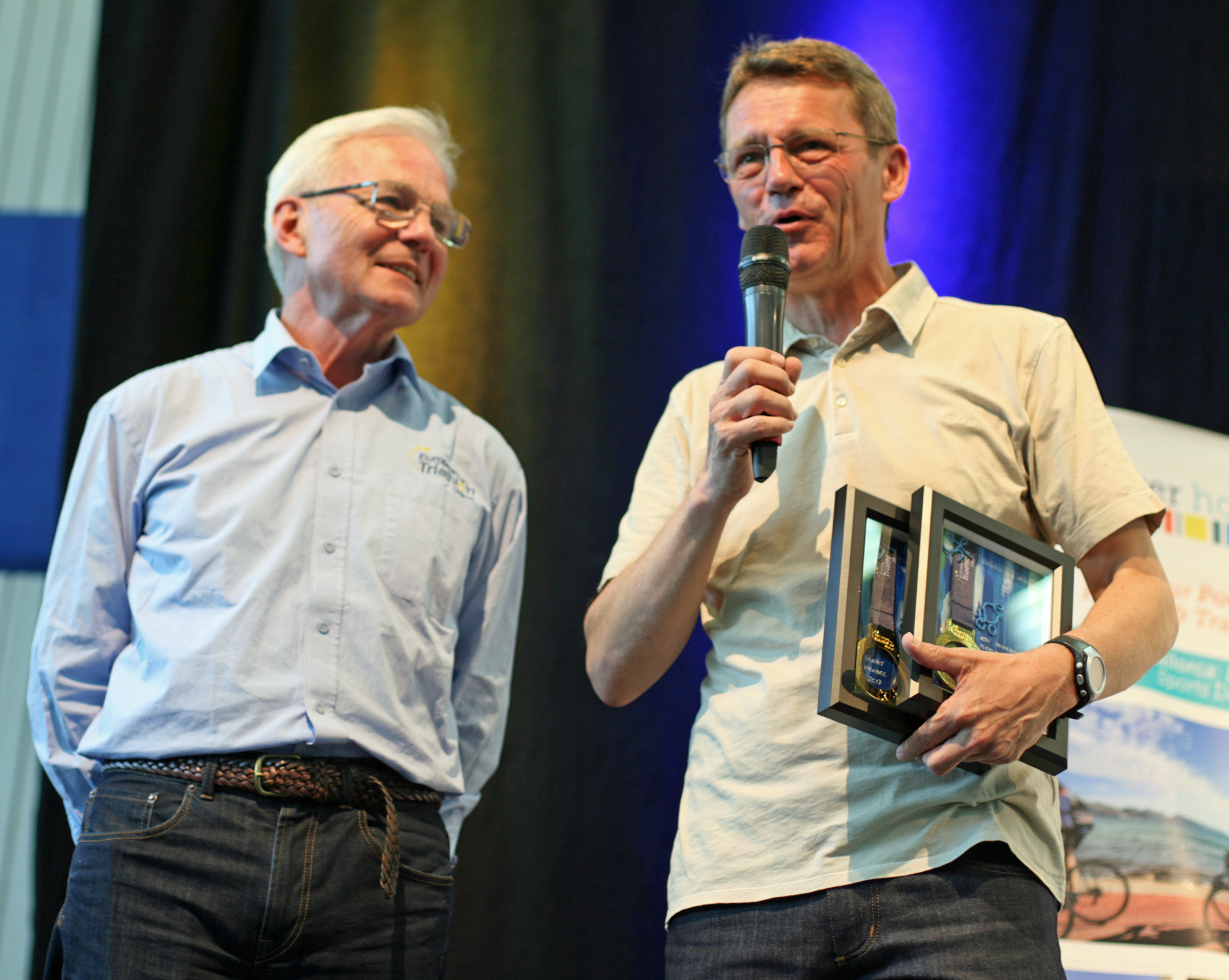 The Bürgermeister, Peter Klär can be rightly proud of his town. A warm welcome, a tough race and very good memories of Sankt Wendel and a fine selection of images.
For a full set of results, please click here.
How does the medal table look?
| | | | | |
| --- | --- | --- | --- | --- |
| | | Gold | Silver | Bronze |
| GER | | 8 | 10 | 6 |
| GBR | | 4 | 5 | 2 |
| FRA | | 4 | 1 | |
| BEL | | 3 | | 2 |
| DEN | | 1 | 1 | 2 |
| NED | | 1 | 1 | 2 |
| LUX | | | | |
| AUT | | | 1 | |
| ESP | | | | 1 |
| SUI | | | | 1 |
---
Article gallery
Related Event: 2017 Sankt Wendel ETU Powerman Middle Distance Duathlon European Championships
Latest
Videos
---
Latest
Event Galleries