NEWS
Recap of the annual Presidents Conference and Evening for Peace in La Nucia
By media@europe.triathlon.org
|
18 Mar, 2022
For the first time in 2 years we were fortunate enough to be able to hold our annual Presidents conference and Gala as a face to face meeting. We are very grateful to our hosts the Mayor of la Nucia Bernabé Cano and the Spanish Federation for the hospitality and the fantastic organization of a very successful weekend.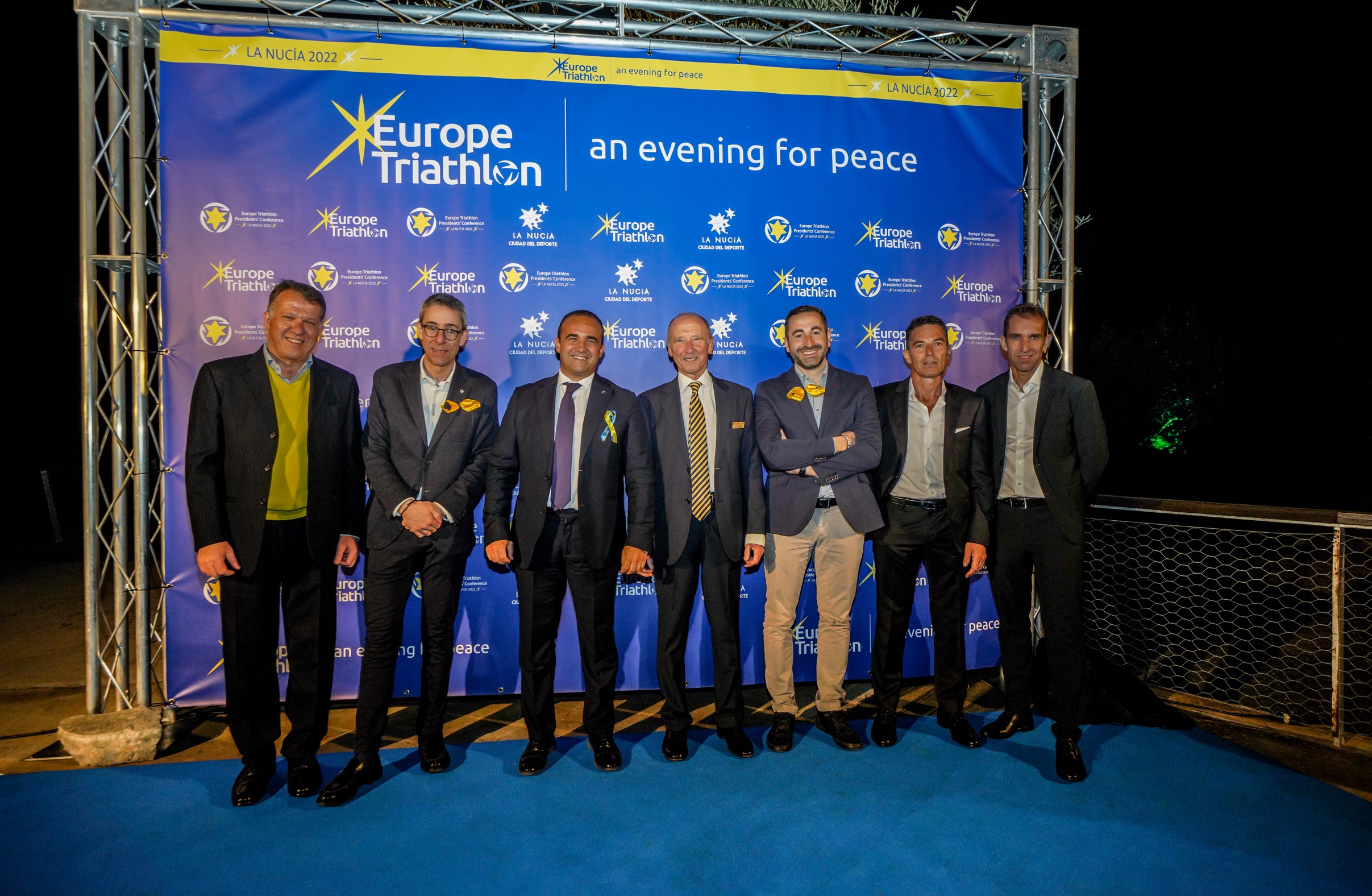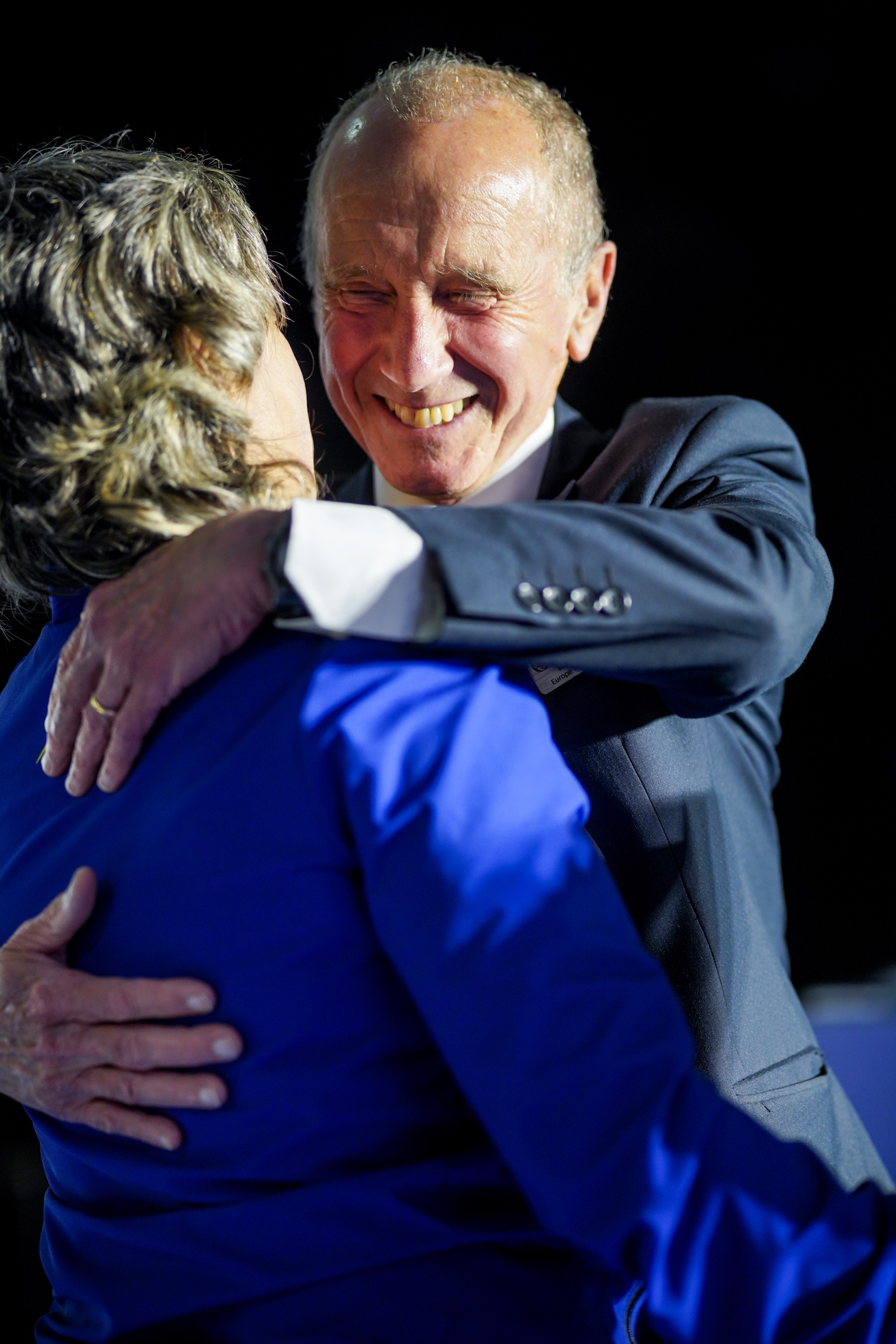 With over 30 National Federations and 100 delegates we had a fast and furious weekend with people obviously very glad to be able to meet in person once more. Renato Bertrandi Europe Triathlon President welcomed everyone to the conference with a particular welcome to all the seventeen new presidents. He also welcomed the delegation from Ukraine with their presence, making the conference very special in this time of so much trouble and heartache back at home.
The Conference started with some updates for delegates on Finance, Development, Races and Media and Marketing from the respective chairs but went on to have some really useful presentations on Paratriathlon Support, Anti-doping,and the relaunch of the Innovation awards. We were then given a keynote talk on NFT and Cryptocurrency by specialist Bas Wisselink which got all the delegates thinking about potential ways to utilise NFT as income generation.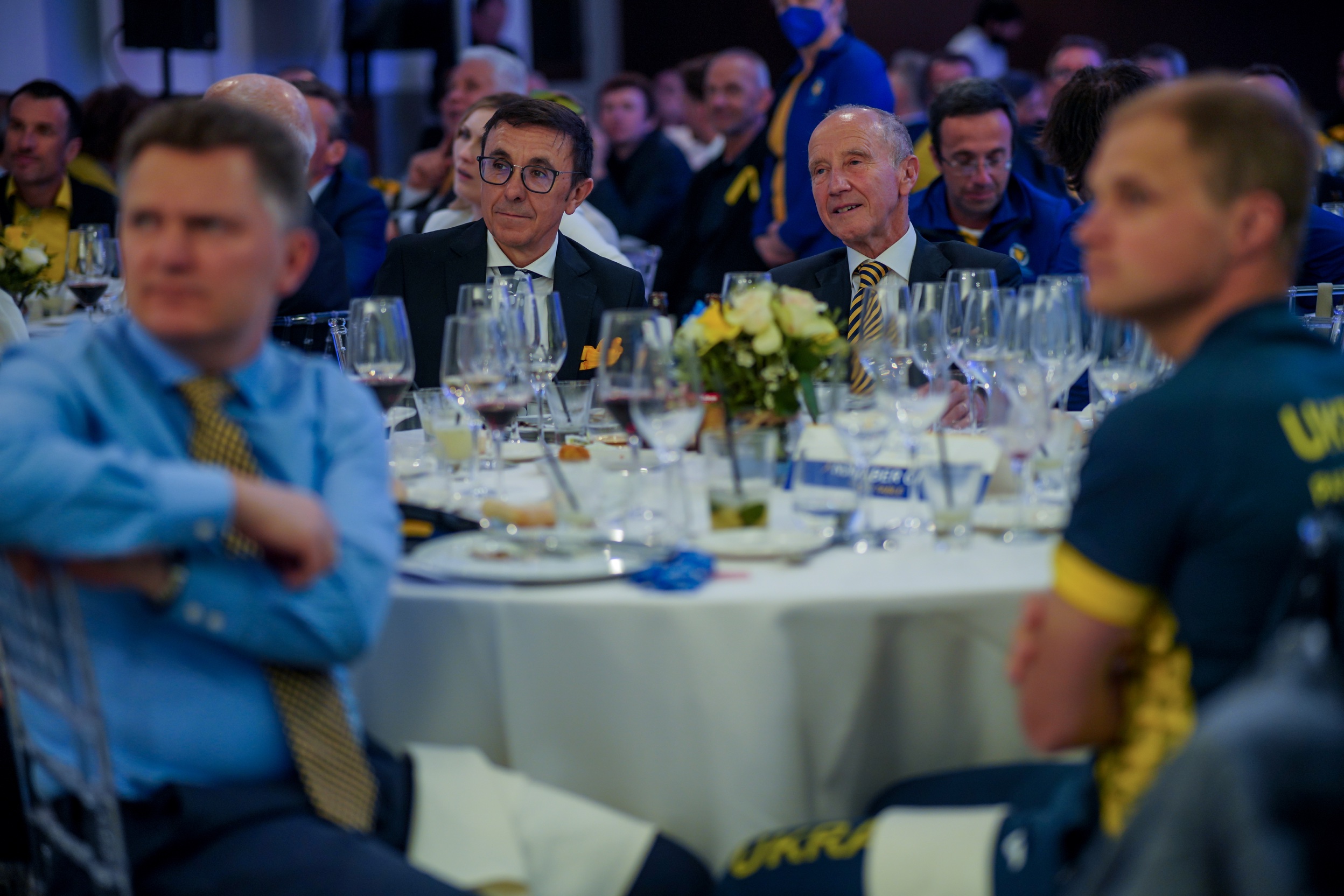 One of the biggest impacts of the morning session was a speech by the Ukrainian Federation representatives Eduard Panarin and Roman Korol. Roman spoke on behalf of the Federation and really brought home to the delegates the impact that the war and invasion by Russia has had on their country. The Ukrainian Elite Team was based in Turkey for winter training when the war began and it was obvious that the delegation was in shock, disbelief, uncertainty and fearful for the future of their country. The horror of war was brought home to all the delegates who gave Roman a standing ovation.

Europe Triathlon has set up an account to help support the National Federation and its athletes during this terrible time and the Triathlon community has responded in a very positive way with offers of financial and practical support.

After a very good lunch we broke into three round table session, one on Esports led by Martin Breedijk Vice President, one on Age Group Participation led by Lochlann Walsh (IRL) and Nicky Dick (GBR) and the third on development of the Strategic Plan led by Chris Kitchen Vice President.
By way of summary:

Martin said: "We had three great rounds on what initiatives different NF's already have explored in organizing virtual events for their members and we thought about if and how virtual races should be integrated into the program of an NF. Almost all NF's believe that this type of events van help in engaging members, for example by organizing events in periods of the year where the weather isn't suitable for any outdoor racing. There are "concerns" about cheating and technical issues, that's why organizing championships might be a bridge too far, nevertheless there are some great advantages to it like: more reachable for people and a good mean to build a community. There was special interest in events that don't rely on very expensive equipment"
Lochlann said: "We were delighted to see the enthusiasm among the federations for our AG Strategy and their eagerness to see it in action. I think this gives us a really strong foundation for ET and our NFs to work together to build an amazing future four our AG athletes and LOCs"
Chris said "We had three sessions as the delegate rotated, where we sought to get their views on our draft Strategic Plan and the key themes we want to focus on over the next few years. The groups were broken into smaller groups and there was some really good dialog between delegates and some excellent feedback and suggestions provided. The time for each session flew by and I am sure we could have gone on with discussion for much longer but we had some really great input so thanks to the delegates for their engagement and involvement in the process. Our Strategic Plan will be much better for the contribution of all. We will be summarising all the input and incorporating it where possible into our Strategic Plan which we hope to formally launch at the Annual general Assembly in Munich in August"

After closing the conference the day was finished off with our annual awards ceremony. It had been decided that to call it a Gala and to have it as a formal black tie event would not be appropriate at this time of concern for our friends and colleagues in Ukraine. It was renamed and Evening for Peace and the dress code was less formal but the delegates were encouraged to wear something blue and yellow in solidarity with our Ukrainian friends.
The delegates were able to enjoy some very inspiring speeches from our guests Arild Mjos Anderson and Susana Rodríguez Gacio and of course some fantastic food and drink from our hosts La Nucia and the Spanish Federation. Whilst the plight of the people of Ukraine was foremost in people's minds we were able to celebrate all our nominees and winners for the various awards. The venue was located on a hillside overlooking the land running down to the sea and made for a spectacular evening.

LIST OF AWARD WINNERS:
➡Male Europe Triathlon Cup winner- Tom Richard (FRA)
➡Female Europe Triathlon Cup winner- Sian Rainsley (GBR)
➡Male athlete - Kristian Blummenfelt (NOR)
➡Female athlete - Georgia Taylor Brown (GBR)
➡Male para athlete - Jetze Platt (NED)
➡Female para athlete - Susane Garcia (ESP) and Sara Ioehr
➡National Federation - SPAIN
➡Developing National Federation - TURKEY
➡Technical Official - Carmen Gomez Calvez
➡LOC - Dolomiti Paganella (ITA)
➡Executive Board award - Werner Taveirne, Aldo Lucarini and Bernard Saint-Jean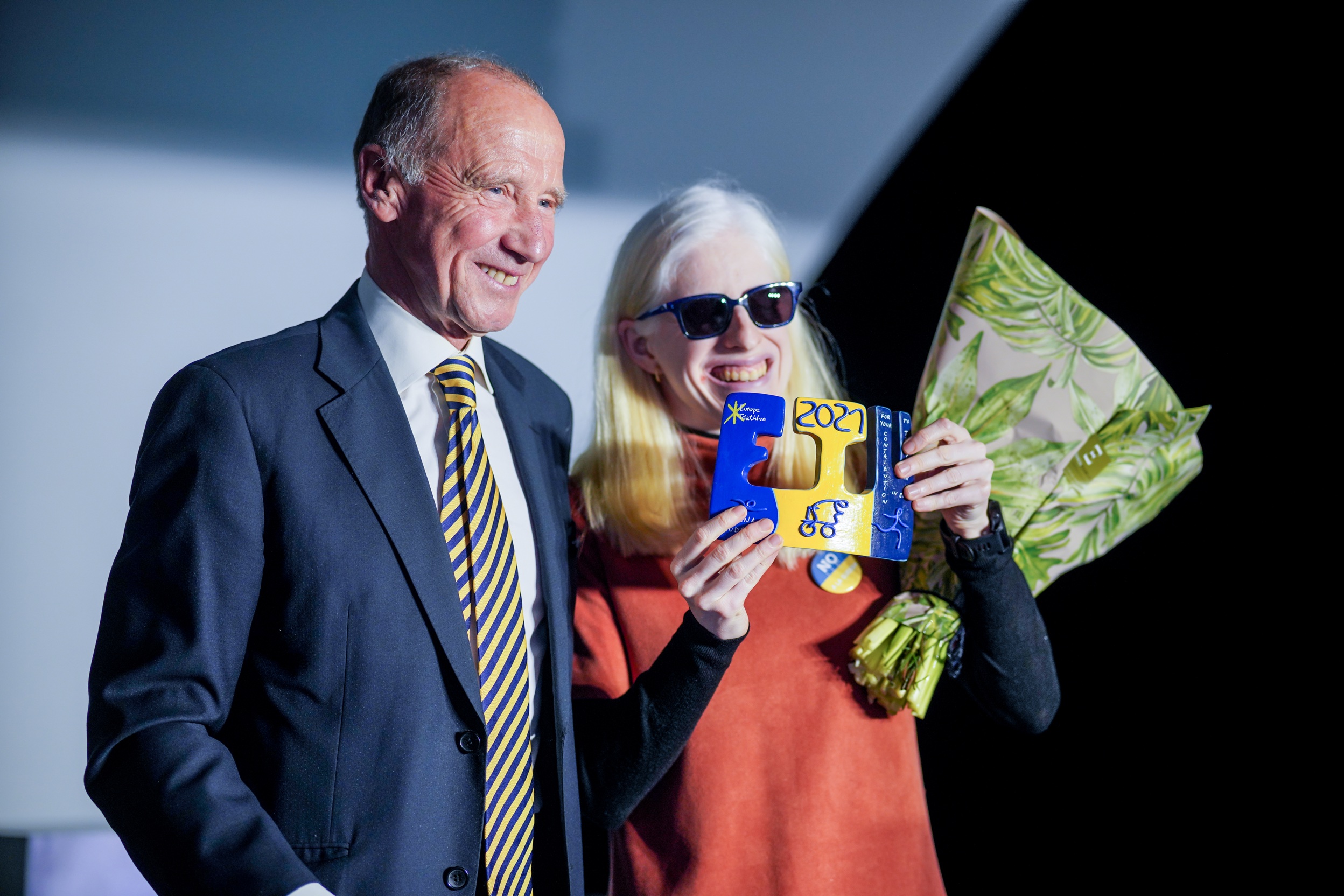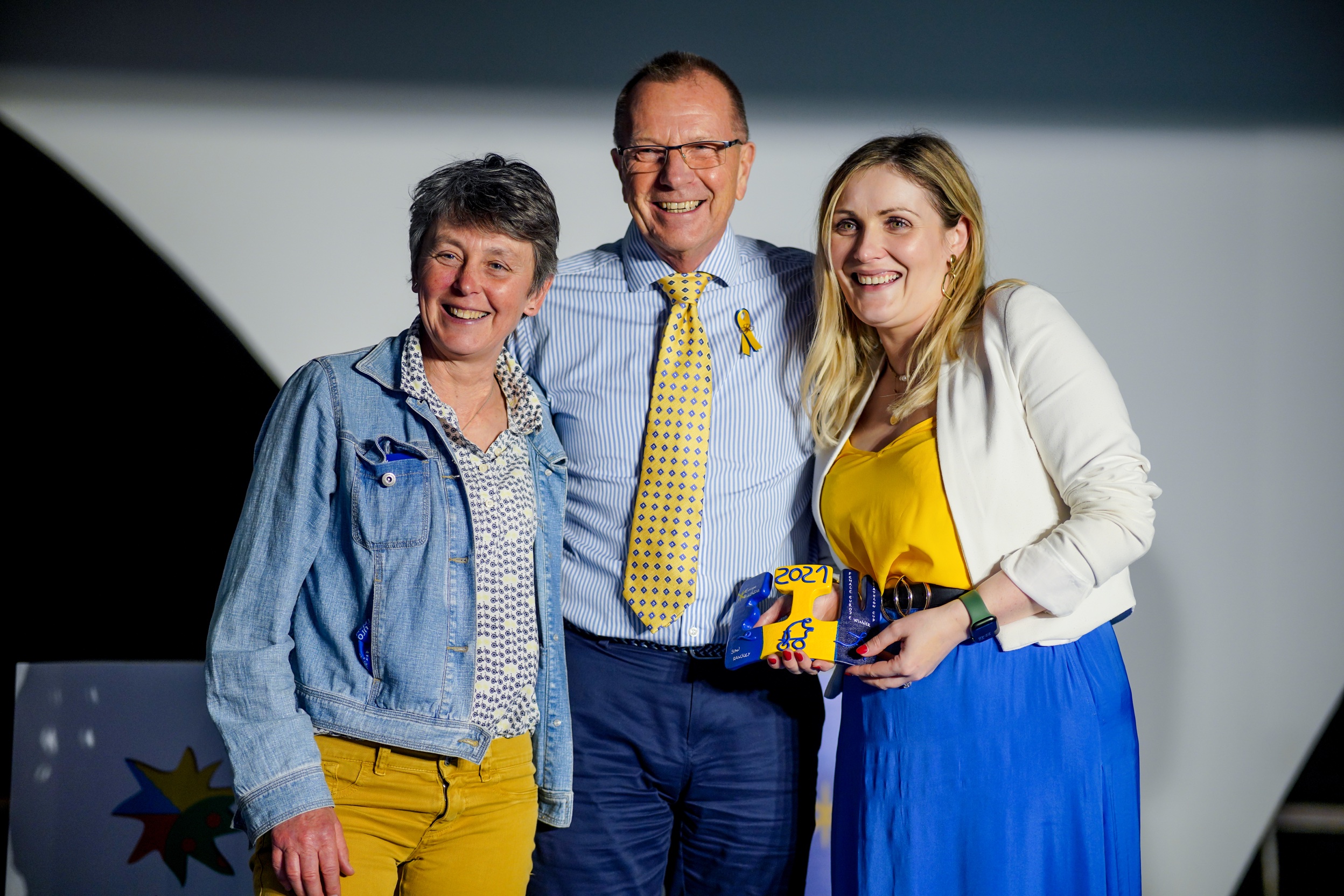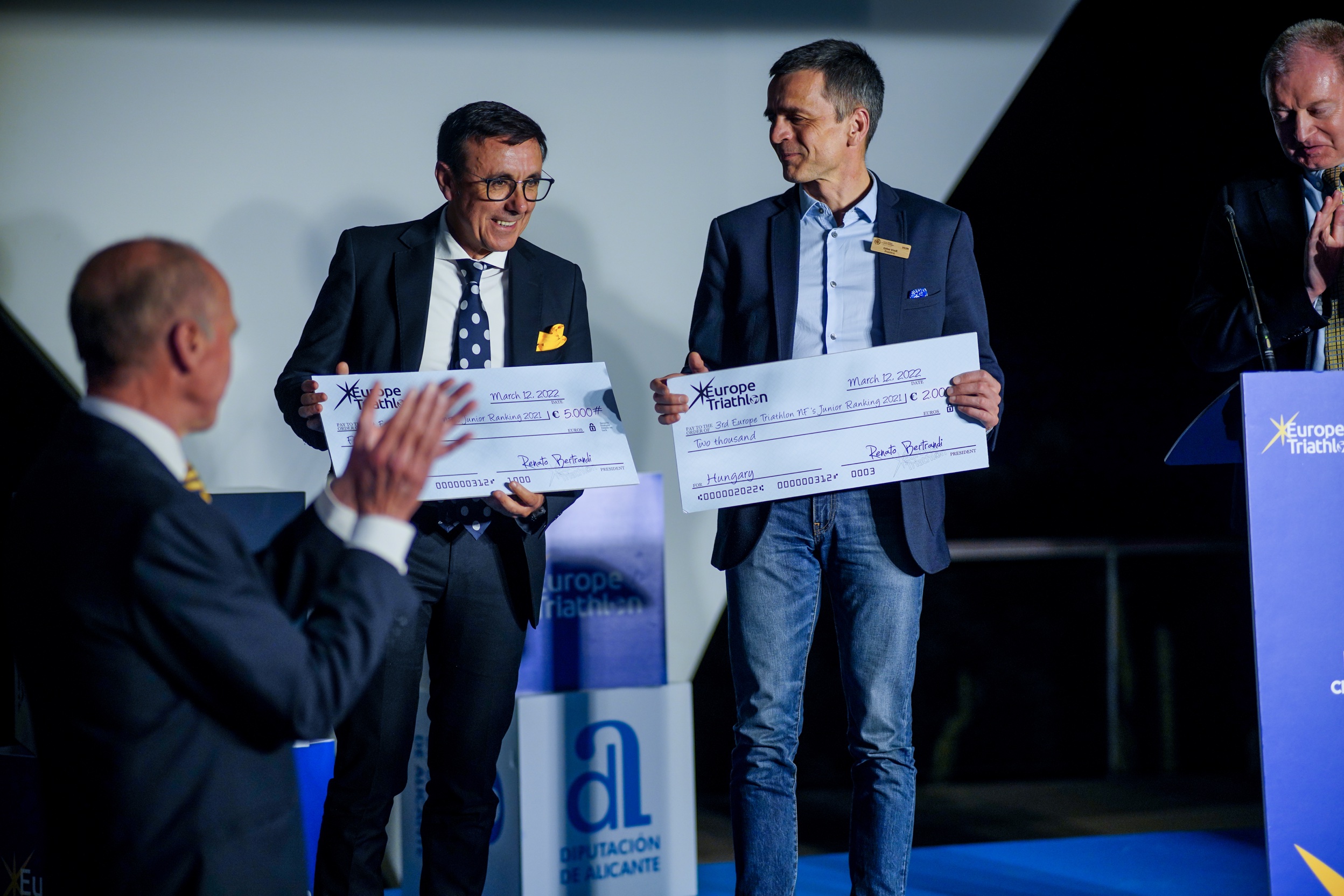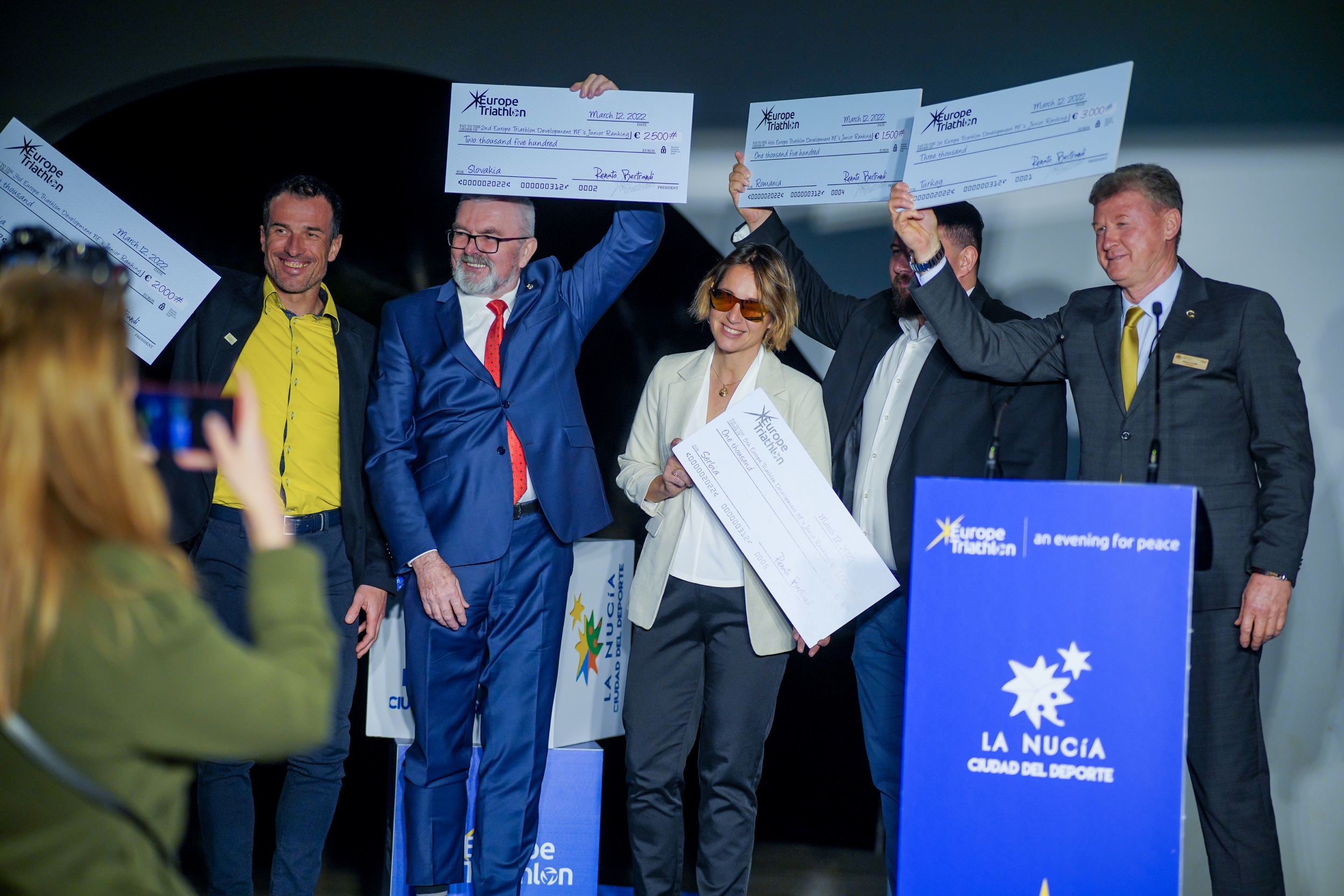 With the Presidents conference now over for another year the focus now turns to Munich 22 where we will not only have our European Championships but also on the 11th August 2022 our Annual General Assembly. More details to follow.
Latest
Videos
---
Latest
Event Galleries