NEWS
Rachel Klamer wins 2013 European Championship in sprint finish
By David Peddie
|
14 Jun, 2013
Rachel Klamer won the European Championship after an exhilarating race in Alanya.
The Dutch athlete out-sprinted Vicky Holland (GBR) after chasing down and catching Vendula Frintova (CZE) with two laps to go. Holland claimed her first European solo medal with second and Frintova held on to third and the final podium place.
Remarkably, this is Klamer's fourth victory in Alanya having won three European Cup races between 2009-2011.
Klamer was at the forefront of this race from the start, she followed Carolina Routier (ESP) out of the water in second place after the 1500m swim. Routier set a strong pace in the water which Klamer and Melanie Hauss (SUI) followed as the athletes made their way to T1.
Onto the bikes, a lead group of 18 athletes, which included Vicky Holland, Vanessa Raw (GBR), Annamaria Mazzetti (ITA) and Anja Knapp (GER) worked brilliantly together. With the leaders changing frequently, the lead pack increased their lead after every single lap, eventually entering T2 with a gap of over 90 seconds.
The chase group, which included Agnieskza Jerzyk (POL), Emmie Charayron (FRA), Ainhoa Murua (ESP) and Rebecca Robisch (GER), just couldn't make an impact on the blistering pace that the leaders were setting.
With an almost unassailable lead, nobody made a break from this front group and as the girls thundered into T2 it was Knapp who exited in 1st place.
However, it was Frintova and Jessica Harrison (FRA) who raced into the lead and quickly built up nine seconds by the end of the first lap. Behind them, Mazzetti, Stepanenko (UKR), Holland, Klamer and Verstuyft (BEL) looked as if they would be battling it out for that final podium place.
But in an incredible twist, by the end of the second lap, Jessica Harrison had fallen way off the pace. Frintova held a lead of 10 seconds over the chase group and five who were now gunning for two medals.
Frintova was then caught on the third lap and swallowed up by the chase group. Verstuyft had fallen behind which meant that five athletes were going for three medals with a lap to go.
The excitement was palpable and it was Klamer who put the foot down and sprinted for the line, finishing just a couple of seconds ahead of Holland.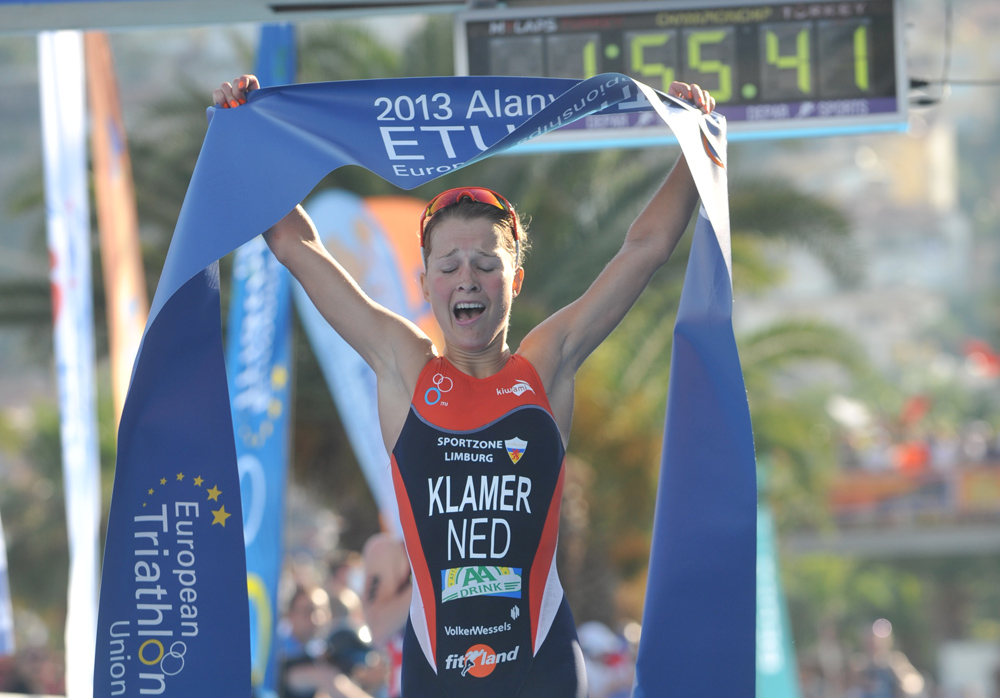 The new European Champion said: "It's so good, I didn't expect it. I've had some pretty bad races recently so I was quite nervous. But I love racing here, I've won 3 times before and I thought if I won today it would be fantastic
"I had a really bad transition so I had quite a gap and I knew that my running has been pretty bad the last couple of months. On the run I was just trying to keep up but it was going better and better and I thought just give it, or come 4th. So I tried to runaway and it worked out."
Vicky Holland was delighted with her second place finish. The British athlete said: "I can't really believe that's actually happened.
"I had a really positive swim, I was pleased with how I felt tucked into the pack. On the bike I was contributing to that pack, trying keep it moving, there were some good runners back there and we didn't want them to catch up.
"On the run I just wanted to feel comfortable and build through each lap so to be able to hold strong at the end and come second I'm over the moon with that, I can't asked for more."
Having held the lead with only two laps to go, Frintova had to dig deep and she did well to hold onto a podium place.
The Czech athlete wasn't too disappointed with her final position. She said: "I'm really happy, I did everything I could, I did my best. I was pushing the run so hard at the end but the two girls were better.
"Usually, I'm better on the first half of the run so I was just guessing how many might come back at me and just tried to continue and run as hard as I could."
Related Event: 2013 Alanya ETU Triathlon European Championships
Related articles
Georgia Taylor-Brown sprinted to glory to defend her European Championship Junior title in the scorching afternoon heat in Alanya. After a couple of months out due to injury, Taylor-Brown showed no ill effects in what was her first…

14 Jun, 2013
Latest
Videos
---
Latest
Event Galleries