NEWS
Karlovy Vary enjoys its 10th International Triathlon this weekend.
By Paul Groves
|
21 Aug, 2015

Tucked away in the western part of the Czech Republic, Karlovy Vary (Carlsbad) became one of Europe's most important spas. Back in 2001 this event threw down the gauntlet to European athletes in the European Championships, with the thrilling victory in the Elite Men going to Filip Ospalý CZE, over Spain's Ivan Raña. Ever since that race, athletes have had the utmost respect for the tortuous climb on the bike that takes the athletes over a 400m long, twisting climb.
This year will see Prize Money of €12.500, with an equal distribution amongst the Elite Men and Women:
1st. 1,565 EUR
2nd. 1,250 EUR
3rd. 940 EUR
4th. 625 EUR
5th. 500 EUR
6th. 435 EUR
7th. 375 EUR
8th. 250 EUR
9th. 185 EUR
10th. 125 EUR
The Elite Races are on Sunday, with the Women starting at 10:00 and the Men at 15:00.
28 women will be diving into Rolava Lake, representing 12 nations. Interesting this time is that amongst our usual Europeans is a contingent from far away. Canada, New Zealand and USA have sent athletes to the race where they will of course experience European hospitality but also the top-quality events that Europe is famous for. Points and Prize-Money are up for grabs but also a great chance for them, pre-Rio, to get to see our athletes and to "size-up" the opposition.
Leading the rankings and in great from is Audrey Merle FRA. Her recent bronze in Tiszaújváros came from a solid performance against the world's top athletes. Short, sharp and fast, the racing there over the weekend will have done wonders to sharpen up her pace. Her World Championships Bronze last year as a Junior has seen her threaten the seniors and her determination to push the pace will be seen again this weekend. Ranked number 2 and coming back to improve upon her fifth last year, is Germany's Lisa Sieburger. Currently in great form with two wins at Riga and Châteauroux, she will be a major threat to Merle. Wearing number three is another French athlete, Léonie Périault http://www.triathlon.org/athletes/profile/41158 . Her stronger swimming took her to silver in Châteauroux and she will be hoping to work together with Merle.
Italy's Sara Dossena had a good result in Tiszaújváros and showed there that she can be a threat over the shorter distance as well as the longer distances. So many silvers have been won by her that this race could possibly be the chance for an upgrade. The bike course here is unspeakably tough and this could be where she really can create some distance between her and any weaker cyclists. On her first outing to Karlovy Vary she might well find this is a bike course just made for her!
Local hopes will be resting upon Jitka Šimáková CZE. With a bronze from Cologne this year at the ETU Aquathlon Championships, we can expect to see her in the lead group in the swim. A warm welcome to USA's Michelle Mehnert who last raced in Europe as an Age Group athlete in the Grand Final in Budapest. She has checked in and provides a nice view of the venue, "Nice place for a spin after some long travel! @ Karlovy Vary instagram.com/p/6mpHIHs7a7/"
This race will of course deliver more points for the ETU Ranking Series.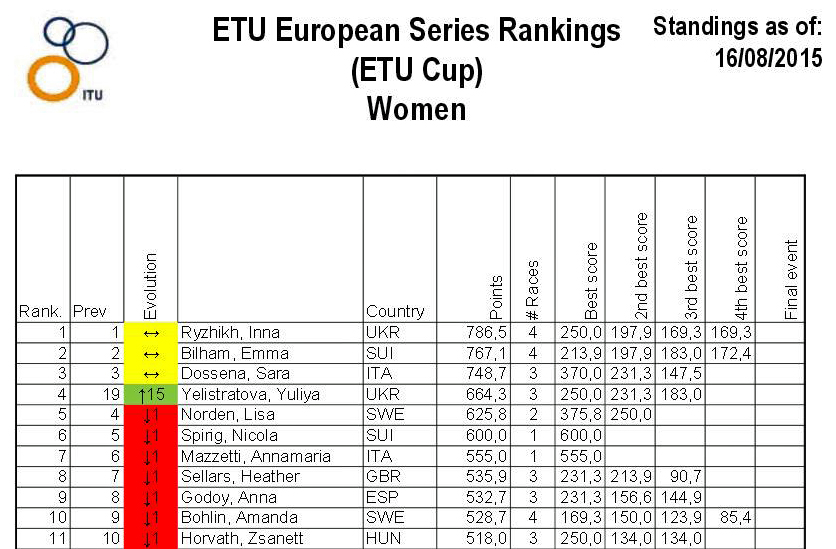 For the men, we will see 59 men start, representing 21 nations. A massive team from France is led by Aurélien Lebrun who comes to this race with two consecutive golds from Châteauroux and Holten. He knows Karlovy Vary, having raced here in 2010 and will be hoping to put the ghosts to bed after his DNF in 2013 here. Lebrun is ranked number 2 this weekend, behind Australian Matthew Baker who comes to this race sharpened after the Tiszaújváros event and his silver in Tartu. What he will make of the hill?
Last year's winner, Andrey Bryukhankov RUS, wears number three and he will be hoping to return to the form in 2014 that has eluded him so far in 2015. Italy will be hoping that Daniel Hofer can improve on his 19th place in 2009. A wise head on older shoulders, he has been racing on the international circuit since 2002 and will know just where to push hard and make the pack work.
Looking for extra points too will be Ukraine's Yegor Martynenko. 2013 was his race with gold. 2014 saw him run in with a 7th place. After his gold medal in Kyiv this year he has been looking for that form and will hope that Sunday will see everything come together. Jordan's Lawrence Fanous who cycled the entire bike course in London this year without a saddle, after it sheared off as he left T1, has shown us again and again that he is a powerful rider. Whether he can create something out of "The Hill" remains to be seen. Local hopes will rest upon Jan Volár CZE who will be racing here for the third time.
This race will of course deliver more points for the ETU Ranking Series.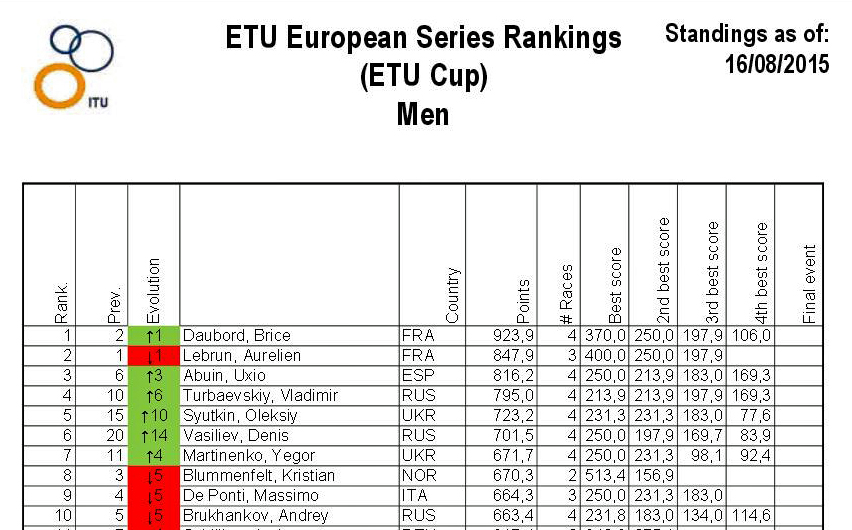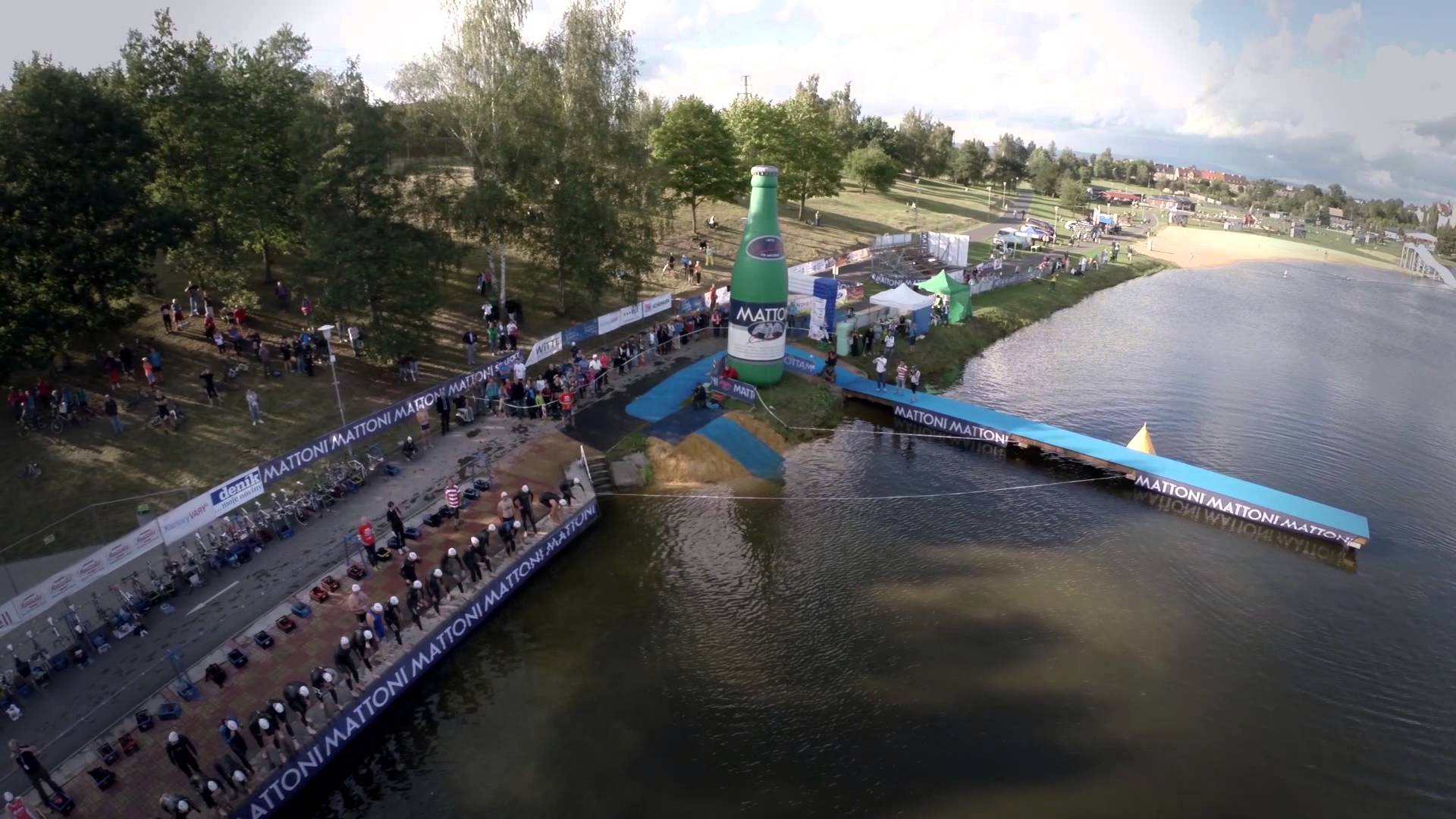 Related Event: 2015 Karlovy Vary ETU Triathlon European Cup
Latest
Videos
---
Latest
Event Galleries