NEWS
International Triathlon returns to Athlone for ETU Junior Cup
By David Peddie
|
04 Jul, 2013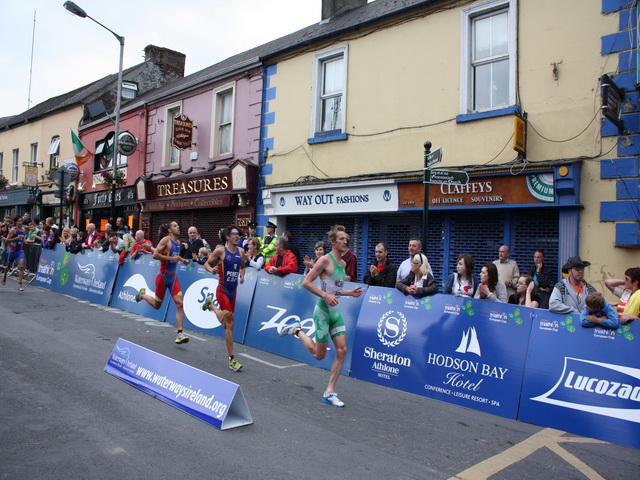 International Triathlon racing returns to Athlone for the first time in three years with the 2013 ETU European Junior Cup this Sunday.
A passionate Irish crowd will be out in force to cheer on the athletes and in previous European Cups in Athlone, the Irish have done very well on home soil.
In 2008, James Lock and Gavin Noble secured top ten finishes and in 2009 Bryan Keane stormed to victory with Noble raising the bar to finish in the top five.
This year, it is the turn of the Junior athletes, led by Con Doherty. The talented youngster, 3rd in last year's Grand Final in Auckland, has had a patchy 2013. He began the year in fine form with a podium in Quarteira before being disqualified in Horst and recording a DNF in Brno. He finished 14th at the European Championships in Alanya and is certainly capable of at least a podium place on home turf.
Christopher Mintern is another promising Irish youngster and he will be buoyed by his first ever top ten finish in Kupiskis a fortnight ago.
A strong British contingent make one of their shortest journeys of the year to Ireland. Liam Lloyd is perhaps the pick of the bunch, with an impressive performance in Horst where he finished 2nd in the European Sprint Distance Duathlon Championships.
A number of newer faces will be given the opportunity to race in Athlone, a great opportunity for their career development and a chance to make a name for themselves. Amongst the more experienced athletes in the Junior Men's race is Erwin Vanderplancke (BEL). He already boasts two career podium finishes at this level under his belt.
In the Junior Women's race, a depleted start list offers no less quality and Ivana Kuriackova (SVK), winner of two Junior European Cups already in 2013, will start as favourite.
Emma Sharkey (IRL) will enjoy the backing of the home crowd. In her first year at this level she has enjoyed a steady start but she will be determined to secure her first podium in front of her home crowd.
Ditte Christensen (DEN) is another competitor in the Junior Women's field who knows what it takes to win a European Cup race but with such a small field, the odds of a medal are in each athlete's favour.
Related Event: 2013 Athlone ETU Triathlon Junior European Cup
Latest
Videos
---
Latest
Event Galleries