NEWS
Great Britain win Junior Mixed relay at European Championships
By David Peddie
|
16 Jun, 2013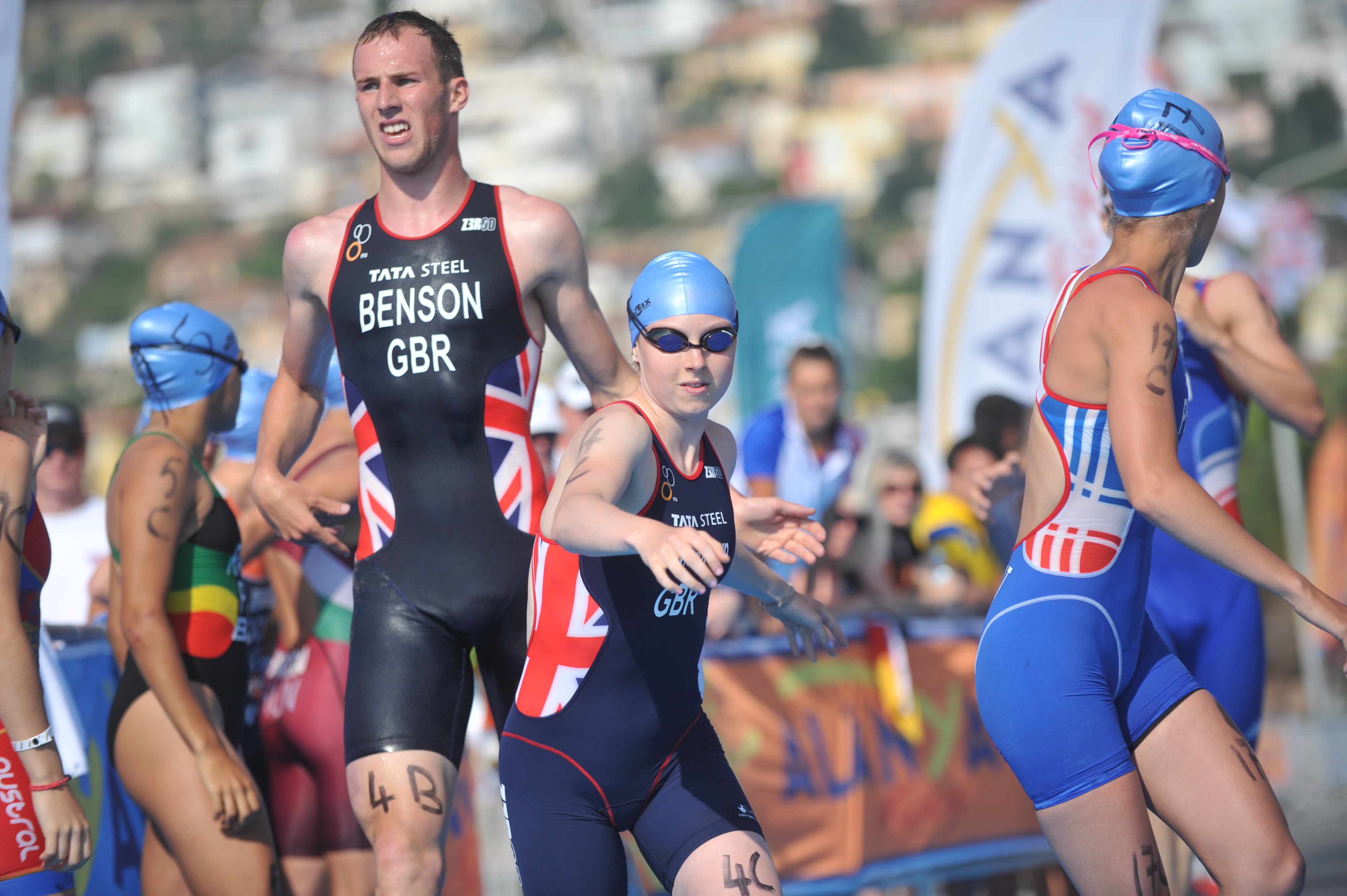 The British Triathlon Federation showed once again that it is in rude health as its young charges stormed to victory in the Junior Mixed Relay event.
Sian Rainsley, Gordon Benson, Georgia Taylor-Brown and Marc Austin won Britain's second Junior title in two years and for Taylor-Brown and Austin, they were able to add to their own individual medal haul from the weekend's completion.
Jeanne Lehair, Leo Bergere, Cassandra Beaugrand and Maxime Hueber-Moosbrugger won the silver medal for the French and the German team of Laura Lindemann, Jonas Breinlinger, Laura Sprissler and Lasse Preister claimed the bronze medal.
It was another beautiful morning in Alanya for the Junior Mixed relay, a super sprint distance of 300m swim, 6.3km bike and 2km run for each athlete.
19 teams entered with 14 countries represented with almost all of the Junior athletes who had competed on Friday and Saturday taking part.
Laura Lindemann showed no ill effects from her silver medal on Friday as she stormed into an early lead with Lotte Miller (NOR) hot on her tail.
This allowed Breinlinger and Blummenfelt to explode into the water on the 2nd leg but Jeanne Lehair did well for France and Bergere quickly followed.
Blummenfelt enjoyed a great spell out on the course and he built a solid lead from the pack as he passed onto Ingborg Pedersen.
Breinlinger and Bergere followed suit and passed onto Sprissler and Beaugrand respectively. These two had an incredible swim, not only eating into Pedersen's lead but passing the Norwegian on their way out of T1.
Behind them, Junior European Champion Georgia Taylor-Brown was making fantastic progress and moving up through the field. By the end of the bike she had pulled the British team up into 5th place alongside Sforza (ITA) and Pedersen and after the run she was up into second, twenty seconds behind Beaugrand.
This gave Marc Austin the perfect platform to go and win the race and by the end of the swim he was tied with Hueber-Moosbrugger for the lead.
Austin, the sole survivor from Britain's victorious Junior relay team at Pontevedra in 2011, pulled away on the bike and built up a comfortable lead over the Frenchman.
Austin was never in danger but behind him Hueber-Moosbrugger and Germany's Preister were hanging on under attack from Junior Champion Dorian Coninx, who was having a strong final leg for the second French team.
But after a pulsating finish to his individual race on Saturday, Coninx just didn't have the legs in this race and Hueber-Moosbrugger and Preister crossed the line for silver and bronze respectively.
Victory for the British team and anchor man Marc Austin, who was third in the Junior race yesterday, paid tribute to his team: "It wasn't easy but after the effort the other guys put in meant I had to go and win it. I was definitely feeling yesterday's effects and it was hard. I could relax over the last 500m but up until then it was hard.
"I was set up in a perfect position and all I had to do was ride it out but it was the other guys who put me there. Georgia had the leg of the day and if it wasn't for her we might not have made the podium."
Related Event: 2013 Alanya ETU Triathlon European Championships
Latest
Videos
---
Latest
Event Galleries