NEWS
Brits mop up the medals in Bratislava
By Paul Groves
|
30 May, 2017
The ETU Bratislava 2017 Aquathlon Championships was always going to be an attractive event for the British Age Group athletes. Why? Well, easy to get to; a little bit different; value for money and a nice break over the holiday weekend (In the United Kingdom, Monday was a Public Holiday, rather than Thursday).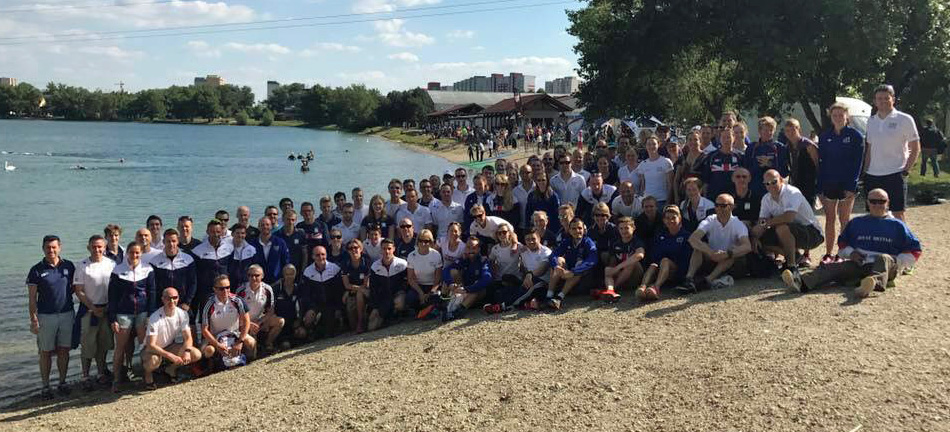 With high numbers racing it was not always going to be a British whitewash but once again Team GB made up the majority and made the weekend a great party for athletes, spectators and the organisers.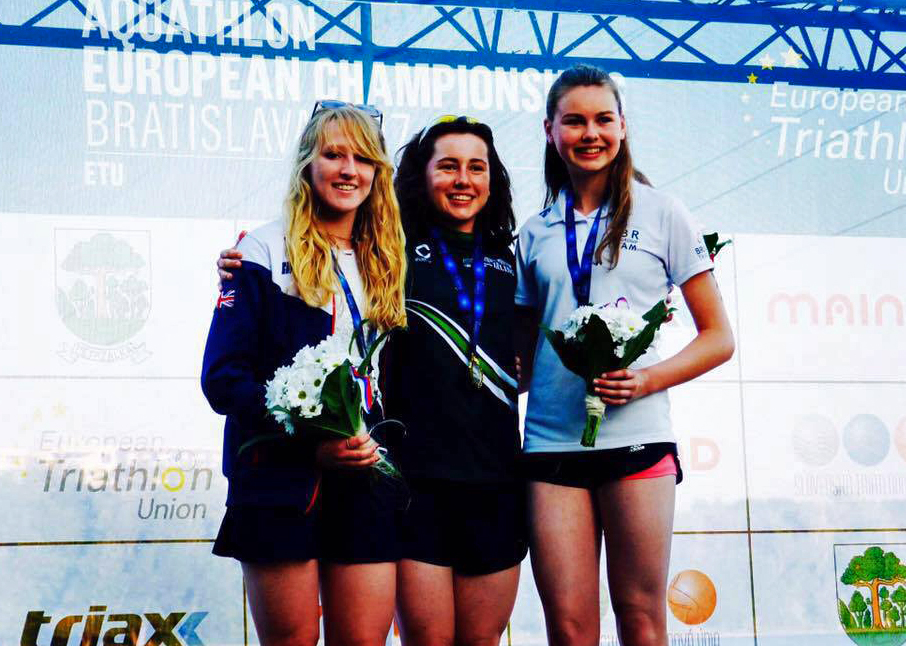 In the 16-19 category, it was a clean sweep for the Brits with all three podium places taken. Rosie Weston won her category in Lisbon in the Sprint and would dearly have loved this title too. Her opening swim of 13:36 was easily the fastest, seconds lost in T1 reduced her lead and out on the run it was Phoebe Lloyd Evans who stormed into the lead to take gold. Weston stayed strong for silver and bronze comfortably went to Megan Finn. Weston came to this race with the knowledge that she had already qualified for Rotterdam as part of the GB Age Group Team.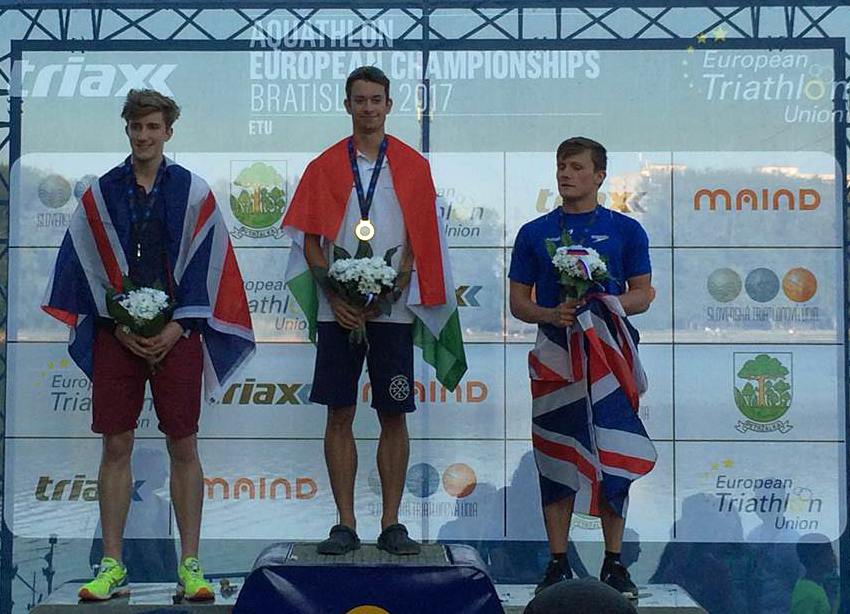 The clean sweep was denied to the Brits in the men's race with a stunning final run from Hungary's Zsombor Dévay. He had to work hard on the run to catch GB's Ashley Hogg whose 11:54 swim put him way ahead. It was Dévay's powerful running that took him past Hogg to give him gold. Hogg desperately tried to hold on to silver but behind him Michael Fabes added another Aquathlon silver to his collection, having placed 2nd in Köln in 2015.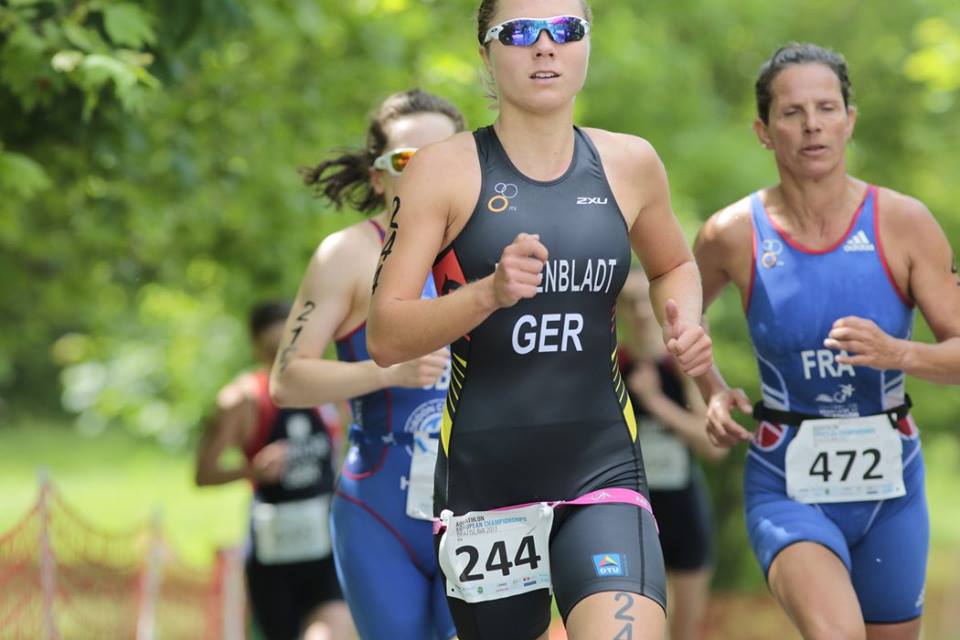 In the 20-24 category it was a mixed podium with medals going to GB, Germany and the host nation, Slovakia. Britain's Chloe Pollard took early control of the race with a powerful swim and then held that lead despite the faster running of Nina Rosenbladt GER. The crowds were delighted with their first home medal as Danka Ignačáková easily held onto third place.
With only the Brits present, it was naturally a clean sweep for Team GB in the men's race. Defending Champion Michael Lewis managed the back to back victory with his dominating swim taking him into the lead and his run holding off any challenge. William Kirk held onto silver despite the storming pace of Steven Hanly who won gold last year in the younger category. His final run of 17:04 and his superior speed in transition so very nearly took him to silver.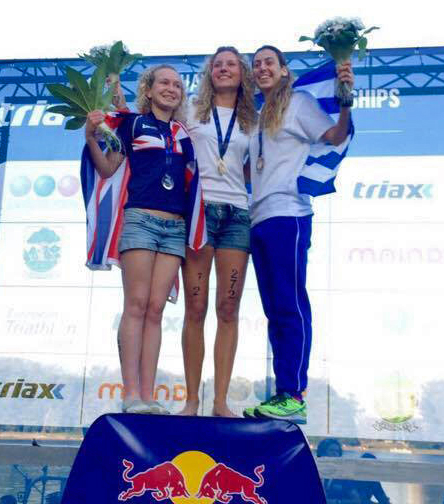 In the 25-29 category, it was again a mix of federations on the podium, with Germany taking the honours. Tatjana Kortmann adds European Aquathlon title to her 2016 Kalkar gold in the Sprint and improves upon her silver, won in Köln in 2015. Her 14:03 was a minute and some faster than chasing Brit, Emily Moss whose faster running was not quite enough to get her to the winning position. Silver in 2016 in Châteauroux and now silver in Bratislava. Bronze went to Katerina Sapari GRE who improved greatly upon her 5th place last year in France.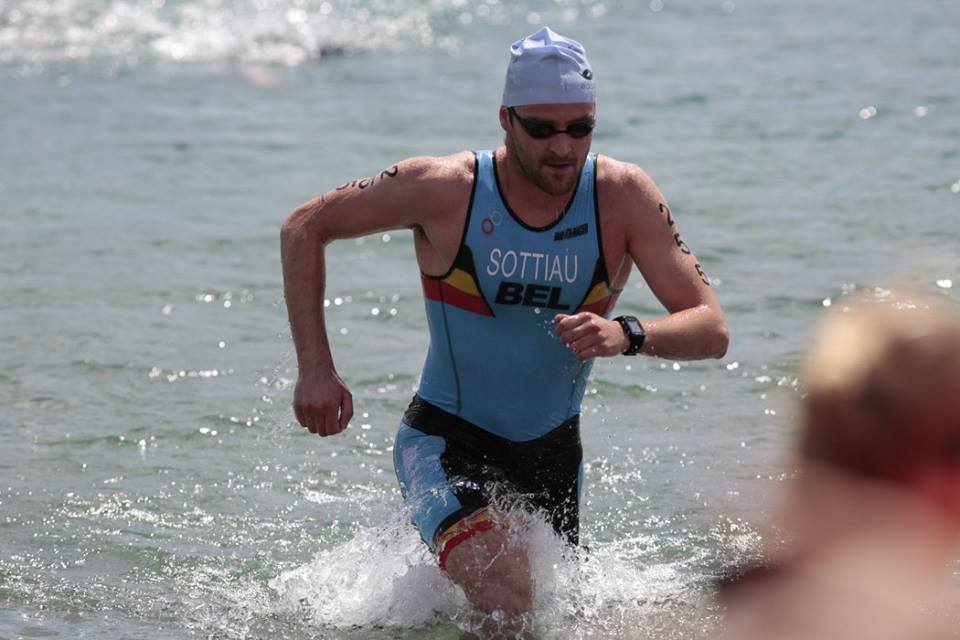 The Men's race saw Belgium top the podium with Robin Sottiau trade in his bronze from Châteauroux for a commanding gold in Bratislava. His swim took him way ahead and then on the run, even the fast pace of the chasing Brits could not break his lead. Silver went to Jamie Oakey and bronze to Timothy Wood who clocked 18:21 for the 5k.
It was another all-British podium in the Women's 30-34 category, with Jessica Thorpe making it very clear that she is the one to beat. Her title successfully defended, she can now boast wins in 2016 and 2017 to add to her silver in Köln in 2015. Almost a two-minute lead from the swim took her out to the 5k run and with the out and back lapped course, she could easily keep an eye on her challengers, to cruise home and win by over two and a half minutes. Silver went to Kelly Wickens, last year's bronze medal winner, who missed out on the podium with a 4th place in 2015. Steady improvement, then. Bronze this year went to Jacqueline Wild.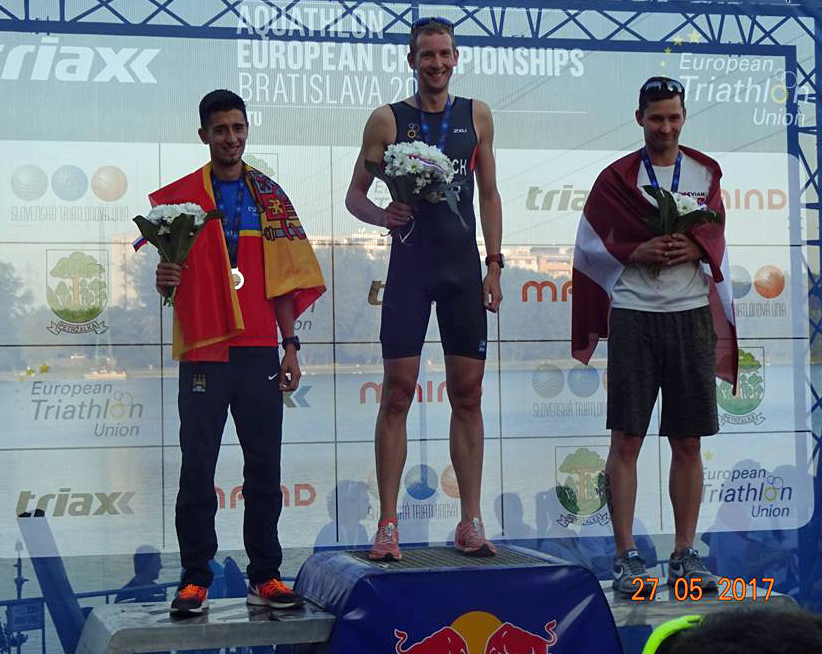 For the men, two Brits emerged just behind the leading German and Romanian swimmers. A slow T1 left the Romanian behind and opened the door to the speedy final run of Sebastian Krusch GER. He was clear of silver medal winner, Spain's Bernardo Jareño Manclús whose storming run came close to catching the German. Bronze went to Latvia and the delighted Gints Skroderis.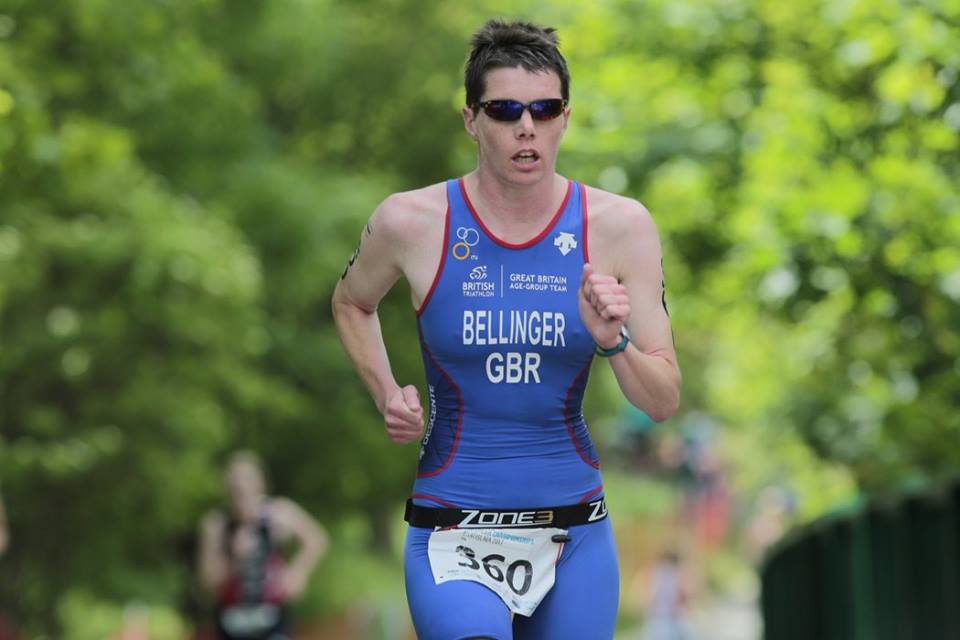 Moving up to the 35-39 Age Group and it was GB's Elizabeth Bellinger who led them out of the water and with a clean transition, headed out onto the run course, kept an eye on the positions and maintained her lead all the way to the finish. Gold to GB and silver to Samantha Lake with a massive run of 20:11. Bronze went to Austria's Lena Pernold, herself a silver medal winner in Kitzbühel in 2014.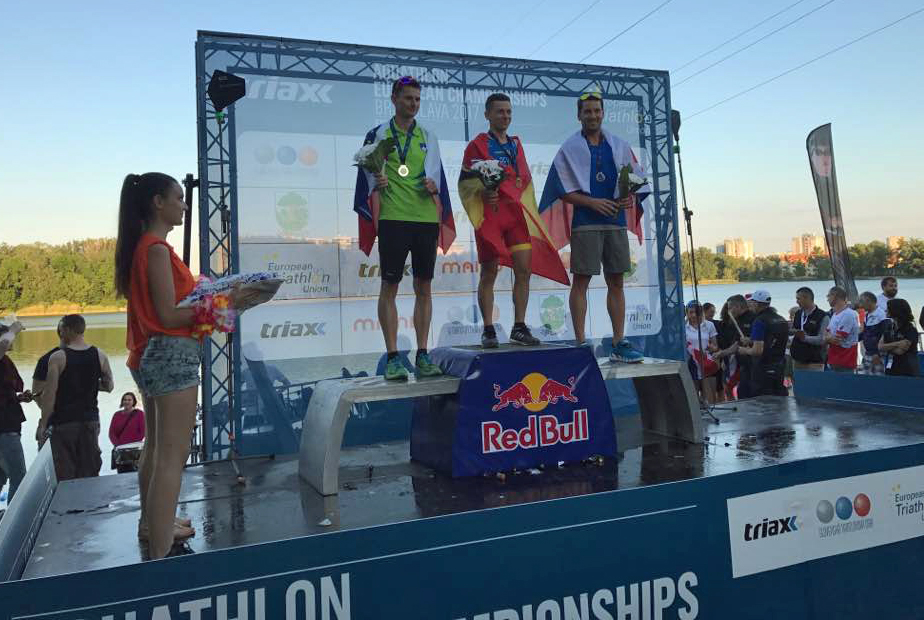 For the men it was a nail-biting finish that saw Terry Bonnett GBR edged off the podium by a blistering run from Slovakia's Michal Bucek. The local favourite did not post the fastest run but his pace was sufficient to go down to the line and beat the Brit. Peter Harnold, gold medal winner in Köln in 2015, came home to take silver and the winner Noel Reyes Cordero ESP saw his 2nd place in 2016 improve to give him the European Title.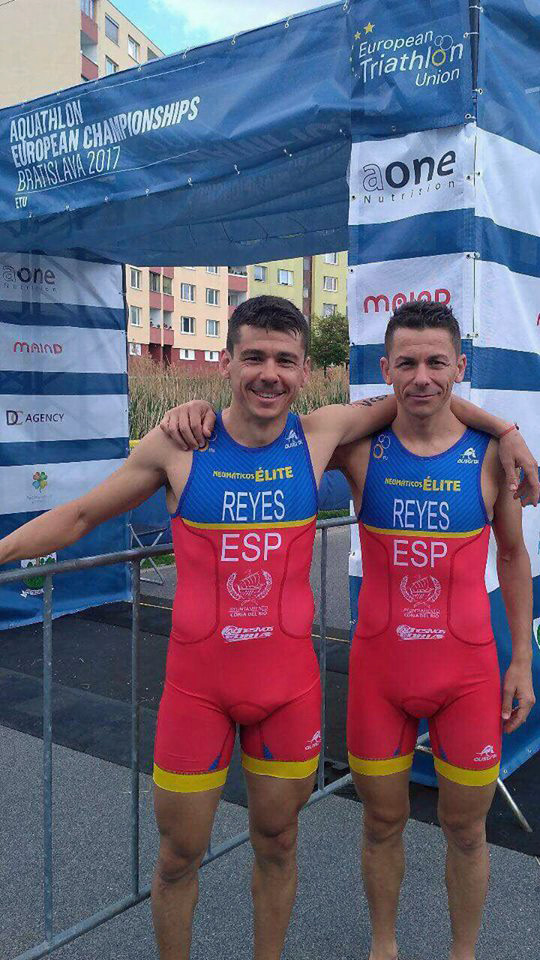 It was indeed a Royal result for the Spaniard, as his brother, Abel Reyes Cordero came home in 5th.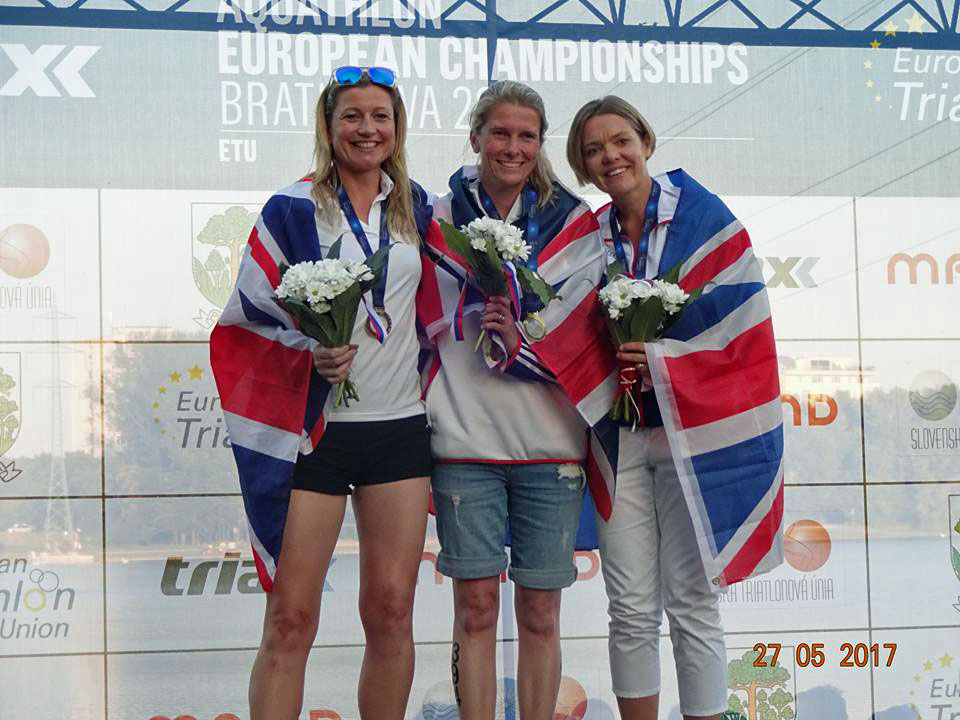 40-44, saw a powerful swim from Caroline Jones GBR to set her well ahead of the rest of her age-group. A final run that was also the fastest in her category, took her to an easy gold medal and can be added to her 2013 World title, won in London. A gold medal winner in Hamburg in 2007 as well, it is good to see her back racing after a break of some four years. Silver also went to GBR, with Colette Kitterhing and bronze, again to GB, went to Karen Riley to add to the GB team collection.
For the men, another great finish, with Andrew Thorndyke being overtaken on the run and losing the medal chance to Italy's Matteo Caridi. Nigel Gaskin GBR 2nd in Köln, 3rd in Châteauroux, had done enough on the swim to hold on to silver but it was another home gold as Miroslav Ozorák used his transition skills and pace on the run to take gold.
45-49 saw a clear run for home after a strong swim for Germany's Kai Sachtleber. After her silver medal last year in France she has worked hard on her swimming and this year was out of the water over a minute ahead of her challengers. Silver went to teammate, Meike Jaeger and the podium was rounded off with Britain's Judy Prior who has improved upon her 2016 result and who previously beat Jaeger, back in 2014.
In the men's race, Glen Hall GBR defended his 2016 title by posting a swim time that was over a minute ahead of any challenge. He then, out on the run, was able to pace himself against the faster runners and held off the attack from former European Champion, Sébastien Sudrie FRA. Sudrie settled for silver and bronze went once again to Olaf Geserick GER.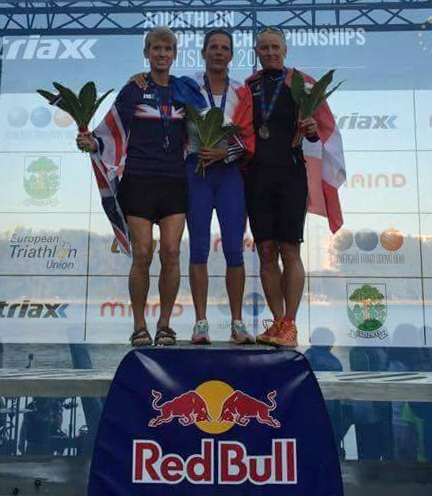 In the 50-54 category, it was defending European Champion and current World Champion, Nathalie Journaux FRA who easily retained her title. Behind her Austrian supporters cheered on Sabine Greipel AUT, who has shown her immense power over long distance, half-distance and sprint, with European titles back in 2008 in Almere, in 2014 in Kitzbühel and Paguera and who has collected silvers in Rimini and Geneva and who can now add to her Zeltweg bronze another bronze in Bratislava. Her swim and T1 took her out onto the run course in second but the faster running British athlete, Sharon Hill, herself a regular visitor to the podium in Duathlon, Triathlon and Aquathlon, added another medal to her collection to edge the Austrian back into 3rd.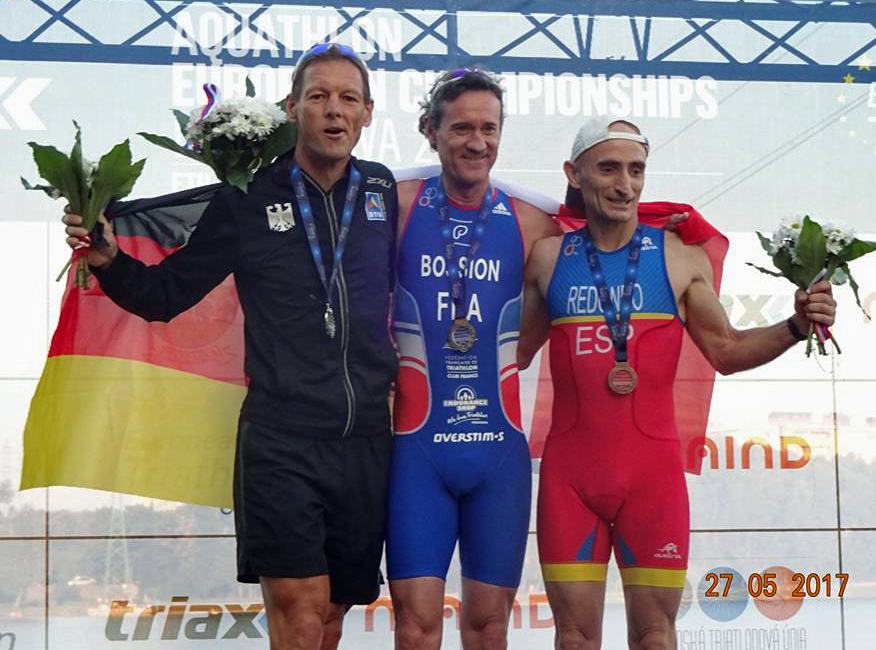 Fabrice Boisson FRA posted an 18:28 run to overtake those who were faster in the water to take the title and improve on his 2016 silver and to re-take the title he last held in 2015. It was not as easy as it sounded, as he came out of the water some way behind the leaders and with former European champion and current World Bronze medal winner, Germany's Michael Bock led the swim and sped through transition. Boisson had to dig hard to catch and pass the German, who could see the progress of his main rival all the way along the 5k course. Spain once again featured on the podium with Amand Redondo Brunet doing enough to keep ahead of the chasing pack.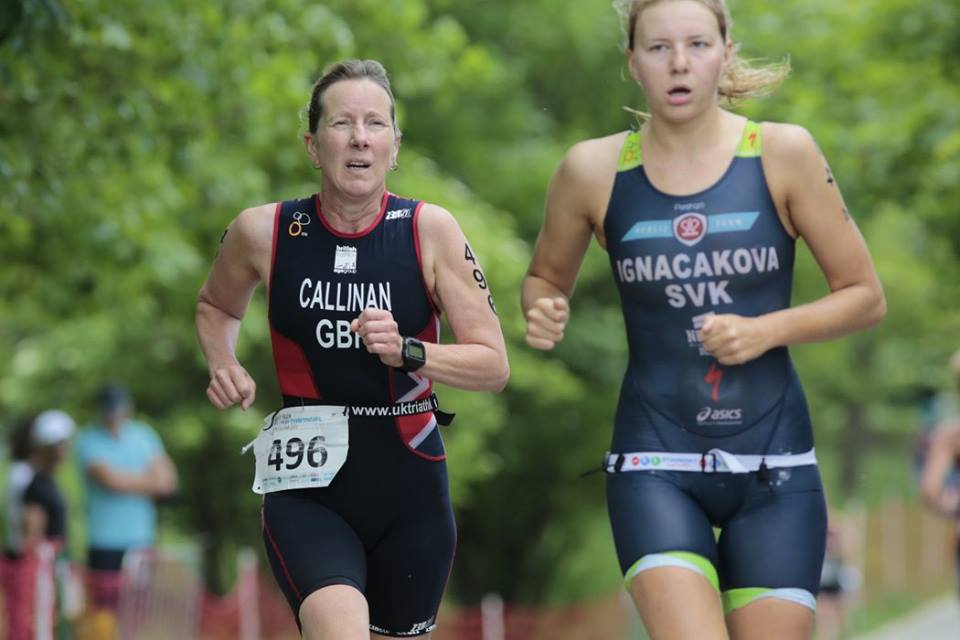 It was once more a clean sweep for Team GB with the women's 55-59 as Jane Bell GBR successfully defending her title. A strong run from Elaine Callinan pulled her past the faster swimmer, Ursula Ryder to put GB further into the lead on the overall medal table.
The men's race was close, with a sprint finish to deliver gold to Israel by Yaron Cohen. He won world titles way back in 2007 in Ixtapa, Mexico, when he dominated the race. He won again in Monterrey, again in Mexico, when once again he dominated the race. He disappeared off the radar for a while before returning to the London Championships in 2013. 10th was an uncharacteristic result for him but here in Bratislava, it all came together. He just had enough in his legs to edge past Matthew Stone GBR, who went home with silver, having missed out by just one second. Bronze went to Neil Cooper IRL who had won the title in France last year but whose run pace was no match for the Israeli and British athletes.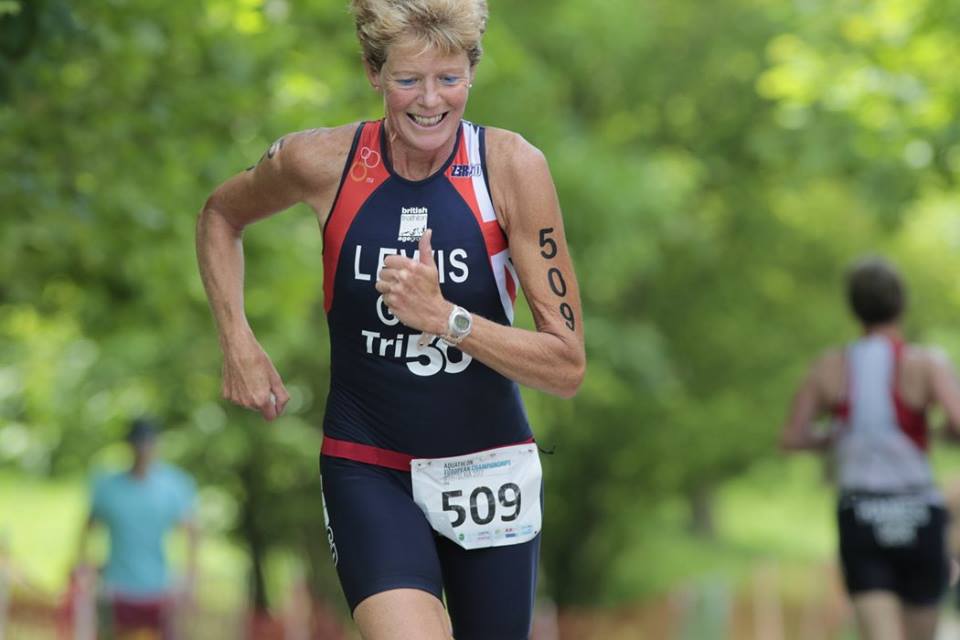 Joanna Lewis GBR, racing in the 60-64 category, led home the British trio in the women's race. Her opening swim gave her almost three minutes to play with. A closing run that was enough to win but not faster than one of her opponents, gave her the title once more. She has been World Aquathlon Champion before, back in 2006. She took the title in Pontevedra in 2011 in the Sprint and just to show it was not a fluke, won in 2012 in Eilat. The 2015 title was hers in 2015 in Köln and this weekend, the European title is once again in her hands. Silver went to Gina Coulson and bronze to Karen Hames.
The men's race was a clear victory for Italy's Raffaele Buonocore. Fast across swim, transition and run, he had a two minute lead as he crossed the finish line ahead of GB's Andy Brittain. Bronze went to James Howard Jeffrey who remarkably had competed the week before in the immensely tough Sankt Wendel race; 10k run, 60k bike and 10k run. He can be forgiven for dropping from silver to bronze after a race like that and all the travelling that took him to Germany and then onwards to Slovakia.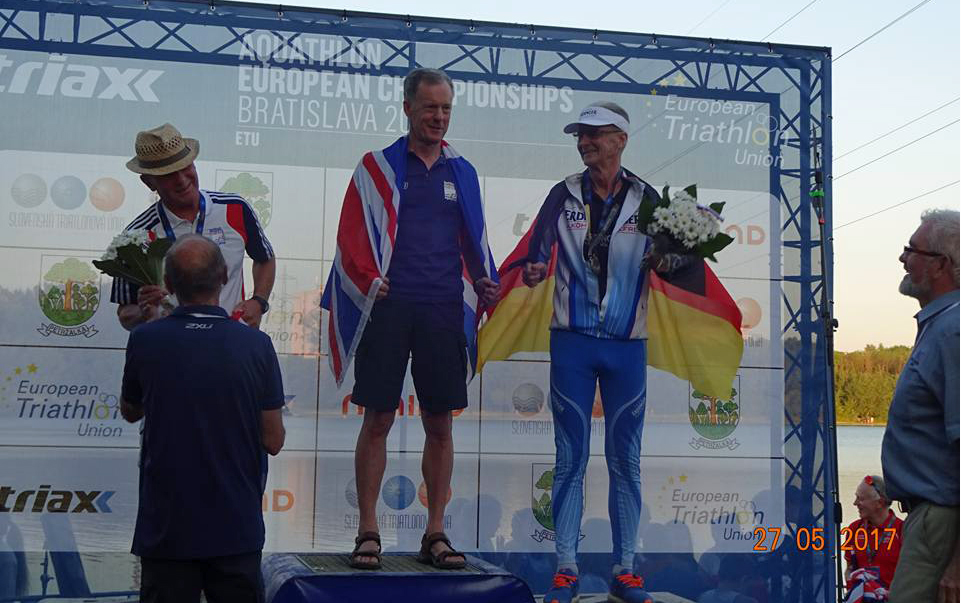 With no women present for the 65-69 category, the men nevertheless made the race a thrilling one. It was GB's Ted Hamilton who powered out of the water ahead of Germany's Peter Grünebach who held the title in 2014. Grünebach has held a variety of titles over a variety of disciplines but Hamilton, leading from the swim, wasted no time in T1 and was soon galloping along the 5k course and running faster than the German. Behind them both, and with blistering pace, it was Graham Le Good whose 5k, run at 21:15 pace, was enough to take him past Grünebach and then Hamilton. These three athletes certainly had the edge over the other three in the category and it is great to see that our "Elder Statesmen" are racing so well and so competitively.
Peter Grünebach, a great supporter of ETU, provided us with some really good photo images of the event that made us even more envious of all those athletes and spectators who enjoyed the warmth and hospitality of Bratislava.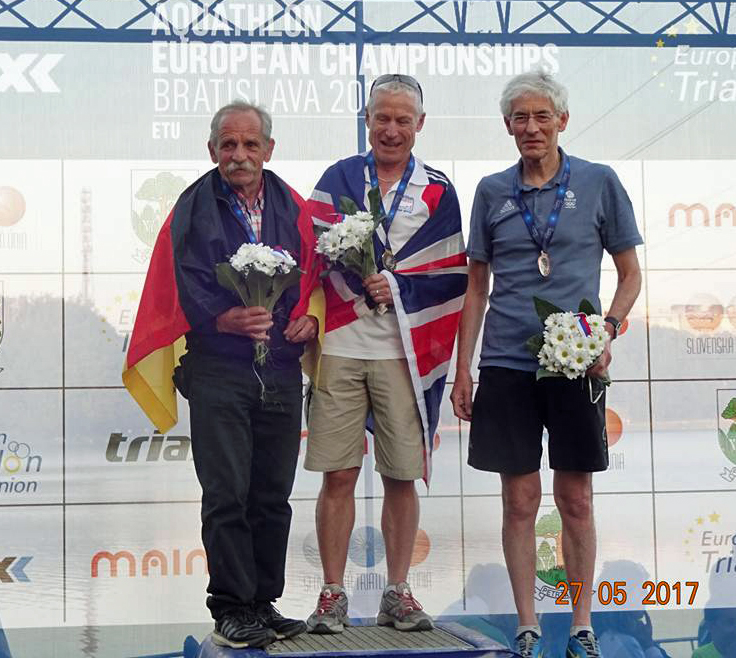 Michael Smallwood GBR came to the event as race favourite in the 70-74 category. With an impressive record of 20 podium finishes and 10 victories, including the European and World titles last year in Duathlon, Triathlon and Aquathlon, he was clearly one to watch. But you had to watch carefully. He was out of the water in 17:35 and over the finish line in 42:16, with a finish time that would have given him silver in the 65-69 age group. The reigning Middle Distance Triathlon European Champion, Herbert Lange came home for silver and last year's silver medallist, Douglas Wood came home for bronze.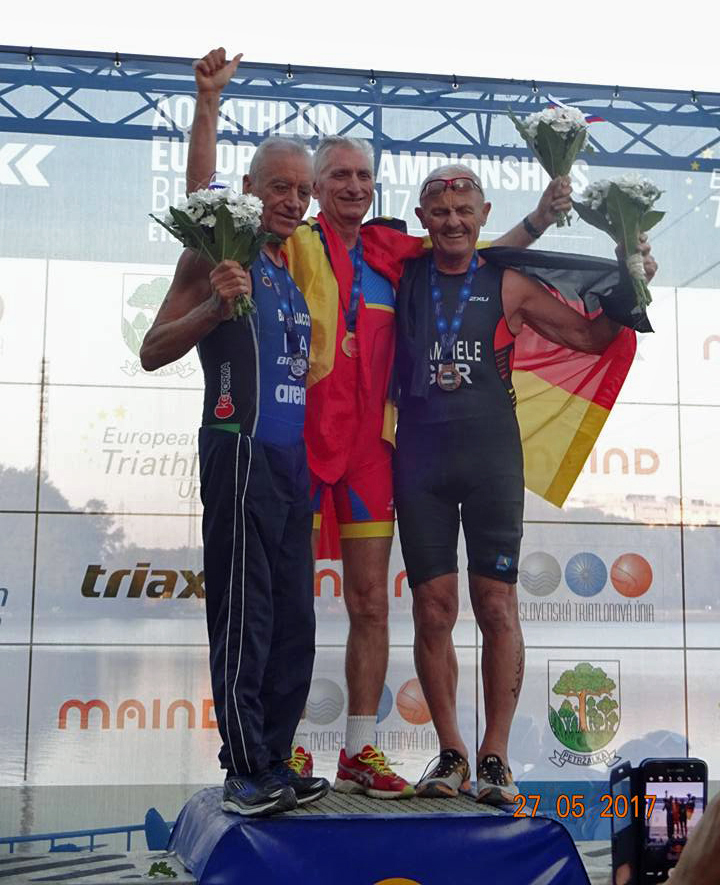 In the final category, 75-79, Spain's Miguel Vidal Galino led out of the water a few steps ahead of Germany's Günter Hammele. T1 went smoothly for the German but was a disaster for the Spaniard, as Hammele took off along the out and back 5k run. Quite what took so long is unclear but it looked like the Italian had the gold in his hands. Behind them, Nicolo Badagliacco ITA had a smooth T1 and set off for the run with the Spaniard in sight and now only 20 seconds ahead. Germany leading, Spain in second and Italy third. In what was possibly the most exciting run of the event, it was Vidal who posted a 30:40 5k to overtake Hammele and to win the race, breaking the hour. Running at 33:09, Badagliacco was too strong for Hammele and silver went to Italy. Born in 1938, Hammele, came home in third place. A superb performance from all three athletes and in the true traditions of ITU, mind, body and soul came together for this great display of athleticism.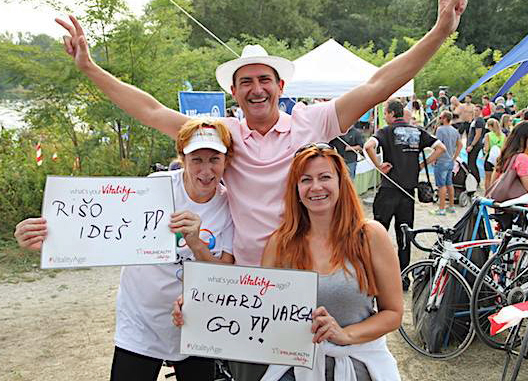 Aquathlon was in the past an "add-on" event that filled the schedule at a Championships but over the years the popularity has grown and in its simple format of swim / run, it opens the door to those who are exploring multisport. It is an event that can be relatively easily hosted and this year, in the great venue chosen by Michael Varga of the Slovakian Federation, our visiting athletes were treated to a truly delightful race in the very centre of Europe. With more and more athletes keen to race over the 1k swim and 5k run format, we are looking forwards to seeing these athletes win more medals in future races, to see them defend their titles and to continue to support this great sport.
Ďakujem!
We are waiting for some more photos but this great album, from Vivafoto, takes you inside the racing.
So now …. The medals.
| | | | | |
| --- | --- | --- | --- | --- |
| Nation | | Gold | Silver | Bronze |
| GBR | | 11 | 15 | 11 |
| GER | | 3 | 4 | 3 |
| ESP | | 2 | 1 | 1 |
| FRA | | 2 | 1 | |
| ITA | | 1 | 1 | 1 |
| SVK | | 1 | | 2 |
| BEL | | 1 | | |
| HUN | | 1 | | |
| ISR | | 1 | | |
| SLO | | | 1 | |
| AUT | | | | 2 |
| GRE | | | | 1 |
| IRL | | | | 1 |
| LAT | | | | 1 |
Related Event: 2017 Bratislava ETU Aquathlon European Championships
Latest
Videos
---
Latest
Event Galleries