NEWS
Baku 2015. The Inaugural European Games - Selection of Technical Officials.
By Paul Groves
|
22 Dec, 2014
ETU recently sent a call out inviting National Federations to submit nominations for the positions of Technical Officials at the Inaugural European games in Baku. The ETU Technical Committee, chaired by Jorge Garcia (ESP) who is also one of the two Technical Delegates at the Games sent out early Christmas presents for those selected. A total of 21 federations sent in nominations. Of those officials nominated, 24 officials were Level 3 and Level 2. This is a clear signal of the depth and strength of technical officials in our Region.
It will not just be International Technical Officials working at the triathlon. There will also be a core team of National Technical Officials.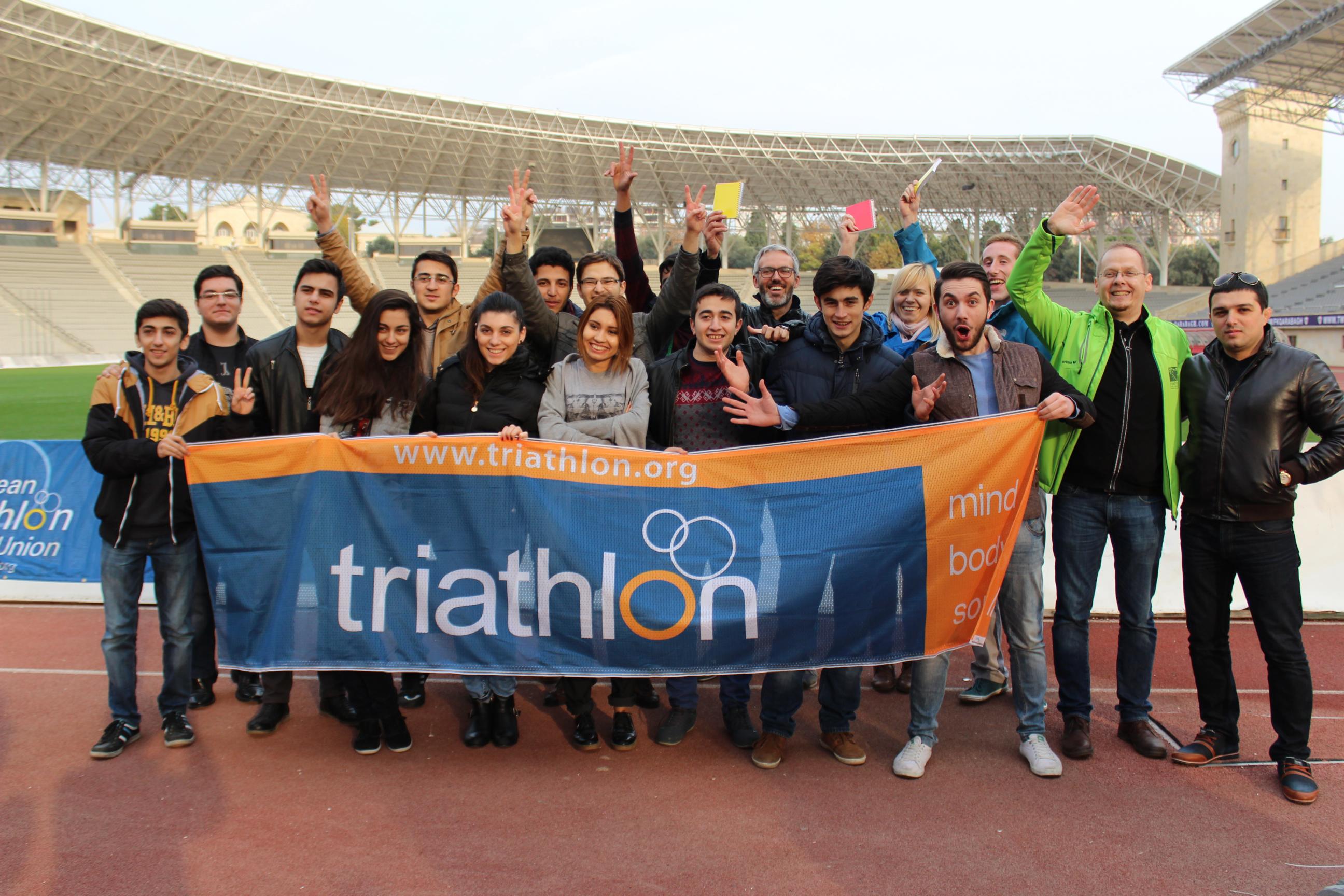 The NTOs have recently been trained, thanks to Alpar Nagy. Baku 2015 reports, "This year has already seen extensive and detailed workshops with Cycling, Gymnastics, Taekwondo, and Wrestling officials visiting to work with NTOs. Mr Pierce O'Callaghan, Baku 2015 Director of Sport, said: 'The courses offer us an opportunity to train NTOs and are an extremely important part of the lasting human legacy of the Baku 2015 European Games. We want to ensure an increased level of professionalism in Azerbaijani sport after the European Games and this is the perfect opportunity to educate a new generation of technical officials. The officials that will be visiting Baku are amongst the best in the world and thanks to their assistance, we are confident that Baku 2015 will be a benchmark of excellence for future European Games.' Representatives from the Azerbaijan Triathlon Federation were also on hand to speak with NTOs, and provide a detailed insight into their sport. The Azerbaijan Triathlon Federation was only established one year ago, meaning there has been remarkable progress made to ensure the sport forms a lasting legacy of the European Games."

Including the medical delegate the team comprises 35 officials, of whom 10 are women. They will be joined by 10 National Technical Officials and the two Technical Delegates to make a team of 47.
| | | | |
| --- | --- | --- | --- |
| First Name | Family Name | Gender | Nationality |
| Mary Clare (Maisie) | Bancewicz | F | GBR |
| Aldo | Basola | M | ITA |
| Ton | Bloothoofd | M | NED |
| Dirk | Bogaert | M | BEL |
| Walter | Dudas | M | AUT |
| Miguel Alejandro | Fernandez Vazquez | M | ESP |
| Dominique | Frizza | M | FRA |
| Andreas | Galanos | M | GRE |
| Paul | Groves | M | GBR |
| Line Amlund | Hagen | F | NOR |
| Aleksandr | Kochetkov | M | LTU |
| Eugène | Kraus | M | LUX |
| Stéphanie | Damm-Kraus | F | LUX |
| Jan Philipp | Krawczyk | M | GER |
| Eriketti | Margari | F | GRE |
| Mike | Masters | M | GBR |
| Stéfane | Mauris | M | SUI |
| Hugh | Mcatamney | M | IRL |
| Helmut | Menger | M | GER |
| Kevser | Ulaş Miri | F | TUR |
| Leonid | Mogilevskiy | M | UKR |
| Bojan | Nikolovski | M | MKD |
| Dag | Oliver | M | NOR |
| Laura | Patti | F | ITA |
| Eero | Raudsepp | M | EST |
| Dora | Rosza | F | HUN |
| Esther | Sanchez Arribas | F | ESP |
| Vicente | Sanchez Ros | M | ESP |
| Anabela | Santos | F | POR |
| Friedrich | Schwarz | M | AUT |
| Mustafa | Şirin | M | TUR |
| Aggeliki | Thoma | F | GRE |
| Liene | Troksa | F | LAT |
| Michiel | Van Niekerk | M | NED |
For all this trip will be exciting. For some, it will be another experience at a major event but for others it will be all very new, all very exciting and perhaps a little daunting. All of a sudden the big race has become even bigger and with the world watching our athletes, these officials will be there to help make the event safe and fair.
ETU has asked some of them what they think about the selection. First up is Mustafa Şirin from Turkey. He has some advantage over the rest of us as he has previously been to Azerbaijan. "I was in Baku before this year providing Neutral Service for the bikes during the Tour of Azerbaijan. It's a really nice place and even then I could see that they have really positive motivation for European Games. Of course I am excited to go there again as this will be the biggest event I have officiated at. Being an official at the Baku European Games will help me develop my knowledge about being a triathlon official and then enable me to transfer back to my country this experience at our events. I will have to write a detailed report for my federation about this experience. For us, (Kevser and me) we have not only our knowledge about the sport but also a language advantage (Turkish and Azerbaijan language are very similar). We have not yet been told what our assignment will be but I'd love to work in Transition or out on the bike course."
As part of the ETU Technical Committee, Norway's Line Amlund Hagen will be using this event to broaden her in-depth understanding of major event organisation. "I have never been to Baku, but I have worked in the region earlier. I am honoured to have been selected to this special event. I have officiated at world cup events before but this will be the largest event so far. Far bigger and more important than the World Cups. To be involved in such a big event will be very useful in my future work as technical official. I hope that we will be able to host larger events in Norway in the future, and the experience from Baku will of course be useful. I have no plans at the moment to record my experiences in a blog but I am sure the Norwegian Federation will want a detailed account. What can I bring specifically to the Games; well I believe my organisational skills and my ability to stay calm when the general stress level increases will be useful. Like the others I am not sure what, exactly, my assignment will be, but I feel I have skills that can be useful both in registration and in transition. This came at just the right time. The best Christmas present ever!"
One of our officials, who will be head and shoulders above everyone else, comes from Lithuania. Fluent in English, Russian and Lithuanian Alexander "Sasha" Kochetkov has proven to be a true asset at the races he was worked at. He recalls his childhood, "I was in Baku when I was a kid and Azerbaijan was still part of the Soviet Union. I believe it has changed a lot. It is honour to be selected out of the list of very experienced and capable TOs. It also means great responsibility. I have worked at several events in the ETU Region but will try in the early part of 2015 to join the Technical Official's team at WTS Abu Dhabi March 6-7. If I am selected then it will be my second biggest event so far. The team in Baku has many very experienced TOs. It is always great to work in the team, as you learn a lot about responsibility, trust and delegating to others. Every event is a lesson, every event is a challenge and there is always something to learn. For those back home I will be posting regular updates about my experiences in Baku using Facebook, Twitter and Instagram. Besides being the TO I am also active triathlete and ITU Level 1 Coach. I have knowledge and understanding of what athletes and coaches need as well as how to apply rules for the race to run smoothly. It doesn't mean nobody gets penalty :) But if they do, it will be in line with ITU rules and to ensure fair play. As far as where I will be working, well, I don't have an assignment yet. I'd like to work in transition and have worked at the Registration and Swim start before. It doesn't really matter what role I will get. All roles are important and I will be equally happy to do something I have done in the past or something I have never done. Christmas is fast-approaching. This is the best Christmas present ever!!! I really look forward to participating in the event. Less than 7 months to go!"
Another Russian-speaker, who is fluent in Ukrainian and English too, is Ukrainian official Leonid Mogilevskiy. He works in the Ukrainian Federation and has played a major role in bringing international triathlon racing to his country. For him, "I have never been to Baku before. What I can tell about my feeling it happiness. It is awesome! I have worked at European Championships before and World and European Cup events but this will be the biggest. Going to Baku will give me the chance to work in an International Team and for me the most important thing will be constructive communication at every stages and on all levels. This is a great opportunity for me to gain valuable experience and to develop my understanding of working as a technical official. This will enable me to take back to Ukraine valuable experience and knowledge as well as contacts so that we can continue to develop this great sport in our country. Whilst I am there I will be writing a report for the Ukrainian Triathlon Federation as well as running a blog. Back home I am involved in management and hope that I can bring these skills and deliver them to the team in Baku. At the last big event I worked at I was chief of cycling. It would be nice to work on a different area so that I can build up my experience. Winter is upon us in Kyiv and Christmas is not far away, we celebrate in early January. For me this announcement is implicitly the best Christmas present ever!"
We heard from Mustafa earlier, his colleague Kevser Ulaş Miri, will be coming with him. The two have worked closely together and are Turkey's most experienced international technical officials. Both speak excellent English and are a true asset to ETU and ITU with events being held in Turkey. For Kevser this will be a new experience as she has never been to Baku before. "I have never been there before, however we are neighbours with Azerbaijan and we speak a very similar language. It is fantastic to have been selected. It is the first European Games; it makes the situation more interesting. I am looking forward to participating and being part of this new direction in European sport. So far I have been lucky to have officiated at lots of international triathlon races; amongst which the Balkan Champ, World Cup, European Cups and the European Championships, which were a huge success in Alanya. But this will be the biggest event because it is like Olympic Games which is organized for European countries. As a technical official we are always learning. I think I will learn lots of useful things. We will be a large group of officials with different nationalities. By working with them I will benefit from their experiences. This event will be a very professional event; it will be well-organized with all the details. I will take this event as a model and will try to improve the quality of our national events. It will be of great benefit to our events back in Turkey where triathlon has become such an important and popular sport over the recent years. I am good at problem-solving and, based upon my previous experiences at triathlons I feel confident that I can play an important role in the team. I don't know yet what I will be doing in Baku but the important thing for me is to contribute for the good of the games. This is such a great gift!"
The final word goes to one of the most experienced officials. Germany's Helmut Menger has worked at more Olympic Games than the rest of the team and has been involved at so many levels within the sport for so many years. He will be, with Eugène Kraus (LUX) our "Team of Wise Men" in Baku. "I was never in Baku and so it is a really good feeling to be there, especially as it will be the first ever European Games. I am looking forwards to seeing how it compares to the work I had at Athens and Beijing (Olympics 2004 and 2008) and despite that experience behind me I never forget that you never reach the end of learning. Our sport is very special and this, as a "new" event, is where we will learn perhaps more than ever before. I will be keeping a record of my experiences there and will post on our website. The German Technical Committee will benefit from this and it will feature in a presentation at the next meeting with our national officials. I am quite happy to work wherever they assign me. I am very flexible. It is a wonderful present for me but first, Christmas with my family and my lovely Karla."
ETU is proud of its technical officials and wishes them a Very Happy Christmas.
Related Event: 2015 Baku European Games
Latest
Videos
---
Latest
Event Galleries