NEWS
Alanya - fun in the sun for athletes this weekend
By Paul Groves
|
03 Oct, 2019
Northern Europe is not warm any more. The rains have hit us hard and we look fondly back to the sunshine and warmth of the summer. But for a lucky few, the summer is still available and they are the athletes, coaches, team managers, officials and supporters heading down to the beautiful seaside location that traditionally hosts an end of year festival of sport.
Alanya is this weekend!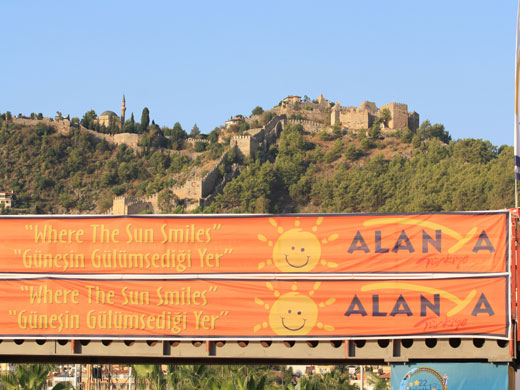 A full programme of racing, with Junior, Para and Elite athletes. A great sporting event, with points, prize-money medals and for those in the Open Events, opportunities to race on pretty much the same course as the Elite.
ITU will be focussing on the Alanya Paratriathlon World Cup, whilst we will have a look at and follow the two ETU European Cups.
Click here for the Athletes' Guide.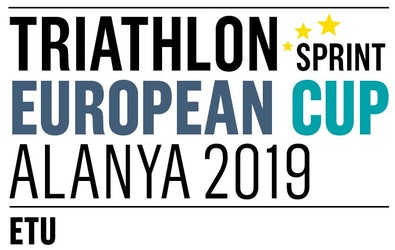 Both ETU events will be raced over the Sprint Distance and we can of course anticipate that the results from the Elite event and Junior event will be checked, double-checked, compared and contrasted as younger athletes look to challenge the older ones.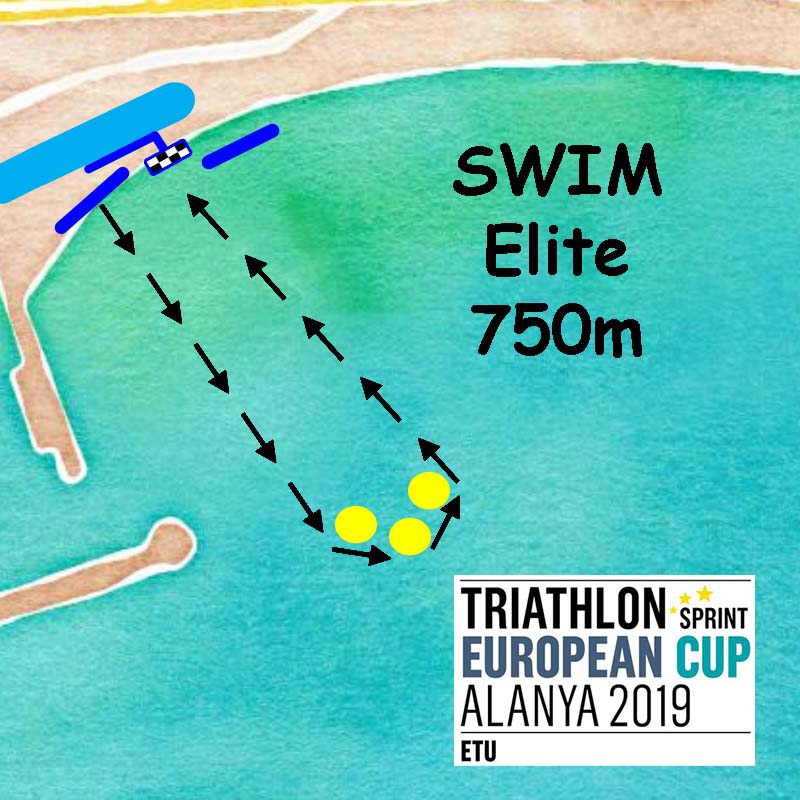 For the Elite athletes, this will be an important race as the ETU Rankings Series nears its conclusion in Funchal. This weekend's race will give them enough time for the final attack on the rankings.
With Carlotta Missaglia ITA and Azerbaijan's Rostislav Pevtsov currently comfortably in the lead, will there be any chance of a change over the traditionally fast Alanya course?
For the women, it will be Yuliya Yelistratova UKR who wears #1. Her most recent race, in Constanța was a good sign that she is back in form. A previous winner here and used to the climate, she will certainly be the one to watch out for but this is likely to be a non-wetsuit swim, which will mean work to be done after the swim. From Russia comes Alexandra Razarenova. The pair know each other well, have raced alongside each other for years now and know each others strengths and weaknesses but they need to watch out for Lisa Terstch GER. The newly-crowned U23 European Champion will be close to Yelistratova in the swim and, if the pair work together on the bike, then they will certainly catch the leading group and then, if the pair hit the run together, we will undoubtedly see a brilliant race to the finish.
Poland's Alicja Ulatowska is currently in 3rd place in the rankings and will be aiming to build up her total ahead of Funchal. Unlikely to match either Tertsch or Yelistratova on the run, her power lies in the swim. Making her move from the Russian Federation to Kazakhstan Triathlon is Irina Shulgina. She will wear the neutral ITU uniform and with a win in Almaty in the late summer, comes to the race strong.
Amongst the younger athletes, watch out for Austria's Magdalena Früh, who chooses to race in this, rather than the Junior European Cup. Turkey will field Ece Calp and Ipek Öztosun.
34 athletes representing 17 Nations (including one racing in the neutral ITU uniform)

With Missaglia and Pevtsov not racing, the points situation for both Elite Men and Women's rankings will be up for a big change this weekend. Leading them out in the Men's race will be GB's Sam Dickinson. He is truly on fire at the moment, with his first test of race fitness in Tartu, where he won the race with an impressive and truly dominant performance through to his last victory in Constanța. Wins over the standard and sprint distance and a battle royal in Kazan that saw him lose out by a whisker make him truly the man to beat. Dickinson's position in 2nd place in the Rankings is within easy striking distance and so, with a win here in Alanya, it will go down to the wire in the final race in Funchal where the pair will go head to head, after the Brit secured a last-minute entry.
Up against him will be a solid team of athletes from Kazakhstan. Led by Ayan Beisenbayev who has clocked up 5 top ten finishes this year. From Spain, Genis Grau will be meeting Dickinson for the first time in a while and will have to dig deep to try and match the power. Sylvain Fridelance SUI looked strong in Romania but when it came down to the final 5k, lost out. On this course, he might well have the advantage in the earlier stages and, if he can collect some strong and willing partners on the bike, a breakaway might disrupt plans for Team GB.
From Hungary comes Csongor Lehmann. Runner up in the world U23 championships, he will be hoping to collect some valuable points this weekend, as will Vladimir Turbayevskiy RUS. No stranger to this course and as a husband and wife team, he and Yuliya Yelistratova are well-known in the city. A top ten finish in Dnipro early in the season looked good. A 4th place last weekend in Aqaba, where he lost a medal by seconds. He could be forcing the pace at this race.
The leading athlete for the host nation, Gültigin Er will no doubt be pushing the pace in the swim and, as the reigning Balkan Champion, will have more confidence coming to this race than in previous years.
ETU welcomes a team of athletes from Iran. They recently held their national championships and no doubt the battle between them in Alanya will see some exciting racing.
A total of 72 athletes, representing 20 federations.
For the Junior Athletes, this will be the last Junior European Cup of the year and so we can expect some really intense performances as the last points are collected.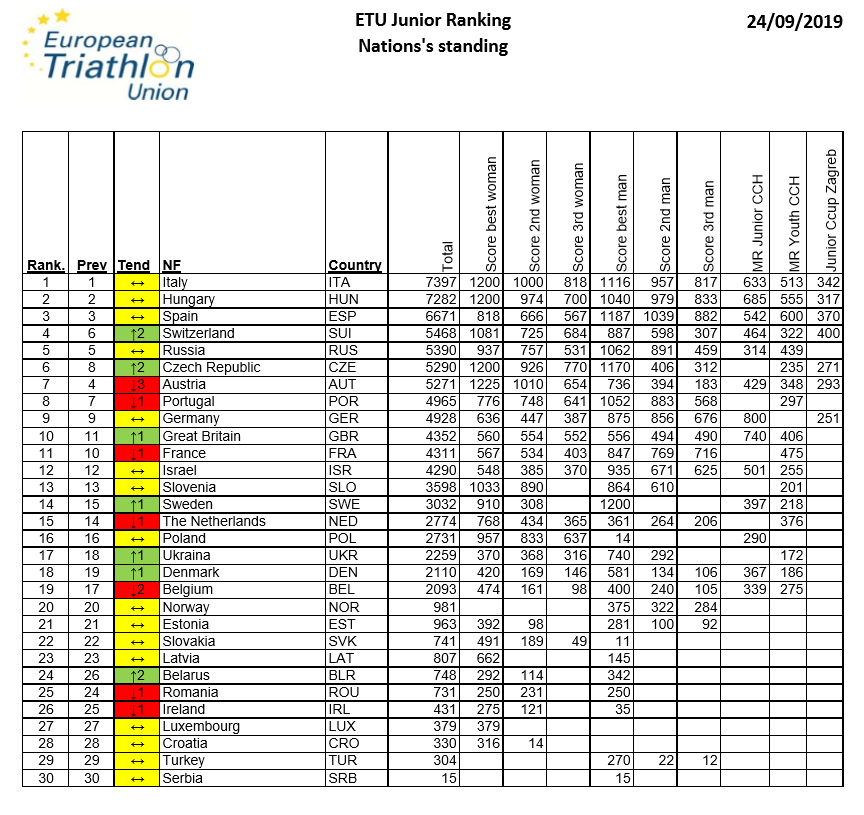 The table for the Nation Rankings is the one that counts for the end of season bonus cheques. Italy, Hungary and Spain currently hold the top three places but can that change this weekend?
The Women's race sees 33 athletes from 16 nations, including visitors from Tunisia, Chinese Taipei and Kazakhstan.
Leading the out will be Swiss athlete, Cathia Schär. Although she has not yet enjoyed a podium place, she was 4th in Weert and has since delivered solid performances. She will face the swim power of Barbara de Koning NED. 6th in Holten, 3rd in Tabor, she is getting better as the season goes on. Poland has certainly been investing time and resources with its junior athletes and Julia Sanecka's silver in Belgrade recently after her 6th place in Zagreb, was a big step up to the mark. After her outstanding performance in Dnipro, Latvia's Daniela Leitāne has struggled to find her form and this will be an end of season test to see just where the problems lie. Her power on the bike and run are impressive. This pan-flat, time-trial course here for the bike is where she can attack.
Turkey will be using this event to show their younger athletes how it is to race at the top European level.
The Men's race will see 62 athletes from 24 nations, including visitors from Tunisia, Chinese Taipei and Kazakhstan.
In this race, it will be Israel's Itamar Shevach Levanon who leads them down on to the beach for the pumping sprint into the shallow waters. Narrowly missing out in Riga, this course might suit him better. He wears #1 but #2 goes to Taipei's Tzu I Pan who makes his European racing debut in one of the best locations. Another one to watch out for is Spain's Igor Bellido Mikhailova, whose form has improved over the season. Gold in Kitzbühel and an individual bronze in Zagreb ahead of his silver in the Team Relay.
Related Event: 2019 Alanya ETU Sprint Triathlon European Cup
Latest
Videos
---
Latest
Event Galleries